The ESP LTD EC-1000 is a guitar that's built for massive-attacking guitar players. With a Mahogany body and neck, it is a slick and stylish guitar that features an incredible sustain. It includes EMG Humbucker pickups that deliver high-octane tones.
It's built for highly reliable sustain and resonance. The design is made into an eclipse style, which is both elegant and fierce. This guitar is as beautiful as it is mean, and is suitable for any hard rocker looking to melt some faces.
ESP LTD EC-1000 - Black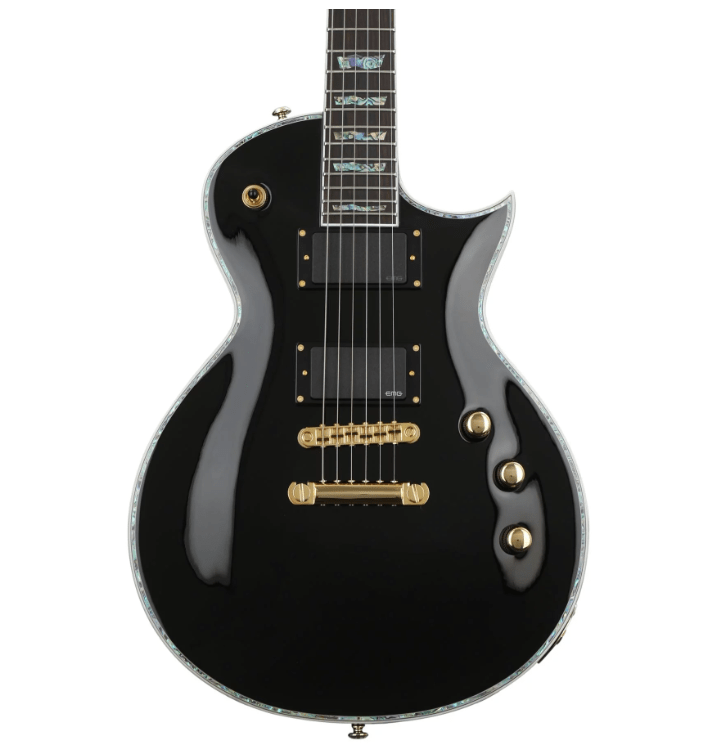 Summary
ESP guitars have been among the holy rollers of rock and metal music for decades. ESP created LTD guitars as an affordable line of high-quality axes for people looking to play beautiful, steady guitars. LTD guitars still pack a ton of punch and quality and are not to be looked down upon. They keep up with the level of expectation of ESP itself and exceed many expectations.
The ESP LTD EC-1000 is engaged with EMG active Humbucker pickups. These pickups offer a high level of tonal strength. They are designed to blast heavy metal and rock tones at the highest level without pulling any punches. Many hard rock guitar players will eventually switch their stock pickups to EMG humbuckers. This guitar comes with them already included.
It has a set-in neck, which adds impressive sustainability to the guitar. Meaning, you can hold notes for an extended period with less cutting or thinning out. That also adds to the aesthetic appeal of the guitar, as these necks look very slick and appealing. A bolt-on neck is more common, but can't provide the level of sustain and continuance that a set neck can.
The body and neck are both made of Mahogany, which is a dense and durable wood. This material makes for a smooth and fast playing surface that allows guitarists to shred uninhibited.
The Eclipse body shape is an elegant one. It has a small sharp bottom cutaway, which grants easy access to the higher frets, so you can get some severe shredding done. A slightly arched top on the body offers a level of comfort to payers, no matter where your hand naturally wants to rest.
With the ESP LTS EC-1000, you get a tone of quality in a guitar at an affordable price. This guitar is beefy, robust, and ready to rock, all while being elegant and slick.
It comes with a Tonepros locking TOM bridge, which gives the guitar dependable tuning and intonation stability — ensuring that you can have an all-out attack on the strings without worrying about losing your tune.
This is a guitar that is designed for the fiery pits of heavy metal and rock. It delivers a tone that is loud and cuts through the noise. It's a reliable, durable guitar that feels good in the hands and is a ton of fun to play. The inlayed neck offers an extra aesthetic incentive and will undoubtedly pop on stage as well as in the studio.
Pros
+ Set neck
+ Made completely of Mahogany
+ EMG Humbucker pickups
+ TOM Bridge
+ Eclipse body shape
Cons
- Slightly less affordable
- No tremolo
Why We Like It
The ESP LTD EC-1000 is an incredibly solid guitar. The mahogany body and neck are comfortable, beautiful, and durable. This guitar feels good in the hands and plays super fast and smooth. Everything is kept tightly stable, and you feel like you can get a lot of attacks out of the strings and the build.
It's not incredibly expensive, and for the price you pay, you get a lot of quality and tone. The EMG pickups are perfect for the type of music that requires you to crank up the volume and let it rip. The sound you get from the bridge, as well as the neck pickups, is fantastic, and you can fire out some jaw-dropping solos or play rhythm with confidence and precision.
The Eclipse body is beautiful and stands out among the crowd. ESP has engineered this guitar to look the part it's trying to play. It has a devilish look that makes you want to reach out and grab it every time you're ready to jam. It is an excellent guitar for live shows, as well as studio sessions.
The sound is reliable enough to give you a great tone on recordings, and you won't have to worry about too much feedback with the EMG pickups. It has excellent sustain, and the note keeps on ringing compared to many other guitars. Having a through-neck is always a plus, as it adds a touch of class and beauty to a guitar that can hit as hard as this one.
The ESP LTS EC-1000 is a beautiful and mean guitar that any heavy rocker would love to have in their music studio.
If you liked the article, please leave your feedback.