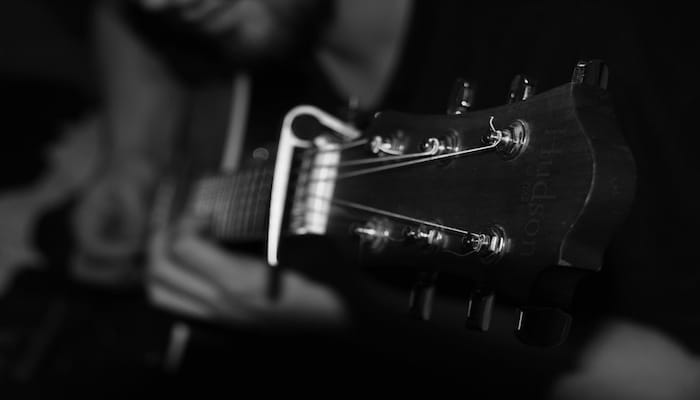 Many people usually find the best capo to be one of the more obscure guitar accessories; while you can often see it being used on stage or in videos, it remains a kind of mystery to many as to what it is. It's basically a product that will help you raise the tuning of your electric or acoustic guitar, depending on which fret you place it on. There are hundreds of capos out there that will do their job well and it can be very disheartening to try and choose something suitable when you are reading through dozens of conflicting reviews.
We hope that you will find your new favorite companion here. On our list we have some of the best capos available on the market today, and we take our time to discuss why they should be worth your money. If you are still a bit confused about how capos work and why you should get one, we have a small FAQ section to help encourage and inform you.
At a glance: Our top 3 picks
Your shortcut to our team's top 3 recommendations
Here is Our Review of the Top 10 Greatest Guitar Capos for 2020 :
1. Nordic Essentials Deluxe
It's easy to see from the get-go that the Nordic Essentials deluxe is a professional capo. You can notice the Nordic Essentials logo beautifully engraved and stamped right at the hinge of the neck and the metal finish does a great job at projecting how durable this product can be. There are also five colors to choose from upon purchasing this capo: metallic bronze, matte silver, matte coffee, metallic gold and metallic black. Whatever color your guitar is, you will surely have no trouble picking a good, suitable product to flow together with its design.
Not only is this one of the best rated capos for guitar, but it can be used for both electrical and acoustic guitar, for ukuleles, mandolins, bass guitars and banjos! If you are the kind of person to have more than one instrument laying around, you will be glad to know that this is one of those capos that can work when clipped to all of the aforementioned instruments. The release is quick and easy and doesn't require unimaginable amounts of power; something that is common with cheaper made capos that have a very stiff release. These capos are made from very durable premium-grade zinc and the capo comes with a lifetime warranty. You will also get a suitable carry pouch for your capo, since Nordic Essentials knows how easy it can be to lose a small accessory like this!
Pros:
+ comes with carry pouch
+ made with premium-grade zinc
+ lifetime-warranty
Why We Liked It - Nordic Essentials knows that many people have a hard time finding good capos, especially ones with a small carry pouch that comes included with the price. You can rest assured that if you purchase this capo, it will be much easier for you to enjoy your guitar jamming sessions and performances thanks to the comfort it provides.
Shubb's capo is definitely one that will attract many pairs of eyes thanks to the original design. It is also Amazon's Top Choice and has five-star reviews all-around. Customers praise the Shubb Deluxe not only for its original craftsmanship, but because it also helps to give your hand more space and doesn't interfere as much with your playing. It's very sturdy and easy to put on the guitar and easy to release and the acoustic guitar strings aren't compressed to the fret board like it is common with capos of a cheaper make. The minimalist design is definitely more stylish than the regular capos you get to see in the stores.
Thanks to the way Shubb crafted this capo, you won't have to worry about any unwanted spring vibrations, either. This capo will put equal pressure on all of the six strings on your guitar and this in turn will allow you to play all of your favorite tunes without worrying that some strings are loose. It's very compact and almost unnoticeable thanks to the thin, smooth but durable design. It's easy to modify and fits almost any and every guitar neck that you will put it on, and if it doesn't you can always adjust it with the screws! This is one of the best and most versatile capos you can get out on the market today, and it's truly worth it.
Pros:

+ unique design
+ compact
+ adjustable and versatile
Why We Liked It - Shubb has given us a capo that not only has a very unique, spring-free design, but also one that is very durable and precise. It will press down all of your strings with equal pressure to ensure that you will get the best sound you can. This capo is truly the best if you are looking for a permanent solution to improving and expanding your guitar skills!
Donner's capo has also earned itself a worthy place among Amazon's list of top choices. Not only that, it also has reserved itself a spot as the number 2 most popular and most purchased capo on Amazon. It's nearly half as cheap as most of the other capos and still has five-star reviews from customers.
If you want a good looking capo that does its job well and us also extremely affordable, Donner's capo should be your go-to choice. There are also five colors to choose from, and many people praise this capo extensively for being so affordable and still offering you all the customer choices that more expensive brands give you. The colors are: gold, black, silver and cinnamon. It's also very easy to move and will leave no scratches behind on your guitar.
It fits perfectly on both electric and acoustic guitars, banjos, folk guitars, ukuleles and the alike. There will no fret buzzing, either. This is one of those capos that will stay in tune no matter which fret you clip it on. It's easy to navigate and easy to move around, and if you are in the middle of a jamming session or performing on stage it's extremely easy to move the capo to another fret mid-song with just one hand.
Pros:
+ built to last
+ easy to move
+ leaves no scratches behind
Why We Liked It - Donner's capo is not only affordable for the general public, but also provides all of the features that a capo that costs twice as much money would. This one won't leave any scratches on your guitar, it's easy to move around, it has fatigue resistance and provides a lot of strength when holding all of the strings down, no matter what guitar you put it on. This is one of the top capos you can get for such a low price, that's a given!
Planet Waves is another company that has made it their goal to give the customers capos with a unique design that doesn't get in the way when playing. It's very compact and looks very appealing thanks to the hook shape that it takes on. You will have six colors to choose from when purchasing this capo: black, silver, classical, lite, bronze and metallic gray. It's specifically designed for acoustic electric guitars and the micrometer tension adjustment ensures that you will not be getting any buzz during your performances, no matter which fret you place the capo on.
You will be able to easily move this capo with just one hand thanks to its light-weight design and the durable thermoplastic construction will ensure that you will be able to use this capo for years to come. This capo is however not recommended for 12-string guitars. 12 string guitars need special, longer and even more endurable capos that can provide the same amount of pressure over twice the amount of electric strings. This capo will however give you an in-tune performance on all 6-string guitars, a performance that is difficult to be rivaled and is one of the top out there.
Pros:
+ variety of color choices
+ unique design, for acoustic electric guitars (see top 10 under 1000 bucks)
+ durable construction
Why We Liked It - Planet Waves' product is one of the best choices if you are looking at very durable and useful guitar accessories, especially since this capo is made from light-weight materials and can be easily removed and clipped onto any fret. If you are looking for a good capo that will help you achieve the high tunes you want, this is definitely the best choice to go for!
Dunlop is another one of Amazon's best capos, and they know it! There are five colors to choose from when buying this product: black, gold, nickle, smoked chrome and a very attractive, maple pattern that has a distinct wooden texture. You can get this capo at very attractive price deals, too. Even though usually it costs around 25$, you can easily get it at 15$ if you look online during holidays or sales! With over 1,500 reviews under its belt, this capo has enticed the customers with its unique color choices and durability. The 5-star reviews praise it for being so versatile, since it can be used for both 6-string and 12-string guitars, and that is a feature that many guitarists look for but can rarely find, especially within one capo. This one is made from quality aluminium and the strong spring will be able to clamp it in place effectively. You will not have to worry about this capo ever coming loose.
The ergonomic shape is very useful for easily re-positioning it between frets and the padded handle make this action more comfy than other capo handles seem to do. Instead of having the aluminium press against your skin in an uncomfortable manner, you will be able to grab the handle without any trouble.
Pros:
+ variety of color choices
+ light-weight, quality aluminium
+ padded handle for easy use
Why We Liked It - This product has been on the market for well over two decades now and still remains in the Top 30 list of capos on Amazon. It looks great and does a fantastic job on keeping the strings tight and pressed against the frets both with 6-string and 12-string guitars. If you are looking for a good deal and a capo that has some fantastic designs, this is definitely the best choice!
KLIQ already attracts attention by their playful company name, and the capo that they present here definitely has a very attractive design, too. It's especially round and doesn't have the hard edges that other capos seem to have, edges that are usually very uncomfortable to hold and prove to be painful when trying to quickly move the capo to another fret. KLIQ gives you three color options to choose from here: black chrome, brushed bronze and satin silver.
This capo doesn't resist when you try to take it off and is designed to be fast and convenient when quickly switching between frets. You will not have to worry about fiddling with this capo on stage, it will provide you with a worry-free experience wherever you go. The spring integrated into this design of the capo is calibrated to give just the right amount of pressure along the fretboard. You won't have to worry that your strings are either coming loose or are pressed way too tight, KLIQ will provide you with just the right sound.
The product is optimized for acoustic and electric guitars specifically and even comes with a metal carrying case to ensure that you keep it safe during travels and when it's just laying around, since KLIQ knows that capos are rather and small and easy to lose.
Pros:
+ attractive, rounded design
+ comes with metal carrying case
+ well calibrated string
Why We Liked It - KLIQ has made a capo that has a very unique and attractive design and even provides their customers with a metal carrying case. It's best to always put the capo back in the case since that will ensure you won't lose it! The string gives the best pressure to the fret without having the strings be too lightly or too tightly pressed, and this makes KLIQ's capos design one of the best.
7. xGuitarx Ultra Lightweight
xGuitarx's capo has been on the market for a bit over two years now and it has still managed to keep a place in the Top 10 list of capos on Amazon. The design is very modern and looks very nicely made, the matte finish definitely adds to the appeal. With over 2,000 reviews under it's belt a full 5-star rating, it's easy to see why this capo is so popular among guitar players. It takes on a simple, basic design and still does what a capo should do effortlessly. Not only do you get a lifetime warranty when choosing to buy this capo, but you also get a variety of colors to choose from: black, gold, silver and metal blue.
This capo stays in tune and keeps a great intonation no matter which fret you place it on and it's super fast and easy to move. It fits on banjos, electric, acoustic and bass guitars, ukuleles etc. therefore if you play more than one string instrument, this capo can prove to be a lifetime friend. It's built to last and is made from a very light-weight aluminium material. The silicone pad will make sure to protect the neck of your guitar from any scratches that an unprotected capo could inflict.
Pros:
+ no fret buzz
+ made of light-weight aluminium
+ lifetime warranty
Why We Liked It - xGuitarx's capo is best for anyone that is looking for a durable, average priced capo that does its job. This is one of the best capos on the market, the price is right in the middle of the scale, the features are fantastic and you also get a lifetime warranty upon purchase. This is definitely one of those capos that will encourage you to perform your best for years to come!
Liroyal's product is definitely one of the most affordable capos on the market today, it costs below 5$ and is best for those who don't know if they even need a capo! It's the best product to test out and see if you like the sounds a capo gives you through the pressure it puts on the strings. When buying Liroyal's product you will get to choose between 7 default colors: green, blue, gold, red, white, black and silver. There are also two styles to choose from, one looks much like an archer's bow and is very unique and modern looking, while the other style looks more like the common capo design you would find in any store.
This product molds perfectly to the shape of your hand when you will be replacing it from fret to fret and it holds the strings nice and tight to make sure you get the best possible sound possible. This capo works both with acoustic and electric guitars and won't budge when you put it on the desired fret unless you purposefully take it off. This is a very efficient and durable capo that is praised by many for having a unique, well-built design. You will get to explore a lot of intonations on your guitar that you probably never heard before, and there is no doubt that this capo will give you many hours of fun and experimentation!
Pros:
+ very affordable
+ tight, firm hold
+ well-built design
Why We Liked It - Liroyal's product is one of the best capos when it comes to buying capos at an affordable price. If you are looking for a back-up capo in case you lose one or if you want to experiment and see what all the capo fuss is about, this is definitely the best choice to go for!
Kyser has one of the best capo designs out there; this one in particular looks very attractive thanks to the curves and curls that combat the straights. There are over 11 colors to choose from, some of which include very funky and unique patterns that could attract any curious eye. Being on the market for over a decade now, this capo has still managed to stay in the Top 10 list of Amazon's best capos. It has gotten over 1,500 reviews over the years and the vast majority is very positive and encouraging. Many customers state that this capo has lasted them for over 6 years even with regular, daily use. The special design makes it easy to adjust and even though the capo maybe be tough at first, the hinge will get more flexible with use, even though the grip will stay as strong as before!
If you have bought capos before that have buzzed during live concerts and have given you dead strings, you should be happy to hear that this capo does none of that. It's the best companion to use when playing live, you can clamp it with confidence and play worry-free and entice your audience. When the song is done, you can easily take the capo off or move it to other frets with one hand. This capo is extremely efficient and doesn't interfere with playing at all.
Pros:
+ best for live concerts
+ funky and unique pattern selection
+ reliable and efficient
Why We Liked It - Kyser has given their customers a selection of very funky and attractive patterns and colors to choose from when purchasing this capo. If you decide to get this product, you will be investing in one of the best capos available on the market today, especially for playing during live concerts. If you are on the stage a lot of the time and need a new capo or want to try out a new market competitor, this is definitely the best choice!
10. Deal Grinder Co. GP004
Deal Grinder Co.'s capo is another very affordable product that originally costs below 4$! If your trusty capo has broken or if you don't know if you will even like the sounds a capo will provide you with and you don't want to spend too much money on it before trying it out, this is definitely the best choice. Coupled with shipping, you will be getting this capo right under 10$. This capo is best for acoustic and electric guitars and is made of very sturdy and thick metal that will make sure the strings stay in place. You won't hear any fret buzz with this capo at hand to help you explore your musical horizons.
The capo itself is padded and has very efficient spring-action that can help you easily move it across all of the frets without any trouble. The color of the finish is silver and there is an adjustment knob on the back that you can use if you find that the neck of your guitar doesn't fit very well to the shape of the capo itself. It has a solid build and works on almost any guitar you clip it onto.
Pros:
+ very affordable
+ fits to almost any guitar neck
+ has an adjustment screw
Why We Liked It - DealGrinder Co.'s capo is best for anyone that is looking to explore all of the different intonations that their guitars have to offer; intonations that were hidden away from them through the lack of a capo! If you are searching for an affordable and reliable product that will make your jamming sessions and performances a bit more interesting, this is the best capo to go for!
Capo Buyers Guide
What is a Guitar Capo?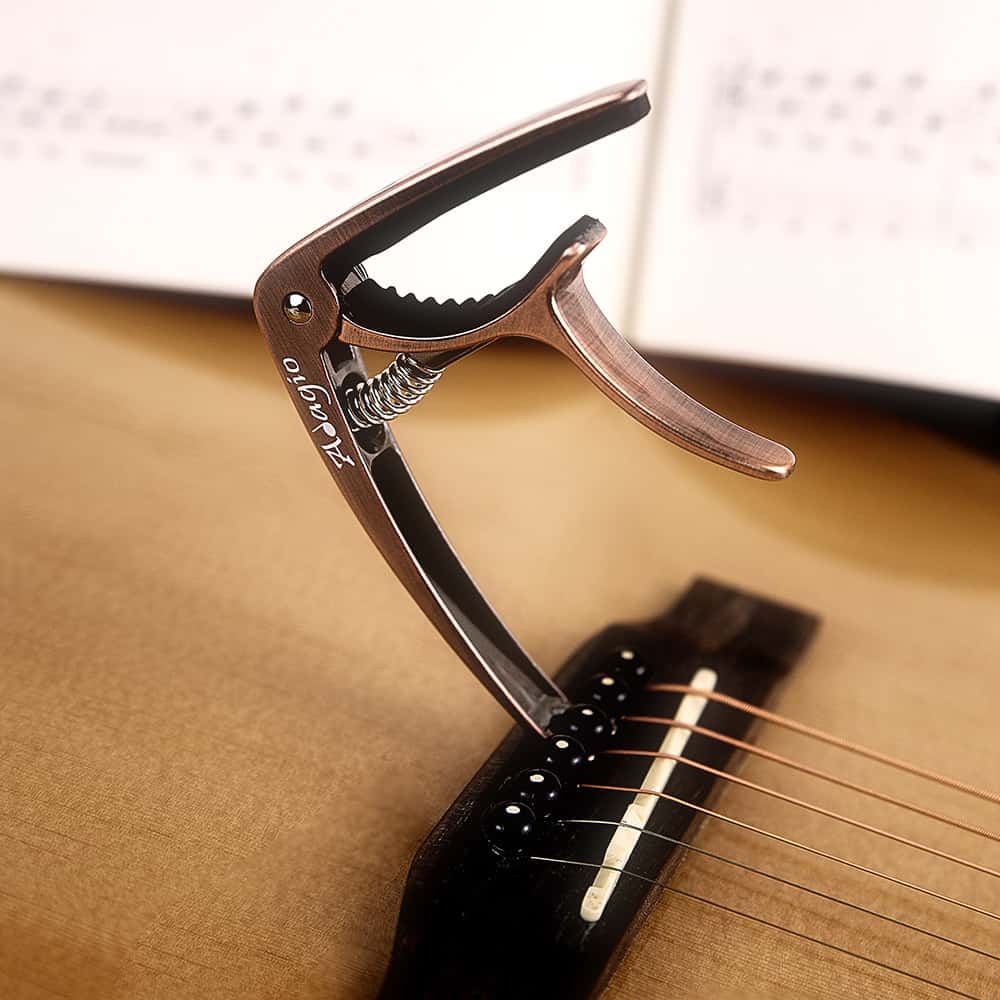 Some guitarists have a preference for not using a capo, but many, many others do! A capo can look a bit insignificant and even useless at a first glance, but that couldn't be further from the truth. This little device has been first mentioned in the 1640s and then in the 1850s it was patented. It's still a rather new invention, but many people take it for granted or tend to not use it all, which is a real shame, since capos can spare a guitarist a lot of trouble.
A capo is a small clamp-like object that is meant to be clipped onto any fret of the guitar (click for the study on other techniques), and this, in turn, shortens the length of the strings, which increases the intonation of the sounds made.
How to use a Capo for Guitar?
Using a capo is extremely easy, all you need to do is clip it onto any fret you like and start playing!
What is the Best Acoustic Guitar Capo?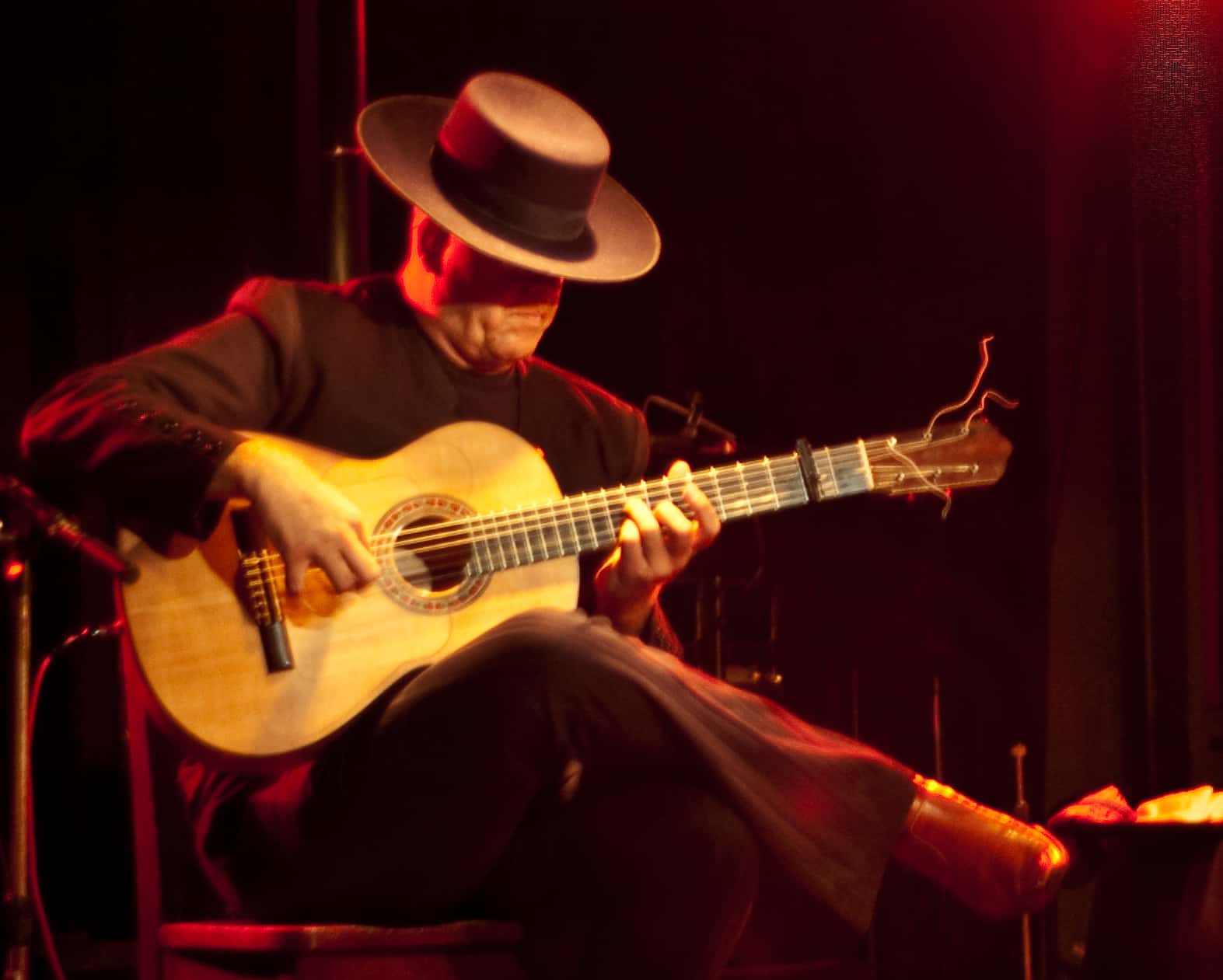 Some of the capos for classical guitars are made by Dunlop- they have very tough capos that can hold down the thick and tough strings that are common on acoustic guitars - read the study here. The Dunlop 85FB is a particularly good contestant here since it's on the list of Amazon's Choice's and it's also very affordable, pricing in under 15$. You also have three colors to choose from gold, nickel, and black.
What is the Best Electric Guitar Capo?
There are many capos that are fantastic candidates, but one that stands out among the other is the Shubb C1 Nickle Capo. It comes in four colors: black, brass, bronze and chrome. You will able to have control over how tightly you can clip the capo onto your guitar and it's rather small and compact, which makes it a good travel companion!
Can you Use a Guitar Capo on Ukulele?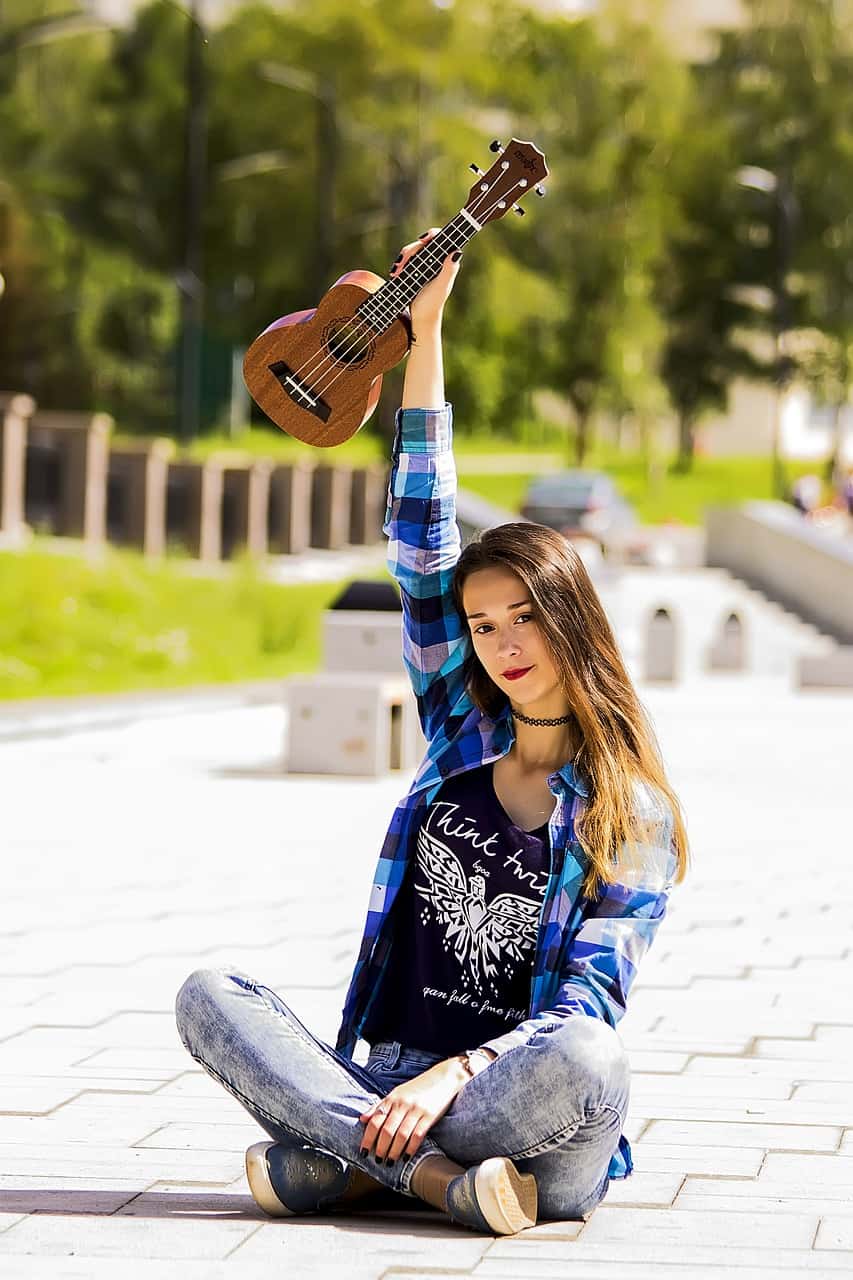 A common question people ask usually concerns how versatile a capo can be, and the answer is: extremely! A capo can be put on ukulele strings (though usually, it's best to check that the industry supports the claim in the bullet points underneath the product). Capos can also be used on mandolins, folk guitars, banjos, etc.
What are the different Types of Capo?
There are many types of capos, and each and every one of them will give you a very unique set of sounds. Capos are the best products to have by your side so that you can experiment. If you have a string instrument and want to play around with, a capo is a fantastic device to buy, but there are many options to choose from! For example:
+ a clamp capo- This is the most common capo that you can find on the market. It holds all of the strings of the guitar and pressed them down all across fret.
+ a shubb- This capo has a screw and lever to help you adjust its size to match the size of your guitar neck.
+ a g-band- This capo holds down only specific strings, usually on the outer edges of the fret. This gives it a distinct 'G' shape since it doesn't go over all of the strings and the other strings are left free.
+ a slider- This capo can easily slide from one fret to another without you having to remove it.
+ a spider- This capo can hold only selected strings and is a favorite among guitarists thanks to the funky things you can do with it.
Top Choice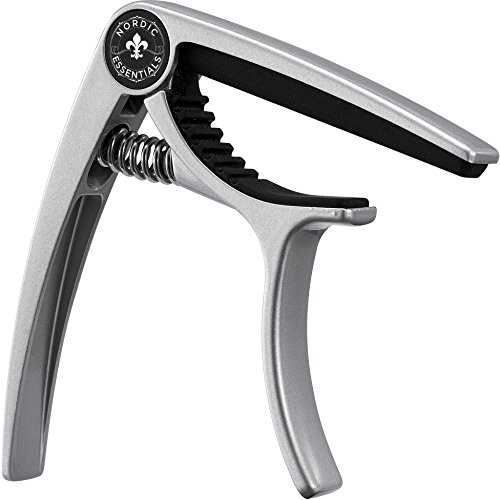 Our Top Choice spot has to go to Nordic Essential's capo, not only do they have five, very attractive colors to choose from, but they have a lot of features that would attract even the fussiest of customers. Upon purchase you will get to decide which color you want, you will get a full lifetime warranty and a small pouch to put the capo in to keep it safe. It's the best bundle that anyone could ask for, it has a distinct luxury feeling thanks to the appeal of the premium-grade zinc coating and can be used for a lot of stringed instruments, and is not limited to only guitars.
The capo is so easy to use that you will be able to move it from fret to fret, if necessary, with just one hand. Some capos tend to be extremely stiff and very hard to grab, but this is not the case with Donner's product. They took it a step further to give you and durable, modern looking and fashionable capo. Many industries nowadays don't care much for the appeal of their products, but this capo from Nordic Essentials definitely looks impressive and functional right from the beginning.
Nordic Essentials capo is our Top Choice because of all of the features that it provides to its customers, like the carry pouch and lifetime warranty. It's great to have those things included with your product and Nordic Essentials does everything to make sure you will enjoy your new product as much as they enjoyed making it.
Premium Choice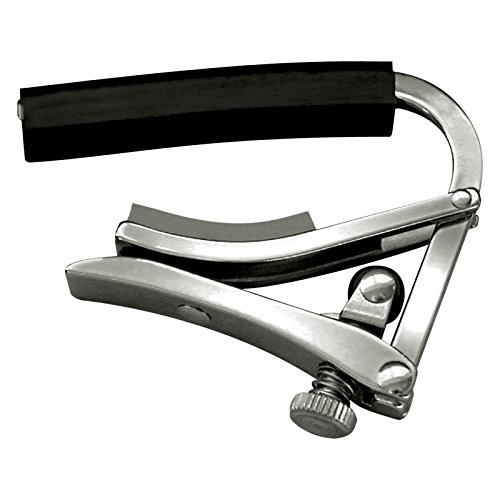 Our Premium Choice spot has to go to one of Shubb's capos, the GC-30! It has earned itself a place among Amazon's choice products and it's easy to see why. Shubb isn't afraid to try new things and doesn't shy away from trying out new designs, too. This mindset has led them on to have one of the most sought-after capos on the market. This capo has been on the market for nearly a decade and has had over 400 people write reviews, and it still manages to keep a full 5-star rating despite the years that it has spent on shelves.
People still turn to buy this capo even today, and it's no wonder. The design is very unique and it doesn't get in the way when you try playing, which is a common problem with many other capos. Shubb claims that this design has been loved and approved by musicians for over 35 years now. They are proud of the fact that you can place this capo on any fret and just forget it. There is no need to rest or adjust the pressure with each use, the capo does it by default.
Shubb's capo is our Premium Choice simply because locking and removing it is laughingly easy, you don't need to put much pressure at all and that's the most vital feature a capo can have. The rubber works just like your fingers would when holding the strings down, and it's one of the best, most efficient capos out there.
Great Value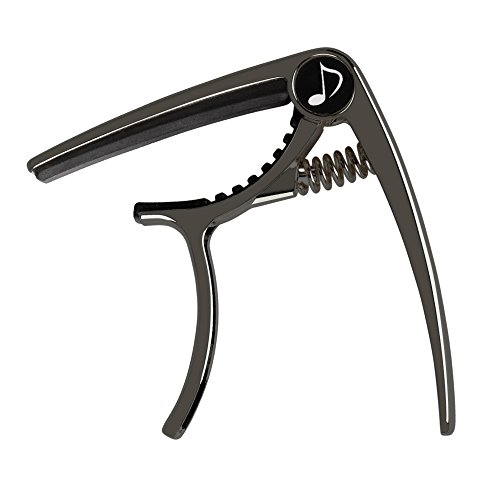 Our Great Value spot has to go to one of Donner's capos- they have been on the market only two years, but within that time they managed to dominate the world of capos and to come out on top. They have over 600 reviews, most of which are rated as 5-star, and rightfully so. This one is also the 2nd best-selling one of its kind on Amazon. The price is almost half of what the usual capos cost and it still has all of the features that you would expect a capo to have. It works great and Donner gives you four color options to choose from upon purchase.
This little device will leave no scratches behind when you move it around and it won't give you any fret buzz whatsoever. It will stay in tune for hours wherever you place it and it won't loosen up its grip unless you take it off or purposefully loosen it. It's very easy to move around the frets and it's built to last, it's light-weight in its build and is made from high-quality zinc that will help keep this capo looking fresh and new for years.
Thanks to the amazing price that Donner sells this product at (10$!) and the fantastic features and available color choices, it has to be our Great Value choice. It's simply one of the best capos out on the market today!
Conclusion
Choosing a good capo for your guitar can be difficult, especially if you are looking for a product that can work on 7 or 12-string guitars, too. Most capos are very versatile and most have extremely good reviews and 5-star ratings, which can make it overwhelming to choose just one candidate from such a huge, positive sea of options. No matter which one you end up going for, we hope that you got to know some new information from our FAQ section and that the reviews listed provided to be useful in your search for a new companion that can hold your strings tight for you!
If you've enjoyed this review by Music Critic, please leave a positive rating: