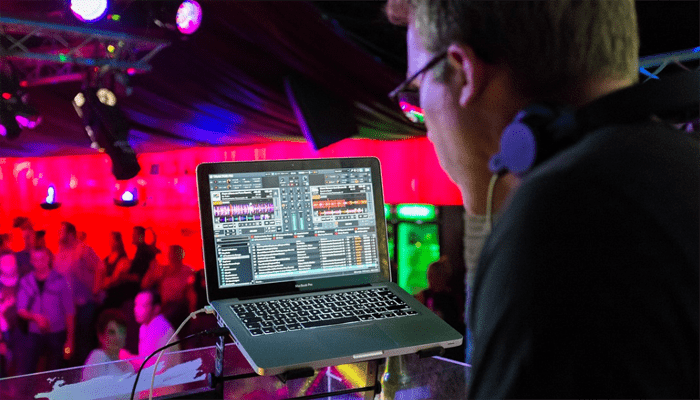 If you use a Mac and you're a DJ, then you're going to need the best DJ software for Mac. It's as simple as that! There is so much choice when it comes to DJ software though, so you'll need to make sure that you choose the right one for your level, as well as for the style of music that you plan to make and mix.
Some software comes loaded with effects, as well as options for recording too. And if you want to use the software for performing live, then there are some advanced features that you have to look out for as well.
To make sure that you choose the best DJ software for Mac for your needs, then check out this list of the best around, as well as the buyers guide to make sure you're looking out for the right features.
At a glance: Our top 3 picks
Your shortcut to our team's top 3 recommendations
View The Best DJ Software for Mac Below
1. Professional DJ Mixing Software
If you're looking for the best DJ software for Mac that is affordable and also compatible with almost all external DJ controllers, then this might be perfect for you. Usability of this software is one of its biggest strengths, meaning that complete beginners can get to grips with it very quickly, making it a good software for experimenting with and learning on too.
It has all the core features you'd expect from DJ software, which means BPM detection and syncing, Auto DJ, vinyl emulation, crossfader, and a host of great effects for you to play around with.
Pros:
+ Great price
+ Auto DJ function
+ Ideal for beginners
+ Celebrity drops
+ Quad microphone input
Why We Liked It - The low price, numerous effects, and easy usability truly puts this in the best DJ software for Mac category.
2. Hercules DJControl Compact
This is a compact DJ controller that comes with DJUICED 18° DJ software, which means that you don't get only a quality controller, but also one of the best DJ software for Mac. The controller is portable, has two mixing decks, and four pads for each of the dual decks.
The jog wheels mean that you're able to scratch in the same way as you would with vinyl too and it also has the all-important crossfader that no DJ can live without. In regard to the DJ software, it features filters, automatic synchronization, and the ability to set pitch yourself.
Pros:
+ Portable, light DJ controller
+ Easy-to-use DJ software
+ Dual mixing decks
+ Software includes loops, samples, and effects
+ Jog wheel for scratching
Why We Liked It - This package includes a lightweight, easy-to-use DJ controller that has dual pads and a crossfader, and it comes with great DJ software, so there is a lot to like about it.
3. Numark Party Mix – Starter
This is another DJ controller and DJ software package, with the DJ controller punching well above its tiny weight. It's perfect for party people, as it includes a light show, but it is more than just flashing lights. It has all the standard features that every DJ requires, which means a crossfader, jog wheels, pitch faders, and, of course, it has two channels.
There is the option for manual looping. The DJ software for Mac that's included is the Serato DJ Lite software, which is very intuitive and user-friendly, so you should be able to pick it up quickly.
Pros:
+ Light show
+ Stylish design
+ Lightweight and compact
+ Easy-to-use DJ software
+ Lots of effects
Why We Liked It - The flashing light show makes the DJ controller a lot of fun to use, but it is also technologically advanced, and the Serato DJ Lite software is definitely one of the best DJ software for Mac for new DJs.
4. Numark Mixtrack 3 | All-in-one
The DJ controller with this set is for DJs who are serious about their craft. It has metal jog wheels. There are four cue buttons. And also you can use both manual and auto loop. It has 100mm pitch controls. That enhances your ability for smooth transitions, beat matching, and, of course, mixing too.
The software that it comes with is the Virtual DJ LE, which is an excellent product. It is packed with so many great features that you can constantly improve while you use it, allowing you to grow and advance as a DJ without being stifled by a lack of options.
Pros:
+ Quality DJ controller
+ 100mm pitch controls
+ Dynamic, hard-wearing metal jog wheels
+ Virtual DJ LE software
+ Prime Loops Remix Toolkit
Why We Liked It - Besides the Virtual DJ LE being the best software for Mac for aspiring DJs who want to have software they can grow with this package also includes an advanced DJ controller.
5. ION Discover DJ USB DJ controller
This is another DJ controller and DJ software for Mac combination package. The DJ controller is small, lightweight, and hooks up easily to your Mac through a USB connection. Despite its small size, the scratch wheels maximize their size, allowing you to easily scratch with them, and they are also very intuitive and sensitive.
It has the option to tempo match the subsequent song, and you also have a crossfader too. The MixVibes Cross LE DJ software is equally as user-friendly, and it is loaded with lots of great features, such as fourteen audio effects, and allows for eight hot cues per track.
Pros:
+ Fourteen audio effects, including phaser, echo delay, and chopper
+ Tempo match
+ Easily integrates with Mac
+ Manual and Auto loops
+ Large scratch pads
Why We Liked It - MixVibes Cross LE DJ software is so intuitive, so loaded with effects, and includes so many great extra features that it really up there as the best DJ software for Mac.
DJ Software for Mac Buyers Guide
Before you make your choice as to what DJ software for Mac you want to invest your money into, then consider the following features, so that you pick the very best.
Usability
It goes without saying that usability is an important function of any DJ software. The more advanced the software, the more options, and then, as a result, the more difficulties less advanced DJs will have with it.
Some of the best DJ software for Mac will have demo versions, so this is a good option to try before you buy. If you like the interface and find it easy to use, then it will be the best DJ software for you.
Mixing
Not all DJ software will offer the same amount of options here. Before you choose which one to buy, consider how many decks you plan to mix from, and then you can decide if you want it to mix between two decks, four decks, or more than that. Beginner DJs should be fine with software that only allows for the mixing of two decks.
Effects
Each DJ software comes with different options when it comes to effects. Some of the best DJ software for Mac will even offer hundreds of effects, and also the possibilities to download other effects too. Basic effects like echo, phaser, flanger, delay, low-pass, and high-pass are a necessity for any budding DJ.
Recordability
This is also an important function of DJ software. It doesn't always come as a standard. So, if you're planning to record your music and upload it to Soundcloud, YouTube, or Mixcloud then make sure that you're able to easily record through the DJ software.
Compatibility
This is another important consideration because while your DJ software might be compatible with Mac, it might not be compatible with your DJ controller. If you're a new DJ, then it is recommended to purchase a controller that comes in a bundle with the DJ software, then you can be certain that the two pieces of equipment will work seamlessly together.
Can you also use DJ software to mix videos?
Yes, this is possible. A lot of the best DJ software for Mac will offer you the ability to mix videos, as well as audio. This is a really handy feature, especially for DJs who like to work with music videos, rather than just being audio-specific.
Expert Tip
There's no need to rush in with purchasing DJ software. So many of the manufactures of the best DJ software for Mac will give you an option to download a demo version. Then you can play around, see if it works, and purchase the full version.
Did you know?
In 2016, a Nigerian DJ named DJ Obi set the world record for the longest ever DJ set. Remarkably, he managed to keep on spinning records and playing tunes for a whopping 240 hours and was only allowed to take a break for 5 minutes per hour. He didn't sleep either!
Conclusion
Choosing the best DJ software for Mac doesn't need to be difficult. There are so many good ones on the market. Just remember that you should make sure that it is compatible with your gear before you buy it and that the ability to record, make hot cues, and also mix multiple decks are the most important features of the best DJ software.
If you've enjoyed this review by Music Critic, please leave a positive rating: