Despite being relatively new to the market, portable tablet compatible mixers are quickly becoming popular and highly competitive. The Touchmix 16 is a comprehensive miniature console.
The compact size of this mixer makes it perfect for dragging around on tour. With a durable, low profile shell to house the circuitry, and an excellent class-A mic preamp, it's beautifully built by QSC, a Californian-based company. This Mixer is much more robust than it first appears; the rotaries have excellent resistance to make for easy use, in spite of their tiny size.
Its capacitive touch screen and digital electronic use create a minimal design when it comes to the hardware. It has a versatile multi-core with a virtual set-off, mixing racks at its heart. This simplifies the work, keeping the layout professional and uncomplicated.
With fewer physical parts and more digital capabilities, this mixer can pack in a range of impressive innovative features. It has a built-in recording interface; you can use an old track symbol simultaneously. It also has a sample rate of 48 kilohertz at 32 bits.
The operation reminds us of a lot of the Maki dl1608. This is no real surprise, as Greg MacKay worked in collaboration with Peter Watts from QFC to help make the Touchmix series. Although Greg wasn't heavily involved in the dl1608, they do function similarly and will be competing against one another.
This mixer sports a nice mix of premium parameters, allowing for a wide range of adjustments to be made. It features 16 direct inputs; 12 are XLR, four of them are a combinational TRS XLR, and there are an extra four on-board line-in inputs to get pumped up from 16 to 20.
You have a few navigational keys, which, again, keeps everything simple. There's a phantom power control for xlo tracks, a standby button to help save power, as well as buttons for muting effects and pulling up information forming mute groups, etc.
The room tuning wizard button helps keep workflow efficient. It takes the headache out of repetitive EQ adjustments and fights feedback, anticipating problems, thanks to the dual real-time analyzers. You have more than 100 different presets for a variety of instruments and Mics.
This allows for quick setups, which is great if you're a beginner because it simplifies complex EQ jobs, making them instant automated tasks. This is more than adequate for when you're working on the fly. Furthermore, you can also save and recall.
There are 12 different outputs all together, letting you track however you prefer. The Touchscreen Digital Mixer also has a TalkBack mic. There are three selection buttons to help facilitate listening decisions, which let you easily switch between headphones, monitors, and talk for TalkBack. The high-quality screen responds well and provides an organized visual display of some of the built-in sound engine's more complex controls.
The effects are of good quality; you can customize them down to the last detail. Effects include high-pass filters, low-pass filters, reverbs, and delay and time to tweak. You can use four fxs slots at once. It has a range of features. But the crowning glory of the Touchmix-16 foremost is that it comes equipped with a WiFi adapter, meaning you can network the mixer to an iPhone or an Android device. Then, another mixer can join in, and you can connect 12 devices at the same time. This also means you could give every member of the band a tablet to control their own personal monitoring mix.
Touchmix 16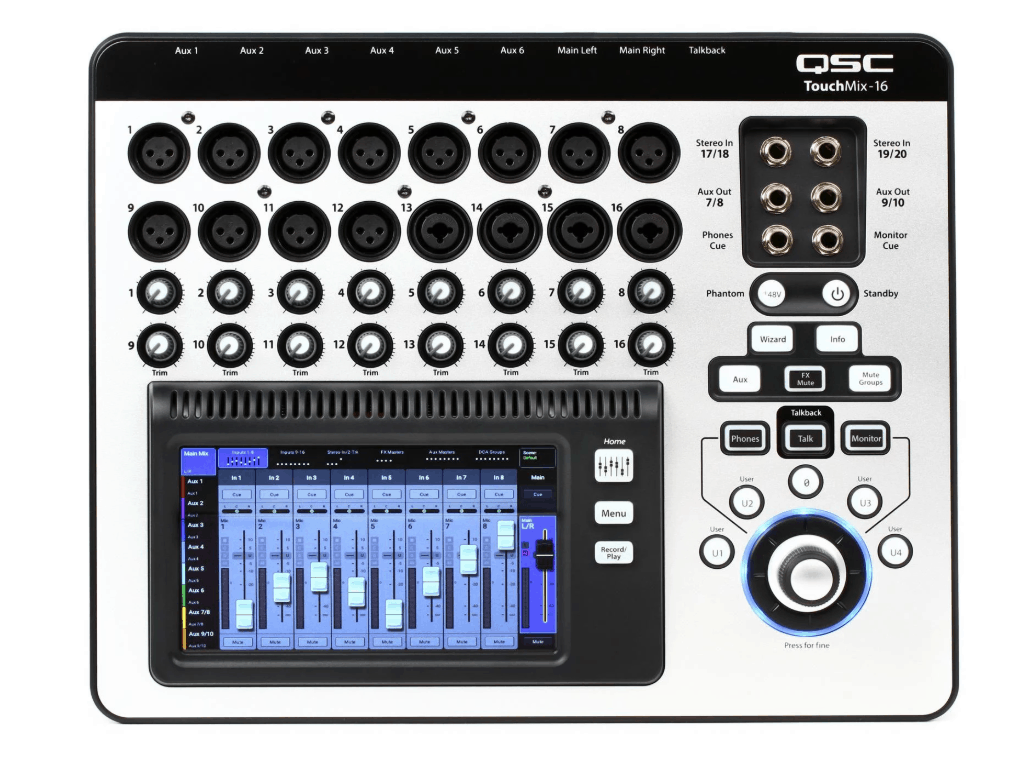 Summary
If you want to streamline your set-up into a smaller outboard rig with a fool-proof operation, then the Touchmix 16 from QSR is one savvy route to take.
It offers 116 inputs, plus four line-ins. There are a total of 20 tracks you can choose from. It has a range of room and instrument presets, making it ideal for novices to get going.
You can record and save settings for up to 4 users. You can also record directly to an external hard drive. It offers a variety of professional effects, records at a high bit rate, and all tracks can be used simultaneously.
Pros
+ Class-A mic preamps.
+ Up to 20 tracks.
+ Great I/O mix.
+ Talkback functions.
+ 32-bit rate over 48kHz
+ 100 presets.
+ Good quality touch-screen.
+ Built-in WiFi for Android remote use and syncing devices.
Cons
- You have to adjust gain-trims by hand.
Why We Like It
The Touchmix 16 Touchscreen Digital Mixer is a well-built, lightweight mini-console that you can use with up to 12 android devices. It has a built-in record function, and the onboard presets make set-up a doddle, even if you are completely clueless. You can choose from a wide range of presets and adjust the settings accordingly with the fine-tuning dial. QSR is constantly sending updates, too, making the Mixer a sound investment.
If you liked the article, please leave your feedback.