Plenty of people are setting their sights to audio capture in recent years. With artists (such as Billie Eilish) who started their journey into music-making from the comfort of their own homes, but are now snagging four Grammy awards, the glass ceiling is becoming permeable.
Whether it's serious or just for fun, being able to record your ideas, musical or otherwise, is a tempting premise. To effectively get into recording, especially for musical endeavors, you'll want a decent Audio Interface.
The Behringer U Phoria range provides something affordable with quality engineering. While the Um2 isn't the most impressive of the series by any means, it retails for under fifty bucks, and that isn't something to be scoffed at for beginners with limited funds.
The Um2 is a simplified two-channel interface that harbors high-end German-engineered XENYX preamps. They enable you to record at a high level of quality that's true to the original signal input, without unnecessary coloration or discernible background noise.
To be able to input audio into your Mac or PC, you need a microphone. Although many laptops have a built-in mic, the capture quality is never sufficient enough for anything, bar saving a passing thought or idea to build on later. You could hook a computer mic up, but again, they tend to tailor towards spoken word and communication. That is, Skype or TeamSpeak.
The Behringer XENYX preamp has been designed for sublime vocal capture, bolstered with optional 48 Volt phantom powering to accommodate a professional condenser microphone. The switch for which is located on the rear panel with the outputs and USB connection for bus-powering.
For an easy home-studio set-up, most modern artists are opting for a PC or Mac-based digital audio workstation to record into, rather than buying an overly complicated Digital Personal Studio (DPS).
The U Phoria series requires no drivers for its installation, making it a plug and play device, and being a leading brand, all major DAW software instantly recognizes the equipment.
The first channel is a jack/XLR combo, meaning you can plug in a mic lead or a quarter-inch instrument cable, and the XENYX preamp will capably handle and balance a line-level signal.
The secondary instrument channel means you can connect a mic and instrument at the same time to record simultaneously.
The level dials are top-mounted, which helps to reduce the footprint of the interface. It's very compact and could be taken on the go with you. There's an individual gain dial for each track and output levels for monitoring.
Each channel has an LED clipping monitor to help you achieve the right volume levels before you hit record, so it really couldn't be simpler.
The outputs are pretty basic too. There's an RCA stereo out for speaker attachment (or DJ turntables), and a ¼ inch output alongside it. At the front, a headphone output and a button engage direct monitoring, with low latency to listen to the previously laid track as you record the next one.
It retails with a complimentary full-download of Traction recording software, which is a popular DJ tool too.
Behringer U Phoria Um2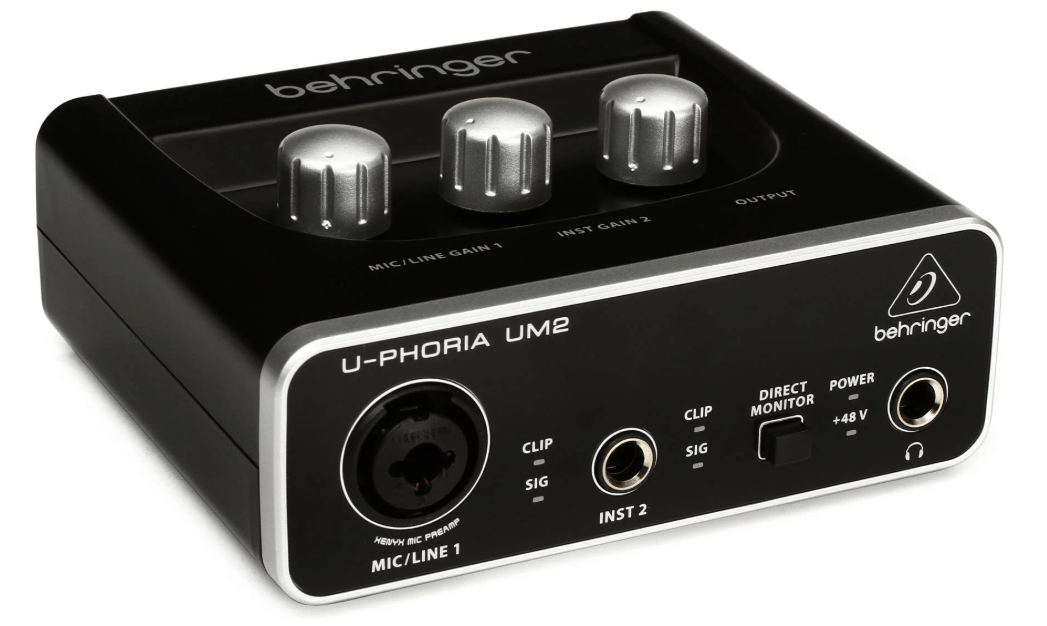 Summary
The Um2 from Behringer is the company's low-end, beginner-friendly, basic AI from their renowned U Phoria series. Bus-powered, it syncs to all major DAWs and makes recording a cakewalk. It's relatively hardy for a budget model, and the hardware components are well organized.
By separating the inputs, outputs, and dial locations, the company has maintained a compact, uncluttered AI that won't overwhelm. It's easily portable, which is a bonus.
This interface presents two channels; there's one for microphones and line-level instruments with an excellent quality XENYX preamp. The other is for regular instrument input. There is a phantom power switch for condenser mics, and each channel has a clipping LED to help guide you towards the right levels.
You can monitor with the stereo RCA output or via headphones without any lag. It also comes with a full version of Tracktion software.
Pros
+ 2 channel AI.
+ XENYX preamp combo input.
+ Clipping indicators.
+ Gain dials and separate output level dial.
+ Super-compact dimensions.
+ RCA stereo output and mono output.
+ Low price-tag.
+ Free recording software download.
Cons
- The chassis and dials don't seem overly durable, but this is fair, given the price and the customer demographic that Behringer is aiming this product towards.
Why We Like It
Many companies are jumping on the bandwagon with low-cost interfaces, but none with the capable engineering of the Behringer UM2. It's a bare-bones two-channel interface with a great preamp installed.
With a super-simple layout, clipping indicators, 'plug and play' operation, and bus-powering, it couldn't be easier to take the first step on the music industry ladder.
If you liked the article, please leave your feedback.