The Akai Professional MPC Live is an audio sample and production controller that you can take anywhere. It has a ton of samples preloaded into the system. The sampler has external hard drive hookups so you can have access to plenty of other sounds. It only weighs 5.5lbs and is small enough to fit into a messenger bag for on the go.
It works using a rechargeable battery and has AC hookups. The pads are highly dynamic and sensitive, meaning they will respond nicely to the touch of a finger. The Akai Professional Live is an excellent option for producers who want a standalone controller they can take on the go.
Specifications
• Standalone DAW software that allows you to work independently
• Lightweight and portable
• 7" multi-touch screen
• 16 pressure-sensitive pads
• 16GB of storage and external hard drive hookup
• Q-link and drag and drop Midi capabilities
• 10GB of usable sample content included
• Audio recording ability with time warp
Akai Professional MPC Live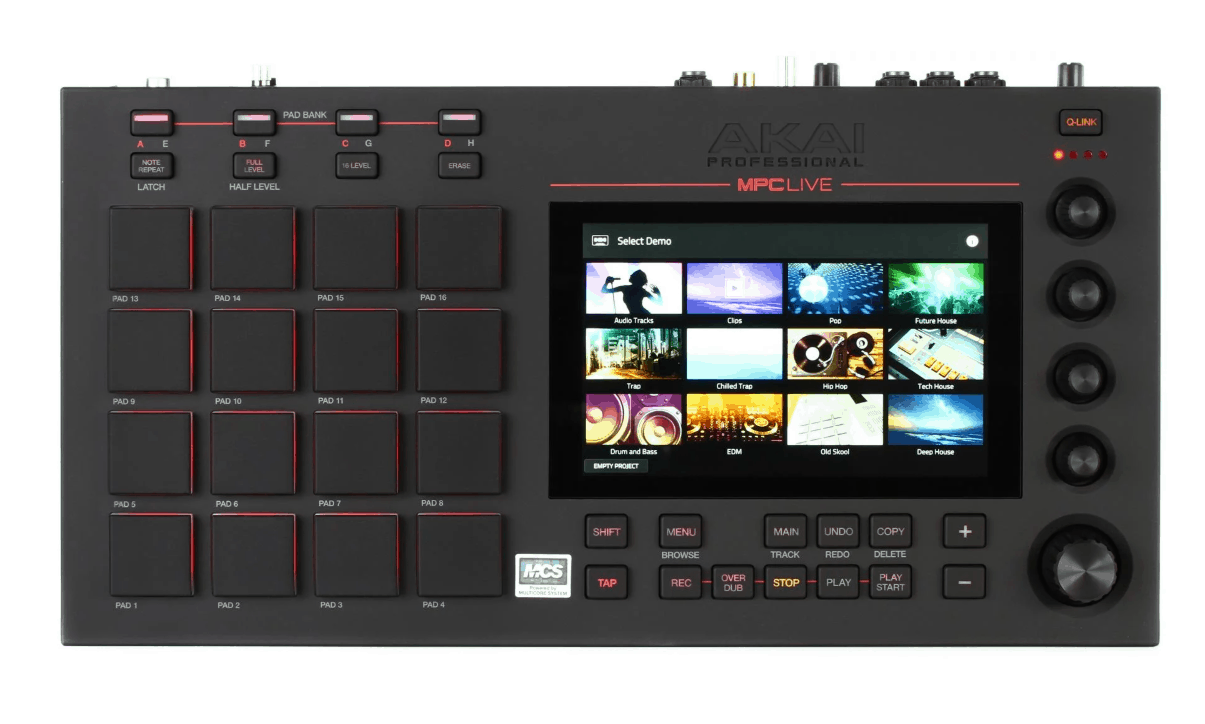 Summary
The Akai Professional MPC Live is an excellent sample controller that you can take anywhere. A few features make it stand out from the crowd and offer producers plenty of tools. It can be used as a standalone unit that you don't need to hook up to a laptop. All of the sampling capabilities you need are there within the controller, right from the get-go.
It has 16 highly sensitive pads that respond beautifully to your touch. It's also incredibly easy to create the types of sounds you want on the fly with the Akai Pro MPC Live. A 7" touch screen gives producers tons of room to work with and also provides an excellent level of control over the samples and features.
It has a massive amount of built-in samples that you can use right off the bat. 16GB of storage offers a vast amount of space for new samples when necessary. If you're looking for usable audio sounds right out of the box, the Akai Pro MPC Live has plenty to work with and lots of storage for you to upload brand new samples.
It has features that let you record your original sounds on the fly as well. Now you can make beats that you've worked on before, and you can manipulate them how you want to stand out in the crowd.
It's not bulky, but lightweight and portable enough that you can take it virtually anywhere. It can fit into a bag easily, making it perfect for producers who need the high level of versatility the Akai Pro MPC Live offers.
The design is small and simple, but it doesn't lack anything. It's also intuitive enough to be used by first time engineers, or long-time professionals. Studio capable audio production is possible anywhere with the Akai Professional MPC Live. It has all of the features necessary to make some chart-topping beats wherever you find yourself.
Pros
+ Tons of samples included
+ Lightweight and portable
+ Highly sensitive dynamic pads
+ Easy to use and navigate
+ Plenty of control possibilities with the 7" screen
Cons
- The learning curve in the technology
- Need to keep the battery charged
Why We Like It
It has never been easier to make your beats. The Akai Pro MPC is a high-powered production machine that gives producers an insane amount of control and versatility in a standalone controller. With 10GB of uploaded music samples, you can start to create some useful content right out of the box. It also has tons of space for new samples you've created, and recording abilities that let you make your sounds and manipulate them to your liking.
Being able to take the controller anywhere with you is a huge plus. It's small enough to fit in any backpack or messenger bag so that you can make it to your gig or studio space easily. There is no need to be hooked up to a laptop for all your work and recording. It has all of the necessary features built-in so you can get your job done without being tethered.
A rechargeable battery gives you even more freedom from cables. One of the best features of the Akai Professional MPC Live is the sensitive pads for live creation. Whether you're working on new beats for a live show or a recording session, it makes playing along smooth and seamless.
This is a fun controller to play with and has a ton of high-tech features that would please professionals and amateurs alike. If you're looking to create some amazing beats and recordings on the go with excellent samples, the Akai Pro MPC Live may be the right one for you.
If you liked the article, please leave your feedback.