The Behringer Powerplay Personal Mixer is the ideal route to go if you're new to the technical side of things. Most musicians rely on a technician or an engineer to set everything up for them. Everyone wants to hear something different in the monitors - this can lead to lengthy sound checks before a show.
The Behringer personal monitoring system is built to work with the legendary Behringer Powerplay Distribution System. It enhances performance by giving the instrumentalists and vocalists the most vital tools they need.
A personal mixer is a great way to put control into the hands of the performer. With its basic features and layout, it's easy and efficient to use. Behringer has stripped back the functionality and simplified the parameters for a capable piece of kit that won't overwhelm a beginner, but will still impress a pro.
Although it's been designed with a minimalist style, it still offers a good range of mixing adjustments and provides 16 channels to use. For live use, it allows you to hear at a high-quality audio level. The 24-bit D/A converters ensure that the sound is top-notch. It also has ultra-low latency to ensure nothing glitches.
You can feed the signals to your stage monitors, or there's an output for headphones or in-ear monitoring. It accepts your standard ¼ inch jack or XLR microphones. The whole thing can be expanded via the P16-D Digital ULTRANET Distributor, combining six personal mixes into 48 personal mixers.
No matter how small or large your set-up, you're covered. Each musician can tailor what they're hearing to their own independent mix. This means that the drummer can have more of the bassist in their ears, etc.
Each channel has a button to track select. The 3-band EQ and sweepable midrange frequency helps you to clear up muddiness and emphasizes what you want to hear. You also have a limiter and output level dial. This means you can rest assured that when the guitarist kicks it up a notch, your ears won't suffer. It protects against bass boost and signal spikes as well as feedback from the microphones. You can even solo out or mute certain channels all-together if you wish.
If you have stereo monitoring, you can pan the tracks to reflect the stage set-up for an authentic feel. This feature is great for group monitoring in a studio or live recording set-ups.
You can save and recall presets for custom mixes. This allows you to have slightly different settings for specific songs, should you need something different in your monitoring mix.
It has a great build-quality, as we've come to expect from the world-class Swiss or German engineering team. The design is pretty fool-proof and it doesn't require a power plug, as the Ethernet cable sends the power required to function straight to it. It can be mounted directly onto your mic stand with the P16-MB mic-stand mount attachment. This is, however, sold separately.
Behringer Powerplay P16 M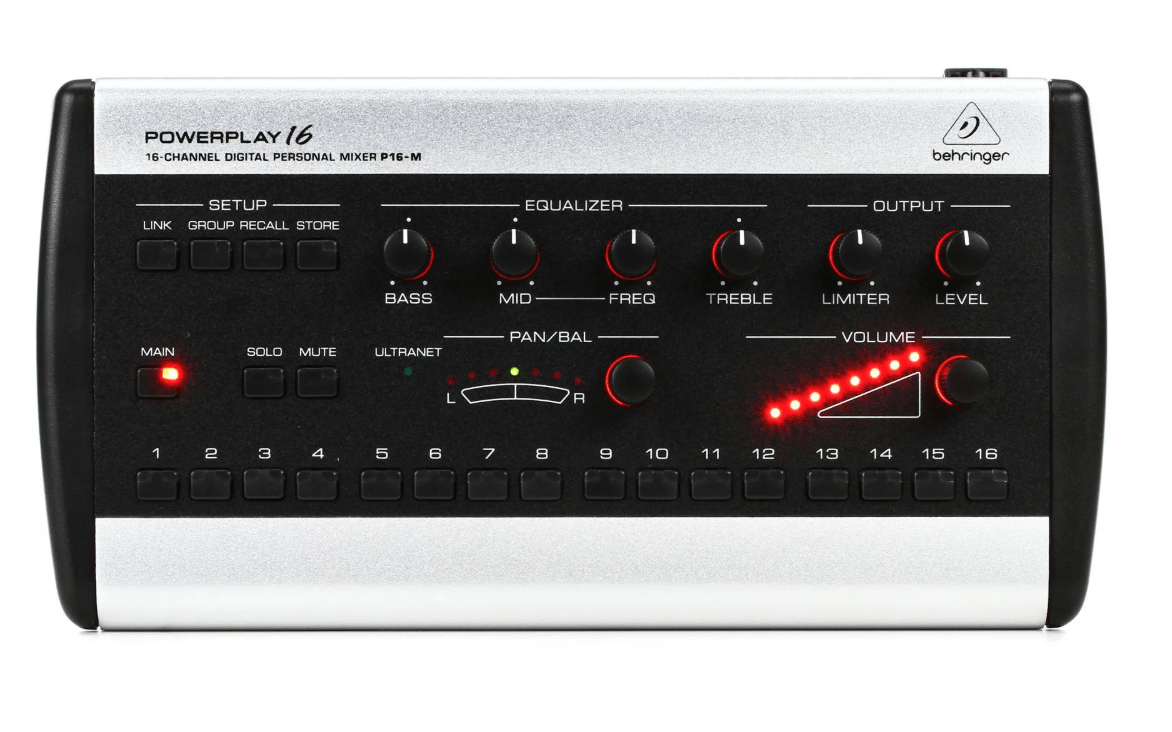 Summary
It's essential to be able to hear yourself on stage so you can play to the best of your ability. In a large venue with a larger set-up, your traditional monitors can sometimes get lost behind the P.A.
You'll also find that individuals will want to hear more of themselves and less of someone else. The Behringer Powerplay systems 16 tracks and built-in equalization adjustments allow for a fine-tuned monitoring system that gets the job done far more effectively.
The input module accepts 16 mono analog signals or digital inputs. When the musician tailors their individual preferences, everyone else's remains the same. This eliminates arguments from the band.
The Behringer Powerplay is a sure-fire solution for making sure everyone is satisfied, and that it all goes smoothly on the big night. It also allows for preset and recall adjustments on the fly. So if a song in the set has a particularly loud lead break, but you need to hear something softer or subtler to know when to come in, then you can easily change it.
Pros
+ Rugged construction.
+ 16-channel digital stereo personal monitoring mixer.
+ 3-band EQ with limiter, solo, and mute functions.
+ Powered by Ethernet cable.
+ Zero Latency.
+ Mounts easily on a mic stand.
+ Expandable system.
Cons
- The Behringer Powerplay is only one part of the Behringer Powerplay Distribution System - if you have a large setup it could end up costing a fair amount.
Why We Like It
The Behringer Powerplay is a very useful piece of kit which typically costs a lot more. There aren't many on the market in a similar price region. If you feel the need to turn up the backing vocals in a certain song to make sure you don't miss an important cue, it's a godsend.
If you liked the article, please leave your feedback.