The Behringer X Air is one of only a handful of fully tablet controlled devices and mixers on the market. Sure, there are plenty of desks that have Bluetooth or even allow for direct Android hook-up, but the XR18 has been built specifically for your tablet to run.
Of course, that does require the integrated WiFi module to function. It can also be used with a Cat 5 cable or Ethernet from the Ultranet cabled LAN port. It also presents audio connectivity via USB 2.0, so it can be used as an 18 channel DAW AI as well.
None of your mixer controls are on-board. The product itself resembles a very large multi-core of sorts instead of a mixer. This stage-box style externally controlled devices are only just starting to surface, and in the world, we live in, the convenience they offer in terms of remote use and planning on the go means that they are probably the next step in live sound evolution.
The tablet is a gig-worthy build. It harbors all the reinforcement you would expect from a pro piece of gear. Without the mixing hardware taking up space, it has rack-mountable dimensions that allow it to slip into your set-up without a hitch. This also means a ridiculously easy set-up; you can fiddle with the set-up on your tablet pre-gig before you plug it in and play on the night.
It presents 18-channels that can be used as a 12-bus digital mixer with the help of your tablet and smart-mixing features.16 of the channels are combination XLR/TRS input and handles balance or unbalanced signal. They are fitted with top-notch Midas preamps, some of the best in the industry previously featured on Behringers X32. They are fully gain-programmable from an iOS remote. The two line-in inputs are hi-Z for coping with your high-impedance instruments.
The on-board processing provides them with a 40-bit float that keeps latency impeccable and capably handles signal dynamics without any overload. It is essentially the same processing that you will find on-board the X32 as well.
Despite not showing its processing abilities visually, it is loaded with circuitry to support all the mixer settings you need. Each track has a gate and low-cut filtering you can compress limit and expand them and side-chain them in.
It is also equipped with a 100-band Real-Time analyzer that inspects the frequencies found on each track so that you can better utilize the virtual FX rack. The information is fed visually to the connected software. It also gives an excellent overview of your signal activity to help you keep a tab on everything. There are six auxiliary outputs with fully parametric 4-band EQ.
Within the software, you have access to 8 mono/4 stereo multi-effects processors. If used in stereo, they can act as inserts or four multi-effect busses. You can adjust your delay and chorus settings. Behringer's app provides 31-band equalization and offers a range of stereo reverb presets to enjoy.
You can also use it with a whole host of other mixer apps and, of course, hook it up to your DAW for use with any plug-in software. Needless to say, they all run in Real-Time simultaneously, and the engineering ensures no input-output problems on the night.
Apart from your 16 major combo preamps, track 17/18 Line inputs, and your six auxiliaries, you will find a MIDI in and out. You have your main left and right outputs and a headphone auxiliary with their own volume level dial.
It comes with rack mount panels and a power cable, and the WiFi aerial conveniently turns horizontally and clips to the hub when not in use. This makes it easier to pack, better to cart around and ensures it cannot be damaged in transit.
Behringer Air Xr18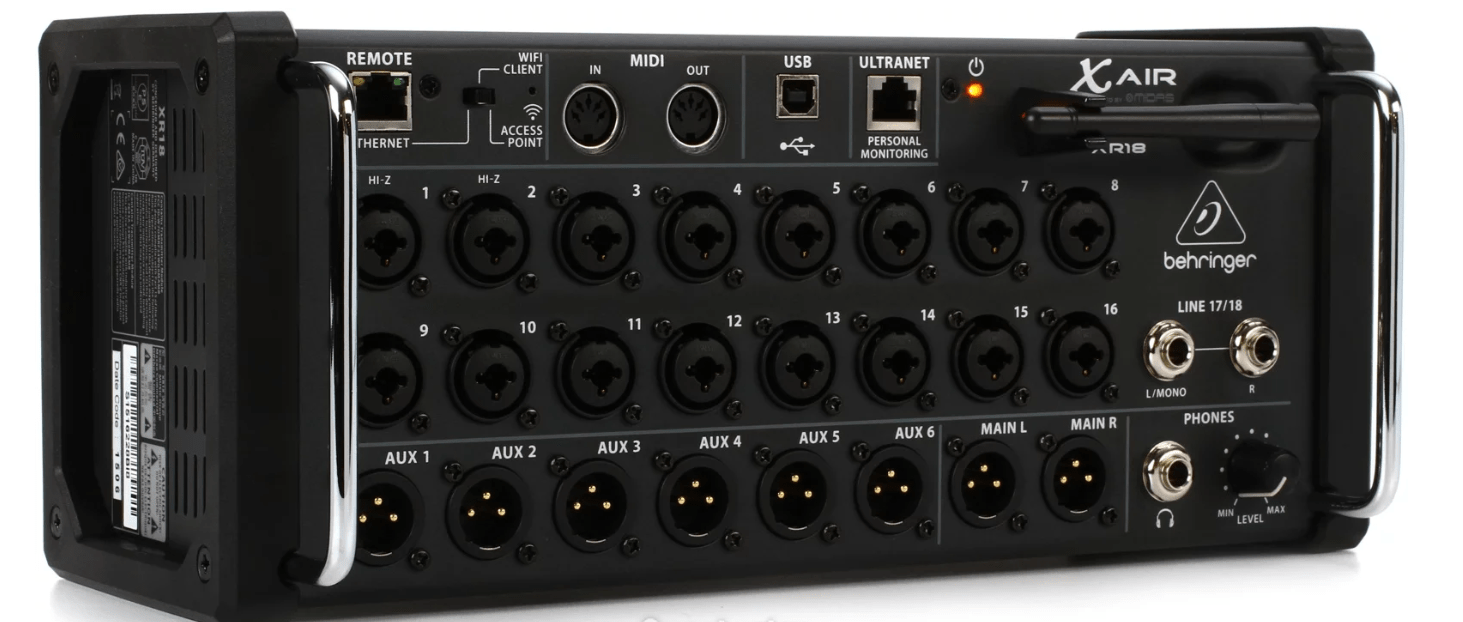 Summary
If you want the freedom that tablet control brings to the table but still fancy a degree of flexibility, then the Behringer XR18 with its Ultranet LAN port and reliable WiFi connectivity is pretty close to a modern-day miracle.
There are a few other options around offering 16 tracks, two Hi-Z inputs, 12 buses, but not many, and hardly any with the advanced processing capabilities built into their engineering.
It is a well-manufactured, gig-worthy piece of equipment that provides an easy to use solution.
Pros
+ 16 Midas preamps.
+ 2 Hi-Z line-inputs totaling 18 inputs.
+ 6 auxiliaries.
+ MIDI in and out.
+ Ethernet, WiFi USB and Ultranet connections.
+ Built like a brick house.
+ 100-band Real Time Analyzer
Cons
- Truly hard to fault. It does exactly what it is supposed to do in a pristine manner.
Why We Like It
It is a heavy-duty, rack-mountable digital mixer input-output hub that has versatile connectivity. It is fitted with all the engineering of the superb x32 mixing desk. You need only hook it up to your preferred control.
It allows for convenient in-hand portable control and, despite a few competitive models on the market, we think it blows most of them out of the water with its high-quality capture and its 100-band Real Time Analyzer.
If you liked the article, please leave your feedback.