Synthesizers are designed to make some of the most beautiful sounds from a wide variety of instruments. The Microkorg Korg Synthesizers come with a vocoder that allows you to record your voice and distort it into all sorts of exciting musical clips.
The compact synthesizer packs quite the punch compared to most other synths in the same price range. It's clearly labeled, and you can make several prerecorded audio files and program them directly to the keyboard.
Without further ado, let's review the best features from the Microkorg Synthesizer with Vocoder.
Korg Microkorg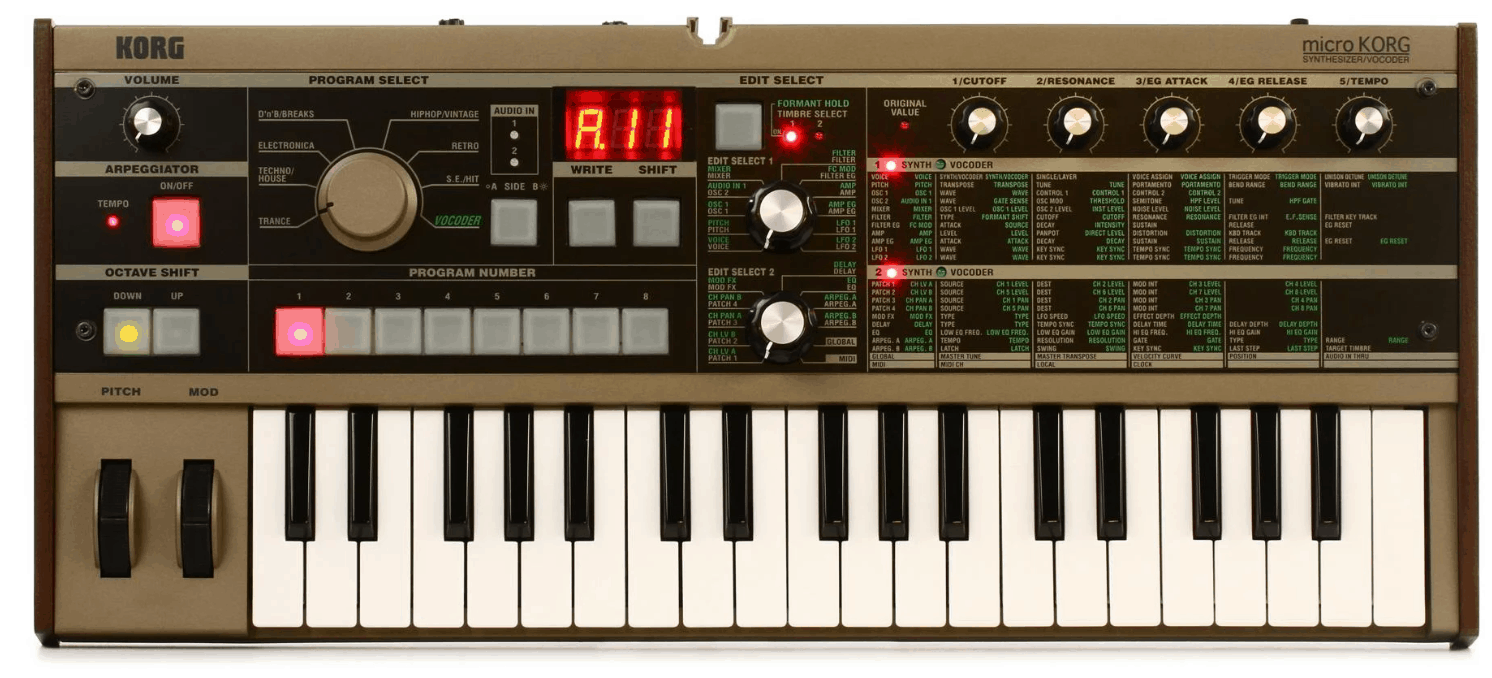 Summary
This synth is sought after for three primary reasons:
1. The machine is compact, but the keys are big enough for people with large hands.
2. The entire interface is programmable, allowing you to make music without stock samples.
3. Finally, the vocoder is a great addition to the synthesizer. Vocoders have been used for several decades by themselves. Being able to add one right into this machine is quite impressive, and it saves you money as well!
With over 120 programs, you'll have no problem making unique recordings. One of the biggest issues in the music industry is that artists have trouble creating their style, but there's no way you could run out of options with this synth.
As far as inputs and outputs are concerned, you'll be able to use mono, headphone jacks, MIDI keyboard attachments (in, out, and through), as well as traditional input and output ports. The power supply is also on the back. The 9V DC outlet comes with an AC adapter, or you could use six AA batteries.
The overall weight of this synth by Microkorg is 4.85 pounds without the cables or batteries included. Its dimensions are 20.63 inches by 9.02 inches x 2.8 inches. All in all, this is the perfect size for at-home setups and professional studios alike.
Another reason that so many customers have chosen this synthesizer over others is that it comes with over 60 waveforms that are usually much more challenging to create with synthesizers. You don't need to be a master at every instrument in order to create stunning, crisp audio anymore!
Pros
+ The fact that this synthesizer comes with a vocoder is one of its most impressive features. You'll save well over $100 by buying this combo, and you'll have four preset vocoder recording programs to go with it.
+ The 128 programs that this synth uses all allow you to make your own unique style with every audio clip. There's no need to download additional software or replace the synth with another.
+ This synthesizer is a great learning piece for intermediate producers, but it also boasts enough technology to keep an experienced producer entertained. Whether you're using it for professional production or family fun, it has more than enough tools to work with.
+ The multiple audio ports on this product make it easy for you to connect all your favorite devices without having to buy additional adapters. This is just another way that the synthesizer saves you money in the long run!
Cons
- All of the programs, buttons, and other options might make this synth a bit complex for beginners. There's certainly a learning curve, but many customers claimed that it was well worth the investment once they figured everything out.
- The keys on the keyboard are cheap compared to other models. They're made from plastic, but as long as you don't intentionally break them, you shouldn't run into any problems.
Why We Like It
We liked the Microkorg Synthesizer with a Vocoder because it has everything you need for a pro-level setup. It doesn't matter if you're at home, in the studio, or on the road; You'll be able to take this high-quality synth wherever you go.
If you're having trouble making your own sounds, it's nice to know that you can rely on the preset programs and various vocoder types to create quick alterations. Making music with a budget-friendly synthesizer hasn't been this easy with any other synth under $700. You can also request monthly payments to pay it off over time rather than all at once.
Finally, we liked this synthesizer because it combines a whole studio into a small kit. Purchasing all of the necessary equipment can be costly, but not if you try out this keyboard. You'll also receive the required power source adapter (AA batteries are sold separately if you want to use those instead), as well as a condenser microphone for the vocoder.
All in all, this is a fantastic synthesizer for an even more appealing price. Create unique music, edit audio clips to your liking, and have a blast making professional projects from a compact synth.
If you liked the article, please leave your feedback.