The CL5 is an outstanding digital mixer that delivers refined sound quality like the rest of the CL series consoles. It's full of smart features that make it an excellent central hub for live use and broadcasting. It has award-winning built-in automatic mixing, engineered by Dan Dugan, and that isn't the first name-drop we'll be making in this review. The Yamaha CL Series is pretty impressive.
It has a Centralogic design aimed at keeping the operation of its complexity as simple to use as is possible. It presents an initial 72 mono channels and eight mixable stereo channels with an intuitive touch screen at the core of its hub. The screen has just two displays, again, to help keep things easy.
The overview screen provides an outline of an eight channel-group, (matching a standardized physical set-up), and a selected channel display mode that allows you to focus on an individual channel and grants access to further parameters.
There are 32, high-quality, professional-grade fade-bars divided into four separate groups of eight. The layout is well labeled, making it navigable. Each fader has a track select option, a gain dial, and a live and engage button. There are dedicated menu buttons and a range of equalizer controls, mixer send volumes, and dynamic-threshold dials, etc. They're mounted beside the screen to interact with the integrated VCM tech.
The tech provides analog emulation of the Rupert Neve designed Portico 5033 EQ and 5043 compressors, among other classic processor modelings. This allows you to go completely rack-less but still play with world-class mix adjustments at your fingertips, all thanks to Yamaha's Virtual Circuitry Modeling.
Other virtual hardware includes the 117plug-in, an LA-2A warm audio compressor with vintage spec tube emulation, and the EQP-1A, a homage the retro PulTec. This lets you cut and boost separately to reduce muddy low-frequency inputs, as well as add old-school character. We could go on, but all in all, you get some effortless mix adjustments at your fingertips, tailored from one point of contact totaling 50+ processors and effects. You can add these to a track or a grouped buss.
You also, of course, have a master left and right fader on top of the 32 track dedicated fades. Multiple input channels can be grouped into DCA (digitally controlled amplifier) groups to process them together, and you can have up to 16 DCA's. Other convenient features include instant muting, dimming built-in delays, and, most importantly, scene recall.
The scene feature memorizes your mixer settings, allowing for automatic recall and saving up to a staggering 300 set-ups for easy retrieval.
It's equipped with an integrated advanced Dante virtual Soundcard and interface, so you have wide compatibility and ample options for expansion. The standard outputs are covered too; there are 8 XLR out, each with their phantom powering. There is also a MIDI in and out world clock, and USB for quick recording to your computer-based DAW's.
The lamp connections and the GPI can be hooked up to lighting effects if you want audio-visuals synced for a show.
The whole product is decidedly well-engineered and provides a high-fidelity console with networking and recording options, and it can even be controlled remotely once established via the CL StageMix iPad app.
Yamaha Cl5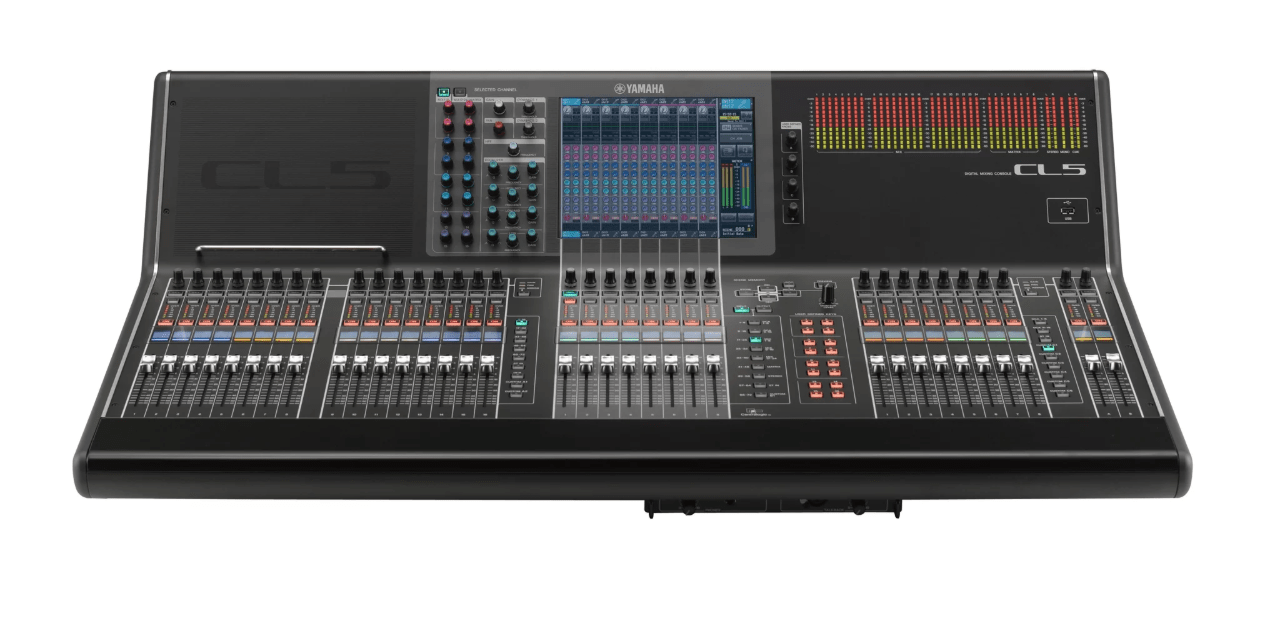 Summary
This is an extremely well-built mixing console, equipped with state of the art, digital modeling that gives users access to some of the best virtual circuitry available. It has truly versatile functionality, and its built-in capabilities and platter of buttons faders and dials allow you to scale your set-up back completely.
It's programmed to integrate automatically with Nuendo Live, and can be connected to Yamaha RIO series stage boxes, and all CL Series consoles can be expanded, taking your interface further. You can do this via an expansion card or by linking a second or third desk or stage box (as many as 8 RIO I/O units).
Just about all of the modeling software on-board is a designer in nature, with pioneers like Rupert Neve and Dan Dugan contributing to its refined digital signal pathway and processing powers.
The built-in Dante interface makes it an authentic professional solution, as it will connect to any pro-broadcasting rig, and can be expanded with ease.
Pros
+ Durable professional build.
+ State-of-the-art modeling.
+ Seamless integration and connectivity.
+ Centralogic system.
+ Easily expandable.
+ Remote iOS app control.
Cons
- Might take a beginner a while to suss out how to hook it all up in a bigger system.
Why We Like It
This is a highly-evolved digital mixing console. The cascade link and Dante connections, along with the remote iOS interfacing, take it to another level. The onboard processing effects borrow from some of the most sought after racks in the industry, and they make compression and characterization a doddle. It is an amazing head-amp and a sound investment because it allows for easy expansion and total centralized control.
If you liked the article, please leave your feedback.