The KRK Rokit 5 G4 is a sleek, powerful, and intuitive studio monitor that allows engineers to mix for hours on end. It is packed with useful technology and quality. It features Kevlar drivers, room correction feedback, compatibility with IOS apps, a deep resonance enclosure, LCD visual EQ, Iso-foam pads, and signal generator.
Plus, much much more, that makes this studio monitor stand out amongst the competition. It is made with professional-grade materials meant to withstand years of use and enjoyment. If you're looking for new studio monitors that will allow you to experience widely dynamic sound, then the Rokit 5G4 by KRK may be precisely what you're looking for.
Specifications:
· Kevlar drivers
· Iso-foam
· Room correction
· Full-range dynamic sound
· Class D power amp
· App compatibility
· LCD digital EQ
Krk Rokit 5 G4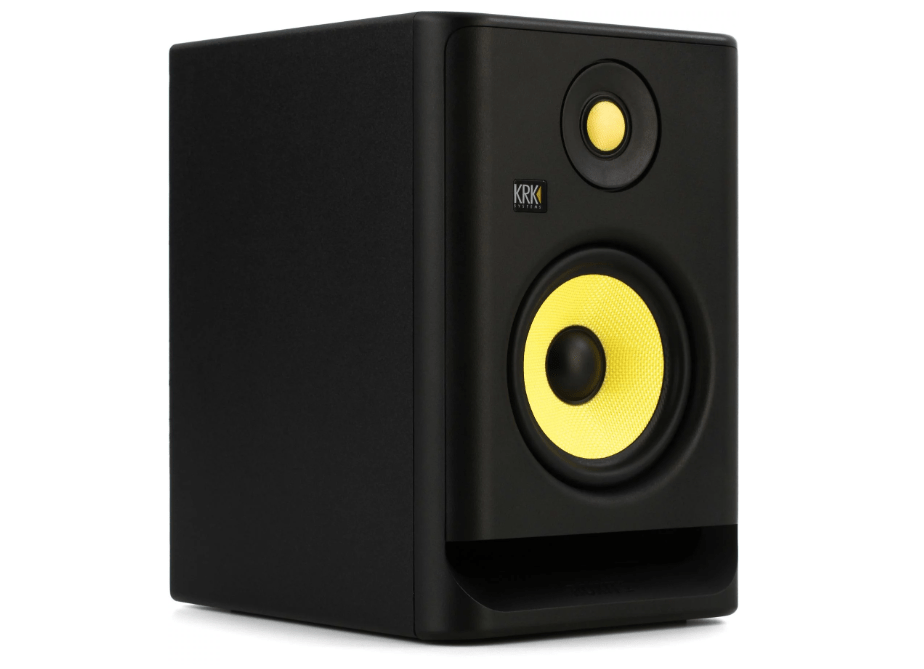 Summary
When you're mixing and listening back to your recorded tracks, you need to be able to hear exactly what's going on at every level of the mix. The KRK Rokit 5 G4 studio monitors do just that and add a touch of elegance to your studio set-up. It will allow you to mix for hours on end without experiencing ear fatigue and will deliver crisp, clear highs and resounding low ends.
It uses Kevlar drivers to offer listeners low-distortion sound reproduction, so you get the highest level of clarity in your mix. They have a perfect strength to weight ratio, providing a balanced tone that is informative and pleasant on the ears.
It comes with a super tight enclosure that is designed to cut down on unwanted resonance within the casing. Even with the lowest frequencies, you shouldn't experience any buzzing from the loosening of components. It allows you to place the monitors anywhere in the room and doesn't bounce off with the bass sounds the way some lower-quality monitors do.
The speakers are finely tuned with precise air pressure so that the monitors work with any frequency level. That means that from the highs to the lows, the speaker delivers the most genuine and bright tone that you can get, and you'll know precisely what is happening at every level of the mix without any distortion.
The Iso-form coupling pads help to emit the sound in a clear and even way. This helps cut down on unwanted ear fatigue that can happen after listening to the same speakers for hours on end.
One of the coolest things about the monitors is the technology that comes along with it. It has a state of the art DSP that can be used to manipulate your room for the most efficiency possible. Using the KRK app on your phone, you have a view of all the necessary parameters you need to be able to move things around or change the environment for the best possible results. Also, you can control all of the levels on your phone, even though the monitors come with an easy-to-use LCD graph for quick adjustments.
The Class D power amp offers a level of balance and efficiency to the mix. It makes sure the power is distributed in the most effective way possible so that it is not overbearing on the system. It also features a Brickwall Limiter, which kicks in when the signal gets too hot. This protects your tone as well as the components on the inside of the system.
It is a well-designed and beautiful casing that protects the speakers and also will look good in any studio setting. It is priced quite well for studio equipment and leaves a little bit of cash in your pocket at the end of the day. If you need a trustworthy, reliable, and intuitive set of monitors for your home studio, the KRK Rokit 5 G4's might be the one for you.
Pros
+ Iso-foam pads
+ Kevlar drivers
+ LCD visual EQ
+ KRK app
+ Dynamic, full-range sound
Cons
+ No low-cut/high pass
+ Slightly redundant EQ switches
Why We Like It
The KRK Rokit 5 G4 powered studio monitors are precisely what a budget-seeking studio engineer could want. They allow you to create your room the way you need to to get the best possible sound. They look great on the desk, and are tough enough, even though they don't need to take a ton of abuse.
They are pleasant to listen to for hours on end and offer a full range of dynamic sounds that are well-balanced and true. They allow the natural sound of your mixes to come through with clarity and ease and make mixing new tracks an absolute pleasure.
These are great for any studio builder who doesn't want to spend a ton of cash on monitors but wants a few of the bell and whistles that come with high-quality speakers.
If you liked the article, please leave your feedback.