The Id14 Audient is a bus-powered, high-performance audio interface. It harbors 2 ASP Console Class A preamps, the same preamps as utilized in their high-end interfaces - it provides the same quality in a streamlined form. Now more compact and user-friendly, it's far better suited to your average home recording use.
The first model has been stripped back to basics with the Id14, resulting in an accessibly priced audio interface for your average user who doesn't need all those additional functions. They've removed the analog outputs, along with a few other bells and whistles.
The product's simplified nature makes it ideal for beginners. The dim and cut buttons are gone, you cant control insert points remotely, and the function keys have decreased from 3 to 1 - they were for monitor control configurations, which, again, is no big loss.
One of its best features is the Scroll control ID mode, which makes DAW control a doddle. It sports an endless rotary encoder which you can assign using the illuminated buttons, and you can set it to speaker or headphone control. The third 'iD' button gives you access to some other functions, including cut and dim, which previously had individual controls, as we already said.
There are also other features, including Mono sum, Talkback, Polarity reverse, and Cue-mix monitoring, all assignable to the previously mentioned scroll feature. It can also be freely used by hovering your mouse over any function. This lets you use the rotary dial in place of your mouse wheel, helping make workloads more efficient within your DAW.
The accompanying software has also been simplified to integrate with the interface; it now has a single cue-mix bus.
There are two combined XLR/TRS inputs and two jack outputs, as well as a JFET DI out and a headphone auxiliary out. The JFET DI is engineered in the same way as a standard valve amp input and ensures the signal is matched to your instrument for optimal recordings. It also gives the Line-in tone coloration, adding a vintage amp vibe.
The I/O is expandable because it has an optical input that works as a regular S/PDIF but supports ADAT (Alesis Digital Audio Tape). That allows you to hook up further preamps if you require them. It can be expanded to a ten in, two out interface.
The 12volt DC power pack is what allows it to run with such a high performance in comparison to other USB plug and play AI options.
Audient Id14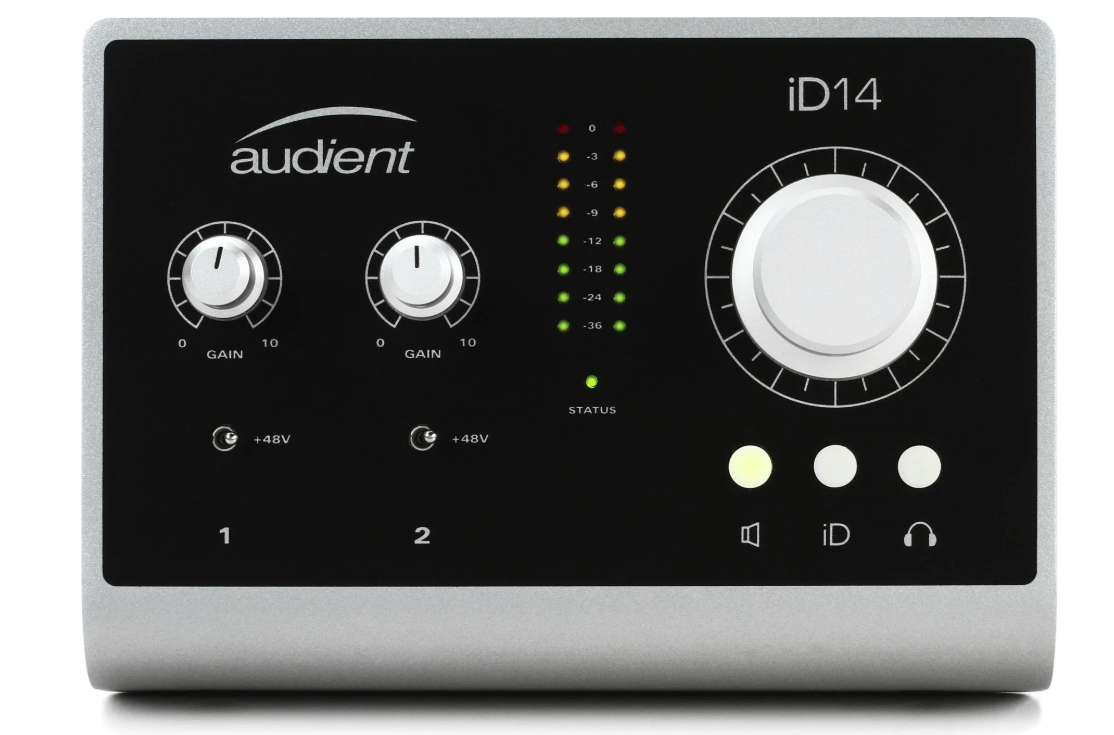 Summary
If you need a no-fuss plug and play audio interface with exceptional performance, then the ID14 is difficult to beat. The additional mains power gives it the extra fuel to utilize its premium preamps and industry-leading Burr Brown AD-DA Converter technology.
It sounds great, has zero latency, and offers suitable, sensible I/O options for all your basic studio needs. It's an expandable option thanks to the ADAT capabilities of the optical input.
The Id14 is durably built with a robust all-metal shell and a brushed aluminum finish. The components are high-quality, and the inputs are professional level, especially the JFET DI.
The accompanying software is intuitively designed for exclusive, seamless use with the interface. The Scroll feature of the rotary dial makes working within your DAW more easily accessible, and ultimately quicker.
All Audient products are sold with free access to further software plug-ins, supported by a range of digital audio companies, such as Waldorf, Steinberg, LANDR, and Loopmasters. They're easily downloadable via the ARC Audient Creative hub program, and they integrate without a hitch. All you have to do is register your product purchase with them, and you get the goods.
The available products change from time to time, but right now, ARC is offering eight free guitar and bass cab presets from 2 notes, as well as Retrologue 2 synth VST with three oscillation patterns, and 24 filters that you can run through a 16-stage modulation matrix. You can also get a Cubase and Cubase LE download, automated mastering from LANDR, Attack, PPG wave, and Dpole from Waldorf edition 2 LE, as well as over 2G of beat and instrumental samples from Loopmasters.
On top of this, there's a range of online lessons available by Produce Like A Pro. Any Audient product is a valuable addition to your home studio endeavors.
Pros
+ Class A preamps and Burr-Brown converter tech.
+ Built robustly with a heavy-duty chassis.
+ Sensible reduction of features.
+ Scroll feature.
+ Good mix of I/O.
+ Expandable interface up-to 10 in 2 out.
+ Access to a range of free software content.
Cons
- Phantom powering will only work with the DC power on.
Why We Like It
The Audient Id14 is a great piece of kit built to last. The expandable ADAT input gives it great potential. We like the Scroll iD control dial. The preamps and converters are some of the best on the market, and it provides a valve amp JFET DI. The range of free software makes it a great buy for beginners, as you can plug and play with very little production experience.
If you liked the article, please leave your feedback.