Modular analog synth racks, like the Moog Mother 32, were once reserved for the professional high-end of the market, keeping the average customer well and truly out of the loop. Fortunately, in modern times, cutting-edge audio electronics are finally within our reach.
The Mother 32 is a semi-modular synthesizer which also functions as a step sequencer. It came onto the scene in 2015 and created a huge buzz, opening the industry up and making it more accessible.
It is completely intuitively designed and built cost-effectively enough to bring it to the masses. It's the first of its kind, with retro design in a modern table-top rack format. It combines a Eurorack synth platform with integrated Moog oscillation and filtration.
It has a durable professional build and offers a self-contained programming unit for all your synth and sequencing needs. There are 13 on-board buttons laid out like a keyboard with an upper row of sharps and flats, spanning one octave which can be transposed over 8 octaves in total for a great range of pitch. There are 8 LED indicators to help you keep a visual of the octave. They act as your keyboard and allow you to perform and create sequences to edit.
It's a 32-step sequencer which can store 64 locations, you can store the velocity with the hold and rest button and can easily shift patterns, reset, and accent from the controls. You can adjust the gate duration for each note and add the rests, ties or mutes on the fly. You can get really creative once you get to grips with it, playing with a tempo swing in a portamento style and even repetitively ratcheting notes. All of which you can keep track of via the LED.
The synthesizer half of the unit is where things get really interesting. At its heart, it essentially serves up a single oscillator. It's capable of producing a saw-tooth-wave and square wave pulse oscillation pattern. The pulse setting can have its PWM tweaked (Pulse Width-Modulation) for further scope.
All output runs through the built-in, legendary Moog ladder filter, which can be run through a 24 dB per octave low pass filter, or a 24 dB per octave high-pass filter with a simple switch. Each has its own resonance. You can adjust the attack and decay, which can be used with a sustain-switch and acts as the release.
Across the range of filtering, you can create a range of analog tones, from the vintage fat and beefy to the modern out-of-this-world high-frequency oscillations that have a sharp, robotic edge.
Only one oscillation can be used at a time unless you access the patch-bay and use the LFO itself as a second oscillator. Typically, with a modern synth, your analog signal path feeds to digital modulators and contour generators but Mother 32 has analog EG and LFO.
Within the patch bay, you can adjust the VCO using the built-in LFO (Low-frequency oscillation) generator, which gives a good variety of wave contours to play with. It is equipped with three-stages with an Ad/ASR generator. They provide single and multi-triggering options.
The patch bay has 32 points. They all are 3.5mm I/O, and you can connect within the system itself or remotely from other systems. It comes with five high-quality patch cables to get you started.
It also features a 5-pin MIDI input to hook your own gear up to. The on-board advanced MIDI to CV converter is pretty cutting edge. Its modular nature also lets you hook up further racks so it can be expanded upon whenever you wish.
Moog Mother 32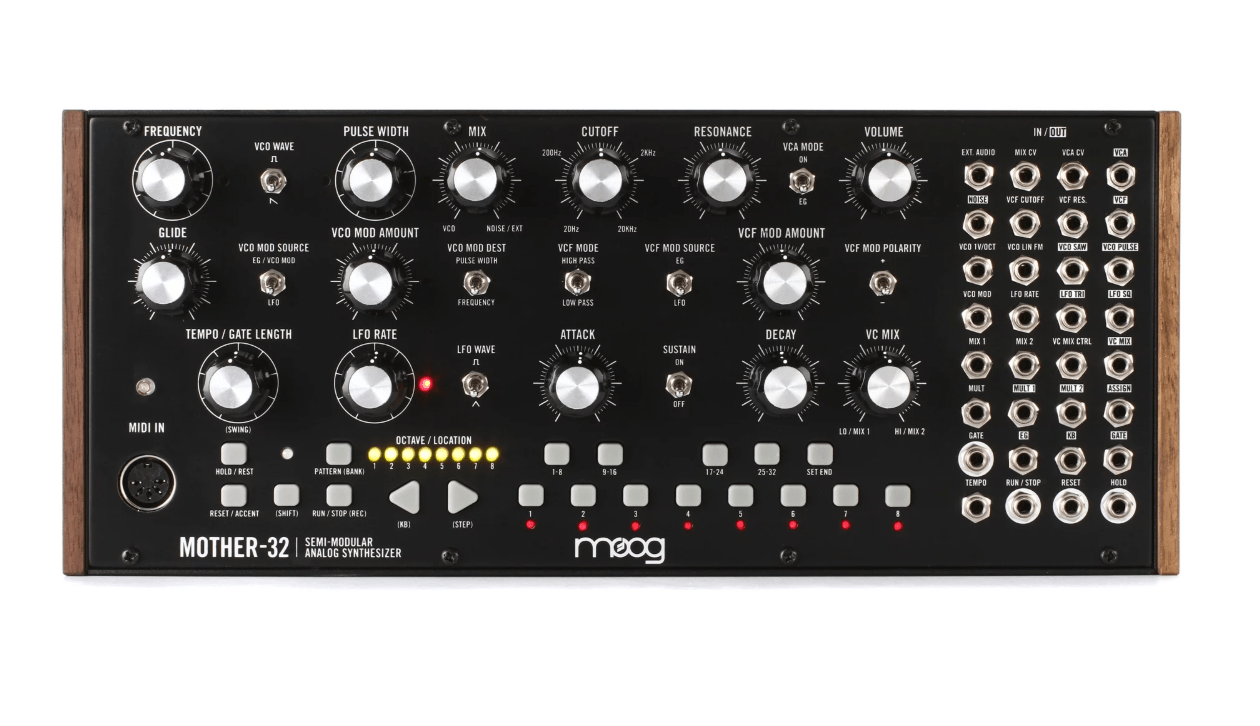 Summary
The Mother 32 is a hybridized synthesizer and step sequencer that has a built-in Eurorack and provides just about everything you need to create synthesized sound. It presents a 13 button keyboard that you can use over 8 separate octaves. You can play the notes with rests, holds, and mutes, as well as add velocity and accented notes to create dynamics and give the tempo character.
The on-board oscillation can be adjusted to produce a huge variety of analog tones. You can control the PWM and hook it up to its own parameters or external controls for further tweaking. It's expandable and offers high-end MIDI to CV conversion.
Pros
+ 32-step sequencer with 64 sequence locations.
+ Keyboard with 8 selectable octaves.
+ Sawtooth/Square pulse waves.
+ 24 dB resonant low/high pass filtering.
+ VCO, VCF, VCA, 2x VC Mixers.
+ Great MIDI to CV converter.
+ Huge range of parameters in a compact piece of kit.
Cons
- The layout may confuse a beginner - a smaller control panel might best be for the beginner. Typical synths are subdivided more logically than this one.
Why We Like It
This is a well-manufactured Eurorack style synth that has remarkable capabilities. It provides detailed intuitive step-sequencing and can be expanded upon. It delivers classic Moog tones but also can be tweaked to tonality far outside of the box. It was astounding when it first took the market by storm and, in the last 6 years, nothing has come close on the market for the price.
If you liked the article, please leave your feedback.