The Ableton Push 2 is a fun, simple, and incredibly capable music production tool. It is partnered with an intro pack to the Ableton Live 10 production software, which is comparably one of the best recording software available. The intro software is a streamlined, and easy to understand version.
The Push 2 has 64 pressure-sensitive pads, a touch strip, a looping station, a color display, and much more. It is an all in one creation machine that is intuitive enough for first-time producers to understand, and detailed enough for experienced vets to reap the rewards. It is excellent for recording, composing, and performing alike.
Specifications
· 64 pressure-sensitive pads
· Touch strip for pitch bend and scrolling
· USB and 12V power supply
· 2 footswitch ports
· 8 touch-sensitive pots/knobs
· Ableton 10 Live Intro software
· Mac and PC compatible
· Color display
· 1.65x14.8811.96"
· 6lbs
Ableton Push 2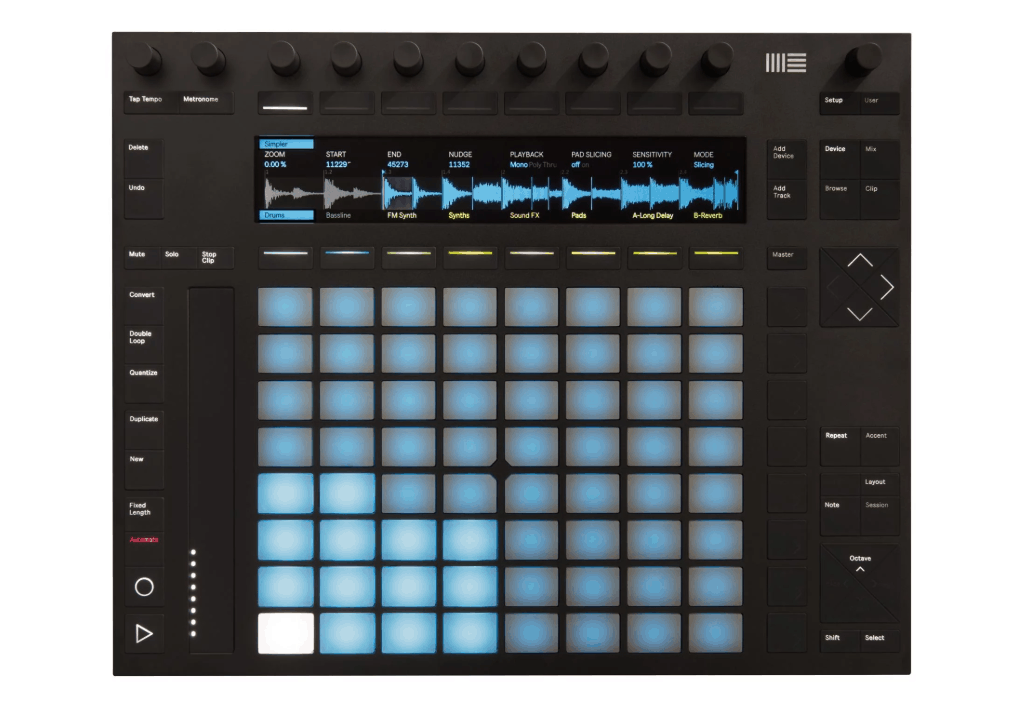 Summary
With Push 2 from Ableton, you get a highly-capable music production tool workable with your fingertips. Complete with all of the pads and parameters you need to have total control over your creations, the Push 2 controller has everything you need.
You immediately notice the massive pad field on the controller. 64 touch-sensitive pads give you total control over the sequences, beats, notes, and chords you're playing. They enable you to offer dynamics to your songs as well. With color encoding, you can set and save patterns, meaning you can quickly come back to them for a song later on, or place your scales and chords up to cut down on the guesswork. Beside the pad, the field is the touch strip, used to bend pitches and scroll through the menus. This allows you to add a little more flair to your notes and give it a bit of personal space.
It is intuitive to use. Although there are a lot of options available, the design is straightforward, allowing first-time producers to catch on quick. It is effortless to switch between drums, strings, pads, and other instruments, using the pots and knobs.
The Ableton Push 2 is compatible with both Mac and PC systems. It comes with an intro software pack for Live 10, Ableton's high-powered producing software. With the intro-version, you get a streamlined and easy-to-understand interface that will let you start creating right away without too many complicated additions that you could get hung upon.
It has two power supply options. You can use the included 12V power adapter, or you can connect and power it using a USB connection. The Push 2 also has two footswitch connection ports where you can plug in other effect pedals and controllers to broaden your production horizons.
An easy to read color display makes everything visible. Splicing, recording, looping, scrolling, and more are perfectly easy to navigate without confusion.
It is a professional level music production controller and lives up to the needs that a full-time performer or producer requires. It is not overly broad like the old-school boards would be, but it gives you enough surface area to work with to create compelling and varying music. It is not the cheapest production tool you'll find, for a good reason; it is high-quality and comes with add ons that will get you up and running in no time.
Pros
+ 64 touch-sensitive pads
+ Touch strip
+ Easy to use and understand
+ Color display
+ Ableton Live 10 Intro software
Cons
- Slightly expensive
- Could be more compact
Why We Like It
Push 2 by Abelton is a highly capable music production tool that works for professional use. If you're looking for a controller that can do everything, from creating new beats to recording over old ones, the Push 2 can give you what you need. It has more than enough creation pads for you to work with, and the pitch bending and tweaking that will make your recordings that much more enjoyable.
For first-time controller owners, professionalism should not scare you off. It is perfectly suitable for beginners as it is easy to figure out; there is not as much of a learning curve as there is with many other high-powered midi controllers. Push 2 is a fingertip playground that will keep you occupied for hours as you add and manipulate your beats to suit your ears.
It is highly compatible and gives you the intro software pack necessary to get you off the ground and working on some deep and exciting beats. Add on your favorite other controllers, and you've got a beat making factory that will keep people on the dance floor, getting you gig after gig.
You won't be disappointed with Ableton's Push 2 music production controller. It is one of the most capable and easy-to-use controllers you may ever come across. It also may be the last one you ever need to buy.
If you liked the article, please leave your feedback.