The Headrush Pedalboard is a fantastic new digital signal processing platform that comes with a quad-core processor. This design is based on the hugely popular Eleven Rack, but you can operate this one with your foot. With high-performance processing, it provides so much more than your typical pedal-board and is far more similar to a guitar effects rack than your average set of daisy-chained stomp-boxes.
It includes an exciting array of amplifiers, with cab emulations and different microphone techniques and models to boot. There are 33 amps, 15 cabs, 10 mics, 42 stomp-boxes, and more. Together, they chain into 270 rigs.
A 7-inch touchscreen for easy use is at the core of its design. Obviously, the touchscreen isn't for foot-operation, but the 12 on-board foot-switches are definitely rugged enough to handle any task. They are divided into two parallel rows of six with a decent amount of spacing between to ensure that there aren't any accidental triggers or mistakes on the night. An ample-sized angled expression pedal gives your effects character.
The touchscreen provides effortless functionality which many competitive modeling units on the market simply haven't addressed yet. This allows its more complex features to be intuitively controlled. You can tap and swipe, and as drag and drop effects. As well as this, you can utilize the clever hands-free editing.
You can hold-down any of the switches to access the hands-free options. This brings up six parameters and assigns them to the top row of footswitches, allowing you to operate without the touchscreen access. In this mode, the values on the display screen are larger for better on-stage visibility.
If you want to operate the pedalboard regularly, you can use the screen and the three rotary dials to adjust the parameters. You'll also find a main cluster of rotaries for level adjustment. It includes a master, aux, and headphones, as well as a further large encoder control dial.
The chaining set-up allows you to put one input source through 11 slots before output. This can be in a single chain that utilizes all of the slots, or it can split into a semi-parallel chain. You'll find options for your paths displayed on the screen, keeping things user-friendly.
One option has three slots in series that then split into two parallel paths of three before joining for a further two. The other option has two initial slots in series that parallel into four slots and finish with a final three. You can control the filtering and mix of each slot, pan the effects, and even delay the paths.
The Headrush Pedalboard also allows you to input your guitar in a rig-by-rig manner and send it to the XLR, Amp/Line, and Headphone outputs simultaneously. Each amp selection lets you adjust the genuine parameters from the original amp's control panel.
There's a built-in looper that allows for 100 layers and can record for up-to 20 minutes. It also has a tap-tempo function and a built-in tuner.
The USB output allows it to be used as an effects rack for recording. It's also compatible with 3rd-party impulses, so you can also import your own IR's via the USB. You have four outputs that allow for a stereo wet and dry signal. You also have MIDI sockets.
Headrush Pedalboard Amp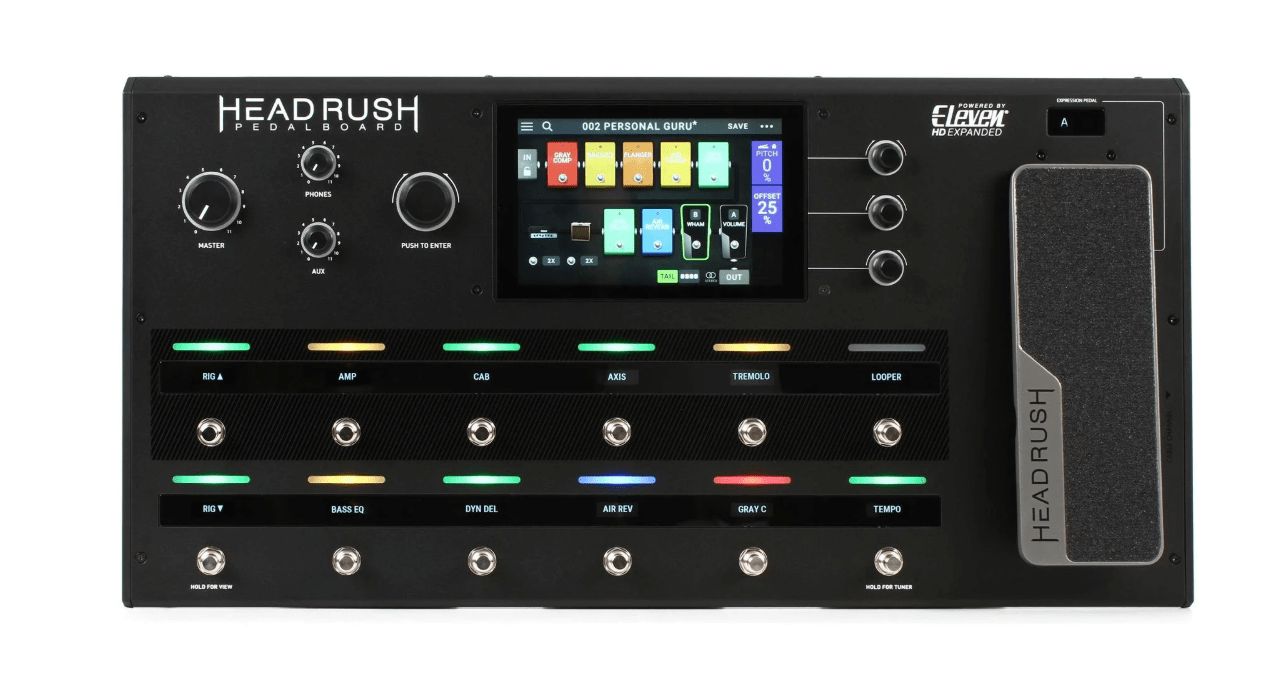 Summary
The Headrush Pedalboard is a multi-effects rig that offers 270 preset rigs to play with. It includes a handy touchscreen, which makes its operation a breeze. It can also be used in a hands-free manner.
The pedalboard provides 32 amplifiers to play with. The 15 cabs which can be adjusted, as can the range of stomp-boxes and other effects. You can expand the cab parameters by loading 3rd party IRs. The pedalboard can be either used live or for studio recording, functioning seamlessly within all major DAWS via the USB output.
Pros
+ Multi-effects pedal-board.
+ Durable chassis.
+ Intuitive touchscreen.
+ Array of amps, cabs, and mics.
+ Single and parallel routing.
+ Variety of outputs.
+ Valuable investment.
Cons
- Although it can be heavily layered and run for 20 minutes, the looper can only hold one loop.
- If you have the expression pedal held down it can bring effects in at a much higher parameter than you might want. Headrush is working on this so there may be an update.
Why We Like It
Multi-effect modeling units are quickly becoming the new norm in and out of the studio setting. Headrush has found a way to simplify the Eleven Rack for foot operation. The Headrush Pedalboard is well-designed and built for a gigging lifestyle. It provides an awesome variety of rigs to run through. The touch-screen is pretty innovative and the chaining options are versatile.
If you liked the article, please leave your feedback.