If you're a music producer, who needs to have the best tools at your disposal to create the best songs, the Native Instruments Maschine MK3 may be the right console for you. It comes with a 24bit/96KHz audio interface and a pleasing color display to flip through when you're looking for the next sample to work with.
The pads are extra-large, and the knobs are touch-sensitive, giving you a better feel when you're doing your mixing. It comes with more than 8GB of samples preloaded right out of the box. Loaded with production-ready sounds, you have all the tools you need to start creating amazing mixes immediately.
Specifications
· 24bit/96KHz audio interface
· Large pads
· Touch-sensitive knobs
· Precision audio slicing and tweaking with color display
· 4-direction push encoder for quick adjustments
· Dual power supply options
· 8GB of samples
· 16 pads
· 47 buttons
· 9 rotary encoders
· Pitch bending, strumming, recording, step-sequencing, and auto-mapping
Native Instruments Maschine Mk3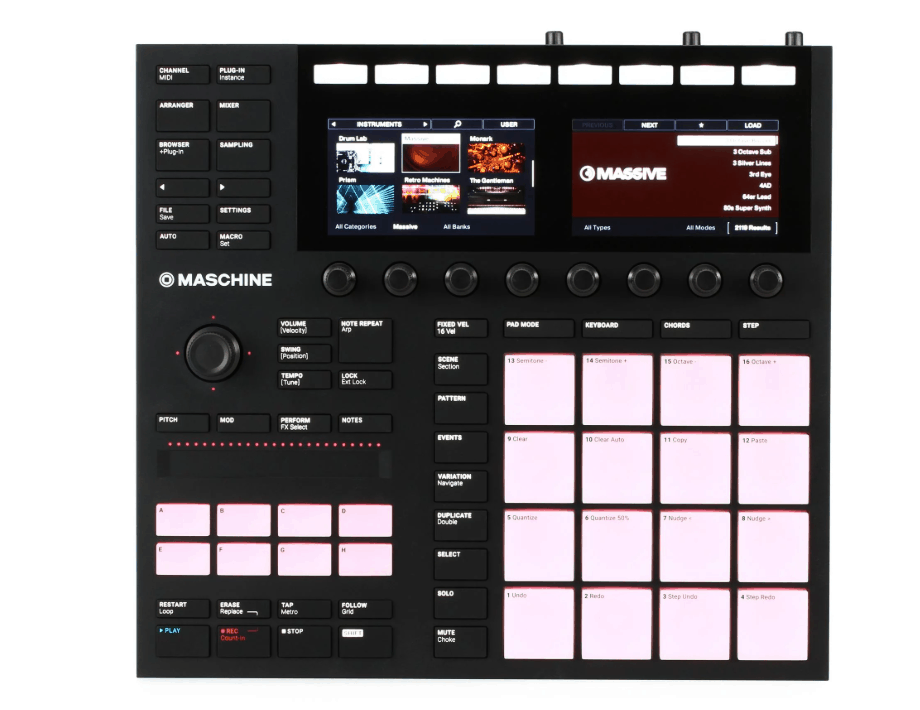 Summary
The Maschine MK3 from Native Instruments is a production powerhouse. It is built for new and experienced music producers who want a wide range of options and capabilities in a controller.
It has a very high-resolution sound quality with a 24bit/96KHz audio interface. Also, an engaging color display with all of your options helps you find the samples and sounds you're looking for.
It works as a software instrument as well as a hardware controller in the same box, which allows you to create a ton of different sounds right on the Maschine MK3. Whether you're recording new music, splicing samples, adding sections to existing ones, or reworking arrangements, you can do it all on the MK3.
When you first power it up, you'll have access to over 8GB of sample content at your disposal. You can use any of the in brand content with new songs you're working on, or you can create original beats and jams right on the spot. Also included is the full Komplete Select software bundle. With Komplete Select, all of the sonic attributes you could want are at your disposal to add to your songs.
It is intuitively designed and built for real-time usage. You don't always want to be searching through sounds and samples to find what you want. Sometimes, you need to be able to make changes on the fly.
The larger pads are fun to play with. You can drum with two hands quite quickly due to the extra surface area of the pad section. They are touch-sensitive and respond well so that you can add some additional dynamics to your recordings.
You can power the MK3 using the power supply or through a USB hookup, which you will also let you link into a Mac or PC. There, you can continue to use all of the intuitive and easy-to-use features to work your songs, down to the minute details.
Everything on the Machine MK3 has been designed to be user-friendly and easy to figure out. When you find the backing sample you want, it is easy to add some of your favorite sounds to them.
It may take a little bit of time to figure out how to match things up immediately, but over time, you will be a wizard on the pads and the 4-directional touch sequencer. Finding the sounds you need is incredibly easy with the NIS sound browser, which you'll need to sift quickly through the entire Komplete sound library.
Pros
+ 24bit/96kHz
+ Larger touch-sensitive pads
+ 8GB of sample content
+ Tons of sonic possibilities
+ Easy-to-use intuitive design
Cons
- Learning curve
- Not the least expensive
Why We Like It
As an all-around music producing machine, the Maschine MK3 has everything you need. It is effortless to use once you figure out how everything works, and you get a ton of content that you can use right away. It is the type of controller that you can sit and play with for hours.
It is capable of recording, slicing, mixing, integrating, and sequencing all in the same unit. There is almost no limit to the number of sounds you can create with the MK3.
The large pads make it fun to play with as well. You can drum with both hands and create real-time beats that work with the songs you're creating.
If you're looking for an audio sampler and controller that can do pretty much anything at the drop of a hat, the MK3 may be precisely what you're looking for. It is not the most affordable piece of audio equipment, but as for its capability, you will not be disappointed.
It is suitable for both professionals and amateurs who are just playing around. This is the type of controller that you will not have to replace soon, as you're likely to fall in love with it more every time you play around with it.
If you liked the article, please leave your feedback.