The leap from analog to digital is ever prevalent in the minds of manufacturers of music equipment. This means we see some fantastic hybrid amp heads emerge. As with all modern consumer electronics, circuitry and enclosures are getting smaller and smaller.
Some of us foolishly underestimate the capabilities of a lower wattage amp head. Modern technological developments in the last couple of decades have kicked it up a gear, and many of them now surpass expectations. Many have impressive volume levels as well as beautiful tones that sculpt your sound.
With a micro-stature, the MV50 amp head from Vox is a mind-boggling palm-sized powerhouse. It's well-built with smooth retro curves and a mirrored front-plate. It has all the iconic Vox aesthetics you associate with the brand. The construction seems pretty solid despite its lightweight and micro-dimensions.
Weighing in at just over 1lbs, and built with a sturdy carry handle, it's pretty darn portable. This feature makes it a top choice for anyone who likes to travel with their ax and have an impromptu jam on the road. A lot of microamp options can be a little underwhelming. Many are judged as more of a novel or gimmick rather than a viable piece of kit.
There are a ton of guitarists out there who are unwilling to accept anything but all-tube amplifiers - the MV50 is a hybrid style amp that boasts authentic tube-tone reproduction.
It has a mixed set of circuitry. Instead of an old school tube transistor preamp, it utilizes two ground-breaking Nutubes. They were initially developed and engineered by Korg. These modern 'tubes' are quickly converting many a tube-head.
They are well designed and give the MV50 the ability to sound like a maxed MV30 only with a hell of a lot more headroom. They are also an essential component, setting it apart from other micro-amps.
They're the key that gives it its outstanding AC tube tones, allowing it to emulate that vintage British Rock era.
It has a no-nonsense set of 3 dials; gain tone and volume. The tone dial is the most interesting. Despite its simple, solitary control operation, you can dial in a wealth of sounds. Be it Beatles inspired or glorious Queen-like tones. You can use it in conjunction with the Gain knob which, as you might expect, has a scuzzier, distorted edge the higher you increase it past the break-up.
This Tube Head also benefits from a D Class power section, which means you can hook it up to the majority of cabinets without any consumption issues. With such a tiny footprint, the input-output is straightforward.
You have a standard ¼-inch TRS input for your guitar or other instrument and a ¼-inch out to run to your cabinet or speaker. There is also a full-size (¼-inch) line-out or headphone connection. This means you can use the micro-head as a stand-alone without a cab for practice.
Again this is ideal if you want to use it as a travel companion, although it has a 19V DC power supply so you will need a hook-up.
Vox MV50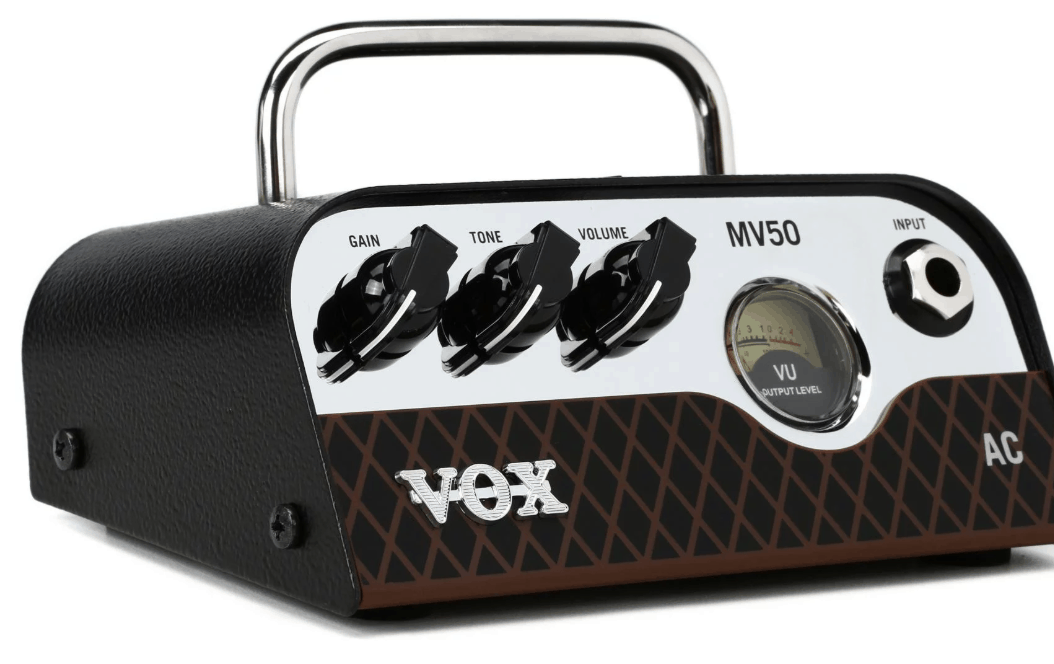 Summary
The MV50 AC is so much more than a gimmicky microamp head. For starters, it's built more solidly than most microamp heads, but beneath the hood is where things differ the most. It has been decked out with some superior hybrid circuitry. We feel that this gives it the edge over the majority of similar products currently on sale.
With a simple one-in, one-out set-up, and three basic front-mounted dials at hand, it couldn't be easier to operate. Add to that the bonus of an extra headphone output for practicing without disturbing anyone, and you have an incredible piece of kit.
It's lightweight and portable. You can stick it in a backpack and take the iconic tones of the Brit-rock revolution wherever you go. It features Korgs proprietary Nutube in place of its preamp and has Class D circuitry that allows it to connect to any cab.
Pros
+ Micro-sized amp head.
+ Class D power section.
+ Korg Nutube preamp.
+ Hybrid analog/digital circuitry.
+ Super-portable.
+ Well constructed.
+ British tones.
+ Headphones for solo practice.
+ 19V DC power supply.
Cons
- It only runs on DC. Given its tiny size and portability, being able to run it with batteries optionally could have made it the perfect travel amp.
Why We Like It
The MV50 a gorgeous mini-head with some impressive engineering. This allows it to hold its own amongst the stiff competition in the mini amp world.
The Class D power section makes it capable of being compatible with powerful amp cabs, and the headphone output lets you practice silently.
The range of sweet British tones you can achieve with just two dials is commendable. We can't get our heads around the sound coming from something so freaking small.
If you liked the article, please leave your feedback.