Full Review of the Sonos Amp
Sonos is an innovative company that's become known around the world for its cutting-edge speaker systems during the last two decades since it was founded. Its most popular products are its smart speakers, which allow you to activate them through voice recognition software or the Sonos app. Many people have integrated a Sonos system into their homes due to their easy operation, as well as the flawless sound quality that they deliver.
One of the major drawbacks when it comes to fitting a Sonos system into your home is the price. It can add up if you need to buy several smart speakers, a soundbar, or a television sound system, which are the products that Sonos sells. An affordable solution to this problem is by purchasing the Sonos Amp, which can be used to turn your current setup into a Sonos system thanks to its ability to drive unpowered speakers. This means that you can hook up the Sonos Amp to your current hi-fi speakers, for example, or to your CD player, turntable, or amplifier. Let's have a look at this product and see what its key features are.
First introduced in February 2019, the Sonos Amp is a Class-D digital amplifier that offers 125W of power for each of its two channels. This makes it a more powerful option than Sonos's Connect: Amp, which has been discontinued. We'll have a look at some more differences between these products later. The amp is designed to supply power to two pairs of speakers. They'll need to be passive – of course – and they should have a nominal impedance of 8 Ohms. If you've got Sonos's Architectural speakers, then it is also possible to run three pairs of them with Amp. They'll need to be wired, though, through Sonance. It's also very important to note that the Sonos Amp can only power speakers that have the same impedance. You can't mix and match pairs of 8 Ohms with pairs of 6 Ohms. You also need to ensure that the speakers are wired in parallel.
Connectivity
Connectivity is a key issue to consider with any amplifier, and that's no different with the Sonos Amp. Fortunately, it is compatible with a wide range of connection options. Firstly, you can hook it up to your speakers through the banana plugs that it comes with. This is an easy process that ensures a stable connection without any loss of sound quality. Secondly, if you've got an RCA-supported music player, such as a turntable, then there's a line-in option. More modern devices can be connected to the Amp through the optical port. There's also the possibility to use the HDMI ARC port for hooking up your TV to the amp.
As this is a smart device – just like Sonos's speakers – you'll also need to take advantage of the Wi-Fi connectivity that it offers. You'll use this to connect it to your home's router. This is important to note as it does not rely upon Bluetooth, as some might expect. There are a few side points to consider here, as you'll need to have the correct internet connection in your home for this to work. For example, you won't be able to hook the Amp up to a router that has 5GHz, as this is not supported by the amplifier. Instead, it can only connect with a 2.4GHz broadcast-capable router. There is, however, a wired option, which might be easier for many people, especially if the terms we've just used have gone over your head. There's an Ethernet port in the Amp that you can then plug a cable into that can go directly to your wireless router. This has the added benefit of allowing you to add further Sonos players to your system.
This product is also designed to work seamlessly with Apple devices. It is fitted with AirPlay 2 capabilities. If you've got an older Apple iPad or iPhone, then you'll want to just check what iOS you're currently operating with. The Amp will only work with AirPlay 2 if you've got an iOS 11.4 or a more updated version. It's likely, however, that if you're purchasing a piece of kit like the Sonos Amp that your Apple device has got an iOS of this level or higher.
Functionality & Design
Amps tend to be designed with functionality in mind, which can lead them to look rather ugly. That's not the case with the Sonos Amp. It has the same modern, sleek design of the company's smart speakers. The black color scheme means that it's understated yet cool at the same time. It has dimensions of 2.52" by 8.54" by 8.54". It's not bulky at all and can easily be concealed or kept in a less visible place in your home. The Amp is also lightweight, weighing just 4.6lbs.
Another feature that enhances Amp's looks, as well as its usability, is its touch controls. You're able to adjust the volume directly on the amplifier, as well as skip tracks or go back a track, and you can also pause and play tracks too. The controls are sensitive without being glitchy at all. It all functions smoothly, which is something that can be said about the Sonos Amp in general.
Sound Quality
Now we'll move on to one of the most important features of any amplifier, which is the sound quality that it offers. This will all depend upon the speakers that you pair it with, but we'll let you know what it sounds like when it's been hooked up to premium components, such as B&W 607 or Fyne F302 speakers.
The breadth of the sound stage is highly impressive, which should be a key consideration for anyone wanting to use the Sonos Amp for watching movies or for gaming. Audiophiles will be pleased by the solid representation across the sound spectrum, with highs crisp and clear, mids punchy, and lows being rich and powerful. The Amp has a subwoofer port, of course, and if you're keen to get the most of the amplifier then you should consider a high-quality sub to truly boost the low-end.
A minor criticism is that subtle sounds can be lost at times, but this will be barely noticeable to the average user. It's also important to note that the Amp has an in-built equalizer, and it's recommended that you play around with it when you first hook up the amp so you can get the optimal sound quality for your needs.
 As we mentioned earlier, there are some major differences between the Sonos Amp and the discontinued Sonos Connect: Amp that came before it. Let's have a look at them.
Firstly, this new model offers a lot more in terms of power handling. The Connect: Amp could only power 55W per channel for combined handling of 110W. That's less than half of what the Amp is capable of, with it allowing you 120W per channel, delivering 240W overall.
Secondly, we have far more connectivity options with the newer amplifier. As we've mentioned, you now have an HDMI ARC input, which allows you to connect to your television to create a home theatre system. You can also use this connection for your computer, as long as you've got the correct port on your computer. Then, Amp also has AirPlay 2 connectivity for all your Apple devices. Sonos has also paired up with Sonance so that the latter's Architectural speakers are now able to connect to the Sonos Amp via Trueplay. The only major similarity in terms of connectivity between these two amplifiers is that they both have an RCA input.
It's clear that the Sonos Amp is a big improvement on the earlier model. If you're still using a Sonos Connect: Amp and wondering whether to upgrade or not, then we can certainly recommend moving onto the newer product. It's a typical example of a company understanding what improvements need to be made and then putting them into action. Sometimes a company will just make minor tweaks and advertise a new product as a major upgrade. That's not the case here. The Sonos Amp is a serious step up from the Sonos Connect: Amp.
Anyone who uses a Sonos product will need to download the Sonos app. You can use it for controlling your streaming services. Although, as we've mentioned, the Amp now has AirPlay, which will allow you to use your Apple device for controlling streaming services like Spotify or Pandora. The app has been around for some years now, and it has a very user-friendly, streamlined feel to it. The intuitive design means that you don't need to be particularly technically advanced to be able to get the most out of it.
Overall, the Sonos Amp is a high-grade amplifier that offers a wealth of connectivity options. If it's paired with the right speakers, then you can be ensured exceptional sound quality that offers a broad sound stage. The unit is built to last and has sleek, modern aesthetics. It's a great choice for anyone who wants to turn regular passive speakers into smart speakers. The whole process of using the Sonos Amp is a breeze too, as the Sonos app is very easy to use, and the touch controls on the amp are responsive and intuitive. Quite simply, this is an excellent product that lives up to the high expectations we have for Sonos equipment.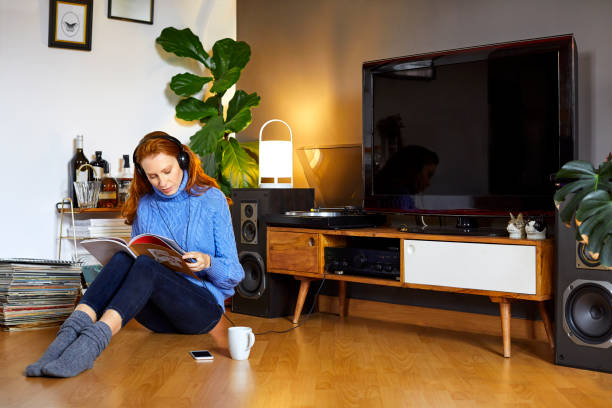 Summary
Sonos Amp is an amplifier that's loaded with lots of cutting-edge technology. It can be used to power passive speakers – indoor and outdoor – and can be hooked up to turntables and televisions. There are many connectivity options, as the Amp has an RCA, optical, and HDMI ARC port. There is a separate connection for subwoofers. It can power two pairs of speakers if they are 8-Ohm impedance, or it can power three pairs of Sonance Architectural speakers.
This is a smart device, which means that it requires an internet connection. You can either plug it into your wireless router through an ethernet cable or connect via wi-fi as long as it is 2.4GHz broadcast capable. It's possible to hook up Apple devices to it through AirPlay, which also allows you to play your streaming services from your phone. You'll also download the Sonos app so that you can equalize the speakers, as well as use partnered streaming services.
The Sonos Amp features sleek, contemporary looks with a black color scheme. It is lightweight and compact. There are touch controls directly on the amplifier which are simple to use and intuitive. This can also be said about the amplifier as a whole, as it is a breeze to use. It's a big improvement on the previous Sonos amplifier and well worth the investment.
Pros:
+ Sleek, visually pleasing design
+ Touch controls for very simple operation
+ Compatible with a wide range of speakers thanks to multiple connectivity options
+ Wi-fi connectivity
+ The Sonos app is intuitive and easy to use
+ AirPlay for Apple devices
+ Exceptional sound quality and wide, immersive sound stage
+ 125W power handling per channel
+ Solid, durable construction
Cons:
- It's not possible to put it on standby, which means that Amp will always be on
Why We Like It
 Sonos Amp is an excellent product for anyone who wants a smart amplifier with lots of connectivity options and excellent sound quality. The ease with which it can be operated is a big plus, with the Sonos app being intuitive and user-friendly.
It works just as well for music as it does for movies, which makes it a versatile option for the home. We're big fans of its gorgeous, sleek looks that are thoroughly modern without being showy.
The standout feature of Amp has to be the sound quality. Even though it's loaded with lots of fantastic features, the true reason why we recommend it is because of how good it sounds. The sound stage has to be heard to be believed.
This product is a big improvement on the Sonos Connect: Amp, and we can highly recommend it as a wise investment.
If you liked the article, please leave your feedback.