If you're wondering what the best DJ turntables are, then you could just as easily be a budding novice to a DJ who has got people grooving on dancefloors around the world.
A DJ turntable is a critical piece of equipment that no DJ can live without. The best DJ controllers will feature an intuitive design that will make operation during live performances easy and seamless. Features such as responsive pads, faders, and pots are important for accuracy when mixing and remixing. You also want backlights to be integrated into the turntable so that you can see what you're doing, even when you're performing in a dark venue. Compatibility with your chosen DJ software is important, too, whether you're an Ableton Live or Serato Pro DJ. At Music Critic, we also think that value-for-money should always be considered when investing in a new piece of equipment. There are some excellent DJ turntables out there that won't cost the earth to buy.
With all this in mind, we spent some time researching and testing DJ turntables before deciding that the following are the 10 best DJ turntables currently on the market. After our reviews, you'll find an in-depth buyer's guide so that you can be certain to invest your money wisely.
At a glance:

Our top 3 picks
Our team's top 3 recommendations
Best Overall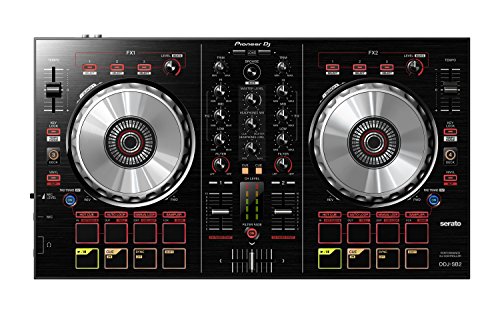 Pioneer DJ DDJ-SB2 2-Channel Controller

Large Jog Wheels for Accuracy
In-Built Sound Card
Affordable Price
Exceptional Build Quality and High-Grade Components
Intuitive Design
Premium Quality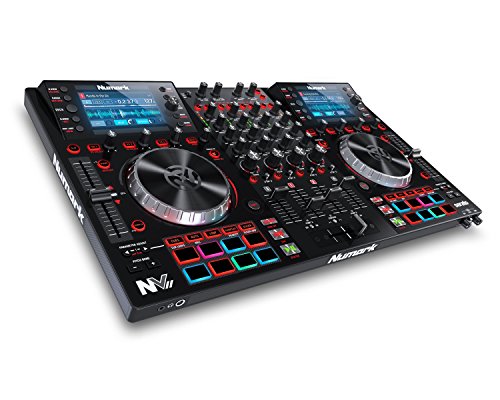 Numark NVII DJ Controller

Large Jog Wheels for Accuracy
In-Built Sound Card
Affordable Price
Exceptional Build Quality and High-Grade Components
Intuitive Design
Great value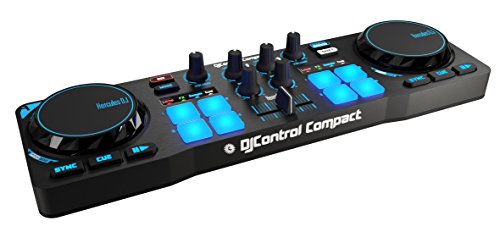 Hercules DJControl USB Controller

Large Jog Wheels for Accuracy
In-Built Sound Card
Affordable Price
Exceptional Build Quality and High-Grade Components
Intuitive Design
Here is Our Review of the Top 10 Best DJ Turntables for 2023 :
1. Pioneer DJ DDJ-SB2 2-Channel Controller
Pioneer is one of the best-known names in the music industry when it comes to DJ turntables. For that reason, you're going to find more than one Pioneer turntable on our list.
Why is it that Pioneer is so popular?
Essentially, Pioneer makes DJ equipment that's designed with DJs in mind. Its products are thoughtfully designed, user-friendly, and more often than not, Pioneer turntables offer excellent value-for-money too.
The Pioneer DDJ-SB2 is a perfect example of a high-quality Pioneer DJ turntable. That's why it tops our list. It's an intuitive, high-grade turntable that we think you'll love.
It includes a 5" jog wheel, which is low latency, offers an impressive scratch response, and gives you precision when you need it.
The whole controller weighs just 4.6lbs, making it highly portable. But its meager weight doesn't make it flimsy. We think that this DJ turntable is built to last, as we were highly impressed by its durable build quality.
It's got a trim knob, an FX fade, and allows for four hot cues. It delivers an impressive signal to noise ratio of 103dB. There's a jack for plugging in your headphones for monitoring. It also includes independent low and high pass filters, which we think is important for a pro DJ.
The most impressive feature of this Pioneer DJ turntable, in our opinion, is the crystal-clear, distortion-free sound quality that it delivers. That makes it perfect for spinning tunes at a club or party.
This is quite simply an exceptional 2-channel DJ turntable by the most admired and respected DJ equipment manufacturer. It's a safe investment for DJs who are beginners or intermediates or high-level DJs who want to snag a bargain.
Pros:
+ Large Jog Wheels for Accuracy
+ In-Built Sound Card
+ Affordable Price
+ Exceptional Build Quality and High-Grade Components
+ Intuitive Design
Why We Liked It:
It's a fantastic DJ turntable that's designed with usability in mind. Our favorite feature has to be the large jog wheel. It's a dream to use and is ideal for perfectionist DJs who demand their turntable to be as accurate as they are.
2. Numark NVII DJ Controller
Since the rise of these turntables, this company was amongst the few who adopted and developed new technologies for advancing the mixing experience. With the aim of powering DJ's with unmatchable products, Numark is here to compete with other professionals.
For over 40 years Numark is providing cutting-edge products that give consumers versatile possibilities of innovating something out of this world.
NVII by Numark is more than just its sleek design and attractive appearance. The all-new layout of NVII sets a whole new definition of responsive operation making users to get more comfortable with it.
Under the hood, you get a dual 4.3-inch full-color display that gives the real-time visualization of Serato so you have direct access to the DJ software. Similarly, superior performance and new design give the user more control.
Beat matching your track is essential when all eyes are on you. Grid Lines added to screen's performance views in this turntable allow you for constantly matching the beats with tracks.
Don't worry if your songs aren't categorized as this turntable includes a five-column sorting. Moreover, you can view your music by song, artist, time, BPM or key, isn't it easy?
It's all about the feel while you are jamming. NVII features touch-capacitive EQ and filters so you can control and feel the sound simultaneously. Similarly, two adaptive 5-inch touch-activated platters add more soul and feel to the jamming experience.
Now creating your own remix during a performance is pretty much easy, thanks to Numark. This turntable includes 16 velocity sensitive pads with backlit RGB feedback so you can assign them anything and create wonders. Please read on for some of the major highlights of the product and what makes us love it.
Pros:
+ Two 4.3-inch displays with real-time visualization of Serato DJ.
+ 16 velocity-sensitive trigger pads with backlit RGB feedback.
+ Four deck control.
Why We Liked It - NVII by Numark stands out to be amongst the game changers. With integrated displays, gridlines on screen for perfect beat matching and built-in USB 2.0 port this turntable is capable of working out loads. What else do you need?
3. Hercules DJControl USB Controller
For over 30 years Hercules has focused on creating digital audio solutions which carry endless possibilities to innovate. This company targets analog audio for offering state of the art devices so that they can be embraced by millions.
From creating a sound card to building many renowned Dj turntables this company has created a good reputation amongst many professionals.
DJControl Compact by Hercules carries that same hype to give users more control over their beats under an affordable price range. Although this turntable is affordable, it features a great list of functions that one can't afford to lose.
Traveling through different venues with a bulky turntable isn't an option that one would consider. DJ turntable compact by Hercules will make life easy for many out there as it only weighs 1.2 pounds and measures in at 13.4 by 3.9 inches. Now take this guy anywhere and anytime you want.
Jog wheels are the most basic element of a turntable that allows you to mix your beats and add fun moments in the environment. This turntable has two jog wheels each measured at 7.5cm in diameters that allow users to take full yet accurate control over the beats.
Other alternatives lack in modes but say thanks to this turntable you get four different modes per deck to crisp up your jamming experience. Similarly, user-friendly design perfectly suits every laptop so you don't have to read manuals all the time.
With the turntable, you get DJUCED 18 software for customizing the sound with loops and effects. Similarly, the turntable and software render simultaneously at zero latency for displaying beats, track lengths and pretty much everything. Here is a little more about this product.
Pros:
+ Only 1.2 pounds of weight make this turntable easy to carry.
+ Two jog wheels control pitch and navigation within tracks.
+ 4 modes per deck.
Why We Liked It - It is all about professionalism that this turntable delivers within an affordable price range. With 4 modes, two jog wheels and equalizers this turntable by Hercules has some serious potential to kick out other contenders. Other than that, we really liked the simple design plus cool use of colors.
4. Numark Starter DJ Controller
Numark is all about exploring the boundaries of mixing experience. New yet refined technologies poured into the Numark DJ products result in cutting-edge performance with that classic feel.
For over 40 years, this company is providing consumers with best DJing products so they don't have to compromise while rocking the nightclub next door.
Starter DJ turntable by Numark targets those who have just stepped into the game or been there since ages. No matter what skill grades you have this turntable will get you going without any prior experience.
This turntable is all about ease and reliability, it connects directly to any laptop and let users mix all that they have got with the included software. Mixing, blending and creating wasn't easy back then but say thanks to this 2-channel turntable that allows you to rock the house.
Lights add fun to your jamming experience, that is why this turntable is equipped with three LED that sync to your mix creating an unforgettable experience.
So you don't want to control this Turntable directly? Well, you can just plug in it to your laptop for using virtual DJ LE to control it via your DJing laptop. Simple, isn't it?
Attaching a separate sound card for connecting speakers isn't the best solution. Starter turntable by Numark has built-in audio outputs so you can connect your bassy speakers without any nuisance.
Beginners and even the professionals don't want to get their hands on a clumsy mixer as its annoying. This turntable has an easy to use DJ mixer that equips equalization control for treble, bass, channel gain and master gain so that your mixing experience stays worthwhile. Want to know some major highlights of this product? Please read on…
Pros:
+ Built-in headphone output for private listening.
+ Simple cueing and sampling achieved by eight rubber pads, four on each side.
+ Virtual DJ LE software included.
Why We Liked It - Starter DJ turntable by Numark is amongst the best solutions for redefining your jamming experience. With simple plug and play, audio outputs for speakers/DJ headphones (click for a complete guide) and sync buttons for easy mixing control this turntable set out a perfect example. This cute little box has everything a music enthusiast would ever want. So, what are you waiting for?
5. Monster GO DJ Portable Mixer Digital Turntable
Monster is all about bringing innovation to the audio sector. Since many years they are working to bring out the change that no one has even thought about.
Let us admit that those bulky yet big turntables are way out of the league as in present it's all about compactness. Although you'll find some alternatives to keep things handy, the results aren't worthwhile.
Monster has just hit the jackpot and found out a way to shrink the whole piece of kit into a pocket-size device. GO-DJ by Monster packs all the goods of a pro studio gear into a pocket-size turntable that allows you to produce quality audio no matter where you are.
GO-DJ is a standalone compact system with all-in-one DJing functions. Although this piece of tech holds so much inside, it weighs only 0.6lbs. Now you can take the party wherever you go.
Along with touch-screen functionality, you also get a whole lot on-board features. Crossfader, knobs, and buttons give you the ultimate experience of jamming. Similarly, you can also customize this portable turntable to match sensitivity and precision for taking your experience to a whole new level.
Now storing ample of songs and mix to your dj kit is made easy with 2GB internal storage. Similarly, users can also add an external memory of 2TB to store a lot more than what is required.
It's good to mix manually but what if you are driving and need to listen to an auto mix? You can simply turn on the Auto feature to let turntable handle all the buzz. Below are some major highlights of this great product.
Pros:
+ Up to 12 hours of battery life.
+ SD card slot for adding up to 2TB of external memory.
+ Features along with portability.
Why We Liked It - GO DJ by Monster has a class of its own. With up to 12 hours of battery life, up to 2GB space for storing music and a portable size gives this GO DJ a huge hump over others. So, if you want to make a great impression on your audience the first time around, this product should be your number one choice.
6. Gemini GV Series G4V 4-Channel Virtual DJ Controller
At Gemini, every employee believes in providing products that offer value and innovation to the DJing and Pro audio market. For over 43 years Gemini is analyzing the needs of consumers and industry to craft products that have never been experienced.
Success and growth allow Gemini to think more about expanding the possibilities of innovating. By such determination and hard work now this company proudly provide products that break the barriers of mock boundaries.
G4V by Gemini comes right in when you need a perfect addition to your DJing setup.
This Gemini DJ Controller is enriched with features making you the pro just right out of the box. G4V has got it all but do you have that creativity to make things go worthwhile?
Standard DJ MIDI devices are transformed into a dynamic software performance turntable by the G4V. For full control of four virtual software decks, this controller is equipped with two full-featured physical DJing decks making you the king of your ring.
Toggling, taping and twisting your tracks is made easy with 16 multi-function performance pads and assignable rotary encoders. Now you can simply turn your music into a unique looking mix.
Constant access to gain, EQ and filter controls on each software deck is achieved by full 4-channel mixer so you can have easy access to all functions.
Most of the turntables lack in input and output ports but that is not the case with G4V. XLR master output, master and booth RCA outputs along with microphone and AUX inputs give you a variety of connectivity options. Catch more highlights about the product below…
Pros:
+ 4-channel mixer with 3-band EQ.
+ 2 full-featured physical decks allow you to control of 4 virtual software decks.
+ Sensational sound.
Why We Liked It - It all comes down to this piece of tech. With 4 channel mixer, touch-sensitive jog wheels and a lot of connectivity options one can't ignore to choose G4V by Gemini. This one is an ideal choice for both beginners and pros.
7. Denon DJ MC4000 2-Channel DJ Controller
Audio giants, Denon are providing quality audio products since ages. MC400 by Denon continues to prove the reputation for innovating affordable, easy to use and portable Controller.
MC4000 is built for taking almost any abuse you throw at it, thanks to the robust steel chassis. Similarly, this DJ Controller is equipped with basic input/output ports and mixing capability for reducing the needs of additional equipment.
Including the Serato DJ, Intro software users can also upgrade it to full Serato DJ. Moreover, it also supports Traktor 2, Virtual DJ 8 and other software that supports MIDI mapping. So you are getting a variety of software to choose from.
Although MC400 has dozens of features, one will never be puzzled while locating any function. Say thanks to Denon you get all features located and spaced for providing extreme workflow. Now forget about confusing and dive deep inside your jamming.
MC400 by Denon gets the job done with easy to use interface and under an affordable price tag. Know more about the product below…
Pros:
+ Touch-activated jog wheels for accurate scratching and track cueing.
+ Dedicated EQ and FX controls on each channel.
+ Sturdy steel construction.
Why We Liked It - With long throw 100mm pitch faders, touch-activated jog wheels and dedicated pads you get more than what you really pay for this Controller. The value for money that it offers is really what we liked about it.
8. PIONEER DDJ-SR Pro DJ Controller
Pioneer is working for the music industry since its start. With only one aim of delivering the best products pioneer is here to make history.
DDJ-SR is a beast created by pioneer for using it with Serato software. Inheriting all top-notch features from its preceding DDJ-SX like large aluminum jog wheels and performance pads. Moreover, a new PAD PLUS feature adds four additional audio effects to the performance pads so that the barriers are held aside.
Performance pads are located just below the big jog wheel. Hot cue, roll, slicer and sampler functions are just one soft-touch rubber pad away for adding them to the mix. Similarly, the output volume of each function varies on the strength of each tap as every rubber pad is velocity sensitive.
Jog wheels hold immense importance in DJ Controllers as they are the heart of it. DDJ-SR features two big jog wheels that are fine-tuned to provide the user with zero latency feel. Similarly, they also offer precise scratching and mixing capabilities.
Serato DJ is the most popular and well-known software. With DDJ-SR you get a free copy of Serato DJ software for an easy out of the box experience. Want to know more about this product? Please go through some of the major highlights below.
Pros:
+ Can be powered through a USB connection.
+ Free copy of Serato software.
+ Big jog wheels.
Why We Liked It - The Pad plus functions, big jog wheels and 2-channel mixer one can create wonders out of this DJ Controller and really something that we loved about it.
9. Native Instruments Traktor Kontrol S4 MK2 DJ Controller
Native Instruments is counted amongst the leading manufacturer of software and hardware for computer-based audio production. The sole mission of this company is to develop innovative ideas that can aid audio industry without going too expensive.
To deliver the perfect match of hardware and software Kontrol S4 was designed. This DJ Controller promises to deliver a never before inspiring DJing experience. S4 packs up four-channel mixer, built-in 24 bit sound card, a user-friendly interface, and Traktor Pro 2 software to redefine your experience.
S4 was designed keeping in mind the ease of usability. All controls on S4 feel natural right out of the box and allow you to take an efficient control over them. RGB eight color-coded lights are laid out on board to fulfill the present demand of nightclubs.
Apart from recording live audio from the mic input or master output one can also record loops. Similarly, users can overdub or layer multiple loops to build mixes that have never been experienced before.
S4 MK2 by Native Instruments packs up all the good contained in a typical high-end Controller.
Catch some of the major highlights about this product below.
Pros:
+ Traktor Pro 2 Recording software included.
+ 40 loops and 10 full tracks pre-installed.
+ Loop recording.
Why We Liked It - With four-channel mixer, loop recording function and fully integrated four deck control this Controller shines brightly in its league. Also, the value for money is superb – in short, it has every reason to make you fall in love with it.
10. Pioneer DJ DDJ-RZX DJ Controller
Visualize yourself in the world of best Controller. No one surpasses DDJ-RZX by pioneer as it stands tall in the league of Turntables. This very controller is designed to tackle harsh treatments as one can't afford to buy different DJ controllers for specific treatments.
Three 7-inch screens allow you to directly access the audio and video features in rekordbox DJ without actually looking in your laptop. Now it's all about concentrating on onboard controls.
People who have used CDJ and DJM series might get familiar with this Controller. Large jog wheels and multicolored touch-sensitive performance pads are inherited from CDJ and DJM series controllers. Similarly, the 4 channel has an independent sampler section that allows users to beat sync, quantize and trim on the sampler.
High performance 96kHz/32 bit D/A converter made by Asahi Kasei makes sure that there is reduced cable contact resistance for outputting true quality of tracks.
One can easily connect mic by 2 XLR combo input jacks that give distortionless sound even in loud volumes. Similarly, tuning your voice by dedicated 3 bands EQ and Mic Fx, Echo, Reverb, Pitch or V-Tune gives you that extra power of detail.
DDJ-RZX Dj turntable by Pioneer is an absolute choice of professionals. Find out more about this great product below.
Pros:
+ Advanced FX Controls.
+ Active Sensor.
+ OSC Sampler.
Why We Liked It - With Dual USB ports, durable design and a lot of features make DDJ-RZX the best choice in the market and surely, one of our favorite.
DJ Turntables Buyers Guide
So you want to buy a new DJ turntable to get into some deejaying stuff? It is never too late to lean on and take guidance from the professionals themselves. No matter who you are, a beginner or a professional, while buying a new product you need to get through some basic elements.
Following guide mashes up all the ingredients that will help you to pick the best Turntable according to your personal needs!
This write-up will take you from peak introduction to the most advanced level.
What on earth is a Turntable/Controller?
For Dummies, a Controller/Turntable uses knobs, jog wheels, encoders, faders, touch strips, and other components to mix music via connected software through a laptop or computer. On the other side of the story, some DJing Turntable has built-in LCD for direct monitoring of software.
Note that this device only passes out a signal to the software for controlling the functions in an efficient manner.
For connecting speakers or headphones, Turntables have a built-in sound card so one doesn't have to connect an external sound card.
A typical Turntable is equipped with two jog wheels/turntables, multi-function pads and knobs to control the software. One can also remap the functions of onboard controls assigning whatever they like.
Turntables are specific in nature when it comes to software so be sure to check that which software your investment supports.
Modular vs All-in-one Turntables
A modular system consists of separate equipment like turntables, mixer, analog mixer, sound card and much more.
Although many pros out there prefer All-in-one Controller some professionals like to mix things through a modular system for outputting some unmatchable beats.
So if you want to follow the modular routine simply connect a pair of turntables or media players to a mixer for kick-starting your vintage experience.
All-in-one turntables pack mixer, turntables, sound card and every essential in one package. Similarly, they include physical knobs, buttons, and sliders for more fine control over the software.
So many options on the all-in-one DJ Controller give users the utmost control of software in an efficient manner.
Stay back as we are about to introduce some points that will take your heart to an all-in-one Controller!
Advantages of All-in-one Controller
The simple yet greatest level of control with a lot of onboard functions.
Many high-end all-in-one Controller will allow you to control the system without connecting it to any computer. A life-saver for cases when your laptop battery dies!
Support a good amount of Software.
Now let us look for some basic features and functions of a Controller.
Basic Function and Features
Knobs, jog wheels, pads, faders, and much more control allow users to have full control of software.
Built-in display for many parameters and quick access to some highlighted features of software without actually looking into the laptop.
Effects processor, portable PA system (click for full review guide), an interface for transferring signals to the computer.
Direct control apps for smartphones and tablets found in some new turntables.
So you got your high-end Turntable, now what? For instance, what if the software doesn't have the capabilities to turn up your experience?
All that is covered below!
Software Talk
A Turntable/Controller is only bound to tackle the software in the best way possible but it is the software that takes all responsibilities of providing the crunch. Basically, a DJ Turntable just controls the software and whatever that you hear is the result of a good software team.
Software includes all the effects, filters, samples and pretty much everything that you control by the Turntable. All that hype is stored in that particular software that allows users to wonders out of a DJ Controller.
After picking the DJ Turntable one must concentrate on picking the best Software as it is the heart of any DJ system. All turntables come in with a free copy of the software for performing the basics while the full version is set at a price. One can buy the full version of the included software for turning up the level but also considering other options is way more defined.
Note that a typical turntable doesn't support all software available in the market so be sure to match the support column of software and controller side by side.
Below we'll look at some of the popular options available right now!
Serato DJing Software
Serato DJ software has partnered with hardware manufacturers to ensure that their DJ Controller deliver an unforgettable experience. Although Serato DJ software doesn't have a bunch of configuration options, people love the user-friendliness it offers.
This software works best with iTunes and side by side it also handles non-electronic music as well. Note that Serato doesn't cooperate well in a standalone mode, you must plug it into an interface or controller.
Sequencing your show in a real-time is based on multi-colored waveform editing that shows EQ settings in Serato DJ making a perfect visual experience. Similarly, workflows are streamlined and visualized as well to give you a never before experience.
Expansion packs take care of all that functions like triggering samples, applying effects and much more. Beating editing is on the go by Flip editor while authentic mixing and scratching are achieved by DVS pack.
Combining the power and ease of usability makes Serato the choice of million DJ's.
Ableton Live
Although Ableton Live is a complete suite, many DJ's prefer Ableton live since it was introduced back in 2001. This software includes all the professionality with its single-window easy to use interface.
For creating multi-layered mixes with a great versatility Live Arrangement section of this software lets you drag and drop elements to spice up your mix.
Experiments take users to a whole new level. Now set up an experimental environment through switching to Live's Session view. Trying out different ideas, accessing whole effects library and creating different sample through it is now made easy with this interface. Similarly, a built-in browser helps you to find the right musical elements faster.
On Ableton Live it is pretty straightforward to assign controls to various knobs, buttons, pads, and sliders. You get a lot of templates to choose from according to your needs.
It all comes down to this DJ software. Ableton Live packs all the good into a user-friendly interface which makes many DJ's to consider this very DJ software.
Traktor Pro
Native Instruments were amongst the few companies that manufactured both software and hardware for DJ's. Traktor Pro is a powerful software that comes pre-loaded with Dj Turntables by Native Instruments. Similarly, some DJ turntables also support Traktor Pro.
Remix Deck Concept of Traktor Pro makes it the talk of the town. This environment allows you to manipulate different component parts of music like slicing or dicing then freestyle in playback.
One can also customize the interface using Traktor to match the preferred work style. Traktor has various versions ranging from beginner to pro. Some have video capability while others offers some advanced functions that are not available anywhere!
Traktor Pro is counted amongst the most trusted Software available in the market.
Although there are much other software, above three stands out to be the best!
Now you have a clear idea of what turntables are all about! From top to bottom we have covered every area that will help you to pick the best turntable.
If you need any further consideration we have hand-picked three turntables for different categories so that everyone feels like home.
Keep up with us to look at what has been recommended by the majority and professionals.
How To Best Choose Your Turntable
The first thing to consider no matter what you want to buy is the budget. It is also the same when it comes to buying the best turntable for you. Since you are likely to come across a variety of price tags attached to these devices, it is best to be sure of your budget (and requirements). These devices can be as cheap as $100 and can go up to 3 times this price. What we suggest here is to be a little patient, spend a couple of more bucks and get something that is better in terms of quality and longevity.
Next up is a few questions you might want to ask yourself. What are you trying to do with the turntable? Are you a beginner who just needs to get one for the sake of learning? Are you a professional who wants to impress the crowd? How would you connect the DJ controller - using a computer, a traditional mixer or a controller? In general, it is a good idea to think ahead in terms of what you require when buying a new turntable.
You may also want to consider how many turntables do you want. One would suffice if you have simple requirements but if you are planning on setting up a traditional DJ setup, you may need to buy two.
Connectivity is also important. Whether you want a USB or RCA connectivity (click for full RCA guide) can be one of the deciding factors. Having said that, most turntables these days provide RCA as well as USB connectivity allowing you to seamlessly switch between two to accommodate your hybrid setup. An important thing to keep in mind here is the fact that if you are planning to go the USB connectivity route, you will need DJ apps and software to play.
When buying a turntable you might also want to consider the type of motor it uses. There are two types mainly -  the direct-drive motor and the and the belt-drive. In direct-drive, the motor is present right at the center of the table and is directly connected to it. This ensures lower flutter and wow and high torque. You will hardly find any fluctuation in the platter, which makes it an ideal choice for DJing. Talking about the belt-drive, the motor is located off-center and is not directly connected to the platter but with the help of a rubber belt. The belt drive motor results in more fluctuation, which being a DJ you would always want to avoid.
1- Top Pick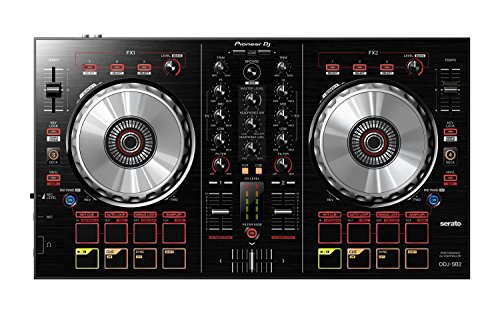 Product reviewed in our top pick category has beaten others to top the list of Turntables!
Pioneer entered the world of Deejaying in 1994 with the popular CDJ-500 flat-top DJ player that rocked the nation. 20 years have passed but still, Pioneer is innovating the industry of Deejaying by producing high-quality equipment.
This company regularly develops new products that help DJ's to break the stereotypes and make history.
DDJ-SB2 by Pioneer is the best entry-level professional DJ turntable that features switchable four deck controls, level meters and trims pots. Although DDJ-SB2 is made for Serato software, one can also use rekordbox to pump up the experience.
Just connect the USB cable and you are ready to mix some beats, no need for any additional power supply brick. RCA jacks for the master output, a ¼" mic in jack, and ¼' and ⅛' jacks for headphone make connectivity easy!
This turntable comes with DJ Serato Intro software and two-week full version trial so that you can have the taste of what the full-featured software looks like. Similarly, DDJ-SB2 is also compatible with Rekordbox software.
DDJ-SB2 is equipped with touch-sensitive performance pads. Top 4 rubber pads allow you to trigger Hot Cue, Autoloop, Manual Loop, and Sampler. Similarly, bottom 4 pads give you immediate access to Play, Cue, Sync, and Shift.
Now users can control up to four decks with this turntable. To control deck three simply press the "3 Deck" button in the left deck and vice versa for controlling the fourth deck. Further, this assigns the jog wheels, mixer control, library and transport to deck three and four.
Jog wheels are the heart component of any Turntable. In DDJ-SB2 you get large yet low latency jog wheels so that you experience a great scratch response and accuracy all along the mixing.
Detailing of channels was absent in the preceder of this DJ turntable. DDJ-SB2 features five segment channel level meters with each segment consisting of eight LEDs. So that means that you are able to see and edit the slightest detail of both channels.
Controlling the level of loaded tracks is now made easy with onboard trim knobs featured in this Turntable. Now you can easily adjust and check the input volume on each channel.
Deejaying experience is just refined with DDJ-SB2 by Pioneer. With switchable four deck controls, trim pots, level meters, and manual filters one can create something that has never been heard before.
2- Premium Choice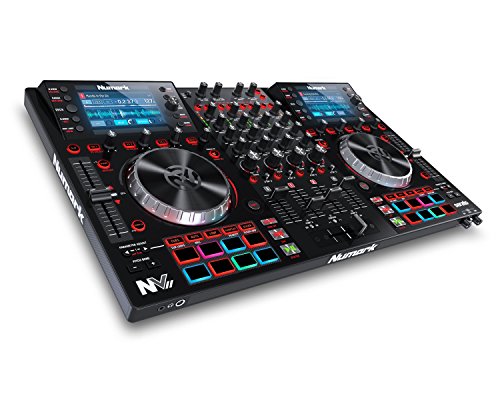 We gathered the most expensive yet best product in our premium choice sector so that one can go absolute professional.
Since the building days of turntables, Numark was amongst the few companies that adopted the science of new deejaying technology for producing the best mixing experience at every level.
Combining the classic feel with fresh hardware makes Numark produce revolutionary DJ products. For over 40 years this company is embraced for producing best turntables one after another with that same historic passion.
Painted with the astonishing combo of red and white NV II by Numark grabs all the attention with its sleek design. Apart from appearance, this turntable has much more to discuss.
Keeping aside the eye-catching design of NV II, it features an upgraded layout with clear markings so that one could operate it much faster. It is super designed and manufactured to bamboozle the experience of deejaying.
Aside from the cool yet professional looks, NV II features two 4.3-inch full-color screens so you don't have to peak again and again into the laptop.
Beat match your tracks can take a lot of effort especially when you are all about the precision. NV II adds grid lines on the screens so you can easily and efficiently beat match your tracks.
If your track list isn't categorized properly it takes a lot of time to find a specific track. In this turntable, you get a 5-column sort to view your music and 3 columns at a time by song, artist, time, bpm and key. So now you can easily access your music files regardless of the categorized or uncategorized folders.
Creating music is another thing but feeling the creation is totally different. With this DJ Controller, you can feel the music through adaptive 5-inch touch-activated platters.
EQ and filters options are touches sensitive as well giving you a full experience of what it is like to feel the music. Similarly, one can carve out a custom sonic mix by simply pressing the EQ/FX knob.
Scratching your favorite cuts with accuracy and genuine feel is now possible, thanks to the highly advanced touch adaptive jog wheels. With NV II by Numark, you are ready to take on any nightclub.
Now creating your own remix during a performance isn't that hard, all praises go to 16 velocity-sensitive pads. Adding looping sampling, hot cues or any other option with bright RGB backlit pads is a completely new fashion to kick-start your remixing.
NV II features four deck control that allows you to combine versatile possibilities while monitoring your performance on built-in screens. One simple click allows you to switch instantly between the four decks.
A lot of connectivity options is that customers also love about this turntable. XLR outputs, Booth / Master RCA outs, ¼"-inch mic and headphone inputs mean that you have ample of options to connect pretty much everything.
NV II is all about that advanced features that you get at an incomparable price. With upgraded layout for fast operation, a lot of connectivity options and twin display it wouldn't be wrong to comment that this turntable proves its place in our premium section.
3- Great Value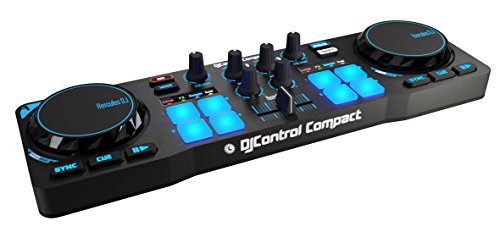 When it comes to money matters the product categorized under our great value section holds immense worth.
Developing digital audio solutions to attract users for creating versatile possibilities, Hercules is working for over 30 years to make every hard work go worthwhile. Here, engineers take examples by analog audio for producing state of the art deejaying equipment.
Producing great products for DJ's has made this company a well-known icon in the audio industry. Philosophy of providing customers with the best available has made this company stand tall amongst the popular manufacturers.
Keeping that same ratio of consistency Hercules has manufactured a DJ controller compact which is an innovative piece of tech that promises to take your deejaying experience to a whole new level.
Along with the likes of affordability and compactness users get a ton of features with this DJ controller making it no more less than any other expensive DJ Turntable out there.
Theoretically, DJ's travel here and there with their controllers to spice up the environment with their skills. In this case, big and bulky DJ controllers will definitely ruin the whole transportation scene. Well, say thanks to this ultra-light turntable that only weighs 1.2 pounds and measures in at 13.4 by 3.9 inches making your loading and unloading go viola.
In the world of wireless would you like to carry a separate power brick for your DJ turntable? Relax, as this Dj turntable has got your back! You can power up this device by a simple USB connection to get going with your jamming.
Jog wheels are the most important element of any DJ Turntable as they are responsible for creating beats and fun. This very DJ controller has two wide jog wheels each being at 2.95 inches in diameter. Similarly, they are designed for absolute no latency while scratching to make your investment worthwhile.
A DJ turntable depends on software as all the crunch and spice is integrated into it. The included DJ software known as DJUCED 18 with this DJ controller has some serious potential to stand out above other competitors in the market. From basics to advanced functions this software features all to give you the experience of your life. The good part is that it's full and free!
This compact feature full DJ turntable by Hercules delivers a bold performance with a soul full experience. With dual mixing decks, 4 pads per deck and user-friendly interface this DJ controller prove every bit spent on it.
FAQ's
1- How does a DJ Turntable work and what it is used for?
Basically, a DJ Turntable consists of jog wheels, knobs and other controls that are mapped for performing special effects and features via the DJ Software. Dj software handles all the input signals sent by DJ controllers to output specific signals.
A DJ Turntable gets connected to a laptop or computer, the DJ Software installed on the pc accept the signals from controllers to output a specific mix.
DJ Turntables are used for controlling the DJ software in a more efficient manner via the onboard controls given on it.
2- Features of a DJ Turntable?
Knobs, jog wheels, pads, faders other touch sensitive controls command software functions, and settings.
Onboard display for showing system status, audio levels, and other parameters.
Some  Turntable offer android and ios applications for controlling the commands.
3- What should you look for when choosing a Turntable?
Budget
Pick a good budget and choose according to it. Don't go too expensive or too cheap as you'll face the consequences in the near future.
Stay enclosed in the boundary of your budget and pick the best contenders according to it.
Software
Although there are much software out there, a DJ Turntable support specific software. Go through different reviews of software available in the market and match your needs with them.
After selecting the specific software check that if your DJ Turntable supports it or not!
Features
Getting a whole lot of features is acceptable but it takes a good amount of money with it. Be specific to your needs and then look for functions according to it.
For an instance, a beginner doesn't need four jog wheels in one DJ Turntable as two will be fine for doing loads. So stay dedicated to your needs.
If you liked this review by Music Critic, please leave a positive rating:
[vc_separator