The Vox AC4 4-watt combo amp is a compact-sized tube amp that is great for home studio use. It's tiny and light, yet packs a good amount of punch and tone from the power and preamp tubes.
The speaker is a 12" Celestion, and offers a sense of clarity and punch depending on which level you crank the gain at. It has classic style cosmetics, which makes it look like it belongs in the studio with some of the rock greats.
Vox AC4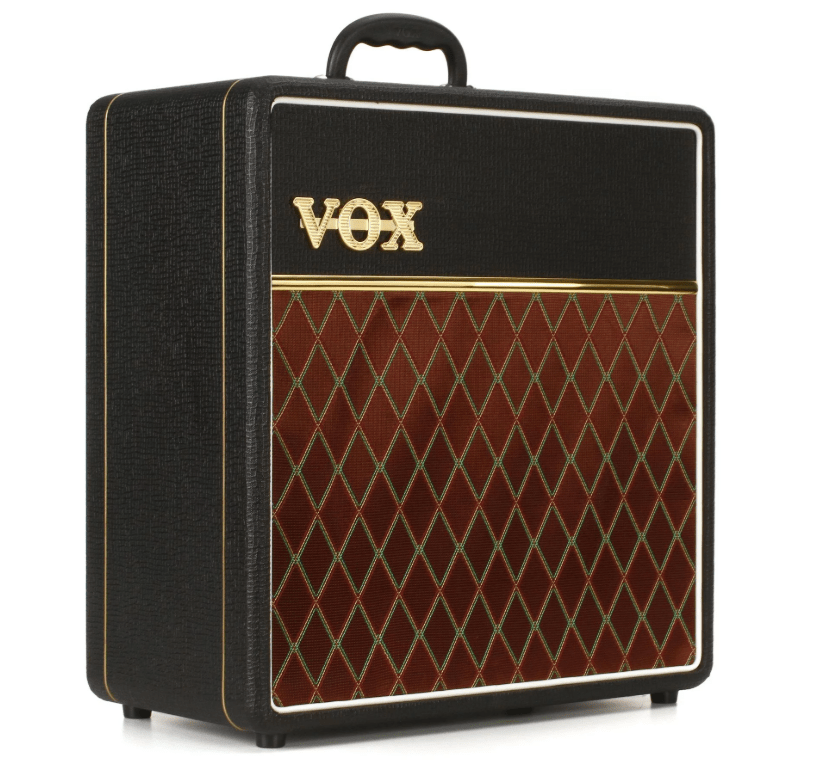 Summary
Sometimes you want a compact and lightweight amp that can give you a substantial amount of power and tonal versatility all in one place. Vo has been delivering high-quality amps to amateurs and professionals for generations. It continues to do so with the new AC4C1 combo amp.
It's powered using only tube technology with 12AX7 preamp tubes and an EL84 power tube. That type of tube power offers a pure and robust sound. Transistor amps cannot match the strength and the purity of a tube amp. Even with only four watts of power, you get a good amount of strength and volume from the tubes, adding to the tone that's already available naturally.
It comes with an effortless set-up in terms of the tone and volume controls. It's equipped with a classic clean chime, plus a rowdy top boost by the turn of a knob. It only uses gain knobs, volume, treble, and bass. You can turn the knobs to fit your desired tone, but if you want to crank up the crunch, it's the gain you need to pay attention to.
In the low gain setting, you have a nice and clean tone that is clear and concise. It would be a good tone for playing chords or plucking along to country or folk music. When you turn the gain knob up, you get a healthy crunch that will allow your guitar to scream, whine, and cut through during solos. Other than that, this amp does not provide any effects for you to play with but would work well with any pedalboard you're using.
The classic design on the Vox AC4 is retro and stylish. Vox still uses the same design that's used on the amps of old. It's not a large amp, but it would look great in any studio or on any small stage. Having a vintage-looking amp like this adds to the appeal and helps it fit into the studio ensemble just a little better.
It is very lightweight and portable, meaning you can take this amp anywhere with you. Usually, when amps get up into the higher power ranges, they're also much more substantial and harder to bring around. The AC4 weighs 23lbs and measures 18x16x8".
It's surprisingly loud for such a small amp. It works well in the studio because of the tone that's emitted and is loud enough to play in low volume band settings. Whether you're practicing with your friends or you need something to fill out a small room, then the VOX AC4C1 is an excellent option. It's not the most affordable of amps in this range, but you get what you pay for with this one in terms of tone and reliability.
Pros
+ Lightweight and compact
+ Excellent Vox tone
+ Classic retro design
+ Clear clean tone and rowdy crunch
+ All tube powered
Cons
- Not as affordable
- Only 4-watts
Why We Like It
This is a great little amp to play around with at home. It's compact and lightweight but also loud enough to give you a pretty pleasing tone and volume. The classic aesthetic is stylish and appealing, and it looks great in the music room.
All the power comes from tubes, which translates into a pure and robust sound that transistor amps are unable to provide. The set-up is so simple that anyone can use it. Even though you don't get a lot of extra capabilities, the natural sound of this amp is pleasing. It works well with pedalboards if you do want some effects that are not built-in.
The clean tones of the low gain setting are nice and crisp, while the higher-gain settings are crunchy and resemblant of British rock tones. It's relatively small and can be taken to any jam space you're practicing in. It can sound pretty good when kept at a reasonably low volume but it can also go higher to keep up with a band.
With this amp, you get what you pay for in terms of quality and reliability. We like this product for anyone who wants an all-tube amp that is both small and reliable. It looks great and will work for practice as well as a high-powered jam session.
If you liked the article, please leave your feedback.