The Fender Super Champ X2 is a 15-watt all-tube guitar combo amplifier. It has two channels with 16 different voice settings for various amp tones, ranging from classic Tweed to modern metal. It also has 14 effects to choose from, as well as tap delay and depth controls.
The Super Champ offers a line out for direct audio recording capabilities and a footswitch line for easy channel switching. It is powered using two 6V6 power amp tubes, features a 12AX7 preamp tube, and everything is emitted through a 10" specially designed Fender speaker.
Specifications
• Dual-channel combo amp
• 16 amp voices
• 14 effects
• Tap tempo control for effects
• 2x 6V6 power amp tubes
• 12AX7 preamp tube
• 15-watts
• Digital recording capability
• Footswitch jack
Fender Super Champ X2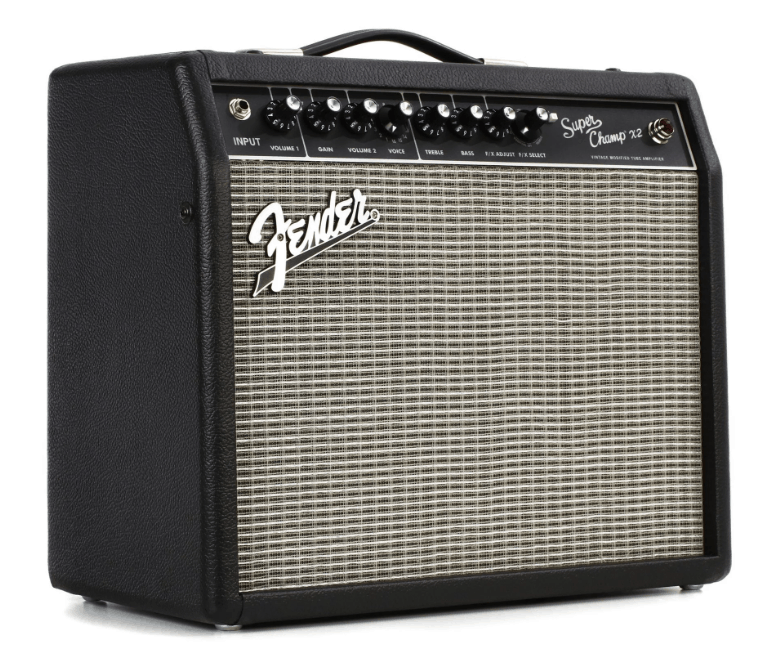 Summary
The Fender Super Champ X2 is a widely versatile amp that has a lot of depth and tone. It is relatively compact and lightweight, while housing enough firepower to give you the tonal diversity you need. Whether you're playing classic rock or blues, or you want to crank it up a bit with shredding metal solos, the Super Champ X2 has all of the tools you need.
It is an all-tube powered amp with two 6V6 power amps and a 12AX7 preamp. The speaker is a specially designed 10" celestial Fender speaker, which is clear and robust. It has quite a bit of gumption and strength for a small amp because of the pure tube power.
With 16 different amp voices, you can hone in on the type of sounds you're going for. It has a massive variety of voices, ranging from classic Tweed and Blackface models to modern metal. You are not compartmentalized into a single genre, allowing you to explore your musical expression within the Super Champ X2 fully.
Along with the 16 voice models, you also get your pick of 14 different digital effects. All the basics are available, including delay, reverb, tremolo, and flanger, plus a few more. You can use any of these effects to create a perfectly tailored sound to the music you're coming up with.
You can hook up the Super Champ X2 to your recording device using a USB connection, or directly through the line out. If you are recording or playing through a live sound system, you can hook up directly or be "mic'd up" to use the speaker's tone through the sound system.
A footswitch jack allows you to plug in a footswitch and navigate smoothly between the channels. You can go from a clean to an overdriven tone quickly for songs that need a wide variety of tone types.
The classic black and silver Fender design gives the Super Champ the retro feel that all Fender lovers enjoy. It weighs 24lbs and measures 15x17.5x9.2". It is light enough to be taken quickly from room to room and should be loud enough to keep up with a live band. If you're playing small gigs, practicing at home, or recording in the studio, the Super Champ X2 should have the power that you need. It may not be loud enough for large gigs, but it's plenty for smaller ones.
It is reasonably priced for an amp with this amount of tonal capability, suitable for beginners, amateurs, and professionals. If you need a small practice amp that can offer a massive amount of tonal depth and versatility, the Super Champ X2 may be the right way to go.
Pros
+ 15-watts of tube power
+ Lightweight
+ 16 voice models
+ 14 digital effects
+ Classic Fender design
Cons
- Not super loud
- Little less light than a compact amp could be
Why We Like It
With a combination of simplicity and capability, Fender has nailed this one on the head. The Super Champ X2 is small and simple but packs a ton of tonal capability, which is what makes it so unique. You can choose from almost any type of Fender amp model you can imagine and choose quickly the sound you're going for.
The set-up allows you to record or to perform perfectly. Of course, it won't give you the volume you need to play a stadium, but small gigs and studio sessions are where this amp shines. The tube power provides the Super Champ with an entirely genuine tone that is satisfying to its core.
It is excellent for beginners who want to play around with various sounds to find out what their favorite music is to play. Also, if you're a more experienced player, the amount you can do with the Super tramp is endless. It's also affordable and compact, making it a great starter amp, and a portable practice unit.
If you liked the article, please leave your feedback.