The Marshall DSL40CR is a fully tube-powered amp with a 12-inch speaker, 2-channels, 40-watts of power, resonance, and presence control. It has a classic 1960s style cabinet and gold paneling on the front, just like any vintage Marshall amp. It hails from a long line of Marshall royalty, springing from the original Dual Super Lead amp series put out by Marshall in the 1990s.
It has two power settings, classic and ultra gain channels, a bypassable effects loop on the back panel, and a footswitch to help you easily navigate. It is powerful enough to be heard on stages in rooms built for really loud bands. It is a powerhouse of an amp that allows you to emulate any classic Marshall sound.
Specifications
· Classic and Ultra gain
· Resonance and presence control
· Studio-grade reverb
· 4 x ECC83 preamp tubes
· 2 x EL34 power amp tubes
· Bypassable effects loop
· Included footswitch
· High and low power modes
· 3-band EQ section
· Classic 60s cabinet style
· 19.29x24.4x9.9"
· 50.4lbs
 Marshall Dsl40Cr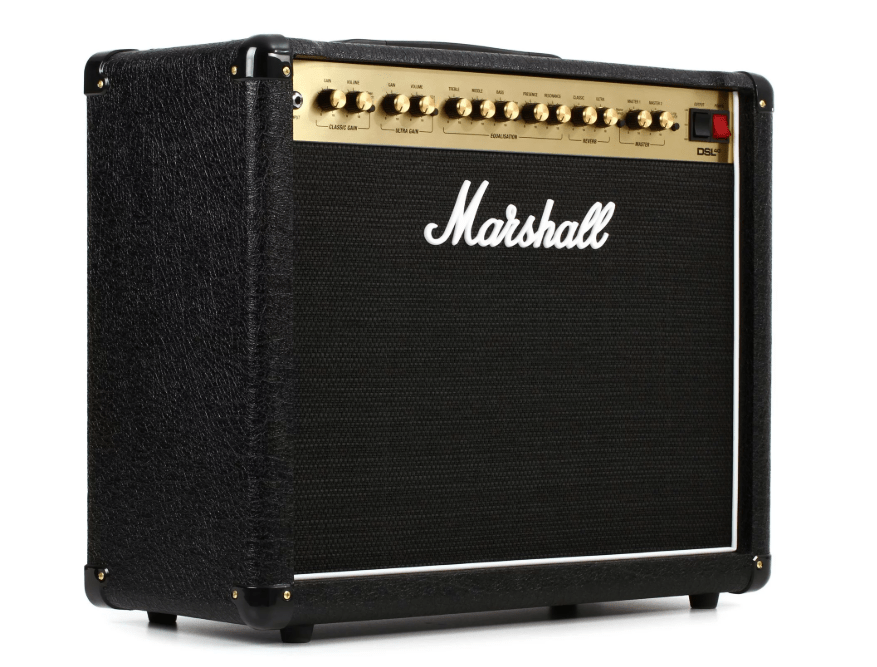 Summary
This Marshall is a powerful and beautiful looking amp that will give you that pleasing, classic Marshall tone. It is a fully tube-powered amp that can keep up with the loudest bands on stage and in the studio. With 40-watts of tube power, you won't get lost in the mix. Everything comes busting through a 12" speaker on a classically designed Marshall cabinet.
The DSL40CR can help you recreate any sound that you have ever head from Marshall before. The tone boasts so much depth and strength that any effects you want to run through it will be powerful and genuine. The four preamp tubes on a dual-channel panel will give you the level of diversity and personality you need to stand out among the band.
An EQ section gives you all the control you need right on the front panel of your amp. You have the classic treble, mid, and bass knobs, plus a resonance and presence control. Having the extra knobs allows you to crank it up even further when you want to knock the socks off your listeners.
It comes with two channels, which are both usable on low and high power modes. A classic gain channel offers classic, smooth Marshall distortions to the level that you desire. If you want to blow the doors off, switch over to the Ultra gain channel and listen to the amp scream. In either setting, you get a tone of tonal quality and jump.
Marshall designed the DSL40CR with the classic 1960s cabinet. It is minimalist and beautiful with the gold paneling on the front that is so recognizable and covetable with Marshall.
On the back end, you have a bypassable effects loop, so you can plug into your pedalboard and have no impedance of signal. It has plenty of outputs to hook directly into PA speakers at a gig, or, you can mic up the amp as it already comes with formidable tone quality.
As far as built-in effects go, it is quite simple. It has a classic and ultra reverb, which are set-up to be studio-grade. If you're looking to record, then this amp will give you the tone and strength you need. It is set-up to be used as a professional amp in every way.
It is not the largest amp you'll ever see, but the power speaks for itself. It weighs just over 50lbs, so it is not necessarily within the compact and portable category, but you can still take it on the go with you if you're not afraid of a small arm workout.
It is priced as a professional amp and is pretty affordable if you're looking at comparable amps that can do what the Marshall DSL40CR can do.
Pros
+ Amazing sound and tone quality
+ Dual-channel
+ 3-band EQ
+ Bypassable footswitch
+ Tube-powered 40-watts
Cons
- A little bit heavy
- Only one built-in effect
Why We Like It
The Marshall DSL40CR can offer you a ton of purity and strength with a little bit of versatility. It will be best used as a recording or performing amplifier for guitarists who already have an effects section set up for themselves.
The gains on the DSL40CR are quite impressive and strong. Ultra gain is intense and pushes the extra distortion through the speakers when you need to turn some heads. The footswitch makes it easy to navigate, as well.
The built-in reverb is super high-quality. It sounds the way it would if you were listening to an amp in a hall or a stadium setting. You would not think that it is a digital reverb you're hearing. This amp is perfect for recording musicians who're in the market for something that will likely last a lifetime and doesn't waste energy on unnecessary effects or add ons. It is a powerful amp to round-out your tone.
If you liked the article, please leave your feedback.