If you want to get the best out of your amplifier you are going to need to get yourself a great amp head. The problem with the majority is the more they have to offer the more money you are expected to cough-up. They can get pretty large as well. If you aren't playing any grand venues then you don't need something super-powerful to create a full-stack with.
Space can also be an issue with your average guitarist. If you live in an apartment you probably need a practice set-up that can pack away in a smaller space. There are several micro-head options on the market, they are typically low-powered and pretty uninspiring, to be honest.
If you are looking for a compact, low watt solution that doesn't skimp on the sound then it looks no further than the Orange Microterror amplifier head. Operating at 20-watts it packs a powerful enough punch to get the neighbors knocking at your door if you crank it. It measures just 5.3" tall and 6.5" wide and is a surprising little monster with an apt name.
It can connect to a 1 x 8 inch or even a 122 speaker cab and give of levels suitable for a back-line life. It is small enough and subtle enough on the low-volumes to meet your needs in a bedroom session.
It has a fantastic build that has come to be expected with every Orange amp in their extensive range. The company does a great job with quality control. It is constructed with a solid metal enclosure that is still very lightweight. It incorporates a strong carry handle for better maneuverability. So if you have to lug it around then you will have an easy time.
It sports the retro good looks of the rest of the series and has 4 rubber feet to absorb vibrations when stacked. It is a single channel hybrid-style amp head with high-quality connections and reliable circuitry. The hybrid nature gives the 20-watt solid-state amp circuitry the addition of a modern 12AX7 analog preamp tube. This gives you the best of both worlds.
Despite not having an integrated effects loop onboard it gives a beautiful scope of tones to play with. There is one tone dial that you can adjust your EQ with from a bass frequency, lower end through to middle or treble. Although it is a little rudimentary to fit it into a solitary dial instead of 3, it works well and helps keep the layout uncluttered.
Aside from the tone dial, you have a volume and a gain dial. The Gain dial controls the drive and as it is increased it takes the clean channel and transforms it into an overdrive channel incrementally which when used in conjunction with the EQ expands the range of tones available.
It is an amp head so it has no speaker of its own but it does have a headphone jack for monitoring so it could be used for silent private practice. It also has a built-in mini-jack auxiliary connection so you can jam to tracks.
Orange Micro Terror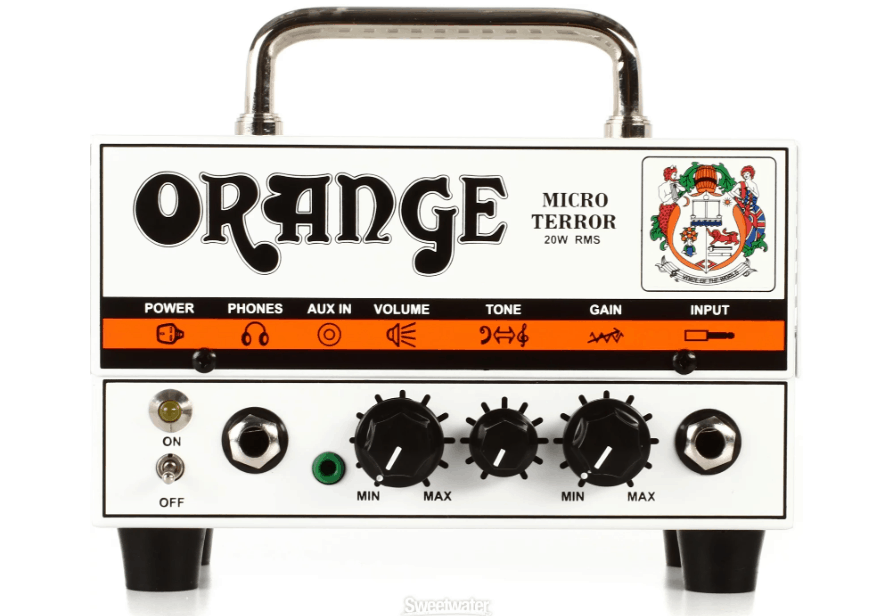 Summary
The Microterror miniature amp head is a tiny but sturdy solution that benefits from hybrid circuitry. It delivers a surprising sound in spite of its smaller size and lower-wattage.
It has a heavy-duty build but is easy to transport. It harbors a 1 band EQ alongside a gain and volume dial that gives you a great clean and a surprisingly powerful overdrive as well. The British engineering gives a classic Brit-rock edge to the tonality of this tiny dynamite amp head.
It is ideal for gigs at smaller venues and holds its own, you may want to mic your cab but If you are going to DI to the P.A there is no need.
Pros
+ Rugged metal enclosure.
+ Carry handle.
+ Compact size.
+ 20-watt hybrid amp head with a mix of analog/solid-state circuitry.
+ Range of classic British tones.
+ Clean or over-driven.
+ Extremely competitive price.
Cons
- It might not have the range of effects that larger amp heads offer. There is still plenty to play with between its tone, gain dials, and your instruments' capabilities.
Why We Like It
It's built to last the robust enclosure will withstand anything on the road. It is a cute little amp head which is a viable solution rather than a gimmick. Orange has done a great job to squeeze every drop of juice out of this 20-watt bad-boy.
It is pretty versatile for something with simplistic functions. The volume can be cranked on the clean channel which is beautifully bright when tailored towards the treble end.
Do not be fooled into thinking its quite because it is compact we don't see the need to turn the volume past the ¾ mark with the gain up high. It's a gnarly little beast, very pleasantly deceptive.
If you liked the article, please leave your feedback.