Do you want to find out what the ten best guitar amps under $200 are? There's so much choice when it comes to affordable amplifiers that it's difficult to know what one to go for. Different amplifiers suit different needs. If you have to lug your amp to band practice every day, then you don't want one that's too heavy, but you do want power too. Then again, you might want an amplifier with a clear sound, so that when you're practicing your solos in your bedroom you can hear every single wailing note.
If you play the electric guitar, then you're going to need an amplifier, there's no way of getting around it. Here are the ten best guitar amps under $200.
Related; Guitar Amps under $500.
At a glance:

Our top 3 picks
Our team's top 3 recommendations
Best Overall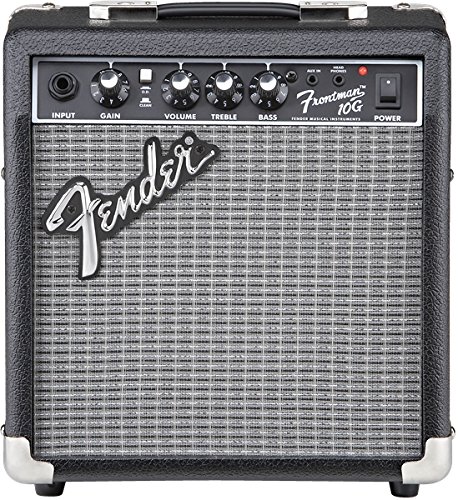 Fender Frontman 10G

Easy to use
Overdrive distortion option
Great value for money
Classic Fender look
Headphone and aux-in options
Premium Quality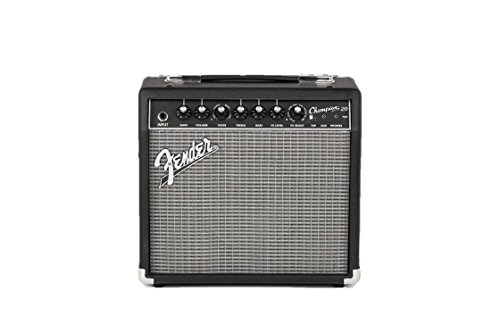 Fender Champion 20

Easy to use
Overdrive distortion option
Great value for money
Classic Fender look
Headphone and aux-in options
Great value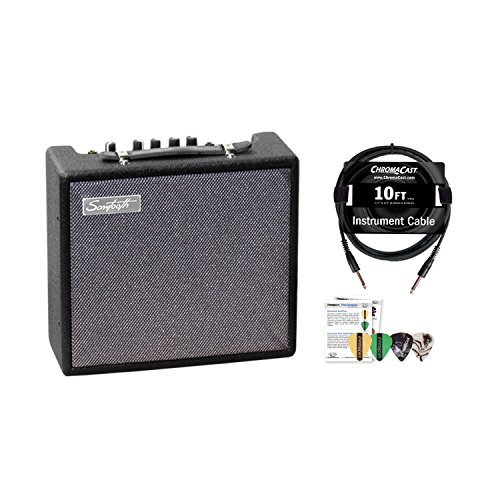 Sawtooth ST-AMP-10-KIT

Easy to use
Overdrive distortion option
Great value for money
Classic Fender look
Headphone and aux-in options
View The Best Guitar Amps Under $200 Below
Fender guarantees quality. At 10 watts, this guitar amp gives decent power. It's got one channel, which is to be expected from a small amp. It also has three controls for volume, treble, and bass, so you can create the right sound to suit your music style. It has an overdrive switch too. That means you can get a more dirty, classic rock sound.
Another great feature is the auxiliary input 1/8" jack. You can hook up your media player to it and jam along or use it as a speaker. There's a headphone jack too. If your parents or roommates complain about you practicing, then plug in your headphones and play for yourself.
Pros:
+ Easy to use
+ Overdrive distortion option
+ Great value for money
+ Classic Fender look
+ Headphone and aux-in options
Why We Liked It - If you're looking for a starter amp that costs under $200, then this Fender is ideal. It offers decent power, with the option to plug in your speakers for silent practice.
At 20 watts, the Fender Champion gives out really powerful sound. There's a lot more control over that sound than the previous Fender amp. With this amp, you can control voice, gain, and FX level, as well as the usual bass, treble, and volume.
That gives you a lot of versatility when trying to create your unique tone. You can also keep your cables in the back of it, so once you're finished rocking out, your room will look nice and tidy. But the number one thing about this amp is its power.
Pros:
+ Loud and powerful
+ Lots of controls
+ Tone snobs approve
+ Storage at the back
+ Looks good too
Why We Liked It - It's got more than enough power to make your ears bleed when you're playing in your bedroom or rehearsal room. For under $200, that's hard to beat. If you have a bit more to spend, it might be worth taking a look at these amps under $300.
3. Sawtooth ST-AMP-10-KIT
With its compact design, reinforced handle, and weight of only 8.5lbs, then this is a great amp for those of you who want a handy amp to carry around. It's small too, so you won't struggle to find a place to store it when you're not playing a lick or two. It's 10 watts, which is fine for a beginner.
It offers a control to alter gain and an overdrive function for when you want distortion. There's no buzz too, which means you're assured clear sound. It has everything you need from a starter amp.
Pros:
+ Lightweight and portable
+ Sturdy construction
+ Great for beginners
+ Headphone jack
+ Reinforced handle
Why We Liked It - It's light as a feather and tiny too, but it gives out powerful sound. Any beginner looking to spend under $200 on their first amp won't be disappointed. Fancy adding $50 onto your budget? You'd be surprised by how much extra you can get! Here are our favorite guitar amps under 250 bucks.
4. Fender Mustang I V2 20
Like every Fender on this list, you know you're getting quality for under $200. For such a compact amp, you're easily surprised by how many features it has, as well as the tremendous power it offers. If you're looking to start recording your music digitally, then this Mustang is ideal. It has USB connectivity.
It comes with Fuse software so you can hook it up to your PC or Mac and create your sound. It also has an on-board chromatic tuner and 24 effects presets. All this for under $200. It's incredible.
Pros:
+ USB connectivity
+ Chromatic tuner
+ 20-watt power
+ Fuse software compatible
+ Big choice of presets
Why We Liked It - The ability to hook this amp up to your computer to create your own sound through Fuse software is a brilliant function. The options with the Mustang are endless.
5. Blackstar Guitar Combo
If you're looking for an amplifier that can fit in your hand, then this 3-watt mini-amp is the one for you. At only 2.15lbs, you might even forget it's in your backpack. It features tape delay effects, which means that you can make it resonate during play.
The tone quality is no joke. And it really packs a punch despite its tiny size. It can be connected to headphones for silent play, as well as to your media player so that you can jam along. It can even be powered by batteries.
Pros:
+ Portable and tiny
+ Great tone
+ Easy to use
+ Tape delay effects
+ Battery operation option
Why We Liked It - If you want a great mini-amp for under $200, then this Blackstar amp is perfect. It's tiny, but the tone doesn't suffer from its size.
It isn't only electric guitarists who need an amplifier. This model from Fender is targeted directly at acoustic players. It offers two channels. So, if you're a traveling troubadour who plays the acoustic while singing on a mic, then this is perfect for you. It's compact and light to carry.
The tone is perfectly suited to an acoustic guitar. It's affordable, at well under $200. It uses a whizzer cone to offer more ambient depth and shimmer to the tone, which is imperative when it comes to amplifying an acoustic guitar. It gives 15 watts of power to the guitar and 120 volts for the mic.
Pros:
+ Separate channels for guitar and microphone
+ Compact and portable
+ Deep, ambient sound
+ For acoustic guitars
+ Superb value
Why We Liked It - It's a brilliant acoustic guitar amplifier, with the option to plug in a microphone too. Ideal for all budding singer-songwriters.
The 40 watts that this amp offers will certainly get the floorboard rumbling. It is loud. Very loud. It's targeted at bassists, so you can expect some deep, booming bass tones when you plug into it. But it offers a great range too. It doesn't matter if you're a funky player who likes to slap the strings or a Krist Novoselic-inspired grunge bassist, you'll love it.
To get so much power for under $200 is remarkable. You can use the 1/8" jack to plug in your media player too, so you can become part of your favorite band and play along with them.
Pros:
+ 40-watt power
+ Range of bass tones
+ Only weighs 18lbs
+ Includes Fender's five-year warranty
+ Switchable contour controls
Why We Liked It - It offers loud, booming bass, that means you can practice in your bedroom with it or take it out on tour and play live on stage with your band.
This is a micro amplifier that is also a tube hybrid. The tube element gives an enormous amount of tonal range. At 20 watts then you get very impressive volume too. The 12AX7 preamp tube gives all the overdrive you expect from a tube.
The gain you can get out of something small enough to fit inside your car's glovebox is startling. The three controls for volume, gain, and shape offer an enormous amount of potential for tonal range. If you like to play dirty licks with lots of distortion, then you'll love this amp. The price tag of under $200 isn't bad too.
Pros:
+ Tiny and portable
+ Tube element gives great overdrive
+ Simple, usable controls
+ Loud volume
+ Excellent tonal range
Why We Liked It - It's a micro amp that also has a tube element to it, so the sound that you can get out of it sounds bigger and dirtier than you could ever imagine from its size. See more small tube amps here.
This is a highly affordable starter amp with 15-watt power. If you're looking for an amp at the start of your guitar playing journey, without wanting to break the bank, then this is for you. You can have a lot of fun with it.
The sound is clear and crisp. And it can get surprisingly loud when you turn the dials right the way up. You can plug in your MP3 player to it, as well, which is great for learning your favorite songs while playing along with them. It costs well under $200, so you've got low risks when buying this as your first amp.
Pros:
+ Very affordable
+ Loud volume
+ Easy to use
+ Onley weighs 8lbs
+ Suitable for beginners
Why We Liked It - It's easy to set up, doesn't cost a lot to buy, gives out impressive volume, is light, and that makes it absolutely perfect as a starter amp.
The last amp on our list is an extremely versatile one. It has been designed for multiple instruments. So, if you're not just a guitarist, but a multi-instrumentalist who is looking for a new amplifier for under $200, then this is your new amp. It has enormous 35-watt power, which gives out great volume. It also has two channels.
That means your singer can plug their mic into it while you jam together. It's big, so not the most portable, especially as it weighs just over 30lbs. But if you want a multi-functional amp, which also offers reverb, then this one will be for you.
Pros:
+ 35-watt power
+ Two channels
+ Suits multiple instruments
+ Ideal for acoustic guitarists
+ Wide range of frequency
Why We Liked It - It's not just for guitarists, so it appeals to the multi-instrumentalist too. It's got big power and a real range of tones can come out of it.
Guitar Amps Under $200 Buyers Guide
Before investing in a new amplifier there are a number of considerations that you must think of first. There is a huge range of options when it comes to amps, and the last thing you want to do is purchase one that doesn't suit your need.
Lots of people simply look at the wattage, thinking that the most important thing about an amp – especially when paying under $200 – is how loud it gets when it's turned up. But power is only one of the many specifications of an amp that you should look at when choosing one.
Power
There's no doubt that power is important. To work out how powerful an amp is, then you simply need to look at the number of watts it has. The higher the number, the bigger the power. And more power means more volume. You need to work out first, though, what you will be using the amplifier for.
If it is to practice in your bedroom, then you can be quite comfortable with anything in the range of 10 watts to 20 watts. You'll get more than enough power out of a 10-watt amp to be able to rock out in the comfort of your own home. If you want an amp that you can take to band practice, then you're going to need something over 20 watts to be able to hear the guitar over the drums.
Anything in the range of 20 watts to 30 watts is more than enough for a beginner amp that you can take to jam sessions too. Once you start thinking about getting on the stage or become more serious about rehearsals, then you'll need at least 50 watts, but ideally something closer to 100 watts.
Weight
This has nothing to do with sound. It's a purely practical consideration. Do you intend to leave the amp at your rehearsal room or in the corner of your bedroom? If so, then the weight isn't exactly an important issue for you. But if you plan to move the amp around often, then the last thing you want is to tire your arms out before you've even picked up your guitar.
There are a number of lightweights, portable amps on the market that offer decent wattage. But if you're ordering online, you might forget to check how much the amp actually weighs.
Speakers
The majority of the tone you will get out of the amp will come from the speaker. They tend to range in size from 2" all the way to 15". Size does matter when you're looking for a high-level amp, as if you want to record, you'll need at least 12" to get a good range of tone.
But beginners don't need to concern themselves too much with the speaker size. You'll be absolutely fine with something on the low-end of the scale. That will provide you with enough range of tone for practicing in your bedroom.
Effects
Many modern amplifiers offer a range of built-in effects, but the most important for a beginner is reverb and gain effects. When you're looking at amps under $200, you might find that some offer a range of in-built effects, but then cost a lot more than cheaper, more simple amplifiers that have no effects at all.
The question you must ask yourself is whether you're willing to also invest in an effects pedal or not. These are very affordable and will offer a greater range of effects and higher quality of effects than you'll find built into an amp.
Microphone Jack and Second Channel
This is more of an issue for singer-songwriters who play with an acoustic guitar. If you want to be able to use just one amplifier when practicing or performing, then you're going to need a microphone jack, and a second channel to do so. Most guitar amps targeted at acoustic players will have this function, but make sure you check before ordering.
Should I get a tube, solid-state, digital, or hybrid amp?
It depends on your level of play and how much money you're willing to spend. If you're a beginner, then you'll be absolutely fine with a solid-state amp. Most amplifiers that are available under $200 will be solid-state amps, and you'll have no trouble getting good volume and tone out of them.
Once you progress, you might want to invest in a tube amp, especially if you like to play loud rock guitar. If you need lots of effects, then digital is better, but a hybrid combines everything, then again, often at a cost.
What special features do I need?
As a beginner, you don't need any special features beyond a 1/8" headphone jack, so that you can practice without annoying your family or neighbors. If you want to hook up your amp to your computer, then you'll need to find an amp that has USB connectivity. Actually, quite a lot of amps that cost under $200 will have this function these days.
How many controls should my amp have?
A basic amp will come with volume control, and probably a treble and bass control too. That's sufficient for a starter amp. But if you're looking to have more freedom to create your perfect sound. Then you want an option for reverb, for mid-range, and also for the drive too. If you want distortion, then there must be a control for a drive.
That's what it does. Reverb offers an echo effect, that makes it sound as if you're in a large concert hall. It's fun to play around with and can help you create some great tones. But if it's your first amp, and you're paying under $200, then don't worry if it only has a couple of knobs on it.
Expert Tip
Don't be too focused on the wattage of an amplifier. Of course, it is important that you want to be able to get a lot of power out of the amp, but you need to be aware that there are other features that will impact more greatly on the sound that you actually get out of the amp. Having a loud, simple amp that gives no versatility of tone will lead you to become frustrated at your inability to create the sort of guitar sound that you're striving for.
Did you know?
The sound that you hear out of your amplifier when you strum the strings on your electric guitar is a result of a signal being recognized by the guitar's pickups. The vibration of the strings is the signal that is then amplified through the amplifier itself, which is only possible because of the coil inside the pickup. You could say, then, that an electric guitar isn't actually an instrument until it is connected to an amp.
Conclusion
The market is flooded with guitar amps. The range of size and power go from anything like a tiny 3-watt micro speaker, all the way to Fender's classic 400 PS that had a whopping 435 watts of power. If you're looking for an amp under $200, then you're going to be happy to have something powerful enough for you to learn and practice on, and that you can take to rehearsals once you've found yourself a band.
Remember, though, that power is only one element of choosing the right amp. It needs to sound good too. Picking an amp that has a good range of tone and has the option to use an effects pedal is important. As is the weight of the thing, you don't want to break you back every time you go to band practice. Do you?
If you've enjoyed this review by Music Critic, please leave a positive rating:
[vc_separator