Nowadays, it can be a challenge trying to figure out which amp is the best one for you. There are so many out there to choose from, and so many different types, that the overall amount of choice can leave you stuck, scratching your head as to whether you're making the right decision and investment.
If this sounds familiar, and you're just looking for a fantastic modeling amp that's robust and allows you to be fully flexible with your sounds, take a look over at the Fender Mustang Combo Amp.
This beginner-friendly amp is designed to be simple to use, has no learning curve, but still remains technical enough that experienced players will still have access to some of the more advanced features, should you need them.
Of course, since this is a modeling amp, you'll be able to experiment with sounds and customize the final output using the controls on the front. This amp contains an impressive number of guitar and amp sounds, all of which spread widely across the landscape of modern and vintage music and all genres. No matter what sound you're trying to create, this modeling amp can help you achieve it.
As standard, this amp's factory settings, including 24 unique presets to experiment with, and 18 unique amp models, which we're sure you'll agree is more than enough to get you started, and will guarantee to keep you going for years to come. If you're looking to buy a modeling amp to futureproof yourself, this is the amp for you.
However, while this may sound like many modeling amps available today, there's one key feature that sets this amp above and beyond your generic amp; the USB integration. That's right; using this amp you can use the built-in USB connection to connect this amp to your computer, and therefore directly to your DAW application to take your productions to a whole new level.
This includes being able to record full songs directly to your PC, creating samples to use during production, or simply upgrading the firmware of your amp, the models and effects built into it, and accessing the digital library from Fender themselves.
The library includes a ton of presets from both Fender and users alike, so there's plenty of options here to explore when it comes to finding your own voice. Plus, of course, there are plenty of standard effects built into the amp, including delay, tremolo, phaser, and echo.
You'll also find all the standard modeling amp features you would expect, including a 2-band EQ, a 1/8-inch headphone port for when you need to practice in silence, and the standard MDF and black Tolex build that helps to ensure this amp is one of the most durable, even if you're taking it with you while you're out and about.
Fender Mustang I V2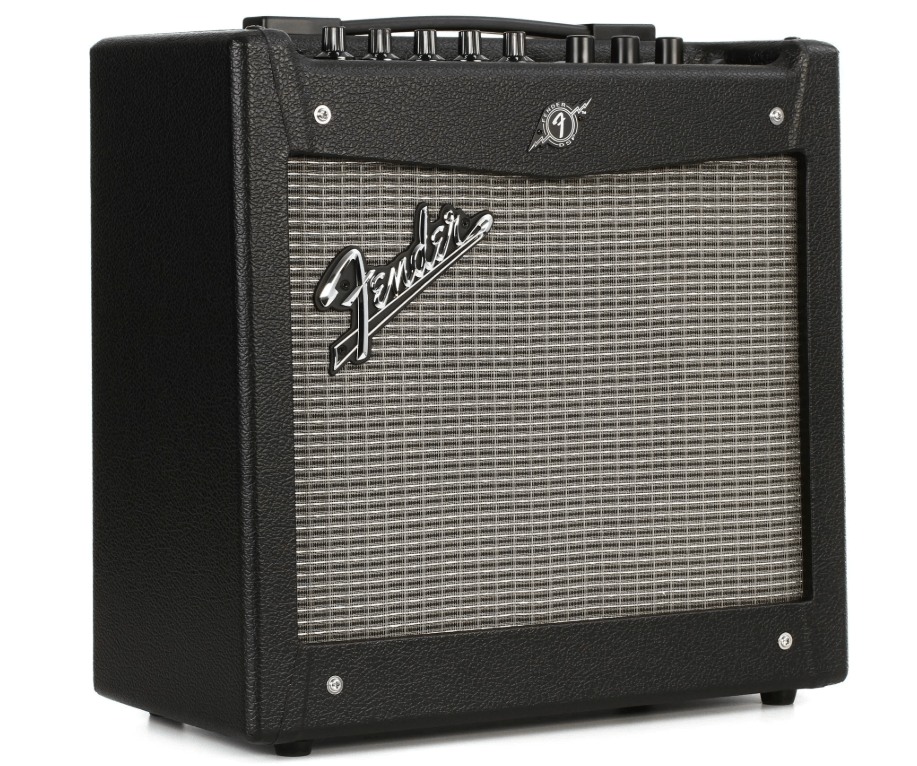 Summary
All in all, it's easy to see why this Fender Mustang amp is one of the best, and why it's so popular with musicians around the world. This amp certainly has a touch of class, and the level of quality you get from it in all aspects, from the build to the clarity of the sounds, amp models, and effects, is simply unparalleled, especially in this price bracket.
Pros
+ It contains an intuitive control panel that allows you to easily select the features, settings, and effects you want to use, without having to worry about complicated processes.
+ Houses a powerful 20-watt 8-inch speaker that's been specially designed by Fender for this type of modeling amp, ensuring you have the very best sound quality and volume capabilities in any given situation.
+ It comes with an integrated USB port that allows you to connect your device to a computer to use your guitar on your DAW application, whether you're customizing your sounds or recording samples.
+ It has a built-in chromatic tuner to ensure your guitar is always in tune, and you never have to worry about needing another external tuner again. Plus, it has all your essential amp features, including an auxiliary input and 1/8-inch headphone output.
+ Comes with over 18 amp models to choose from to customize and personalize your sound, 37 effects to layer on top of your sounds, 24 factory sounds, and then as many users presets as you want to use.
Cons
- This amp is slightly bigger than you may first expect when it comes to a modeling amp, and while it's not oversized, it can be a bit heavy to move for some players and rather large for some situations.
Why We Like It
Easily one of the highlight features we adore when it comes to this modeling amp is the fact it comes with its own fully integrated, onboard chromatic tuner. This means you don't have to worry about playing your guitar out of tune. Just plug it into the amp, tune it up, and away you go!
If you liked the article, please leave your feedback.