The majority of mini amps are nothing more than a traveling companion. Most people buy them with a "that'll do" attitude. They're cheap and cheerful because no-one's going to use them to perform for an audience. The Roland Micro Cube, however, has raised the bar within the world of micro amplifiers, taking them from an overlooked gimmick to an impressive compact option.
The Micro Cube is a Composite Object Sound Modeling (COSM) amp, which features a range of fun settings to experiment with. The build quality is fantastic - but this is exactly what we've come to expect from the folks at Roland.
The cube-shaped amp is durable, with a heavy-duty grille and robust dials displayed in a user-friendly top-mounted layout. It's lightweight and comes with a carry strap to make lugging it about easy.
It's equipped with a single ¼-inch input channel and has a total of eight digitally processed COSM amps to choose from, as well as eight built-in DSP pre-amp effects.
You'll find a bright-toned, open-sounding acoustic-simulated cab on the dial, followed by a crisp JC Clean, and a legendary black panel amp emulation. This gives you a classic, Fender-like 1960's style sound.
The Brit combo is fantastic for rhythm and classic stack, which gives you a sound reminiscent of a Marshall or Peavey full-stack, great for hot pickups. There is an Extreme setting that kicks up the drive. Finally, there's also a Mic.
On top of that, you get a range of effects settings to tinker with, including a choice of three chorus filters, three steps of intensity flanger, a three-part phaser, three tremolo/vibrato modulations, and a heavy octave sound to explore. As well as this, it has a separate delay and reverb dial to configure it how you like.
Add to that the gain dial, volume dial, and tone to add further coloration to your adjustments, and you have a lot of scope for a 3-watt ultra-compact piece of kit.
Once you've fiddled with the settings and found your desired sound, you can use its memory function to record your adjustments for quick retrieval. This lets you play around with the settings further, without losing what you originally had. Complex amps options can take a fair amount of time to find your favorite settings.
The sound has a great presence, even at a lower gain. This is helped by the well-engineered neodymium driven 5-inch speaker with well-tuned frequency response.
The integrated chromatic tuner has LED indicators to visually aid your tuning. It also features an iCube Link (1/8-inch) auxiliary input so you can play directly from an iOS device. This is good to add an accompanying jam-track, perfect for practice and busking.
It also has an auxiliary output that can be used for headphones to practice silently alone in your bedroom. You can also run the auxiliary out to your recording equipment to capture the emulated effects.
The fact that it runs on just 6 AA batteries and can last for up to 20 hours is frankly mind-boggling. You can also power it with a mains adapter, but they are sold separately.
This mini amp is aesthetically traditional Roland; each of the corners is protected against heavy-handling, and it comes in three different colors to choose from; classic black, white, or red.
Microcubegx Roland Micro Cube Gx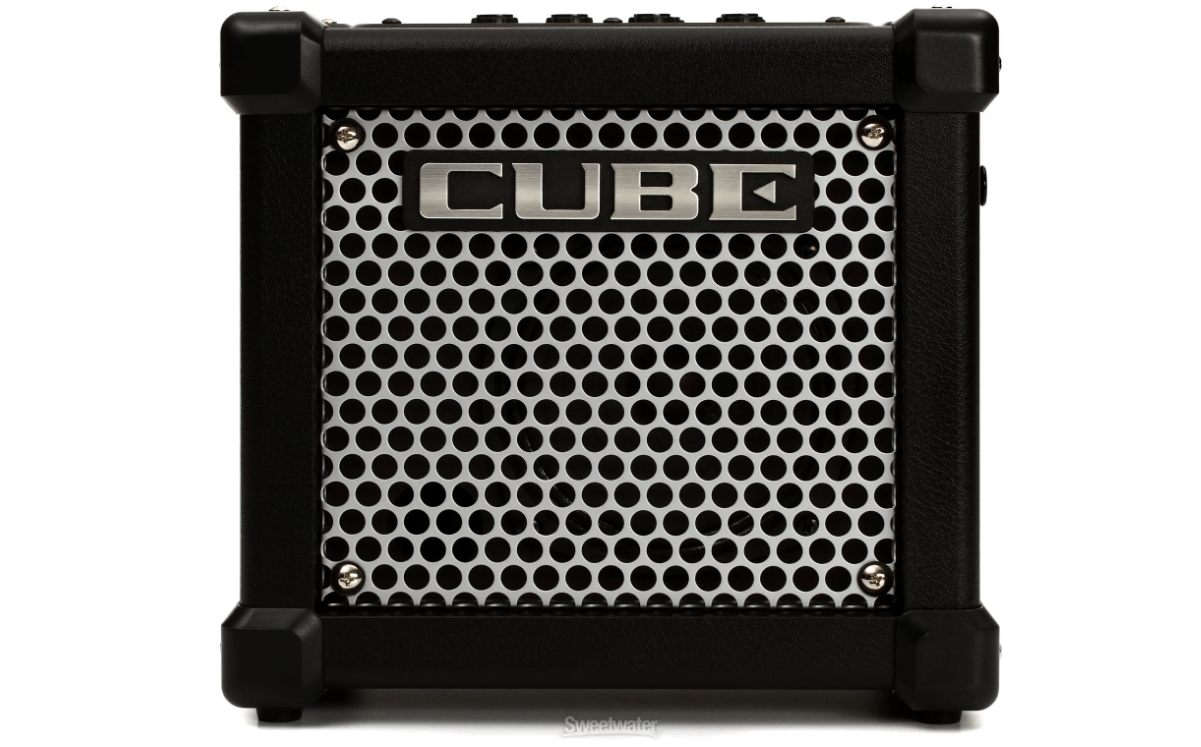 Summary
The Micro GX is an upgraded model. It has an increased output power and low magnetic leakage.
Despite only running at a peak power of 3-watts, it operates with super-efficiency to utilize every last drop of juice, delivering impressive sound with surprising volume.
With its range of emulated amps, onboard EQ, and digitally modeled effects and its battery-powered nature, it's easy to see how it has been a top-ranked best seller for the best part of the last decade.
Between the amp modeling, effects, and EQ, you can cover a large variety of genres. It has a lot to offer, suiting a range of playing styles. It runs off of batteries and has auxiliary I/O for versatility.
Pros
+ Durable build-quality.
+ 3-watts of power.
+ Ultra-compact COSM amp.
+ 8 emulated amps to select.
+ 8 different effects settings to tweak.
+ Equalization adjustment.
+ Generous battery life.
+ Built-in chromatic tuner.
+ Aux in and out.
+ Lightweight design with a carry strap.
Cons
- Not the loudest option, but impressive as micro-amps go.
- Mains adapter sold separately.
Why We Like It
It's a durably made, ultra-compact COSM amp with a great range of onboard features. It has something for everyone in terms of tone. You aren't going to pack a concert hall with this thing, but as far as mini-amps are concerned, it's pretty much unparalleled by anything else on the market. It's ideal for practicing, jamming outdoors, weekend retreats, and a bit of busking without the need for a mains power source.
If you liked the article, please leave your feedback.