Dictapro is one of the leading companies producing dictaphones. Their latest model - the X100 is a perfect fit for professionals needing to record voice notes on a secure and private device. In 2023, most people use their personal phones to record voice notes, including singers and writers.
However, there are still many professionals that need a device to record voice notes, that is private, safe and secure. Using a Dictaphone is the ideal way to record voice notes safely.
The X100 Dictaphone from Dictapro is the ideal model for any busy professional, and we've tested and reviewed this dictaphone to give you the insider's view.
Design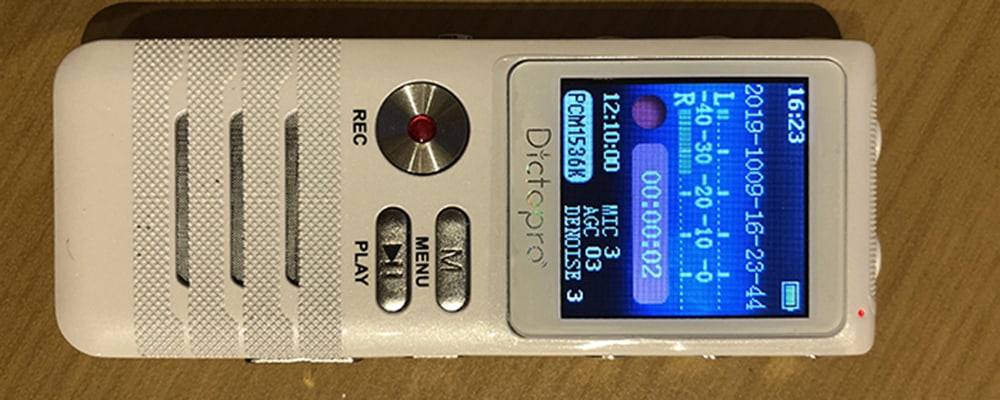 The design of the X100 Dictaphone is simple and effective. It's a small and thin piece of kit that can easily fit into the palm of your hand, pocket, or bag. The device is lightweight, made from aluminum and plastic, and won't weigh you down while on the job.
The X100 Dictaphone has a small screen at the top, with microphones and speakers dotted throughout the lower section. The controls sit on either side, small silver buttons giving you total control over the functions.
Overall, the design is professional and functional and doesn't offer additional frills that will get in the way of your work. The screen is clear, and color LCD display and again provides a functional display, with no frills or fancy design. This is a professional piece of equipment and has been designed to meet these needs.
Voice Activated Recording
Dictapro X100 dictaphone has a clever feature called Voice Activated Recording. This is where the dictaphone is set to record and picks up on sounds as normal. When no sound is detected, the dictaphone will stop recording. This saves battery and memory and doesn't clog up your recordings with long pauses. A great feature that allows you to record all day worry-free, and with great recordings saved on your device.
Controls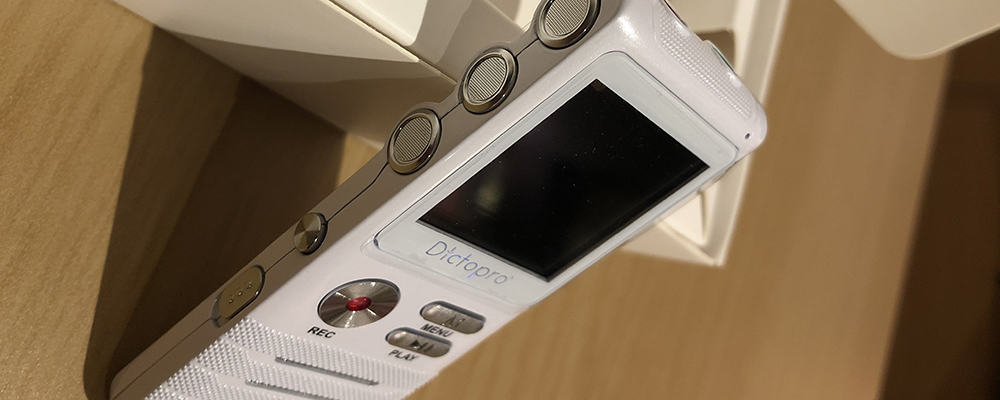 The X100 has quite a range of controls that all do different things for the user. Firstly, and most importantly, the large record button is on the front of the device alongside the menu and play buttons. This instantly makes it easy to record any conversation, lecture, or notes, just press the large record button.
The menu button allows you to browse other options, including previous recordings. Finally, the play button lets you play any recording, including the most recent one you've just saved.
There are several silver buttons on either side of the dictaphone, including volume, next and back selectors. These are navigational controls, designed to make it easy to browse through the functions.
One of the best controls is the lock slider. This is a simple button that slides into a lock and unlock position, and allows the user to keep recording while disabling all other functions. This is great for those that need to have the dictaphone in a pocket while walking around, or want to have the device recording while on the go. The lock feature, combined with voice-activated recording allows you to record all day long with no worries.
Recording
Any dictaphone user will know that memory is key, and if your dictaphone keeps running out of space, it can be a bother for your day job. Usually, dictaphones have around 5GB of space on the device, and sometimes have a slot for additional memory cards. The X100 Dictaphone hosts 8GB of memory, which is way more than other models of this size. 8GB of storage roughly lets you store 700 hours of recordings, which is above and beyond what most professionals need.
The simple menu allows you to playback previous recordings and remove them from the device. There is also the delete all option for when you have transferred all your files. Keeping up with your recordings and deleting as you go along is a good habit to get into, as you'll always have memory remaining and a well-organized set of recordings.
The sound quality of the X100 dictaphone is a good level, and playback is clear and easy to understand. Clear and crisp sound is important for professionals that are listening back to their recordings, and in some cases, it can be essential that the audio is correctly understood. For a dictaphone that is no larger than your hand's palm, the sound quality is brilliant.
File Storage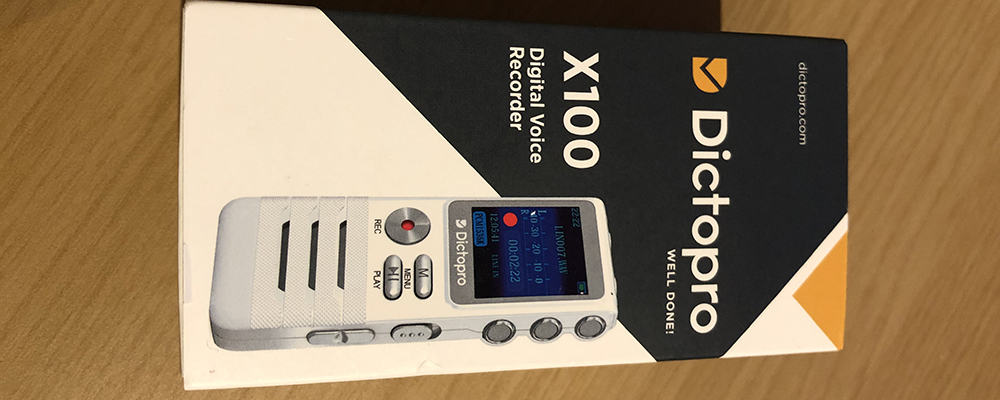 Another important feature for dictaphone users is easily transferring your files from the device to a laptop or computer, electronically. Hen these files can be transferred into written text, stored electronically, or emailed to the relevant patient or person.
With the X100, simply use the USB link cable, plug into your laptop or PC, and the files will appear. Then drag and drop the relevant files to where you'd like them to be saved. It really is that easy, and it needs to be! Many professionals who use dictaphones have limited time, so having an easy saving process is important.
Battery Life
The X100 has a new and improved battery life that runs for 10 hours. Depending on your job role, you may need to charge the dictaphone every night to have a full day of charge for the next day. The X100 comes with a charging cable that can be plugged into a USB charging dock, so it's easy to charge overnight.
Summary
Overall, if you're in the market for a new dictaphone, this is a great option. The X100 is the latest model from Dictapro and comes with all the latest features. It's reliable, has a good battery life and is easy to control. It's priced well compared to other dictaphones on the market too.
Furthermore, the mic provides clear recordings that can be listened back to easily. The recordings are easy to understand - played through a good quality speaker. Also, you can plug the dictaphone into your PC or laptop to easily transfer the files electronically.
If you liked the article, please leave your feedback.