In this article, we're taking a nose at a great addition for the solo acoustic guitarist to shake up the dynamics of their one-man set, as we review the best blues harmonica.
Though widely associated with the early blues, the blues harmonica rose to popularity in folk music, and we can actually trace their history back to the early 1800s.
This article is for those curious to begin learning, so most of our choices are a diatonic harmonica in the key of C. There are many competitive models of blues harmonicas out there, and some are better than others.
Unfortunately, given that they are considered fairly simple to learn, there are also many sub-par 'toy-like' harmonicas lurking as well, so we have done the research for you and found seven suitable harmonica selections to review.
At a glance:

Our top 3 picks
Our team's top 3 recommendations
Best Overall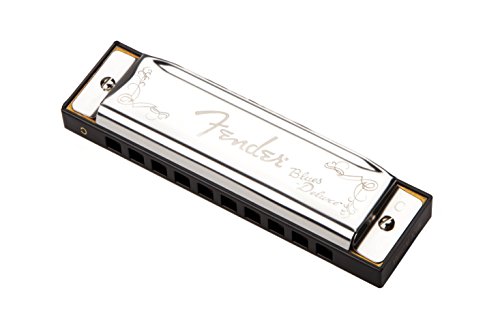 Fender Blues Deluxe Harmonica

Moisture resistant.
Brass (replaceable) reed plate.
Entry-level price.
Premium Quality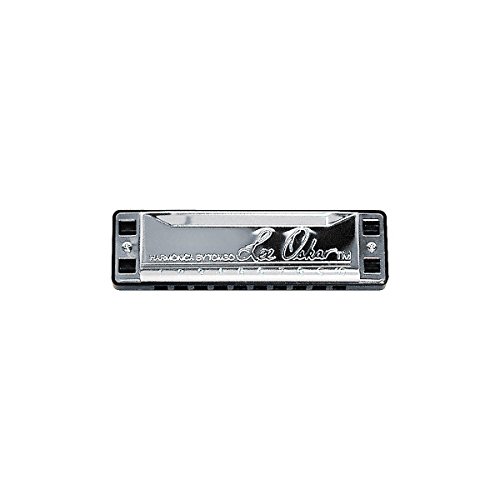 Lee Oskar Harmonica

Moisture resistant.
Brass (replaceable) reed plate.
Entry-level price.
Great value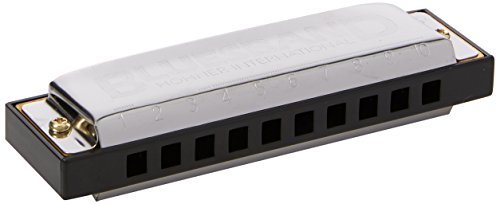 Hohner 1501BX Blues Band, Harmonica

Moisture resistant.
Brass (replaceable) reed plate.
Entry-level price.
View The Best Blues Harmonica Below
1. Fender Blues Deluxe Harmonica
We are starting with an affordable harmonica from Fender: the Blued Deluxe is a diatonic harmonica in the key of C, which is pretty well made, given its low retail price.
This is a traditionally-shaped harmonica that measures 4 inches by 1 1/2 inches. It features an ABS plastic comb, which is a good low-cost material that provides a moisture-resistant core. This is important for any wind instrument, not just the best blues harmonicas.
The outer covers of the harmonica are rust-resistant chrome, which is held securely in place. The reed plate is replaceable, which means this harmonica is a long-term investment. The plate of the harmonica is formed from brass, which gives the instrument a pleasant tone.
It comes with a small plastic storage case to help keep the harmonica protected from bumps and dings. The case is ventilated so that your instrument dries out between uses. It arrives blister-packed and completely airtight to guarantee its condition.
Pros:
+ Moisture resistant.
+ Brass (replaceable) reed plate.
+ Entry-level price.
Why We Liked It - This blues harmonica is a great option that plays in the key of c which won't set you back. This brand of harmonicas is ideal for beginners, as well as seasoned players, and it has a great blues tone.
Next, we have a matching style blues harmonica from Lee Oskar, a well-known harp player, who has influenced the industry and even created a few harmonica keys. Though, today, we are sticking with the traditional key of C.
This is another good brand of beginner harmonicas. This harmonica has very a very good build-quality, and once again, this features replaceable reeds within.
This harmonica has a warm wavering tone, and is a fair amount louder than the Fender Harmonica, or at least seems to have more presence.
The plastic comb is made is dense, so you don't need to worry about moisture. It features large-holes that give it just a little more punch.
This harmonica comes sealed and the covers are airtight. It has its own plastic case, featuring a clever design that allows it to stack with other Lee Oskar cases, so when you expand your harp keys at a later date, you can conveniently stack them altogether for transit.
Pros:
+ Well-made with a plastic comb.
+ Easy to bend.
+ Great presence.
Why We Liked It - This harmonica is a well-manufactured model that bends like a dream. With a plastic comb, and large holes, this harmonica has a meatier tone ideal for rock and blues.
3. Hohner 1501BX Blues Band, Harmonica
The Hohner 1501BX Blues Band Harmonica is one of the world's best-selling beginner harmonica models, and not just because it retails for peanuts. The Blues Band model from Hohner is a traditionally-shaped, rectangular diatonic harmonica that has modern stainless steel cover plates.
The internal reed plate is constructed from a thin piece of brass that measures 0.9mm and is easy for beginners to blow and draw.
This harmonica is relatively well-made, though the covers are pinned rather than screwed which can be a little less durable in the long-run.
Pros:
+ Solid brass reed plate.
+ Stainless steel cover plates.
+ Cheap.
Why We Liked It - With stainless steel cover plates and brass reed plates, this is pretty impressive for a bargain model. This is a perfect starter harmonica for beginners and also a good knock-about instrument for the pros, ideal for dishing out for when the unrelenting punter wants a turn.
4. Hohner 532BX-C Blues Harp
We're sticking with Hohner for just a beat longer. The Hogner 532 is a well-known name, and one of the best harmonicas. This particular BX-C model is manufactured in-house in the heart of Germany, unlike the exported entry-level harmonica model above.
These blues harmonicas are out of Hohners Modular Series line, which means that every single part of this bad boy can be swapped out and traded for any other part of their other MS harmonicas, meaning you can customize it as you like.
This harmonica features a well-tuned set of 20 brass reed plates, bending with an unsurpassed tone that has a gritty blues edge.
This harmonica is great for live performance and holds its own. It benefits from a wooden comb core, which is a little more susceptible to moisture damage, but it provides a consistent volume and a fuller tone than plastic, because of its better natural acoustics.
The harmonica has hardy stainless steel cover-plates that are nicely engraved. It has a beautiful curvature to it that sits well in the hands, making it ideal for the average harmonica player.
Hohner make other harmonica sets too, a few mentions being the Hohner Marine Band Harmonica set, the Hohner Marine, the Hohner Special, the Hohner Special 20, if you'd like to check those out.
Pros:
+ Beautiful build.
+ Wooden comb.
+ Modular option which can be modified.
+ Superb sound.
Why We Liked It - This harmonica has great playability, epic presence, and delivers that unmistakable Hohner tone that's perfect for the dirtiest blues.
5. I-MART Diatonic 10 Hole Key of C Blues Harmonica
We're back in the budget-friendly realms of best harmonicas. Now for an option from I-Mart, which appears to be a Swan model in actuality, or at least features Swan cover-plates, so may have come from the same manufacturing line.
These harmonicas are a nice gift option as they come in a range of colors, largely because the cover itself is plastic rather than metallic. The plastic choice of covering allows for faster octave slides.
It's pretty well-made and the reeds have no tuning issues like some budget harmonica models can. The playability could be better, it seems a little hard to play with any real nuance.
There are 10 holes, and it does bend reasonably well and is a little on the slimmer side better for a harmonica player with smaller hands. It comes with a compact storage case that is pretty hardy.
Pros:
+ Slim-bodied.
+ Colored design.
+ Budget-friendly harmonicas.
+ 10 holes.
Why We Liked It - This harmonica is reasonably well-made. We would probably, in all honesty, go for the fender over this one, unless you are specifically looking for a plastic or colored option. That said, it does the job.
Next on the cards is another inexpensive diatonic harmonica model up for discussion from NEUMA. This blues harmonica is well-manufactured and features phosphor-bronze alloy reed-plates to spring from, which give it a nice reverberation. The alloy composition also makes it more resistant to corrosion.
The harmonica is easy to play and the holes are numbered clearly on the cover-plate, which also makes it a good student model for learning on.
This blues harmonica has a hardy ABS comb which can be rinsed with lukewarm water. It has a bright tone. The trebles have a good sustain and it has fair volume without a mic.
This harmonica comes with a nice hardy storage case to keep it protected.
Pros:
+ Alloy reed-plate.
+ Bright tone.
+ Good value for money.
Why We Liked It - It is another great low-cost starter option ideal for learning with.
7. Eastar Major Blues Harmonica
We are finishing up today's reviews with a seven-piece blues harmonica set that comes presented in a nice High-grade ABS carry case with soft cushioned insides. Each harmonica has its own pocket compartment, and the case has a soft covering and strong leather handles for strength and portability.
Whilst these harmonicas aren't high-end models, you do get a range of keys to play with for the same price as a premium diatonic harmonica.
The best blues harmonicas are well-made with cupronickel cover-plates that are nicely engraved. They have solid brass insides. The reed plates themselves are easy to bend and all are well-tuned to their specified keys. The reeds have great tonality and are easy to play.
In the set, you get a key of C, D, E, F, G, A, and B harmonica, which gives you an artistic license to play just about any song going. Having a variety to choose from is good when playing the blues, making this one of the best blues harmonicas to go for if you want lots of range.
Pros:
+ 7 piece set that covers all keys, not just the key of c.
+ Well-made harmonicas.
+ Presentable, durable carry-case.
Why We Liked It - This harmonica set provides a low-cost, full-range package that gives users the whole shebang for a price that is pretty hard to beat.
Blues Harmonica Buyers Guide
What Is A Blues Harmonica?
A harmonica is a member of the wind instrument family. The best harmonicas will feature a metallic reed plate which sits over the chambers of a comb. (You can get a wood comb or a plastic comb, depending on the harmonics). Most harmonicas will have blow reed plates and draw reed plates for each chamber. When you blow or suck via the chamber it produces two different sounds.
The reed plates are tuned and arranged with complimentary notes beside one another, allowing you to play with harmonics whether you blow or draw on the harmonicas.
Harmonicas are considered, by many, as a relatively simple wind instrument to learn. This is because they're known as a free reed instrument and require no finger work in the manner that a saxophone or a clarinet requires. That said, harmonicas take a lot of practice to play well, even though people assume the instrument is easy to learn.
What Key Harmonica Do I Need?
What key you need for your harmonica depends on the keys of the music you intend to play. Most harmonica players will have a range of different harmonicas to play with, each in a specific key.
A lot of blues songs tend to played in the key of E, the key of A, or the G key, which you can all play on your harmonica. But there are, of course, plenty of exceptions.
A harmonica is played with the mouth. Branching off from what we have explained above, the harmonica isn't easy to play as people think, and there are a few techniques to master. The lips and the tongue all play an important part in playing the harmonica well and getting a good sound.
The blues harmonica is usually tuned to a key, so if you want to digress into other keys without buying more harmonicas, you will need to be able to bend the pitch of the harmonica.
Eight of the ten notes of a Richter scaled diatonic harmonica can typically be bent a semitone above and below its intended note. To do this, when playing your harmonicas, you must develop the proper action which relies on the shape of your mouth, the breath pressure, and even your tongue positioning. This is the best way to play the instrument.
A diatonic 10 note harmonica in the key of C is the typical starter model harmonica. These harmonicas are one of the most widely used and the easiest to learn to play with.
On this type of harmonica, your blow notes are in the key of C, E, G, C, E, G, C, E, G, C, climbing in pitch, spanning 3 full octaves. The draw notes (sucked) are D, G, B, D, F, A, B, D, F, A. You can get Eb, F#, and Bb with the three higher notes at a blown bend, and Db, F/F#, Bb/A/Ab, and Db with a drawn bend from the four lowest notes.
If you have a good knowledge of scales and music theory, you'll know that you can get by using a C diatonic harmonica to play a range of songs.
What to Look for When Buying a Blues Harmonica?
A decent harmonica needs to be precision manufactured, especially the tiny reeds which are tuned in-house.
The second most important thing is that the blues harmonica must be airtight so that when you blow or draw, the air can't escape from any unintended point. Screwed-on reed plates prevent leakage in the instrument better than a pinned or nailed reed plates.
Reed Types
The reeds of a blues harmonica have a shelf life just as the reeds on any wind instrument. Although, they typically last longer than genuine reeds, as they are made from metal which is obviously far-stronger and less likely to split.
Most of those we have reviewed have had brass reeds which are soft and easy to bend, perfect for those developing their correct embouchure (mouth, lip and tongue shape, and air pressure). But, as it's softer, it doesn't last as long. It's a good idea to find replaceable reed plates option if you intend to stick with brass reeds.
Brass reeds give a nice dirty wheezing tone, and bronze reeds have a little more ring, giving a brighter characteristic. It's about the same in terms of durability.
Stainless steel reeds are much more durable, but take a seasoned player to break in and bend. These reeds are typically found on higher-priced professional harmonicas and are tougher to play. They're better for the best harmonica players.
Conclusion
If you are looking for the best harmonica to play the blues, then you're going to want one that's easy to bend, so you can play with authentic emotion.
If you're completely new to playing the harmonica then we're sure we've got you covered. If you are a seasoned harmonica player, you might prefer something a little fancier to move onto, like a tremolo reed harmonica, or something that offers many more notes, so you can play to the best of your ability.
Other honorable mentions of best harmonicas include the Hohner Marine Band Harmonica set, the Hohner Marine, the Hohner Special, the Hohner Special 20.
Hopefully, our reviews will have shown you what harmonicas are available for the best prices and our buyer's guide should have informed you enough to know which direction to steer towards when it comes to purchasing a the best blues harmonica.
Expert Tip
Harmonicas, like any other wind instrument, require regular cleaning to ensure there is no saliva residue building up on the inside of the harmonica. This will prolong your harmonica's life. The best bit of advice is to keep your mouth as clean as possible.
Did you Know
Harmonicas go by many names. Sometimes they're referred to as a mouth-organ or a blues harp. There are many styles - most are like the above description diatonic.
If you've enjoyed this review by Music Critic, please leave a positive rating:
[vc_separator