Plastic trumpets are excellent alternatives to standard, brass trumpets because they're much lighter, won't freeze when you're performing outdoors in winter, and cost a fraction of the price. The best plastic trumpets don't just offer all these advantages, but they also provide authentic, powerful sound that can compete with expensive, luxury trumpets made from brass.
A bB trumpet is the most common plastic trumpet available, and it's ideal as a learning trumpet for young trumpeters or as a practice trumpet for more experienced players. Many of the best plastic trumpets come with all the necessary accessories that you require to keep it clean, in tune, and performing to the best of its abilities.
To ensure that you purchase the very best plastic trumpet on the market, consider this list of our top five plastic trumpets, as well as the guide to buying the vest plastic trumpet that follows it, which will inform you of all the essential features to look out for.
At a glance:

Our top 3 picks
Our team's top 3 recommendations
Best Overall
pBone Jiggs pTrumpet Plastic Trumpet

Fully Plastic Valve System
Lightweight
Authentic Sound
Available in Different Colors
Two Plastic Mouthpieces
Premium Quality
Kaizer Plastic Trumpet

Fully Plastic Valve System
Lightweight
Authentic Sound
Available in Different Colors
Two Plastic Mouthpieces
Great value
Rhode Island Novelty Kids Plastic Trumpets

Fully Plastic Valve System
Lightweight
Authentic Sound
Available in Different Colors
Two Plastic Mouthpieces
View The Best Plastic Trumpet Below
1. pBone Jiggs pTrumpet Plastic Trumpet
The pBone Jiggs pTrumpet is perhaps the best known plastic trumpet on the market. And there are many good reasons for this. It's an excellent, professional plastic trumpet that delivers an extraordinary tone that's comparable with expensive brass trumpets. This product offers such a smooth tone because of the innovative design.
It has a fully plastic valve system that contributes to the sound, but it also enhances playability; the trumpet remains incredibly light, and the buttons are also easy to press. Trumpeters also have two choices when it comes to acrylic mouthpieces, with pBone providing a 3C and a 5C mouthpiece so that you can select the one that's best for you and your playing style.
Pros:
+ Fully Plastic Valve System
+ Lightweight
+ Authentic Sound
+ Available in Different Colors
+ Two Plastic Mouthpieces
Why We Liked It - It's generally regarded as the best plastic trumpet on the market because of the authentic sound, innovative design, and lightweight construction that makes it both a dream to play and to listen to.
2. Kaizer Plastic Trumpet
A key feature of all the best plastic trumpets on the market is sound quality. A plastic trumpet must offer full-bodied sound combined with a rich, vibrant tone, and that's precisely what this Kaizer plastic trumpet offers. Unlike many plastic trumpets, this one includes metal valves, which helps to enhance playability and contributes to sound quality too.
This plastic trumpet comes with a soft gig bag so that you can keep it safe when it's not being played. And, like many plastic trumpets, it's available in many different colors so that you can find one that suits your personality and style. Kaizer also provides a lifetime guarantee for every product that it sells. And, as with all of Kaizer's musical instruments, its plastic trumpets are also very reasonably priced.
Pros:
+ Metal Valves
+ Rich, Powerful Sound
+ Available in Multiple Colors
+ 5" Bell and 0.456" Bore
+ Weighs 1.5lbs
Why We Liked It - This bB plastic trumpet is one of the best around because of the metal valves that allow for easy playability. The sound is another reason why we liked it so much.
3. Rhode Island Novelty Kids Plastic Trumpets
If you're not looking for a professional plastic trumpet but instead fun plastic trumpets for children, then these trumpets are the best options for you. As they're toys, they're not designed to be used as an alternative to a brass trumpet for performances or practices. The loud enough for children to have fun with, and squeaky enough for a child to have the sense that they are playing an actual trumpet. And, another great feature for kids, is that they can easily make the sound when they blow through them.
Considering the low price, they're also very durable, so you don't need to worry about your little one breaking these plastic trumpets in a hurry, either. They're simply fun plastic trumpets that little kids will adore, and they're very reasonably priced too.
Pros:
+ Perfect For Kids
+ Easy to Play
+ Available in Different Colors
+ Cheap
+ Safe for Children
Why We Liked It - They're the best plastic trumpets for children to have fun with. They're a toy that can provide small children with hours of fun, and these trumpets might even inspire children to start learning a real brass trumpet in the future.
4. pTrumpet 2.0 Plastic Trumpet
The pTrumpet 2.0 plastic trumpet is the most up-to-date version of the classic pTrumpet plastic trumpet. As with all pTrumpets, this one offers the best sound quality that one can get from a plastic trumpet. It sounds like a brass trumpet, even though it weighs less than half of a brass trumpet. As this is the 2.0 version, it features a new bell-blow design that makes it even easier to play.
There are other improvements to the classic version, including better piston and valve block tolerances. These features both contribute to a much better performance than the standard pTrumpet, which is already one of the best plastic trumpets around. It's perfect for experienced trumpeters to use as a practice trumpet because the sound is so authentic.
Pros:
+ Easy to Play
+ Exceptional Sound
+ Weighs 500g
+ Available in Multiple Colors
+ Includes Two Plastic Mouthpieces
Why We Liked It - It's an improvement on one of the best plastic trumpets available, which makes it a safe purchase for anyone who wants their professional plastic trumpet to sound like a brass trumpet.
5. Tromba TRP-BK Plastic Bb Trumpet
Tromba is perhaps the best-known name for plastic trumpets after pBone. And this product is an excellent example of what Tromba is capable of. It's a sensational plastic trumpet. Tromba has ensured that it has been designed thoughtfully and that it includes high-grade components. For example, it has an ABS plastic core, as well as stainless steel pistons.
Also, unlike many other plastic trumpets, this professional plastic trumpet from Tromba includes metal valves that enhance the sound and playability of this instrument. The quality components ensure that this product won't break anytime quickly as it is resistant to damage, and it's also effortless to clean.
Like a lot of Tromba plastic trumpets, it comes in a range of colors, including black, blue, red, and gold, as well as many others. Of course, it's a lightweight bB trumpet too, weighing only 500g.
Pros:
+ Typical Tromba Quality
+ Lightweight
+ Excellent Sound
+ High-Grade Components
+ Two Water Keys
Why We Liked It - It's a beautiful, durable, and great-sounding plastic trumpet from Tromba, which is one of the best manufacturers of plastic trumpets in the world. It's a safe choice for trumpeters of all levels.
Plastic Trumpets Buyers Guide
When it comes to choosing a musical instrument, it must offer several essential features. Otherwise, you'll end up being disappointed with your purchase, and then leave the instrument aside, never using it, and missing out on all the benefits that a musical instrument can offer. When you're buying a plastic instrument, it's even more critical that you choose a product of the highest quality.
If you consider the following key features that are available on plastic trumpets, then you should invest your money in the best product for your needs. Let's have a look at each of the essential areas of a trumpet made from plastic and how you can ensure your future trumpet lives up to your high expectations.
Sound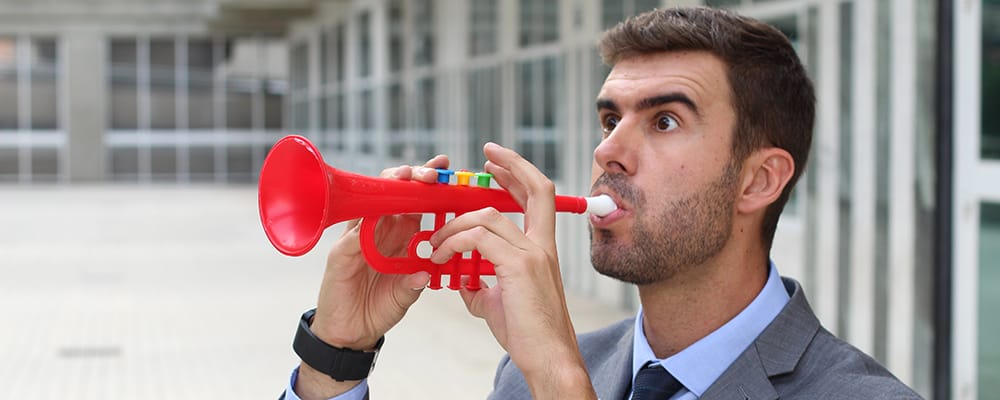 Sound is the most essential feature of any instrument, regardless of what material it's made out of. But one of the reasons why people are reluctant to use plastic instruments is because of the misguided belief that they offer sub-standard sound compared to metal equivalents. That's not the case with plastic trumpets.
Many of the best available have been designed to provide an authentic sound that compares with the metal equivalent. But how do you know if a trumpet made from plastic will sound good or not?
The key is the valve system. You always want to ensure that the valve system has been designed with tone and sound in mind. Without hearing the instrument played, then this can be difficult to know, but as long as you purchase a trumpet that's received excellent reviews from trumpeters, then you can be sure that it will offer the right sound quality. You can also go with a trusted name. Some manufacturers, such as pBone, are renowned for the sound of their plastic trumpets, so if you're unsure, then just go for a trusted name.
Playability
Two features that contribute to playability are the mouthpiece and the keys.
A plastic trumpet mouthpiece can offer you excellent playability as long it's the right size and shape for your mouth. The most common mouthpieces that are available on plastic trumpets are the 3C and 5C mouthpieces. These two mouthpieces are suitable for most new players and experienced players. And some of the best plastic trumpets will come with both of these mouthpieces as standard, so you can experiment and find the right one for you.
When it comes to the buttons, you simply want to know that they're supple and pliable. If you can try the trumpet out, then you'll discover this, but if not, then simply make sure that you choose a trumpet that's received excellent reviews.
Durability
Another risk with a trumpet made from plastic is that it might break easily. Ensure that ABS plastic is used for all plastic components. And if non-plastic components are integrated into the trumpet, then they must be made from high-grade materials too, such as stainless steel.
Weight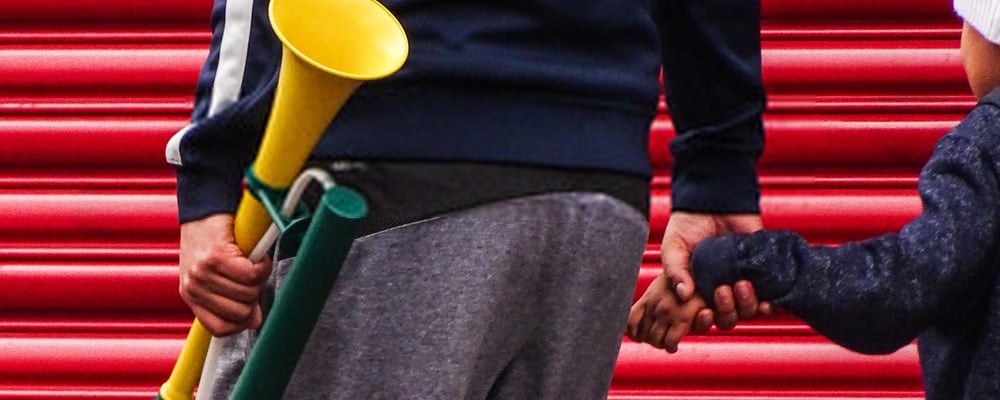 One of the main reasons people choose a trumpet that's made from plastic rather than brass is that they're much lighter. But you may come across a trumpet that's advertised as being made from plastic but has lots of non-plastic components, and this can add to the weight. Check what the trumpet weighs before you purchase it. Anything around 500g is ideal.
Accessories
One element that can add to the value-for-money is the extra accessories that you get with a trumpet.
The most common extra accessory to look out for is multiple mouthpieces. This simply gives you options. It's unlikely you'll know which one will be the best for you until you have the instrument in your hands. So, checking that it comes with multiple mouthpieces can ensure that you'll get the most out of the instrument, as well as out of your money, as you won't need to purchase more mouthpieces in the future.
Another handy accessory is a soft or hard case to keep the trumpet inside. This will keep it safe, and it makes it easier to transport too. A shoulder strap can also enhance the portability of the gig bag.
Are plastic trumpets as good as brass trumpets?
It depends on the plastic trumpet, as well as the brass trumpet that you're comparing it with. Of course, a plastic trumpet may not be able to compete with an orchestra-ready trumpet that costs thousands of dollars, but it can offer excellent quality in the low- to mid-price range.
The reason why trumpeters love plastic trumpets is that they're much lighter than standard trumpets, which makes them easier to transport and hold for long periods. Plastic also doesn't freeze when it's in cold temperatures, and that's another thing that standard trumpets cannot compete with. On top of this, plastic trumpets are ready to go right away. There's no need to warm them up, so you can simply pick them up and start playing.
How much do plastic trumpets cost?
As with any product, it can range in price. A low-price plastic trumpet can be purchased for less than $100. Most professional plastic trumpets will cost more than that, though. A high-quality product like a pTrumpet is usually available for between $100 and $200. As this is generally regarded as the best plastic trumpet on the market, you shouldn't need to spend much more than this amount.
What is the most expensive trumpet?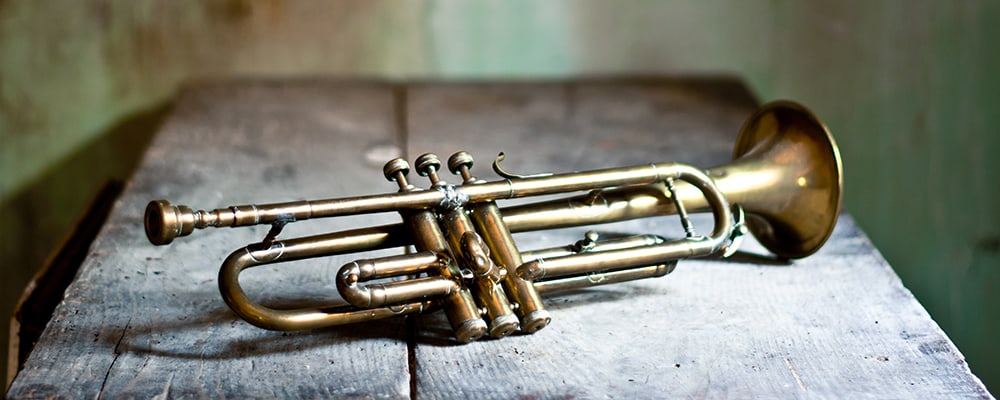 The most expensive trumpet ever sold was previously owned by Jazz legend Dizzie Gillespie. That was sold for $55,000 at an auction. But this is an exclusive product that's not readily available to the public. When it comes to standard trumpets, the most expensive that haven't been custom-made will be available for around $3,000. After that, you'll get into the custom-made territory. As with any custom-made product, then the possibility of cost is endless, as it depends on what the trumpeter requests.
Are plastic musical instruments good for learning on?
It depends on the musical instrument. A plastic trumpet is undoubtedly a lovely instrument to learn on, especially if you're a child, as it weighs much less than a metal trumpet. It's also cheaper, easier to clean, and doesn't need to be prepared before using, so it's always ready to be practiced on.
Of course, some instruments lend themselves better to being plastic than others. To take a trumpet as an example, you only need to look at a component like a lead pipe. Through innovation, manufacturers of plastic trumpets can emulate the advantages of a lead pipe by using plastic so that a lead pipe is no longer essential.
This isn't the case with an instrument like a trombone. A tuning slide made from metal, for example, doesn't function in the same way as a tuning slide made from plastic. To summarize, it simply depends on the instrument, but a plastic Bb trumpet and a regular Bb trumpet are both equally as good to learn on.
Expert Tip
Many companies manufacture plastic companies, but that doesn't mean that they all offer a top-quality product. Some companies, such as Tromba and pBone, have stellar reputations for their plastic trumpets, and it's always best choosing a company such as this, as then you can be sure that your money is being spent on a reliable, durable product that will perform to the highest level.
Did you know?
It's possible to make a trumpet at home using only a hosepipe and a kitchen funnel. Many teachers of woodwind instruments use this form of homemade instrument to exemplify the principles of how these instruments work.
Conclusion
There is a huge range of quality when it comes to plastic trumpets. That's why you must pick a trumpet that delivers all the crucial features that have been explained in this article.
Of course, the most essential feature is the sound that it delivers. It must offer an authentic sound that's comparable to a standard trumpet.
Next, the trumpet must offer excellent playability, and the buttons, mouthpiece, and design of the trumpet can all contribute to playability. pBone is known for the ergonomic design of its plastic trumpets, for example, and this is why they're so popular, as they're straightforward to play.
On top of playability and sound, the trumpet should also be durable, which means that ABS plastic is necessary. If non-plastic components are used, then they must also be of high-grade material, such as stainless steel.
One of the reasons why people tend to prefer plastic trumpets is the price too, so always ensure that your next trumpet offers good value-for-money.
Features that can enhance that great value is extra accessories such as a gig bag, a tuner, and items that can help with cleaning the trumpet.
Find a trumpet that offers all these benefits, and you'll invest your money wisely.
If you've enjoyed this review by Music Critic, please leave a positive rating:
[vc_separator