The Midas M32 is a perfectly thought out digital mixer that is highly capable of a wide range of mixing applications. It is suitable for live touring rigs, small, medium, and large-sized venues, and a high-powered home studio. The impressive design was created by one of the engineers from Bentley Motors.
The job was simple: design an intuitive, easy-to-digest interface that would flatten the learning curve for new users. It is packed with useful preamps, mix buses, DSP processing, and plenty of power. The features on the M32 are extensive and make this digital mixer a no brainer if you've got the budget.
Specifications:
• Live sound and studio recording
• 40 input channels
• 32 Midas Preamps
• 112 dB dynamic range
• Ergonomic design
• 7" TFT display (readable in daylight)
• 25 motorized faders
• 25 time-aligned mix buses
• USB input
• 50 signal processors over 8 stereo DSP engines
• Wifi compatibility with IOS devices
• Made of carbon fiber, aluminum, and steel
• 24"/35"/10"
• 55lbs
Midas M32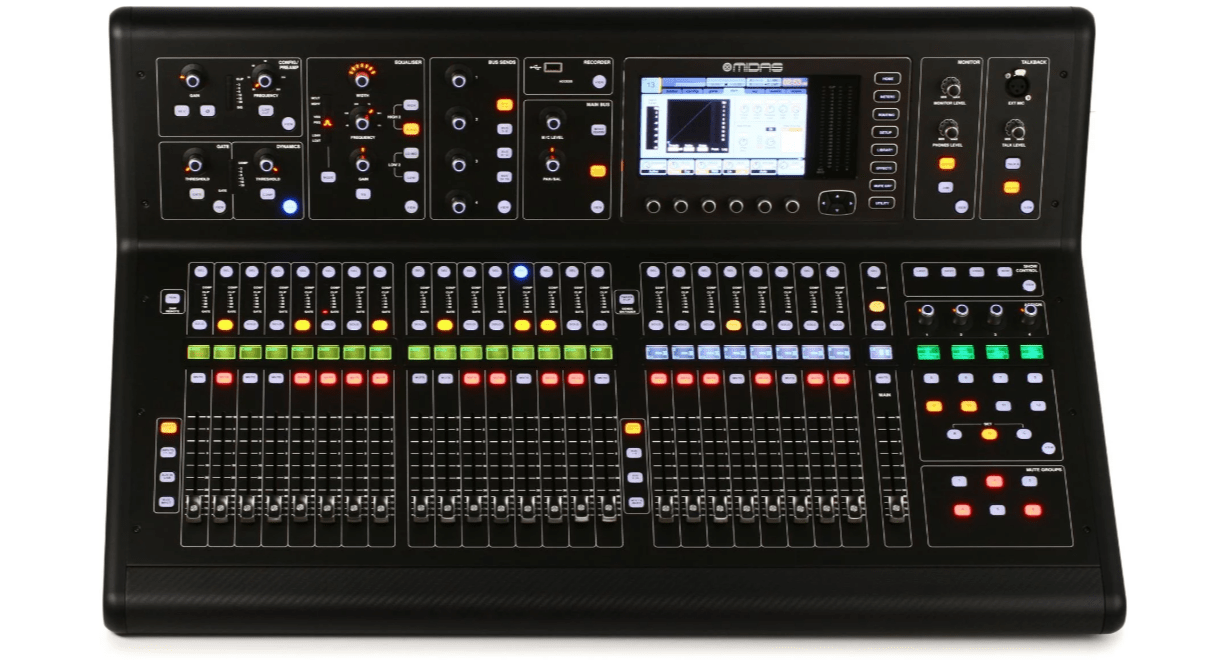 Summary
The M32 is a sound engineer's dream come true. It is a beautifully designed, easy-to-use, high-powered mixing machine that fills every possible need you could have.
It comes with 32 Midas powered, high-quality preamps. Midas preamps are considered the benchmark by sound aficionados. For 40 years, Midas has been creating industry-leading preamps that power some of the most recognizable artists of all time (The Beach Boys, Pink Floyd, Billy Joel).
Premium preamps are crucial to creating a reliable, reputable mix in any venue. The M32 has what you need to start your mix off the right way. With a 40-bit floating-point DSP, this mixer can operate within a 112dB dynamic range, offering engineers the necessary room to create the most captivating mixes.
To give the Midas M32 the best possible design, the creators hired Bentley Motors industrial designer, Rajesh Kutty, to put the board together. The result is a sleek, stylish looking case with all of the essential controls right at your fingertips. Moving around this board is as easy as any other board you'll ever work with. It is also constructed using lightweight carbon fiber along with steel and aluminum, creating a surprisingly lightweight console for the power it houses.
For sound mixers who know their way around a typical board, it can usually take a little bit of time to get onto a new set-up. One of the most apparent benefits of the M32 is how quick and easy it is to get up and running. It is incredibly intuitive, cutting down on the learning curve for operators. What that means is you'll be able to cut down on costly and inefficient mistakes that arise from lack of experience on the board.
One of the most pleasing aspects of the M32 is the motorized faders on the board. They are constructed with steel guide rods with exceptionally smooth and polished surfaces. They also have a 1-million cycle rating, which is three times that of the competing manufacturers. These faders simply glide beautifully and will please those who wat a seamless experience.
Onboard, the Midas M32 digital mixer holds up to 50 virtual processors, all operating at studio quality. Having that kind of extra processing power onboard takes away the need for large racks with all types of equipment to create the effects and range that you need. Everything is right on the board, and easy to read on the 7" TFT display, which is also easily readable in the daylight. The detail of the modeling is spot on and will provide the exact sound that you're looking for.
A convenient feature on M32 is the recall option of parameter settings. You can mix everything to perfection during soundcheck, save it, and come back to it when the show is ready to start. No need to make massive tweaks right as the show is about to begin when you've already configured everything to perfection.
It is also compatible with IOS devices, where you can control all of the parameters on your phone or laptop for those who want even more digital control.
Pros
+ 32 Midas preamps
+ Incredible dynamic range
+ Lightweight, exceptional design
+ Widespread processing power
+ Excellent compatibility and integration
Why We Like It
The is almost no better option for live sound mixing on a digital mixer. From the design to the capability, M32 from Midas is a true anomaly. This may be one of the most pleasurable boards you'll ever use. The faders are slick and stylish, the design is ergonomically pleasing, and it can hit all of the dynamic range you need.
It has tremendous processing power and built-in additions that will make your mixes sound fantastic. This mixer is for those who want to create the absolute best possible sounds on stage and in the studio. It is priced for professionals and will be the final mixing board you ever buy.
If you liked the article, please leave your feedback.