The Boss RC-505 is a full hands-on-deck looping station for any and every type of musician. It is an intuitively designed, easy-to-understand, looping station that offers more features for musicians than many other looper stations on the market. It contains five phrase stereo channels to record on, the most for any Boss product. It comes with mic and instrument inputs, tap delay, midi in and out, USB connection, and much more.
Unlike many other looping stations, it has built-in effects to help you shape your tone. With onboard rhythms and phrase storage, it allows you to create all-encompassing tracks for live performances. For keyboardists, DJ's, guitar players, and MC's, this is a looping station that houses the capability to aid you in every performance.
Specifications:
• Five stereo phrase tracks
• Midi In/Out
• Three recording hours
• Onboard digital effects
• 99 Storage presets and memory
• 85 backtracks and built-in rhythms
• Hand operated
• USB integration for major DAW's
• XLR Phantom power mic input
Boss Rc 505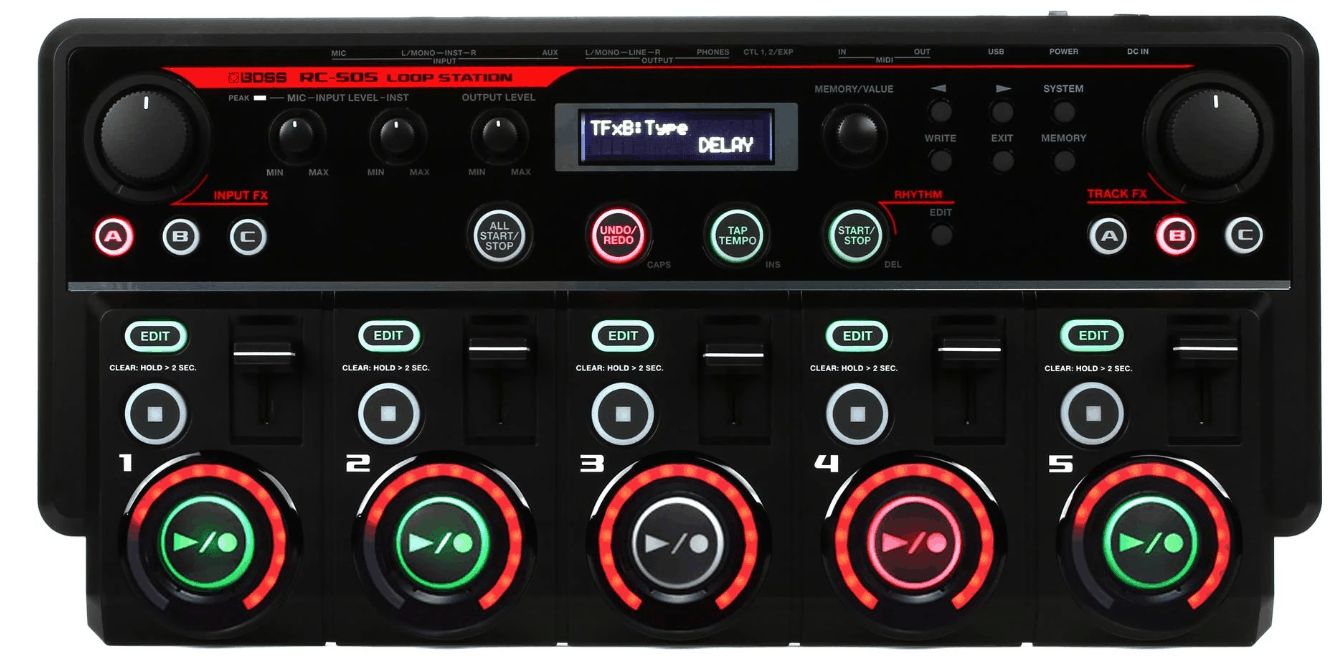 Summary
The Boss RC-505 is the big brother in the RC family. It is the most capable and fully integrated looper station in the line. It comes with a ton of useful features that will take your live performance to the next level and leave your audience captivated.
It comes with five phrase stereo tracks for you to record on that combine for a total of three hours of recording time. That means you can record up to five different rhythms and backing tracks and use them in your live performance. Creating your own analog/acoustic beats rhythm guitar or keyboard sections, vocal harmonies, and lead lines are right at your fingertips with the tabletop loop station.
Another neat feature is the individual volume faders for each track. That allows you to do a mini mix of your recordings on the go, so your looping creations sound well balanced.
The Boss RC-505 comes with 25 effects built-in. Having digital effects right on the board allows you to use reverbs, delays, tone shapers, and more without hooking up a slew of pedals. It will help cut down on the money needed to buy other effects pedals and integrates it right into the looping station. It is simple and easy to switch between them with a turn of the knob. You can record and shape the tone to exactly what you need and want for your desired performance.
There is also plenty of storage on the RC-505. It holds up to 99 presets and settings, so you don't always have to reset using the knobs. If you have a specific configuration you like to apply for every one of your performances; you can come back to it at the start without fiddling. It'll cut down on the time you need to tweak your settings, and you can enjoy your pre-performance beer in peace.
Using the 85 different backing track patterns, you can shape the guitar, drums, and bass just the way you want. You can jam along to your favorite rhythms, practice your soloing, and create some super unique tracks for your recordings or performances.
It is moderately priced. It wouldn't fall under the budget category, but it is one of the most high-powered digital looper stations you will find. It merely has more capability than many of the other loopers on the market. It has a bit of a learning curve that may take you some time to hammer down your speed and proficiency with the looper. However, once you do, you'll be able to create anything and everything you want without anything holding you back. It may take you some time to get through all of the built-in effects on this station.
Pros
+ 5 phrase looping tracks with volume buttons
+ 25 onboard effects with up to 85 different rhythms and backtracks
+ Hand-operated on a tabletop
+ Up to 3 hours of total recording time
+ Built-in effects
+ All of the power and connection inputs you could need
Why We Like It
If you want a looper that goes over and above, the Boss RC-505 is the way to go. It is priced appropriately for its capability and will take a bit of time to get down, but once you do, it can perform at the level you need.
It is easy enough to navigate with all of the necessary controls right at your fingertips. Having things closer to your eyes on the table will make it easier to know exactly what's going on with your tracks—no straining of the eyes to see what's happening on the stage floor.
You will be able to build all of the tracks you need on the RC-505. With effects and onboard rhythms to mess around with, you'll be creating unique, exciting mixes and grooves that will captivate your audience and will keep you fully engaged in your performances. For the professional loopers out there, the RC-505 is one of the best options you will find.
If you liked the article, please leave your feedback.