Adding a good set of DJ lights to your stage lighting setup is a great way to get the crowd moving! There are all sorts of different types of DJ lighting depending on the kind of gig you're getting into.
Flashing lights, lights that go with the beat of the song, and various other options are available. However, you should never settle for any random set of DJ lights. This might end you up with a ruined gig in the middle of your set!
Don't worry though. We've got you covered with all of the best choices around. After hours of research through customer reviews and video unboxings, we've created a list to help you out. Whether you're looking to plug your lights straight into your laptop or into the wall, there's a selection for everyone.
Getting your stage lights exactly how you want them will pump up the audience. When the audience is excited, you're doing everything right! Check out the list below to get the best setup for you.
At a glance:

Our top 3 picks
Our team's top 3 recommendations
Best Overall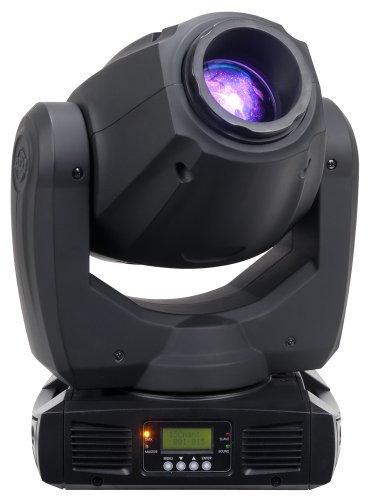 ADJ INNO SPOT PRO Moving Head Light

Comes with multiple pre-set patterns
Easy to program on the interface of the unit
Includes a manual zoom for adjustments
Premium Quality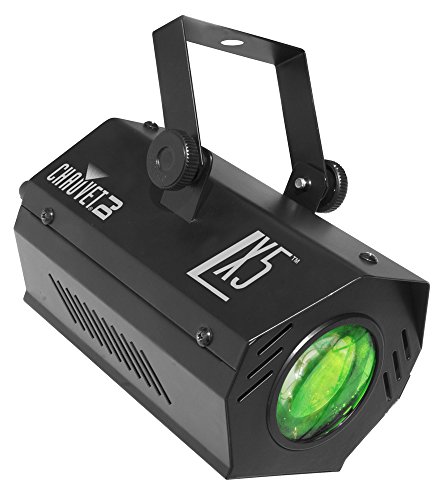 CHAUVET DJ LX-5 Moonflower Effect LED Party Light

Comes with multiple pre-set patterns
Easy to program on the interface of the unit
Includes a manual zoom for adjustments
Great value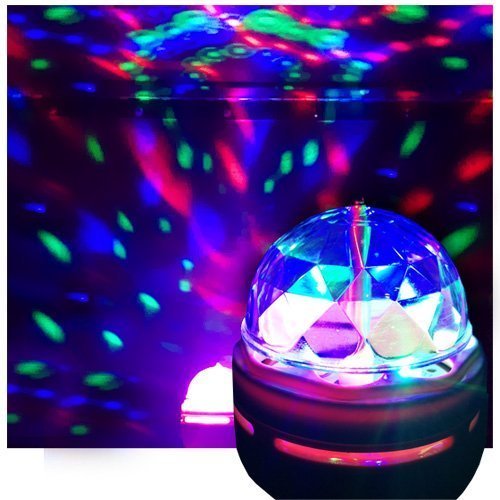 LED Disco Crystal Ball Effect Party Bulbs

Comes with multiple pre-set patterns
Easy to program on the interface of the unit
Includes a manual zoom for adjustments
View The Best DJ Lights Below
1. ADJ INNO SPOT PRO Moving Head Light
Starting off the list is the ADJ INNO SPOT PRO Moving Head Light. This product is a high-end design created for concert lighting effects. It's easy to program on the interface to make it move exactly as you're envisioning. Change colors and movements with the click of a button or let it follow a preset program.
With four different built-in light shows, you don't have to concern yourself with setting it all up before the show. Focus on your music and let the light do what it does best. This 80W stage LED lights don't take up too much power at all, reducing costs and preventing overloads. Again, yet another example of why it runs itself so efficiently.
A unique feature of this light is that it can manually zoom in and out. This allows you to take control of the depth of color and width of the light it puts out. If you're on the hunt for an easy-to-use light that does everything for you, then this is probably your best bet.
Pros:
+ Comes with multiple pre-set patterns
+ Easy to program on the interface of the unit
+ Includes a manual zoom for adjustments
Why We Liked It - We like these because they're some of the top DJ lights for professionals. Even if you have a small gig, this light will blow your mind!
The CHAUVET DJ LX-5 Moonflower Effect LED Party Light is another fantastic option for people of all experience levels. You don't need to be a mechanical pro to understand how to operate this system. A quick provided guide will help you set everything up through the simple interface in minutes.
The handle on top of this system doubles as a hanging device. You can mount it on the wall or ceiling to keep it out of the way of your set. Out of all the DJ light reviews we've been through; these ones are consistently known to have some of the brightest LED lights around. You can also chain multiple of them together.
The moonflower effect is the biggest feature of this product. It presents a unique pattern that everyone is bound to love. Keep the party going with other preset patterns and automatic adjustments to focus on your music. The adjustable sound knob lets you set the sensitivity to custom fit with your beat.
Pros:
+ Uses a unique moonflower effect
+ Includes a handle that doubles as a ceiling mount
+ Easy to adjust the sound and patterns
Why We Liked It - This might be the best mobile DJ lighting setup for beginners. It's inexpensive and incredibly reliable with numerous patterns.
3. LED Disco Crystal Ball Effect Party Bulbs
If you're simply looking for a cheap DJ light, then you don't have to go far. In fact, the LED Disco Crystal Ball Effect Party Bulbs will do just fun. This budget-friendly option is perfect for small gigs and venues with a handful of audience members. You could also get a few of them to set them around the room.
With up to 20,000 hours per bulb, you'll likely be able to use these lights for many years to come. LED lights, in general, save plenty of energy. These lights claim to save as much as 80% compared to traditional bulbs. They're also much brighter and multicolored, which is always a nice touch.
One of the coolest features of these lights is that they rotate. The dome shape is covered in polygons that reflect lights in random directions. This gives the same effect as DJ lights over twice the price. Screw them into a light socket and watch as they change the atmosphere in an instant.
Pros:
+ Very low price vs the competition
+ Rotating, multicolored bulbs
+ Polygon shapes reflect light throughout the room
Why We Liked It - We like these bulbs because they're perfect for people looking to get portable stage lighting. The compact size is great for travel as well.
4. Disco Ball DJ Strobe Lights
The Disco Ball DJ Strobe Lights by Vnina is a combination of the previous entries on the list. You'll get a simple plug-in light that has polygons all over it to cover the room in an immersive light show. Much like the option at number two on the list, the handle of this product can also be a wall mount.
Using the provided remote, you can change the light patterns, speeds, dim and brighten them, and turn them on and off. Instead of having to constantly adjust the interface, you can stay in the same place and completely revamp the lights. The two twisting knobs on either side of the unit let you get the perfect angle.
A super useful feature that any musician would love to use is the sound activation tool. This tool makes it so the light reacts with music to follow the beat. You don't even have to preset or customize a pattern since it does it all for you.
Pros:
+ Adjust knobs for the perfect angle
+ Bright lights to illuminate the whole area
+ Use the remote to change and customize the process
Why We Liked It - These are some of the best DJ lights for people of all experience levels. They're simple, affordable, and they come with a useful remote.
5. Spriak Dance DJ Lights
If you liked the previous option on the list, then this one will be another solid choice for you. The Spriak Dance DJ Lights are very similar in the sense that they plug into the wall instead of your laptop. They also have a remote to make adjustments throughout the performance instead of using an interface.
Two twisting knobs, multiple reflective polygons, and a wall mount that doubles as a stand and a handle are also relatable features of this product. It's slightly more compact than the average portable light, making it great for people who always move around from gig to gig.
You can set this light so it goes with the beat of the music or a simple strobe light effect. Either way, the bright illumination provided by this product is a leading contender in its price range. Combine it with the low-energy bulbs and the 20,000-hour lifespan and you'll see why so many customers are going crazy about it!
Pros:
+ Budget-friendly and long-lasting
+ Easy to use the provided remote
+ Comes with multiple pattern settings
Why We Liked It - We like this DJ light package because it has everything you need in a small bundle.
6. AOMEES DJ Disco Ball Lighting
Are you searching through DJ light sets to find one for a kid's party? If so, then you're right where you're supposed to be. The AOMEES DJ Disco Ball Lighting setup is the one for you. It's compact, it comes with a multipurpose remote, and you can hang it almost anywhere that you could imagine.
The mount can also be used as a handle or a stand to point it around the room. The aforementioned remote lets you select patterns, power the unit on and off, and take control of a few additional adjustments. Thanks to the unique shape of the dome, this light scattered colors throughout the area.
Wit up to 15,000 hours of usage, you're definitely going to get your money's worth from this light. Speaking of money, the price tag is rather budget-friendly for a party light. Save yourself some hard-earned cash and buy a top-notch DJ light setup for small parties and events with this one.
Pros:
+ Comes with a remote that reaches 15 feet away
+ 15,000 hours of battery life
+ Compact and perfect for small venues
Why We Liked It - We like this product because it's a solid portable DJ lighting setup for everyone. The remote and compact size of the light fixture is a great combination.
7. GLIME Sound Activated LED Stage Lights
Have you been trying to find a decent stage spotlight for your gigs? What about a DJ light that you can hang wherever you want to? The GLIME Sound Activated LED Stage Lights are both of those and more. This ultralightweight product can be hung on walls and ceilings or you could set it up on the floor.
A simple setup configuration on the interface of the light will let you program everything before the start of your show. Four sound modes allow the unit to run itself without needing any assistance at all. There are 8 different channels to hook up a series for the ultimate lighting event!
Each light lasts 10,000 hours, which is more than enough. Considering that a gig lasts about 2 to 4 hours, you're going to get thousands of uses before you have to look for another. The gradual change in colors, flashing lights, and a few other choices on the settings menu is what makes this unit so popular.
Pros:
+ Comes with four different modes
+ Can set up to 8 separate channels
+ Lasts for 10,000 hours
Why We Liked It - We like this DJ lighting setup because it's portable, lightweight, and you can use it for years to come.
8. YeeSite Remote and DMX Controlled Lights for DJs
If you're starting to get bigger shows for your DJing events or you're looking to throw an amazing house party, you're in luck. The YeeSite Remote and DMX Controlled Lights for Djs is a top-quality setup. You can buy it in a pack of one or save money by buying them in a bulk package of four.
The two handles on this light can open up to form a stable stand, a handle for carrying, or a wall mount. Either way, you can choose the direction that the light is facing easily. 36 LED lights decorate the surface of the light, giving you thousands of hours of bright illumination. There is a total of 12 red lights, 12 green lights, and 12 blue lights.
Another unique feature of this light setup is that you can control it either with the provided remote or a professional DMX controller. While the DMX controller isn't included, you can hook it up to one rather quickly.
Pros:
+ Powered up with two different devices
+ Includes 36 multicolored LED lights
+ Easy to carry from place to place
Why We Liked It -We like this product because you can use various DJ light controllers to power it up. Choose from several modes with multiple light colors to make the best experience in town.
9. Blingco Sound Activated LED Laser Light Projector
The Blingco Sound Activated LED Laser Light Projector is possibly one of the best mobile DJ lights for the money. The foldable legs allow you to angle it and face it wherever you want to in an instant. You can also collapse them for easy storage when you're done using it for the day.
The top handle on this product makes it simple to carry from place to place, and it has a hanging area too. Use the provided remote to adjust the colors on the versatile dome glass on the front of the machine. All sorts of color patterns and adjustments can be made all from one small remote.
Another great feature of this lighting setup is that it cools itself off. There's an interior fan that pulls cool air in and blows warm air out, preventing it from overheating throughout the event. You can also remove the aforementioned foldable legs if you want to hang it or set it on another surface.
Pros:
+ Comes with a convenient carrying handle
+ Includes a self-cooling fan
+ Comes with a remote control
Why We Liked It - We like these DJ LED lights because they have several different ways to use them. Foldable legs, a remote, and an optional handle are a few features to mention.
10. LaluceNatz Wide Beam DJ Lights
As far as party and DJ lights go, the LaluceNatz Wide Beam DJ Lights are in a league of their own. Although it's last on the list, this set of concert lights is far better than nearly any option on the market these days. From the plethora of bulbs to the massive wide range that it covers, you certainly won't be disappointed.
The handle that rests on top of the display has two twisting knobs to lock it into place. This gives you a full range of motion, but it also helps with carrying and storage. The remote included with your purchase will give you access to plenty of commands to orchestrate the best light show that you can imagine.
Much like a couple of other entries on this list, this setup also has an internal cooling fan. Keeping your tech gear cooled off when you're performing is crucial to success. You don't want to ruin the lights or warm up the room too much from excessive usage.
Pros:
+ Comes with a remote to adjust everything
+ Wide range beam display
+ Easy to carry around thanks to the handle
Why We Liked It - We like this product because it covers an entire room with lights without you having to buy multiple displays.
DJ Lights Buyer's Guide
Now that you've hopefully gone through the whole list, you can see why so many people love DJ lights. However, how do you know which ones to pick from our selection? Many of them are similar, but you still might not even know which type you need. If you're still trying to figure everything out, consult the buyer's guide below for more answers to your questions.
What are the DJ lights?
DJ lights are usually multicolored lights that have specific patterns. These patterns can be strobe lights, disco balls with lights in them, or even simple headlights. They are designed to follow the beat of the music at a rave, house party, or DJ gig depending on what you're looking for. Having a set of DJ lights with your music is a surefire way to give the party some life!
What are the different variations of DJ lights that you can get?
The main types of DJ lights that you can get are headlights, laser beam light displays, disco balls, and even screw-in bulbs. You can choose which style you want based on the type of music you're playing. Laser displays are much more expensive but they're fun for large events. On the other hand, the light bulbs are cheaper and great for small room parties and so on.
Are DJ lights self-powered or do they run off your laptop or another source and how do you mount them?
DJ lights can use XLR cables, USB plugs, 12v plugs, and a variety of other power sources. If you want something that runs by itself, then a 12v plug might be your best bet. Plenty of them has long enough cords so they can be moved throughout the room. USB plugs are great if you want to plug them into your laptop, as are XLR cables if you have a connecting device.
You can mount DJ lights by screwing them into the wall or hanging them. They can also be mounted on the ceiling or the floor based on your preferences. Most of the lights on our list above have a handle with an area designed specifically for mounting them. It only takes a few minutes to get them fully secured for your event.
Are all DJ Lights easily portable and easy to set up?
LED lights are making it very easy for DJ lights to be portable and easy to use. Since they're much brighter, you don't need as many lights to brighten up a room. All of the options on the list above are light enough and simple for anyone to get the hang of in minutes.
What should you consider when buying DJ lights?
You should consider the brightness that you need, patterns, remote access, and whether or not it needs to sync with your music.
Expert Tip
Putting a light in a corner brightens up a room much more since the light isn't dispersed over a wide area. Save money and use fewer fixtures with this tip!
Did You Know?
LED DJ lights can work for thousands of hours. You can do hundreds to thousands of gigs with the same lighting setup.
If you've enjoyed this review by Music Critic, please leave a positive rating:
[vc_separator