Party lights are the difference between a fun gathering and a night that you won't ever forget! There are all sorts of party lights, ranging from disco balls to standard lighting. You might want to illuminate your backyard or turn a wedding into a dance floor. Either way, you're going to find the best party lights for the occasion on this list.
Imagine having string lights brightening up the backyard on a summer night. You might even want paper lanterns to add a unique feeling to the house. We went through dozens of customer reviews and articles to find the most exciting collection available. When you're ready to change the atmosphere at your next party, check out the list below.
You don't need to throw a party to buy party lights. All you need is creativity and the right set. Peruse the options to brighten up your day (or night) as much as you want!
At a glance:

Our top 3 picks
Our team's top 3 recommendations
Best Overall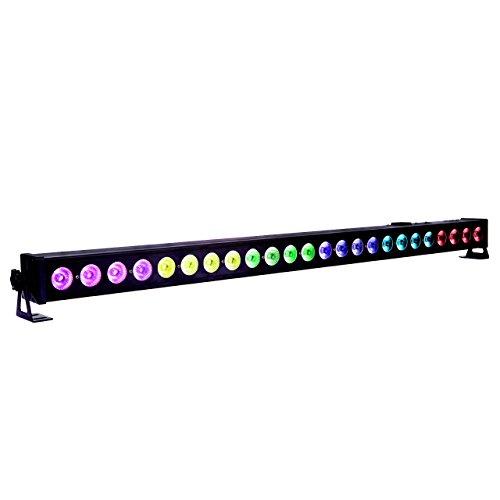 Eyourlife Moving Stage Lights

Great choice for patio lighting
Heat-resistant design
Brightens up a massive area
Premium Quality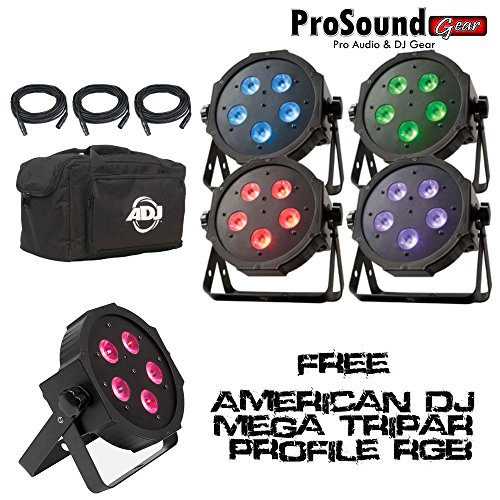 ADJ Products Tri-Colored LED Lighting System

Great choice for patio lighting
Heat-resistant design
Brightens up a massive area
Great value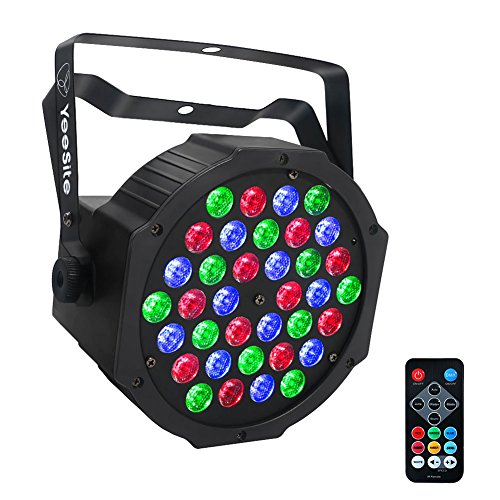 YeeSite LED Stage Lighting

Great choice for patio lighting
Heat-resistant design
Brightens up a massive area
View The Best Party Lights Below
1. Eyourlife Moving Stage Lights
If you're trying to find a simple party light to illuminate a particular area, you're in luck. The Eyourlife Moving Stage Lights are the perfect solution for your solution. It lasts for an impressive 50,000 hours without needing to be replaced. The light is also safe for human skin, and it doesn't harm your eyes.
The bulbs are covered in dozens of chips to brighten the light even more. You can angle it wherever you need to, whenever you need to. The flexible base can also be hung up on the ceiling or drilled into a wall. The bracket doubles as a handle if you want to move it from place to place.
The back of the light is made out of an alloy to prevent overheating. Many lights die out after a year or so due to excess heat buildup. You won't have to worry about this at all with this efficient design. The square shape produces a uniquely shaped area of light, but it also is perfect to brighten up an entire wall.
Pros:
+ Great choice for patio lighting
+ Heat-resistant design
+ Brightens up a massive area
Why We Liked It - These outdoor party lights are nice for all sorts of gatherings. They last for 50,000 hours and they don't heat up!
While it may feel largely unnecessary, it's worth practicing your performance with your full lighting set up. Not only will it give you an opportunity to experiment with different lighting designs, but it will also ensure that your lighting selection doesn't interfere with your performance. Improperly placed lights could be too hot or even blinding, which could certainly negatively affect your performance.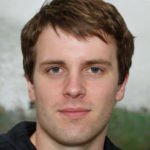 2. ADJ Products Tri-Colored LED Lighting System
On the other hand, people who want a big setup for parties and events might like this product. The ADJ Products Tri-Colored LED Lighting System is great for party lighting because it has several different lights and various ways to adjust them. Use the bottom handles to angle them correctly or hang them from the ceiling or a wall.
Storing these lights is super easy thanks to the included carrying case. Bring them to and from venues or houses without losing a single piece. Each light has its own cord, making it easy for you to set everything up without tangling. 7 different channels let you customize your light shows with the click of a button.
You can also adjust each light individually or set them up on a single system for master controls. With 32 built-in color modes, you can use the preset list to get the party started in no time. With countless hours per lightbulb, you can rely on this setup for years to come. The casing is strong as well.
Pros:
+ Perfect for big party venues
+ Easy to control all of the lights with one controller
+ Several preset channels
Why We Liked It - We like these party room lights because they don't require you to be an expert. Use their preset features and get the event started!
3. YeeSite LED Stage Lighting
Parties can range in sizes obviously, which is why you need to be ready to rise to the occasion. The YeeSite LED Stage Lighting is great for indoor parties without too much space to occupy. However, you can buy them in bulk to save money and get much more lighting for larger rooms and houses.
The remote that comes with the lighting might be the best feature. You can brighten or dim the lights, change the colors, adjust the speed, and much more. The click of a button is all that stands between you and a good time. It's coated with 36 LED lights for maximum brightness and range.
The handle on the back of the light opens up to act as a stand. This balances it in place, or you can hang it up anywhere you'd like. These are some of the best lights for dances because they're so easy to adjust with the music. Place it in a corner and watch as the whole room illuminates with excitement!
Pros:
+ Comes with a remote to change the features
+ Easy to stand up or hang somewhere
+ Brightens up a small room quickly
Why We Liked It - We like this product because it has plenty of party lighting effects to change the mood. 36 LED lights is second to none for many people.
When curating an elaborate lighting set up, it makes sense in most cases to hire an extra pair of hands. This way, you can have more complex light shows that pair perfectly with the timing and mood of your performance. Or, you could learn how to configure the lights yourself and teach an attending family member or friend.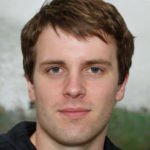 4. RGBW Color Mixing compact LED Lighting
Not all colorful party lights have to be massive. In fact, you can throw your own party in a small room thanks to the RGBW Color Mixing Compact LED Lighting. It only uses about 12 watts to power it up, making it energy-saving and fun all in one. It comes with an adjustable handle that can be moved with two locking knobs.
All of the settings can be changed on the back of the light, giving you complete control of the situation. If you buy multiple of them, you can set them all on the same time and mode, so they sync together. The aforementioned handle also doubles as a stand and hanging device. It weighs less than two pounds, so it won't damage your wall.
Perhaps one of the best features of this light is that its sound activated. The combination of music and a moving light system is what makes a party come to life. Even if you're only using it in your house, it's a great budget-friendly option to save money on a light that will last for many years to come.
Pros:
+ Incredibly energy-efficient
+ Weighs less than two pounds
+ Easy to change the features on the back of the light
Why We Liked It - These flashing party lights are cheap but long-lasting. For a house party, it doesn't get much better.
5. Laser Light 40 Projector Stage Lighting
LED lights for parties are becoming more advanced in recent years. The Laser Light 40 Projector Stage Lighting setup is a top-notch option for indoor house parties and medium-sized venues. Using multiple lasers, this product creates a unique lighting arrangement for dancing and fun times.
Several preset patterns allow you to pick your favorite and have a blast. They go with music, creating an unforgettable experience. Multiple changing colors fly around the room from this remote-powered projector.
The remote lets you change colors, increase the speed, change the pattern, and turn it on or off. The projector itself is a simple square box, making it easy to place or store whenever you need to without taking up too much room.
Pros:
+ Comes with several laser lights
+ Adjust everything from a remote
+ Lightweight and easy to store
Why We Liked It - We like these party lights because they're unique and easy to use.
6. Ultra-Bright Remote Controlled LED Party Lights
The Ultra-Bright Remote Controlled LED Party Lights by Adkins Professional Lighting give you a pro-grade setup for high-end venues. Weddings, parties, and house events are all a breeze with these dance lights. Control everything from the back of the light or adjust it with a remote control that comes with the purchase.
The remote lets you change the color and the shade of each color. You can also brighten or dim the lights and change the pattern that they're in. The buttons are wide membranes that are easy to press and spread out. It has quite a long-range as well, making it a great choice for people who have trouble with small devices.
You can also master control of all of the lights together or have them work separately. There's even an option to plug it into a sound system to change as the music plays.
Pros:
+ Several lights with a single control
+ Great LED lights for a party
+ Wide membrane buttons that are easy to press
Why We Liked It - These are some of the best lights for parties since you can place them all over the room. This bundle is as good as it gets.
7. SUNY DJ Mixed Laser Lighting
If you liked the previous laser light system on the list, then you'll love this product. The SUNY DJ Lighting is a great setup for venues of all sizes. They're perfect for dances since the lasers can follow the beat of the music.
You can even set different premade patterns, change the colors, and adjust the speed of the lasers. It's super easy to control from a single remote that comes with big buttons. There are many different models of the product, letting you choose the number of lights that it includes.
One of the most important features that you'll find in this product is the airflow vent. Overheating is the enemy of electronics, so it's nice to see a product that cools itself off without needing an external fan. If you want to cool it off, even more, place a face right at the vent to move cold air through it.
Pros:
+ Plenty of patterns and colors
+ Easy to use the remote
+ Cools itself off with a vent
Why We Liked It - These LED laser lights are a great addition to parties. They're perfect for dances and music.
8. Ogori Stage Moving Head Party Lighting
The Ogori Stage Moving Head Party Lighting setup is one of the best directional lighting systems available. It's super compact and very lightweight, making it easy to get going and store when it's not in use. Two screws are provided to get it put together.
You can customize and set everything you need to from the front of the light. It comes with multiple settings, letting you prepare the light before your party starts. The cable is extra-long to prevent you from needing an extension cable.
Multiple colors are available, so feel free to play around with it before the event. At only 25 watts of usage, this light is one of the most energy-efficient options on the list. Save money and energy and get the party going!
Pros:
+ High-quality compact party light
+ Several colors and patterns
+ Easy to set up out of the box
Why We Liked It - We like this LED party light because it's easy to use and it's small. You don't need a massive system to make a party fun!
9. CO-Z DMX Controlled LED Party Light
Whether you're looking to brighten up a wedding or throw a house party, the CO-Z DMX Controlled LED Party Light is a solid choice. They come in a 4-pack to let you get the perfect angles throughout the building. You can even use them in the backyard for an all-day birthday party.
All of the settings on these lights can be adjusted on the back of the unit. However, you can also change them up with the remote. The provided remote has a master set to connect all of the lights. This allows you to keep them all on the same speed, color, and pattern whenever you want to.
These lights are sound sensitive, which means they'll set a pattern according to the music. You can also set them to allow you to control the pattern aside from the music. All in all, these are some of the most versatile LED party lights around.
Pros:
+ Easy to control with a remote and interface
+ Uses LED lights for brighter effects and reduced energy costs
+ Change the speed and pattern automatically with music
Why We Liked It - We like these LED lights because they're perfect for parties that need multiple light features. This 4-pack is a great option for all sorts of events.
10. Floureon DMX512 10W LED Disco Stage Light
Last on the list is the Floureon DMX512 10W LED Stage Light. Don't let its position on the list fool you, this energy-efficient party light has more than enough features to keep an event rolling. It even lasts for up to 100,000 hours without needing a replacement, which is one of the longest batteries on the market.
This LED light has the option to hook up to a music player, adjusting the pattern accordingly. You can turn it on and off with the simple flick of a switch on the back. The compact dimensions are perfect for house parties and people who don't have a lot of space for lights.
You can adjust the angle by turn it or rotating the base. Either way, this light lets you choose exactly where you want the light and it comes with four operation modes. All in all, it's the simplest option on our list. If you don't want to have to deal with too many technical features, this is going to be your best bet.
Pros:
+ Easy to set up in minutes
+ Very lightweight and compact
+ Four operation modes
Why We Liked It - We like this LED party light because it doesn't require any extra setup or knowledge. You can get it going right out of the box.
One of the most important factors to take into account when shopping for party lights is portability. You'll need your lights to be sturdy enough to withstand regular transport from one location to the next. Also, it's a good idea to check with the venue ahead of time to make sure that they can support your lighting set up.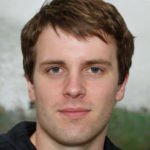 Party Lights Buyer's Guide
Once you've gone through the list, you can begin to narrow down your search. Party lights can be challenging to set up and choose. If you have any questions or concerns about which ones are right for you or how to get them going, check out the questions and answers below. It'll take five minutes but it'll save you a headache!
Are party lights safe to use?
Absolutely! However, as with any electrical device, you should always take the necessary precautions before using them. Big venues like weddings, anniversary parties, and dances can have a whole lot of foot traffic. Make sure that all cables, lights, and other parts of the setup are out of the way. Not only could it trip someone, but it could also start a fire.
To answer the question directly, party lights are just as safe as the lights you have in your house. They're not going to overheat if they're well-maintained, and the products on the list aren't harmful to the skin or eyes. Make sure you secure all parts of the lights before the party starts and you shouldn't have any issues at all.
How do party lights work?
Party lights use the same type of electricity as regular lights. The only difference is that they can change the current to adjust a pattern. The bulbs are also colored differently in some cases. For example, a light with red, green, and blue uses those colored light bulbs. When a color changes, a different bulb is used. Some lights come with bulbs that change colors, but you won't be able to get multiple choices at once if it's a solid light fixture.
Are party light effects bad for your eyes?
Certain party lights shouldn't be looked at directly. Laser lights are notorious for causing headaches and even blindness if you look at them for too long. That being said, you shouldn't ever look directly at any light source. If that were a problem, then the sun would be a huge issue!
The patterns of party lights can be dangerous for people who have epilepsy. Make sure you don't have anyone in the room or nearby who suffers from this disorder. If you or someone at the party is experiencing headaches, you should leave the room or consider turning off the lights. For the average person, a few hours dancing in party lights won't cause any issues.
What are the various party lights that you can get?
There are several different types of party lights that you can get. Depending on the mood, you might want LED lanterns, string lights, illuminated disco balls, and so on. Check out the list above to see the wide array of choices that you can pick from. Keep in mind that many of them come with a remote to let you change the atmosphere accordingly.
How do you choose the best party lights?
Choosing the best party lights requires a few considerations. You should think about whether or not they should be battery-powered, what size venue you're dealing with, and whether or not it'll be indoor or outdoor.
String lights and lanterns are better outside, whereas disco ball lights are better inside. Big areas require big lights, so you can't really illuminate the entire front yard with a single disco ball!
You should also consider the mood of the party. If it's an anniversary for your grandparents, then you should get soft lighting from string lights and lanterns. Unless, of course, they want to dance the night away like it's the 70's!
Are party lights budget-friendly?
If you only want to light up a small room or a section of your house, you can definitely get a budget-friendly party light. Try out the option at number four on the list for something inexpensive and fun.
However, party lights can be a bit more costly if you want to use them for a large area. Take the laser projector at number five for example. This is perfect for large dances, but it might not be so cheap depending on your budget.
Expert Tip
Small rooms light up much better with a single light. To make a big room appear more illuminated, consider adding random appropriate pieces of furniture to reflect the light better.
Did You Know?
Different colors can set moods and change the way we experience a situation. Dimly lit areas make people tired and relaxed, whereas bright places energize and pump up the crowd!
If you've enjoyed this review by Music Critic, please leave a positive rating:
[vc_separator