The ProFXv3 Series mixers from Mackie are elegant re-imaginings of their most popular series. They come in six different channel counts that vary from 6-30, catering for both hobbyist and professional home set-ups.
The original ProFX series mixers provided a great low-cost doorway into mixing like a pro, without too many outputs and processing steps. The simplified functionality makes it a useful and desireable tool for convenient use.
The V3 models have seen a few cutting edge enhancements, namely effects capabilities, from the GigFX effects engine that presents access to reverbs, delays, and choruses galore.
The streamlining of processes allows them to be smaller than your average ten channel mixer. However, we would still say that the cluttered ensemble of controls could overwhelm an absolute beginner until they become accustomed. Despite its compact nature, this product has an angled top for an excellent birds-eye overview of everything and easy access to the whole interface.
Offering professional upgrades and a studio level of quality, this is a compact mixer solution with an array of built-in effects to suit a wide range of needs.
Perfect for live performance use, or studio recording set-ups, this is a versatile mixer that utilizes a brand-spanking-new and capable effects engine. It features a solid-build quality that guarantees it's ready for the road. The buttons and dials are all reasonable for a low-budget product, though they are on the smaller side, so you do have to tweak from the top if you don't want to knock the next inline.
You have access to four simultaneous vocal tracks provided by the four Mackie Onyx mic preamps. Channels one and two are combination Jack/TRS for handling high gain instruments, and the other two are regular balanced XLR connections. They are well-engineered and provide 60dB of gain.
They have built-in compression and deliver smooth signals with crisp clarity for capturing great vocals. There are also 4 x 1/4" jack inputs, 2 of which are stereo and 1/8" stereo input (3.5mm) that could be used for MP3 players and other devices.
Each channel has dedicated gain dials (2 for mic inputs) and its own three-band EQ with a 100Hz low-cut filter as well. They can all be panned left or right and muted in an instant.
The GigFX engine serves up seven-room reverbs, including a concert hall and cathedral, two-plate reverbs (small and large), classic spring reverb, and a retro slap-back reverb.
There are two different chorus effects and a wide range of delays, such as echo, a double, and ping-pong style delays. There is also an overdrive and distortion for adding some noise to the track.
In total, there are 24 effects on offer, including an auto-wah and flange. All effects can be muted in a heart-beat, and there is a pedal connection for foot operation.
You have balanced and unbalanced outputs on the right-hand side, with your main left and right levels, and a mute all tracks button. There's also an FX send, and a headphone output with a dedicated level dial, to keep earphone monitoring at safe and comfortable levels.
It also has a USB output for playback that you can use to connect to your PC or Mac to record and edit in your DAW.
Mackie Profx10V3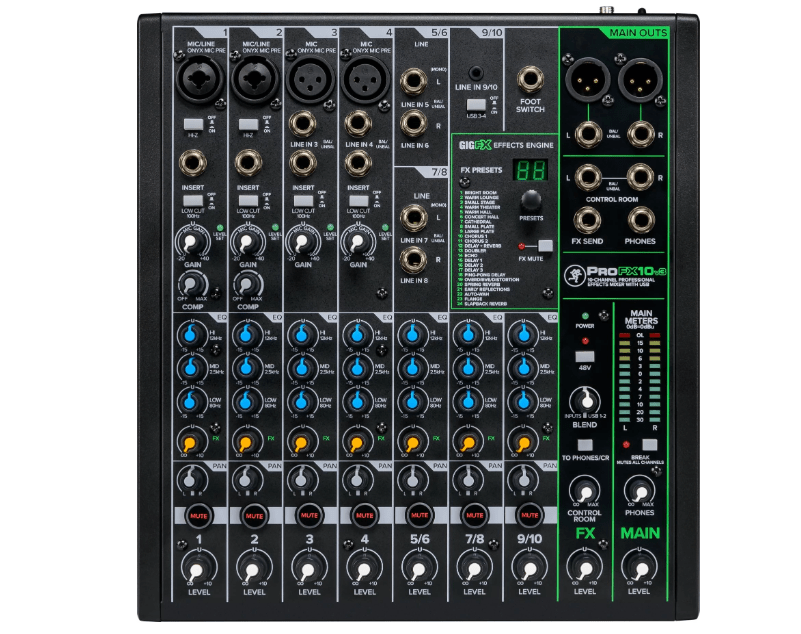 Summary
The ProFZ line from Mackie is a commendable series of simplified mixers for a quick-set-up and easy FX. It's ideal for live use, and has a USB out for DAW recording in 24-bit/192kHz A/D resolution, acting as an audio interface.
The ProFX10 offers ten channels, including two combination high gain inputs, two balanced XLR's, four quarter-inch, and two stereo inputs). Each has gain, 3-band equalization, and channel compression. Mic channels come with 48-volt phantom powering for condensers, all pan, and can be muted individually or totally.
The on-board GigFX engine makes mixing a doddle, no matter your sound-engineer experience. It presents a decent range of recognizable reverbs, including room, plate, and spring reverb. It also comes with a couple of chorus settings to explore, and some significant delays that can go from subtle to ping-pong.
This mixer is a very compact option. It's surprisingly solidly-built for a lower-end mixer. Not to mention, it also has balanced and unbalanced outputs, an FX send, and headphone monitoring.
Pros
+ 10 channel mixer.
+ Compact dimensions.
+ Balanced and unbalanced connections.
+ Class A preamps.
+ 2 x Hi-Z inputs.
+ 48-volt phantom power for mic channels.
+ Channel compression.
+ Low-pass filters.
+ GigFX processing.
+ 24-bit/192kHz Analog to digital conversion for pro recordings.
+ USB out for playback and DAW hook-up.
+ Headphone output with a volume dial.
Cons
- A little cluttered with everything except power top-mounted.
Why We Like It
The ProFX10 is a well-manufactured, compact mixer that features plenty of channels accommodating most regular set-ups. It has been designed to make workflow simpler. It has a very user-friendly FX engine that takes the tricky work away. It's perfect for smaller applications.
If you liked the article, please leave your feedback.