When you have a heavy workload to handle on a regular basis you aren't likely to be relying on a regular mouse and keyboard in your DAW regardless of what type it is, today we are going to discuss the best MIDI controller for FL Studio.
Whilst there are plenty of parties trying to get in on the action there are currently only a few key contenders at the top of their game in top demand at present. So let's just get straight to the point now and clarify that you are going to see a few companies mentioned a little more than others in this article.
The job of a MIDI controller is almost infinitely definable seeing as it can conceivably be set to control anything and everything. Therefore, it is important to know what you want out of it in order to pick the best for you which we will address further on in our buyer's guide but first, let's take a look at our picks.
At a glance:

Our top 3 picks
Our team's top 3 recommendations
Best Overall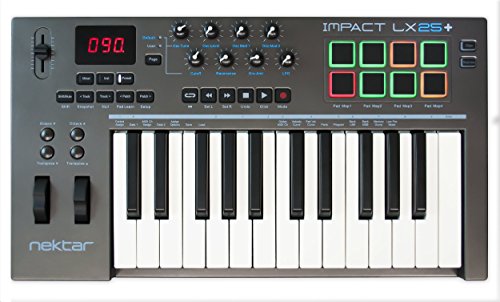 Nektar Impact LX25+

Range of controls on offer.
Navigable layout.
Syncs on startup.
Premium Quality

Nektar Impact LX49+ Keyboard Controller

Range of controls on offer.
Navigable layout.
Syncs on startup.
Great value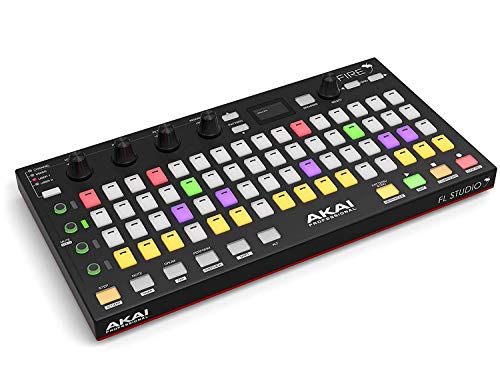 Akai Professional Fire | Performance Controller

Range of controls on offer.
Navigable layout.
Syncs on startup.
View The Best MIDI Controller for FL Studio Below
First up for dissection is the LX25+ model from Nektar a front-running company when it comes to MIDI control these days. Despite being designed for use with the Nektar DAW it is interchangeable with a whole host of others.
It is a well-made product with a clear and decisive layout that sees to it that everything is easy access. It has a nice mix of control types for choice too.
It features semi-weighted keys spanning 2 octaves which give them a less synthesized feel and makes the response more natural. It has octave and transpose buttons along with 2 wheels for pitch and modulation bends.
It has 8 back-lit beat pads which are suitably velocity-sensitive, they are set to 4 velocity curves and 3 are fixed. 4 can be mapped for retrieval and you can clip and save scenes at the touch of a button and they help do away with complex menus.
In addition, there is a miniature fader bar and 8 rotational pots which reflect the Nektar dials but which can take care of everything from oscillation settings, resonance, and cut-off, or be mapped as individual channel controls.
It connects via USB and is also compatible with android devices should you wish. It has a 1/4" jack auxiliary input for hooking up a foot-operated switch.
It is a diverse piece of machinery it has easy transport and navigation buttons and benefits from a clear display. It is facile to use as it syncs straight to your DAW and is even sold with an optional free DAW as well as a bunch of handy software patches to play around with.
Pros:
+ Range of controls on offer.
+ Navigable layout.
+ Syncs on startup.
Why We Liked It - It retails accessibly and is a versatile option because of its multi functionality. The weighting gives it a more realistic response and keeps control in the hands of humans.
Why use an Akai Fire -The Akai professional Fire controller is the obvious choice since it was explicitly designed for FL Studio. Many people ask why they should bother with it when it's just a hardware copy of the FL Studio sequencer. But that's the point; it doesn't let you do anything new; it just lets you do it in a hands-on way. You will work much faster with it than you will without it.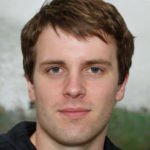 2. Nektar Impact LX49+ Keyboard Controller
With the LX25 fresh in your minds, let's take a quick look at the 49+ version which has a little bit more than just a longer piano playing area to provide.
It provides essentially all of the above features which are once again conceived for ease of use with the companies proprietary DAW.
On top of the specs of the kit controls above you get 8 individual fader-style sliders to use as channel controls freeing up the pot dials to use for equalization and chorus controls exclusively making workloads more effective to handle.
Of course, you get 49 instead of 25 weighted keys making this an ideal option for those who play the piano or keys as an instrument rather than just a VST control.
It also has a few extra menu control buttons which make navigation a doddle and give you more freedom over the pads in general. It, in fact, has 26 real-time controls for streamlining your live work processes.
The velocity-sensitive pads are back-lit with color-coding like the smaller model and the I/O options are the same, once again allowing for an additional footswitch connection.
Pros:
+ 4-octave keyboard.
+ 8 pads/8 pots/8fader-style sliders.
+ Full set of navigation keys.
Why We Liked It - It is a perfect example of a full-range MIDI controller it maps beautifully to FL studios and is very tactile and provides a realistic manual remote.
3. Akai Professional Fire | Performance Controller
Over to Akai now for another professional alternative created with FL studios specifically in mind and even sells with a downloadable version of FL20 fruity edition.
It is a MIDI controller packed with pads and perfect for beat-makers and sample-heavy producers.
The layout is well-organized despite being chock-a-block with 64 RGB back-lit triggers, they are arranged in 4 rows of 16 and are an effective command center for your DAW, syncing automatically.
They allow you to rapidly program in real-time either one bar of 16 beats or 4 bars of 4 beats. Their crowning glory is their scale-locking and mode selection which allows those with less music theory or practical melody playing skills to develop chords etc without traditional keys.
You can use shift along with the selection dial to choose a channel which is indicated clearly on the LED screen. You can adjust the volume, panning, filter, and resonance with the 4 provided assignable 'Touch-Capacitive' knobs.
It also has dedicated buttons for step, note, drum and perform which have secondary actions of accent snap tap and overview as well as a separate metronome.
Pros:
+ Developed for FL studio use.
+ Improvise rhymester directly from your FL channels.
+ Beat by beat pad layout.
Why We Liked It - It is an impressive piece of kit which effectively eliminates the need to touch a regular computer keyboard during FL Studio use, well done Akai - hats off to you.
Enhanced workflow - Whatever controller you choose, it should be the one that allows you to work quickly and easily. If you work mostly with samples or clips, a pad controller might be better for you than a keyboard. If you're more of a finger drummer than a keyboardist, something like an MPC or Launchpad might be best.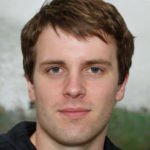 4. Nektar 49-Key Impact GX49 Controller
Back to the Nektar range for another 49 key instrument-based option from the GX series which, whilst being a little more basic when compared to some of the more modern options out there, has a decent range of important functions.
This MIDI keyboard was primarily created for use with Steinberg (Cubase) and is focused on VST instrument playing so it has a few fewer bells and whistles but it is compatible with FL studios and works as a VST remote perfectly and can be mapped to use for other applications.
The keys are very realistically weighted and have a natural response that is velocity-sensitive. It has an assignable potentiometer which can be used to control virtually any parameter. The first 14 are MIDI-assignable and have some built-in primary functions that are auto-mapped.
The keyboard also has pitch and modulation wheels, octave transposition and a dedicated set of navigation controls and allows you to pause play and record without a mouse. It is currently selling with a copy of Bitwig 8-track DAW and Steinberg Padshop Pro.
Pros:
+ Easy to use.
+ Instrument based.
+ High-quality weighted keys.
Why We Liked It - It is a stripped back traditional MIDI keyboard controller with great quality keys and all the essential controls you need to sit back and use your chosen DAW remotely.
5. Nektar Impact LX61+ Keyboard Controller
This next review is going to be pretty concise as it is pretty much the expanded version of the Nektar Impact LX49 + which we have detailed in our second spot. We have included it because of the price hike between the two is so nominal and the benefits, if you are a gifted pianist, are well worth the step-up.
It really only brings extra keys to the table, which is fantastic for the piano players out there who need something a little more liberating to improvise on.
Many MIDI controllers which include a set of keys can be a little restrictive for an instrumentalist to play with and despite the inclusion of octave selection buttons they don't allow for authentic sweeps across more than one or two octaves, but having 61 keys gives you more than half a piano to play with and substantially affects what you can and can't translate to a digital audio workstation.
If you want an overview of the additional 8 trigger pads, 8 fader-style sliders and rotary dials you are going to have to scroll back over products 1&2 for the down-low.
Pros:
+ Nearly full-size piano space.
+ A mixture of additional tactile controls (pads, pots, fader-style sliders, wheels, buttons.)
+ Full-range comprehensive professional MIDI controller.
/vc_column_text]
Why We Liked It
- It packs so much in and provides an ample area for traditional instrumental VST control and still retails for a reasonable price.
6. M-Audio Keystation Mini 32 MK3
The Keystation Mini from M-audio is another basic MIDI controller option. Sometimes keeping things simple is the best way to go.
It is a compact low profile option which has a 32 key piano core with MIDI-assignable keys. They are miniature in size but are velocity-sensitive. The smaller size allows the company to pack in just over 2 and a half octaves in an area which would typically house just 2.
It maps to configure with the majority of major DAWS with relative ease though some more obscure options may need a driver download.
It features octave range buttons to give you more than 32 notes, pitch bend and modulation buttons in place of larger wheels and a dedicated volume dial as well as a genuine piano sustain function. The transport controls have been cutback somewhat but you can record/play/stop via the device itself eliminating mouse use.
The Keystation Mini sells with XPand!2 and a premium ProTools edition created especially for the M-Audio range.
Pros:
+ Simple functionality.
+ Compact model.
+ 2.6 octaves of keys.
Why We Liked It - It is another MIDI remote option which would be great for a beginner as it is very simplistic in its design and therefore easy to get to grips with. The keys are on the smaller side but that gives it a bonus for those who need something to drag around.
7. Alesis V49 49-Key USB MIDI Keyboard Controller
Now for an Alesis alternative which again meets the multi-medium specs that the majority of us are looking for.
It is a high-end MIDI Keyboard idyllic for VST control, that features 49 full-sized keys to give an authentic playing feel. The keys are velocity-sensitive to enable expression and they are square-fronted, which is an important oversight with some models.
The keyboard presents a decent range but is also assisted by your standard octave up and down buttons along with pitch bend and modulation control wheels.
It is also equipped with 8 velocities/pressure-sensitive pads to cover your beat production needs. They are back-lit for visual feedback. They have a great response and are also set to handle your clip launching.
As well as that you get 4 fully-assignable knobs and 4 assignable buttons which work together to allow users to activate filtering and adjust just about anything interfaced within the chosen DAW software.
It syncs pretty effortlessly and comes with an exclusive Alesis version of ProTools along with a handful of other premium software downloads including a pretty decent piano VST.
Pros:
+ Great combination of different controls.
+ Velocity and pressure-sensitive for expressive creation.
+ High-quality square-fronted piano keys.
Why We Liked It - It presents great versatility in terms of DAW control the piano part has a good durable and realistic feel as do the pads and it retails economically as well.
8. Novation Impulse 49 USB Midi
Next up we are taking a look at a full-range control surface from Novation which features a combination of multi-functional drum-pads, fader-style sliders, and buttons on top of a keyboard.
The keys are only semi-weighted but are very responsive thanks to Novation's Aftertouch Impulse technology that allows users to capture the expression they play with.
It has an uncluttered layout and has a custom LCD screen to help with navigation. It is easy to plug and play thanks to its Automap 4 control software which is tailored to Ableton (which it retails with along with a bonus bunch of plug-ins) but with a little mapping can be reconfigured to run in FL Studio non-problematically.
Aside from primarily handling your beats, the 8 velocity-sensitive pads can launch clips and even tweak more melodic tasks like for example warping arpeggios. They too share the Aftertouch tech and are sensitive to the playing style. They are back-lit with colored LEDs and work in real-time.
There are 9 fader-style sliders and 6 dials, all of which are MIDI-assignable to channels or plugin settings and can handle the incremental filtering of literally anything you have patched.
Of course, it has your standard transpose along with pitch bend and modulation wheels as well as transport buttons. You can also hook up external MIDI instruments via the I/O ports.
Pros:
+ Full set if DAW controls.
+ Aftertouch Tech.
+ Multifunctional and fully assignable.
Why We Liked It - It is a very versatile option and though it takes a little while to configure the transport mapping the piano roll auto-syncs immediately and it is suitable for FL Studios.
9. Novation Launchkey Mini 25-Note
Sticking with Novation for another less chaotic option for those who might feel a little overwhelmed by the impulse models, we have the Launchkey range which is not only quicker to learn but priced at a very accessible level.
It features a 25 note compact keyboard that covers 2 octaves and has octave selection buttons for instrument-based control.
They operate alongside 16 back-lit velocity-sensitive beat pads track and scene select buttons. The pads take care of clip launching and allow users to work in real-time with a section on a loop to create a beat on the fly neat by beat. The expansion of 16 in place of a typical 4 (on a smaller 25 key model) gives the user much more control over their bars.
In addition, there are 8 rotational dials which are MIDI-assignable providing a good deal of manual manipulation for your DAW they are again built with Ableton in immediate mind but can be mapped to match FL studio use with relative ease.
Pros:
+ Practical.
+ Affordable.
+ Good mix of tactile options.
Why We Liked It - It is a budget-friendly option and whilst it doesn't boast many shiny bonuses it provides some flexibility over control and doesn't go overboard.
10. Worlde 25 Key USB Portable Tuna
Our final contender is another smaller 25 note option from the Vangoa Worlde team which makes for another versatile remote in a space saving package.
It is an aesthetically pleasing model which has a convenient and easy to navigate layout. The Tuna is a jam-packed piece of hardware with a range of different operative methods.
In spite of its smaller footprint it still somehow manages to squeeze in 8 pads, 8 sliders, 8 dials and two intuitive touchpad sliders for the pitch bend and modulation.
In addition, you also get the all-important dedicated transport and mode control buttons which make interfacing with your DAW a doddle.
They are velocity responsive and the notes of the piano part are octave adjustable. Additional parameters can be assigned to the keys themselves and it gives users fair and flexible control of their chosen DAW.
Pros:
+ A versatile range of tools.
+ Easy to use.
+ Compact and lightweight.
Why We Liked It - It has great practical applications, it provides a range of tactile options and is fully assignable and easy to map we like the accuracy of the touchpad sliders.
Keyboard controller - A keyboard controller is usually the most popular choice for any DAW. The reason they are so popular is that they are the most versatile. Even budget keyboard controllers come with some assignable controls and sample pads. So, if you want an all-rounder, stick with a keyboard controller.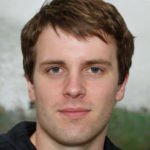 MIDI Controller for FL Studio Buyers Guide
What is a MIDI Controller?
It is a piece of hardware modeled on earlier MIDI keyboard/synthesizer and sequencer models which came before designed with music production in mind to replace a traditional keyboard and mouse computer peripheral.
MIDI is an acronym for musical instrument digital interface for those who were wondering.
What is FL Studio?
Fl Studio is a digital audio workstation software which was first released in the form of Fruity Loops if you can remember far enough back. Which has evolved over the years into an all in one station to effectively handle the music-making process from start to finish?
Because of its flexible and potentially infinite possibilities, it is used within the industry by both those at the top as well as those just starting out. It is a fairly simple program to manage but the management is better suited with the correct controller which is why we are talking MIDI today.
Do I Need a MIDI Controller for FL Studio?
Technically speaking your DAW can be operated without any form of MIDI controller but you are going to find your turn-around is far longer and that you will first have to learn the arduous task of how your keyboard is mapped to the software.
Some people manage to play a computer keyboard like a piano eventually but the keyboard you have has been designed for typing and doesn't really have any consideration within its design in regards to velocity.
Electronically produced music is always at risk of sounding too synthetic or cohesive when a band plays a piece of music there are always nuances within that give it character. In its most simplistic form, this is the dynamics of how softly an arpeggio is played or how heavily a chord is hammered. Which is difficult to recreate with a computer keyboard.
But via a MIDI controller designed to pick up the velocity more astutely, it can be translated without the need to go in and draw the velocity by hand with a mouse which can be done but is very finicky.
Likewise controlling a VST drum-kit to create an authentic-sounding beat and relying on the split-second reflexes of a computer mouse or keyboard for something as crucial as the tempo, it is better with a piece of kit designed for the task in hand.
Mastering your DAW with a mouse can take a lot more patience especially when it comes to filtering adjustments in terms of your EQ if you don't have a mouse wheel to help a little it can be tough to click and select a virtual dial and adjust levels.
What Type of MIDI Controller?
As you will have noticed the main types of MIDI controllers on the market seem to be either instrument based (piano/keyboard) or pad/button based the latter of which is often referred to as alternative MIDI controllers.
Depending on your instrumental abilities and knowledge and indeed the style of production you have a penchant for the two types aid the producer in very different ways.
If you favor VST instruments over samples you ought to look for the most realistic keyboard-based MIDI controller with at least 32 keys.
If you do a lot of rhythm and bass work and sampling you might prefer the simplicity that pad-triggering presents.
If you are still undecided sometimes the best route is to go with a mixed-medium option which offers the best of both worlds even if this means you need to opt for something with fewer piano keys, you can always branch out at a later date with a MIDI keyboard solely for instrumental use in the future.
That said, an overly complex model is probably not a great idea for a complete newbie as they can take a little time to learn the ropes.
What to look for in a MIDI Controller for FL Studio?
Hopefully what to look for will largely have been spelled out in the previous guide sections as it really is down to the individual, their needs preferences and of course budget.
FL Studio is a DAW trusted and used by professionals and hobbyists alike. Any MIDI controller is going to give the user better manipulation of the software plug-in suites, VST's and plug-ins and the good news is a decent MIDI controller these days doesn't come with an unrealistic price tag.
That said the more you spend the better you will find the quality of the response and the versatility of the controller, generally speaking. The beauty of MIDI control is it
Fl Studios gives users access to a pretty practical audio-workstation core and once you are settled on the best type of MIDI controller for your needs all you really need is some transport keys and a rotary dial to control the amount of whatever you are selecting.
You will need a channel select unless you want to do that via your mouse and then the amount of MIDI-assignable triggers whether they be keys or pads and pots or fader-style sliders is all you really need to consider next.
Conclusion
As you will have seen from our selections the market has a fair amount to offer in terms of manipulating your audio workstations and it really does just depend on the type of control you prefer.
Some of us value the tactile experience more than others and have a need for an authentic control, with the extreme side being the need for knobs to dial a virtual knob and a select few who won't settle for anything unauthentic in its place.
Your needs are key if you are a beat-maker you are going to benefit a lot more from a range of trigger pads than others etc.
Hopefully, today's guide will have helped make that clear and we trust our picks represent what is available to you.
Expert Tip
If you are looking for something a little less cluttered with a smaller footprint and don't require a keyboard you could try having a look at Akai's Professional LPD8 which is a slimline 13-inch option with 8 trigger pads and 8 pot dials as well as function menu buttons.
Did you Know
MIDI controllers where originally keyboard-based but now come in a range of alternative forms as we have discussed in our guide section, the newer models paving the way for electronic drum-kits etc.
If you've enjoyed this review by Music Critic, please leave a positive rating:
[vc_separator