Are you in the market for a small yet punchy synthesizer that gives you ultimate control over the sounds you're creating, plus vocal recording and adjustments like no other, as well as a ton of fantastic features that will help you turn your creative inspiration into a reality? Draw your attention over to the MiniNova.
Whether you're looking for musical inspiration to get you started, or you know exactly what you want to create but need the right tools for the job, the MiniNova ensures it ticks all the boxes. Compact in size, this keyboard synth comes with 37 keys and a Vocoder feature. Let's go into the details.
While this is a model that's based on the more premium Nova device, known as the UltraNova, this does have the same engine inside, which means you get all the power of an industry-leading device but for an affordable price tag. Not to mention, the learning curve on how to use it is effortless.
Inside this device, you'll find an incredible 256 onboarding presets complete with a 20-slot modulation to stack. You can string all these unique sounds together into an impressive track. Of course, there are plenty of dials and knobs to adjust each sound, each preset, and each modulation, which means there's basically an infinite number of possibilities when it comes to what you can make.
Since the MiniNova is one of the most powerful synths that Novation has ever created, it houses some of the highest-quality sounds and patches out of any synth available on the market. This includes a collection of 14 traditional analog waveforms, featuring triangle, square, saw, sine, etc., 36 wavetables, and then an additional 20+ digital waveforms.
You can then apply up to two of any of the 14 unique filters, plus six envelope generators, and a collection of LFOs, and then add and layer up to five unique effects from any of the collection, such as compression, EQ, chorus, delay, distortion, and even Novation's coveted and world-renowned Gater effect.
As you can see, while small and affordable, this device is absolutely loaded with features and functions, and the chances are you're never going to be able to utilize what this synth has to offer fully. It may look and feel confusing to start using this synth if you've never used one before, but trust us when we say the learning curve is minimal.
Within a few hours of using this device, and you'll soon have mastered the basics. You'll be making fantastic-sounding samples in next-to-no-time. Everything is really simple to use - all the buttons and dials are backlit for easy navigation, and there's even an integrated LED screen to make it super easy to see what features you're using at any time.
If you do need any help when getting started, the comprehensive instruction manual provides lots of information, plus there's a thriving online community surrounding the Novation product line that can answer any questions you may have.
Novation Mininova 37 Key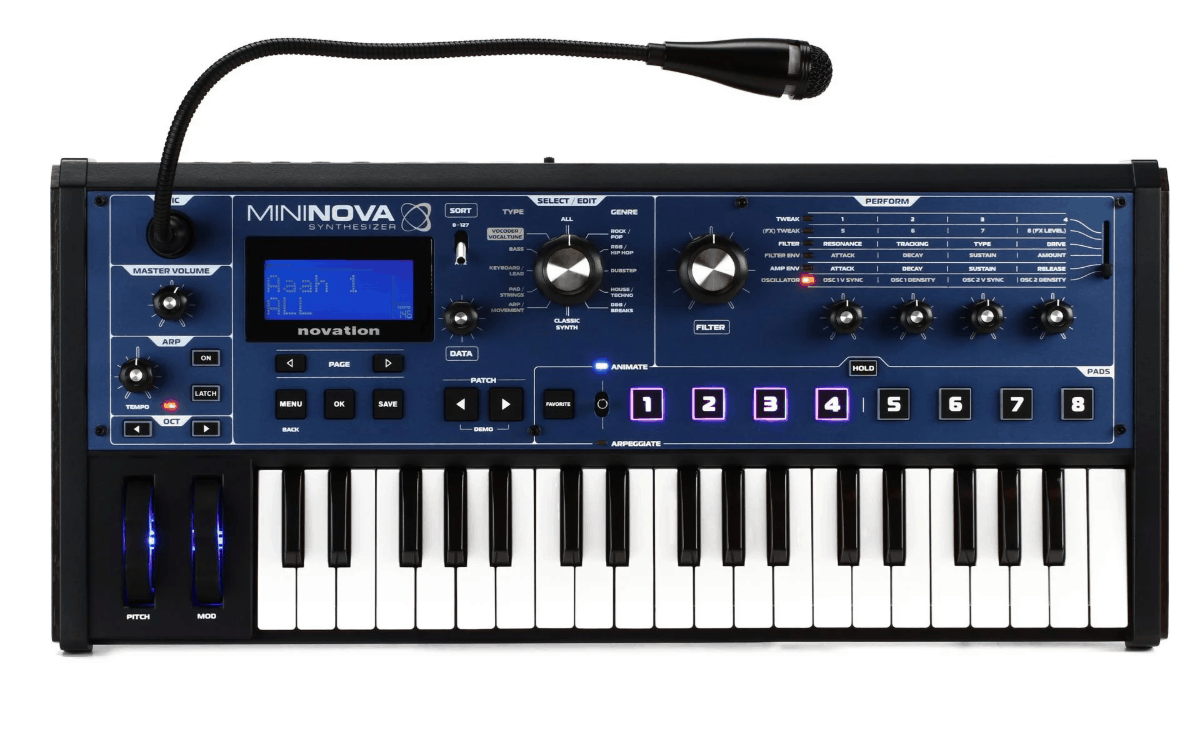 Summary
All in all, it's easy to see that the MiniNova has an absolute ton of things to offer both new musicians and producers who are looking for a device to get started, plus experienced producers who want a complete and all-rounded production experience. This is one beasty synth, and there's no denying it's one of the best in the world.
Pros
+ It contains a fantastic selection of controls, effects, waveforms, and presets to ensure you have everything you need to get creative and turn your audio inspiration in an actual track, sample, or song.
+ Beef up your sounds with countless filters and effects to further customize your sound on the fly. Simply use the buttons and select the effect on the screen before using the backlit dials to adjust the intensity. It's that simple to use.
+ It contains a Vocoder feature, allowing you to record your voice into the synth and add these sounds to your samples, or for recording onto of samples and synth sounds.
+ Perfect for beginner producers who are looking for a fully functional synth to help them get started and learn the basics while remaining powerful and professional enough for more experienced producers looking for a complete experience.
+ While small and compact, this device contains the same engine as the older, more premium UltraNova device, meaning you get the same level of power and control over your sounds as the industry-leading synths.
Cons
- The dials and controls may seem a little small due to the compact size of the device, which may be a little difficult for people with larger hands. Also, labels on the controls look very small and may be difficult to read for some people.
Why We Like It
Hand's down the best feature of this device is just how much fun it is to use. It doesn't matter whether you're a hobbyist who just loves music, or a professional who wants to be creative in this way for a living, the highlight of your week is going to be turning this device on and jamming out.
If you liked the article, please leave your feedback.