While finding the right synthesizer can be hard work, especially since there are so many out there with lots of different features, functions, and purposes, Yamaha has successfully made things more comfortable with their coveted Reface CP piano synth. Let's explore it.
This 37-key mini keyboard comes fully loaded with six unique keyboard models and types to choose from, allowing you to experiment with your outputted sound, and create the kind of music you want to create. Interestingly, the majority of these keyboards are based on iconic Yamaha keyboards of the past.
This includes world-renowned keyboards, an example being, the iconic Yamaha CP80. There are also other keyboard types, including Reed, Clavi, Tine, Toy, and more. In addition to all this, you even get access to several effects that can be activated manually or via a stompbox device (not included).
These effects include your standards, such as Tremolo, Delay, Reverb, Phaser, and Chorus. All together, these features grant you full control over the sounds you're creating and open the door to a ton of possibilities as to what you can achieve creatively. The vintage styles of all these features is a really nice touch, and you're sure to fall in love with all the sounds you can make. That is, if you haven't already done so in the past.
Quality is maximized with this product, of course, especially since quality is what Yamaha prides themselves on. You'll be able to enjoy all your sounds in true 128-note polyphony quality that ensures everything sounds perfect.
You'll even be able to take your keyboard and utilize it in lots of different ways. For example, you can use the built-in USB ports to connect this keyboard to your computer and use this as a MIDI keyboard with your preferred DAW application, or even a dedicated iOS device.
You can even connect this device up to most other devices using an AUX cable. This is perfect if you want to play along with music from a mobile device, tablet, computer, or MP3 player. You can even take things one step further than this by using the dual-line outputs to connect to other, more professional rigs and equipment, such as mixers, DI boxes, and professional audio interfaces.
There's no denying the pure and raw experience this keyboard has to offer, especially since it's backed by dozens of highly positive reviews from both critics and users all over the world alike. In fact, you'll be hard-pressed to find someone who can't find something they don't love about this device.
With rich sounding speakers and independent headphone ports, so you can hear exactly what you're playing and what music you're creating, there's literally no reason you'll need to go with any other model. Yamaha has, once again, raised the bar of expectations.
Yamaha Reface Cp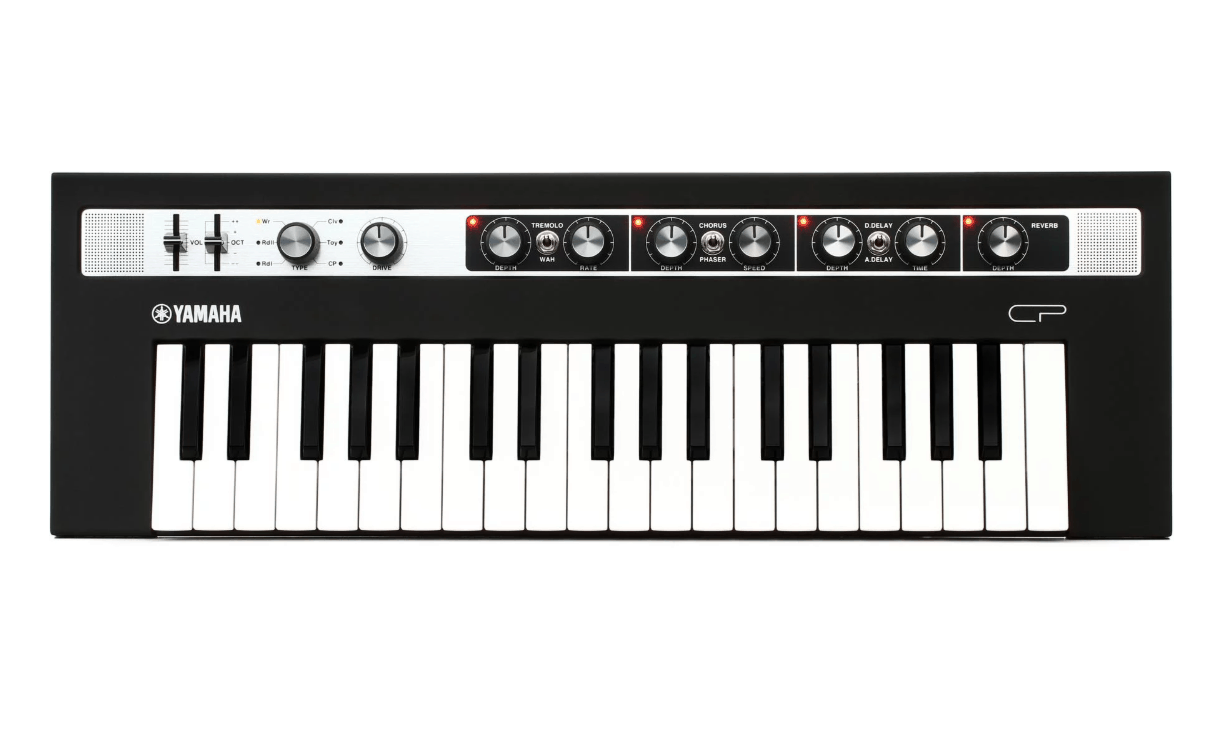 Summary
It doesn't matter whether you're making music as a hobby or whether you're a professional musician and producer, with a ton of features you can sink your teeth into, this Yamaha keyboard MIDI controller is everything you'll need.
Pros
+ It features Yamaha's coveted vintage keyboard, which contains no fewer than six unique keyboard types to help you customize your sounds, all adjustable with five stompbox-styled effects.
+ This is one of the most portable synthesizers since it can run off a standard power cable and adaptor, or six AA batteries, with an operational time lasting up to five hours.
+ It can be connected to a computer or iOS device using the USB port connection. This also allows you to record your sounds in full HD or control your DAW application using the keyboard as a MIDI controller.
+ Play your music out of any device using the AUX connection, including tablets and mobile devices, to really add a new element of freedom when it comes to the playback of your device.
+ While packed with features, this device is effortless to learn, and there's so much creative potential to explore, that you can guarantee this keyboard will keep you going for years to come.
+ The Yamaha brand. Yamaha has been a leader in the design and manufacture of audio equipment for decades now, and this level of quality and reliability that they're famous for is evident in this unique and very special keyboard. This is a device you can trust.
Cons
- This is a mini keyboard with 37-keys, so if you're looking for a full-sized keyboard, this is probably not for you. However, it's well worth considering due to the fact it simply has so much to offer.
Why We Like It
Portability is key with a device like this, and thankfully Yamaha has done an amazing job and making sure this keyboard fulfills everybody's needs. You can run this keyboard with a standard power cable, or you can run it solely off six AA batteries, which provide up to six hours of charge, meaning you really can use this keyboard anywhere and everywhere!
If you liked the article, please leave your feedback.