Disco balls have been the life of a party for decades. Whether you're looking to invite some friends over for an exciting night or have a blast during a wedding, getting a disco ball can completely change the atmosphere.
Made out of a series of mirrors wrapped around a sphere or cube, disco balls have become an essential piece for events. There are all sorts of options to pick from, but our job is to make sure that you end up with the right one.
After searching for countless hours through numerous article reviews and customer feedback, we've come up with a list of the best disco balls that money can buy. No need to worry about it falling apart or being faulty. We've done our studying, so you don't have to!
Some disco balls have speakers, while others have lights. You might even want to stay with the classic appearance with nothing but the mirrors. Either way, your new mirror ball sits in the list below!
View The Best Disco Ball Below
1. ADJ Products M-800 Disco Mirror Ball
If you already have a decent light setup, then there's no need to get an illuminated disco ball. The ADJ Products M-800 Disco Mirror Ball is a classic addition to anyone's party collection. Dozens of tiny square mirrors reflect the light in a random order to create an exciting effect. All you have to do is throw on some music!
Sometimes one disco ball isn't enough. If you have a large venue or backyard, you can get a bigger set for a lower price per unit. You'll also have the choice of buying an 8-inch, 16-inch, or 12-inch disco ball. The 8-inch model is the perfect small disco ball for bedrooms and house parties without a bunch of space.
All in all, being able to have a budget-friendly disco ball is a steal. They're timeless and useful for all sorts of situations. This particular product comes with durable tape to stick it wherever you want to. The tape is also useful for a variety of other situations, and it's free with your purchase.
Pros:
+ Comes in three different sizes
+ Perfect for parties and events
+ Tons of tiny mirrors to reflect more light than traditional disco balls
Why We Liked It - We like this mirror sphere because it adds tons of extra reflective surfaces to make light shows even more fun!
Atmosphere - Disco balls can be a great way to add a little extra pizzazz to your next performance or gathering. Be sure to consider the portability of your choice disco ball. You'll want to make sure that you can easily take your disco ball from one location to another. If you're prioritizing portability, it's also worth considering whether or not your ball has a built-in mounting system or lights.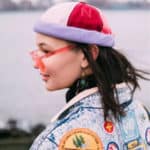 2. SStechi Move Head Stage Disco Ball
The SStechi Move Head Stage Disco Ball is the ultimate party accessory. You can direct lights wherever you want with this stylish mirrored ball light. It has a variety of colors to keep every surface constantly changing. Mixed with some good music, there might not be a better setup that you could come across!
The two hinges on this disco ball let you angle it in all directions. Choose to shine it in the corner for focused lighting or let it hit the ceiling and floors around it. Perhaps the best part about owning this product is that there are tons of ways to customize the light pattern. It's also nice that you don't have to buy other lights separately.
You can also set a specific button to make the ball turn around the clock. This will keep the light pattern random without you having to do anything. There are even a strobe setting and multiple control modes to look through. If you're someone who throws parties often, this disco ball is going to be a huge part of it all!
Pros:
+ Comes with multiple light settings
+ Several unique colors all at once
+ Perfect for big parties
Why We Liked It - We like this mirrored ball because it has its own lights built-in.
3. LED Crystal Ball Effect Light
Getting your hands on a mini disco ball is a fun way to brighten any event. The LED Crystal Ball Effect Light is a budget-friendly mirror ball for anyone. Whether you want to use it in a room or in the backyard, it'll provide plenty of light.
One of the most impressive features of this disco ball is how long it lasts. With 20,000 hours of life, you're bound to get enough usage out of it. It even saves tons of extra energy that you might use if you had a more expensive model.
If a crystal mirror disco ball isn't enough, then it gets even better. The base of this ball has the option of rotating. Keep the party alive with multiple settings, rotations, and more. At only 4.5 inches by 2.25 inches, you can store it almost anywhere.
Pros:
+ Comes with a rotating base
+ Super compact and easy to use
+ This LED disco ball comes with multiple color options
Why We Liked It - We like this disco ball because it's compact, budget-friendly, and it can light up a big room.
Setup Time - Don't forget to factor in enough time to properly mount your disco ball. Depending on your plan, you may have to also budget for a mount with a motor to spin your disco ball. Or, you can combine your static disco ball with additional lighting for a showcase unlike any other.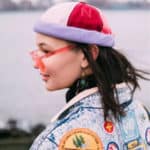 4. Spriak 7 Color LED Disco Ball Lamp
Another budget-friendly choice on the list is the Spriak 7 Color LED Disco Ball Lamp. The most notable feature that you'll love is the remote. You can change the light colors, turn it on and off, adjust music, and much more.
Having a remote separates this from the competition, but it gets even better. The lights reach much further than other disco balls in the price range. Illuminate an entire bedroom with the click of a remote.
You can also adjust the angle of this disco lamp, giving you a full range of lighting. Whether you're using for a wedding, a party, or giving it as a gift, this is a top-notch disco ball for a low price.
Pros:
+ Very budget-friendly
+ Comes with a remote and several settings
+ Long plug-in cord extension
Why We Liked It - This disco ball from Amazon has everything you could want in a low-cost unit.
5. DJ light Sound Activated Light Up Disco Ball
The DJ Light Sound Activated Light Up Disco Ball has many similar features of the previous entry, but with a twist. Easily adjust the angle with locking knobs for the perfect lighting direction. They twist and lock in seconds!
The wide glass polygons on this product help project big lights to produce an even brighter effect. You can plug it in almost anywhere thanks to the long plug-in cord. It's super compact, making it easy to store or use in a busy area.
Another great feature that much of the competition skips over is the hanging area. You can hang this light up from the handle or use the handle as a stand. This allows you to set it up virtually anywhere.
Pros:
+ Wide illumination with several lights
+ Hang it or stand it on the handle
+ Fantastic light up disco ball for the price
Why We Liked It - This is one of the best disco balls for sale because it provides tons of light from a small unit.
6. Eliminator Lighting Mirror Party Ball
Getting a large disco ball is a huge statement for all sorts of events. It sets the tone for an unforgettable night when everyone can have a blast. The Eliminator Lighting Mirror Party Ball is a great selection for people who want a classic mirror ball.
Hundreds of tiny square mirrors decorate the outside of this product. Spinning it with reflect lights in random directions, or you could let it stay in one place for stage setup. The simple design proves why it's lasted for so many years without having to change.
Customers truthfully feel that this is one of if not the best disco ball available. If you don't need all of the extra lights and speakers, then this one will do just fine. It's a standard 12-inch disco ball for a great price!
Pros:
+ 12 inches to reflect in a wide area
+ Perfect to use right out of the box
+ Hundreds of mirrors
Why We Liked It - We like this cheap disco ball because it resembles the classic ones that we all know and love.
7. VisualEffects BM5 Battery HD Mirror Ball
The VisualEffects BM5 Battery HD Mirror Ball is the best way to spice up a party. If you already have a disco ball or you want to get a good pairing with this product, you'll love the results. It holds disco balls all the way up to 12".
Depending on which size you purchase, you can also get one that accommodates 16-inch and 20-inch disco balls. The chain that hangs down secures the ball in place, but it also lines it up with the lights above.
The lights change colors to reflect off of the disco ball. This is exactly what you need if you want a true stage-like party lighting setup. You can turn it on and off with a simple switch on the top.
Pros:
+ Accommodates disco balls of all sizes
+ Shines tons of lights on the ball
+ Easy to turn on and off
Why We Liked It - We like this product because it has plenty of lights to brighten up a party.
8. Yescom 12" Mirror Glass Ball for Disco
If you want a 12-inch disco ball that you can hang up and use immediately, then stay tuned. The Yescom 12" Mirror Glass Ball for Disco is a classic disco ball that comes with a twist. You can buy the bundle to include a lighting fixture as well.
The top of the disco ball has a ring, making it easy for you to hang just about anywhere. It's super lightweight, so you don't have to worry about it pulling down on the ceiling. Simply hang it up and you're good to go.
Hundreds of mirrors throughout this ball make it perfect to light up a space. You can spin it around for changing directions or leave it as is. All in all, it's a classic disco ball straight from the 70's and 80's!
Pros:
+ Easy to hang up
+ 12-inch disco ball for massive reflections
+ Top-notch glass mirror ball
Why We Liked It - 9. Rhode Island Disco Mirror Ball
9. Rhode Island Disco Mirror Ball
The Rhode Island Disco Mirror Ball is a novelty item that takes you back in time. If you miss the feeling of true disco music, then you'll feel right at home with this item. It uses dozens of mirrors on an off-white surface to match all interior décor.
This 8-inch disco ball is a great addition for people who want to add something unique to their bedroom. While it's not the biggest party accessory like the other entries on the list, it's a fun talking point.
There's an adjustable ring at the top of this mini disco ball to allow you to hang it wherever. It's good to go right out of the box. If you want to change your room or light up the backyard, this is your ticket!
Pros:
+ Compact for any room in the house
+ Adorable novelty item from the past
+ Easy to hang with the top ring
Why We Liked It - We like this mini mirror ball because it's the perfect fit for any room or outdoor patio.
10. LED Mirror Disco Ball Party Light
Last on the list is the LED Mirror Disco Ball Party Light. This product is a well-deserved addition since it combines multiple sought-after features combined into one. The disco ball portion of this fixture is a class 6" ball.
It also comes with a piece to hang it from. However, the hanging item shoots out lights to reflect off of the disco ball. It's the ultimate duo for people who don't want to have to buy them separately.
If you've been having trouble finding gifts for loved ones, this mini disco ball setup is a great choice. It's nice for bedrooms or fun living room parties with family and friends. While it won't light up a big venue, it still provides quite a bit of fun.
Pros:
+ Comes with a 6-inch disco ball and a light fixture
+ Easy to turn on and off
+ Perfect for small room lighting
Why We Liked It - We like this mini light up disco ball because it brightens up a room to make it a party atmosphere.
Placement - Disco balls don't have to be reserved for just parties and events. You can add one of these fun fixtures to your studio or recording space to give it that extra inspiring touch to spark creative energy. Don't be afraid to experiment.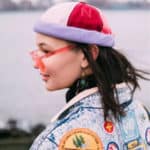 Disco Ball Buyer's Guide
Your long search for the best disco ball is almost over! You've seen all of the choices from the list, but you might have a couple of questions. No worries, we have you covered as always! Any questions you have will be answered below. Enjoy!
What is a disco ball and what purpose does it serve?
Disco balls were first used widely in the '70s and '80s. They're usually a spherical ball covered in dozens or hundreds of small square mirrors. Each mirror reflects light in random directions, making the room or outdoor area lit up with fun! These days they serve the same purpose, but you can also get them to brighten up a bedroom.
Whether you're looking for a classic resemblance or a modern rendition, you'll find the perfect choice on the list above.
When and how did disco balls come about?
Disco balls became popular in the '70s when disco music came out. The stylish, funky music paired with the random reflections of a disco ball-like nothing before. The movement was so powerful and packed with fun that it continues decades later!
Do all disco balls rotate and how do they do that?
Although most video show disco balls rotating, not all of them do. However, the ones that rotate either have a mechanical device or a unique hanging ring. The ring that mounts the disco ball to a chain can naturally rotate. Since it's a sphere, there's no exterior force to stop it from spinning.
What are disco balls made of?
Disco balls are made of a Styrofoam sphere and tons of tiny mirrors. Sometimes they're made with a glass ball, but some people don't like them since they can break easier. However, others swear by glass disco balls since they help reflect even better in between the mirror gaps.
Are there real mirrors on disco balls and are they dangerous?
A mirror is often thought of as glass, but technically any fully reflective surface is a mirror. Even the disco balls that use glass mirrors are well-secured, so don't worry about it! If a piece happens to fall off, simply reattach it with glue. However, the entries above are top-notch, meaning they won't break apart easily.
Expert Tip
Hang up a mini disco ball on your porch and watch the sunset and sunrise reflect natural light off of it!
Did You Know?
Disco balls have many different mirror sizes. Bigger mirrors translate to wider light reflections. On the other hand, smaller mirrors produce smaller, more defined light reflections. Think about this before you make your final pick. Good luck!
If you've enjoyed this review by Music Critic, please leave a positive rating:
[vc_separator