Toontrack has tinkered with its original Ezdrum software to make it a comprehensive platform. It is tailored towards practical ease of use. The window is easy to navigate, and everything has its place. The organization has been refined to ensure a non-complicated workflow.
When you load up the software, there are four tabs labeled Drums, Browser, Search, and Mixer. They are pretty self-explanatory. Within each tab is a selection of menu options that, in turn, bring up relative sub-menus.
One way you can utilize the software is through its vast collection of templates. Alternatively, you can hook up an electric kit and map it to the virtual kits available. You can also use your electric kit to create new grooves and save them to the software library.
Its updated sound engine has been rebuilt from the ground up. It's more realistic than ever before; it provides real-time sample rate conversion, and you now get more hits per sample layer.
It has an extensive groove library that has been sorted firstly by genre, to help make browsing the almost endless options easier. It's also optionally organized by playing style and other convenient parameters, such as tempo, etc.
If you're still unsure where your desired rhythm might be, you can take advantage of the tap feature. Simply tap in a groove you have in mind, and it will search the library for anything that closely resembles what it has heard.
The timeline layout has completely changed from the first edition of Ezdrum. You can now merge multiple grooves. With a MIDI groove selected, the menus instinctively call-up a variety of similar grooves. They also suggest complimentary rolls, fills, and ornaments to add.
It has user-friendly song templates that allow you to build the entire formation without any fuss quickly. Once you have your desired rhythm track, you can export it to your chosen DAW. It's widely-compatible but works as a standalone best to free up processing.
If you are more interested in building from scratch, then you will enjoy the Virtual Instrument capabilities. They've recently added to the sounds' sample library. The new edition includes five new sampled kits. They were captured at Mark Knopfler's British Grove Studios by renowned engineer Chuck Ainlay.
All digital elements are in real-time, and you can adjust your virtual kit's behavior. This is great for giving it character and adding the nuances in that you only get when you record the real deal. You can set the frequency with the Amount Control, tweak the velocity manually, and add your custom, percussive twists.
Toontrack has also tweaked the sound engine to optimize the hi-hat transmute. They have also worked to iron out a few issues they were noticing with repetitive hits by developing their new MHE technology. The Multiple Hits Emulation (MHE) tech ensures a smooth transition on sequenced hits.
As if this wasn't enough, the EZX library also allows for expansion. So you can add in additional samples and grooves from external plug-ins and other sources.
The mixer tab gives you control over your volume and panning. It also benefits from a range of popular equalization and effect presets to browse. Here you have access to reverb, chorus, compression, and delays.
You can choose one of the many genre-based options, or adjust the parameters and save settings of your own.
Toontrack Ezdrummer 2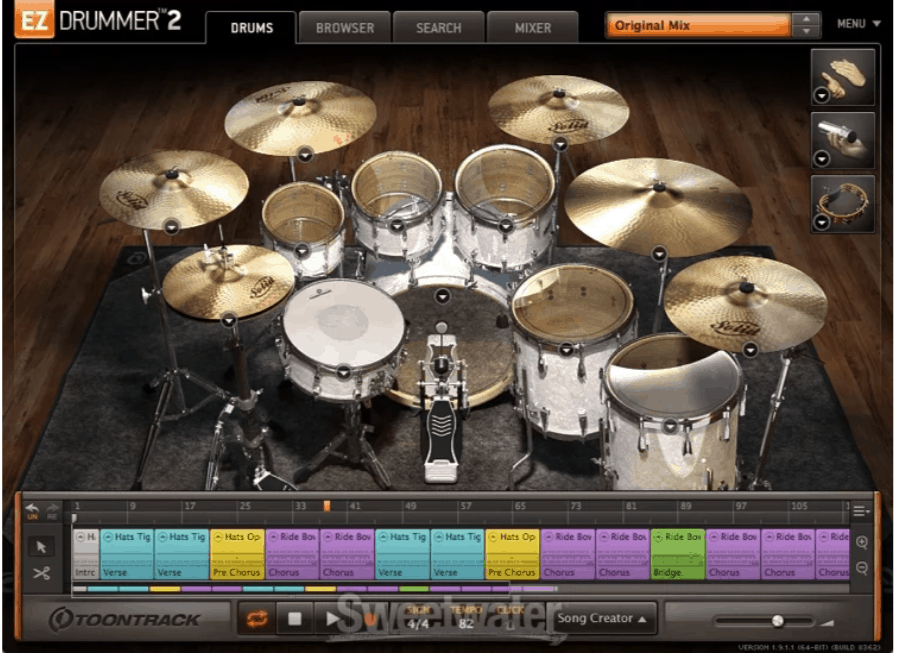 Summary
EZDrummer 2 picks up where the first left off but has been tailored into a thorough software. It now functions with the user's best interests in mind. It comes with a range of useful features to make life easier for a beginner in terms of song creation.
It has a vast, realistic sounding sample library and a vast array of preset MIDI grooves. The grooves can be searched in several ways to keep navigation a breeze. You can even tap a rhythm in for the software to search for instead of scrolling through or typing.
All grooves can be fully edited and layered. It brings up relative percussion and ideal fills to go with your chosen flow. The library is expandable, and you can hook up your electric kit or MIDI instrument to operate it with.
Everything operates in real-time, and you have full control over the rhythms manually. You can alter them to sound less synthetic as you go. It also has a decent mixer setting again with some easy-to-use presets you can throw on. They can also be edited, and you can even store custom settings.
Pros
+ Comprehensive digital drum software.
+ Multiple ways to use it.
+ Combines VST and Groove library.
+ Huge range of samples and grooves.
+ Easy template song creation.
+ All adjustable.
+ All real-time.
+ Velocity sensitive.
+ Expandable software.
+ Own Mixer section with a great range of EQ and FX.
Cons
- Tough to find fault with this drumming software.
Why We Like It
It's very well-organized and not overwhelming for a beginner to use. Everything operates very smoothly this time around. It benefits from a library revamp. The variety of ways that you can search and use the software is thoughtful and practical. Every parameter can be edited from start to finish. It offers excellent flexibility, and the virtual mixer abilities are also pretty sweet.
If you liked the article, please leave your feedback.