Pro Tools from Avid remains one of the best computer-based digital recording options in existence, with a workflow efficiency that is unbeatable. The company has worked hard over the years to tweak the software so that it functions seamlessly. Every development has been purely practical. Avid have geared all changes to making the production process easier than analog and hardware options.
Pro-tools is a two window user interface for ease of use. You can access everything from the main window, and editing is done in-line without separate windows popping up left, right and center.
Avid has ditched the older plug-in formats to make way for a new AAX plug-in architecture on offer to provide latency compensation.
It benefits from a pro-level 64-bit audio engine for epic memory management. No matter how big a project is, it performs optimally. You can use the track freeze and track commit commands to decide what's important and free up resources.
You have 128 tracks at a resolution of 44.1/48kHz, and up to 32 channels to use simultaneously.
Pro Tools has a new 'Name field' function. Tracks are easy to locate with a scrolling function, so you won't get lost. You can name tracks and clips in batches, and you can edit your work with layered overlapping tracks, so you won't lose an overlapped clip if you edit.
You also have a handy indicator that lets you know if you start writing over a clip. If the start and endpoints overlap, you can tandem trim the beginning and end of two clips at the same time.
Thanks to the fade manipulation, you can create easy cross-fades. It works in real-time, and there are no phase issues when mixing because it automatically compensates for any notable delays.
Pro Tools offers 70 different plug-in processors, effects, and instruments to get going, and you can update and add plug-ins and VST's to expand.
The current format also has MIDI sequencing and notation abilities. The amount of MIDI tracks has doubled since its previous revision to 1,024! They are easy to distinguish from regular audio with color-coding. You can merge new and existing MIDI CC automation and even automate while you capture.
Avid has also designed it for use with their Avid Cloud Collaboration, letting you connect with other Pro Tools users to send and share clips and tracks or MIDI automation for collaboration.
All of this is, again, a simple process. You can bounce to disk in "faster-than-real-time," keeping workflow highly efficient.
Pro Tools supports a wide range of formats and is highly-compatible. You get a Perpetual license; this means you can use it forever. You also get a year's subscription for updates and access to the customer support center.
Avid Pro Tools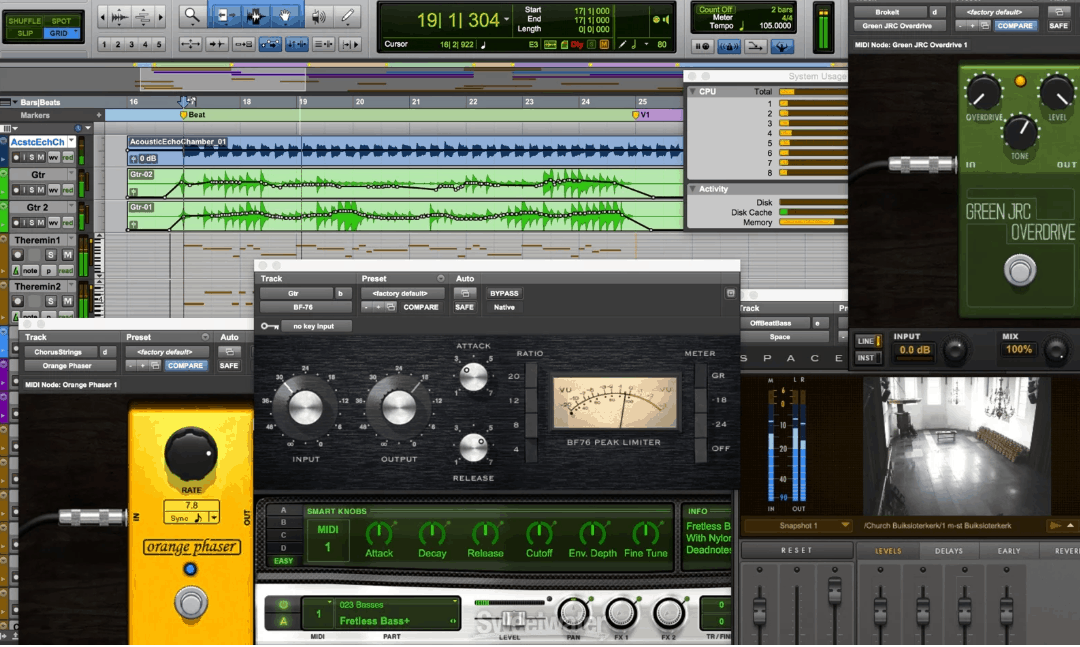 Summary
Pro Tools is a fully comprehensive recording software suite that changed the industry when it first hopped onto the market. It has long since evolved into something entirely different. With the ability to add any plug-in Pro Tools remains a best-selling DAW against even the toughest competition.
You can record up to 128 Audio Tracks, 500+ instrument tracks, and 1000+ MIDI Tracks. You have access to layered editing, real-time fade manipulation, and batch fade enhancements.
As mentioned earlier, it's highly compatible and has a very user-friendly layout for easy project navigation. Everything is color-coded with new and improved waveform visuals. It reduces workflow with its faster-than-real-time bounce to disk capabilities, and it captures automation while recording. The possibilities are pretty much endless in terms of expanding what's already possible within the DAW core menus.
Pros
+ 128 tracks at 44.1/48kHz.
+ 32 channels of simultaneous I/O.
+ 1,024 MIDI tracks
+ MIDI input Display.
+ Powerful audio engine.
+ 70 plug-in processors, effects, and VST's.
+ Track Commit and Track Freeze.
+ Layered Editing.
+ Quick cross-fades.
+ Flip between Grid and Slip easily.
+ Tandem Trimming.
+ Clip Overwrite Indicator.
+ Faster-than-real-time bounce to disk.
+ Easy navigation, simple commands.
+ Tight mixing (Auto Delay).
+ Multitrack Beat Detective and Elastic Audio.
+ Multiple audio format mixing.
+ Smooth Tracking.
+ Low-latency monitoring.
+ Avid Cloud Collaboration.
+ A year of software updates and support.
+ Support for Mac OS Mojave.
Cons
- You only get 12 months' worth of software updates, but a perpetual license. So it's well worth subscribing if you want to guarantee ongoing support and full-version upgrades over time.
- Logic has a slight edge over Pro Tools for Mac users, in our opinion.
Why We Like It
Pro Tools is one of the biggest names out there as far as recording software goes. It presents a competent workstation that's incredibly efficient. It's not too overwhelming for beginners, despite the advanced processes on offer within it.
The Cloud collaboration lets you bounce and share your ideas back and forth with other users. Every function has been streamlined sensibly to keep processing optimized, and resources freed up, ultimately making the work less of a headache.
If you liked the article, please leave your feedback.