The Digitech Trio+ is a cool pedal for guitar players to create unique jam tracks for performances and practice. It comes with a looper pedal, 12 genres to choose from and12 different styles within each genre. You have volume pedals for each setting, and you can store up to 12 songs in the Trio+.
Within each genre and sample, you create, you can also choose the tempo you want to work with for a load of variance. It is super easy to use and figure out. You can practice using the headphone input, so you're not disturbing anyone at home.
Specifications
· Band creation and looper
· 4/4 and 3/4 timing
· 12 genres
· 12 styles
· 12 saved song ports
· Built-in effects loop
· SD card for extra memory
· Auto bass and drums
Digitech Trio Band Creator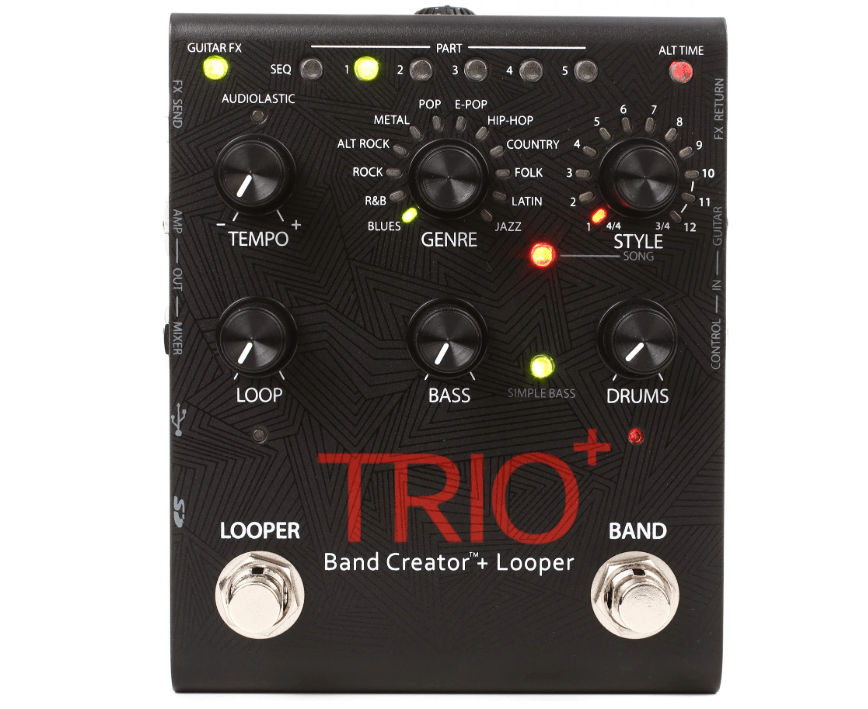 Summary
The Digitech Trio+ Band Creator and Looper is an incredibly cool tool for guitar players to play around with. If you're practicing at home, it is a fun way to make up your own backing tracks to play along with, and, if you're a live performer, it creates entires bands that can back you up and fill out your sound.
It is super easy and fun to use. When you're ready to create a new song, you play any riff you want while recording, and the Trio+ will form the backing band with drums and bass for you. Then, you can take the song that the Trio created and change it to any style, genre, and tempo you like. It is one of the easiest and quickest ways to create fun and exciting songs right on the spot without having a drummer and a bassist with you.
The looper setting allows you to lay down the rhythm guitar section of your songs once you have found the genre and style you want. It works just like any looper and can be used in conjunction with the band recording setting. Just step on the switch when you're ready to record your rhythm and then hop on it again when you're ready to start singing or soloing overtop of your creation.
You can speed up and slow down any of the songs you record to fit the vibe you're going for. Each instrument has a volume knob so that you can add or remove anything from the mix on the go.
It only uses three knobs and two switches and is perfectly labeled, making it easy to figure out quickly.
It comes with a power supply for you to keep it charged up, and it has a headphone jack so you can listen directly and experiment all you want without disturbing the people you live with. With 4/4 and 3/4 timing, you can add a little extra spice to your songs and change things up a bit. You and your audience will not get bored with any of the songs you create.
The pedal is small and would fit well onto a pedalboard, which is great because it also has an effects loop so you can add in your personal effects to the mix. This allows you to work efficiently along with any genre of music and type of song you want to play with.
It is pretty affordable for an instrument that offers high-quality sound; it's a little unit that can do a lot.
Pros
+ Band creator
+ Looper
+ 5 Step sequencer
+ Easy and fun to use
+ Tempo control
Cons
- Not app compatible
- Limited storage
Why We Like It
Guitarists love a pedal like the Trio+. It may be one of the most fun practice tools you will find. Play whatever type of backing rhythm you want, and the pedal will create the bass and drums for you. One of the hardest things for musicians is finding other musicians to play whenever they want. The Trio+ by Digitech takes care of this problem and adds some extra features that make it super enticing.
You have all of the genres you will need to play along with, and you can choose various styles within each genre. Also, you get to decide how fast or slow you want to play the songs you're working with. The looper lets you layer as much as you want over top of the song and create some seriously cool mixtures.
It is great for performers who can't afford to pay for an entire band, as the pedal creates it for you. You get the bass and the drums backing you up, and filling out your songs, without taking up any extra space or payout. Your listeners will thank you, and your performances will be extra intricate and fun with the backing instruments inputted. It is also a good practice tool; you can play along with it at home endlessly.
If you liked the article, please leave your feedback.