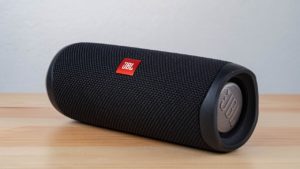 Review of the JBL Flip 4

JBL audio equipment is extremely popular around the world, thanks to its solid combination of impressive sound quality, easy functionality, and affordable price tags. The Flip 4 Bluetooth speaker is a good example of what JBL does best. Let's have a look at its key features and why we can recommend it to anyone seeking a portable speaker that delivers good value for money.
Sound Quality
Typically for a JBL speaker, the Flip 4 performs very well in terms of sound quality. The low end is impressive for such a small speaker, offering enough power to be used for an impromptu party, either indoors or outdoors. The reason for the excellent low-end performance is because of JBL's 'Pure Bass' technology, which makes the most of the two bass radiators that are integrated into the speaker. Highs and middles are articulated well, with lyrics sounding particularly crisp and clear, even when the speaker is turned up to a high volume. 
Speakerphone
The JBL Flip 4 can also be used as a speakerphone. The sound quality is impressive when used for this function too. Voices come through clear and well-defined. The in-built microphone manages to cut out a decent amount of external noise too, so you can be heard clearly by the person on the other end of the call. It's compatible with Siri and Google Now too, and you can operate your voice assistant with a simple press of a button.
Durability
This little speaker ticks the right boxes in terms of durability too. It's made from a combination of rubber and fabric materials, which combine to produce a rugged speaker that can withstand more than its share of knocks or drops. Unlike the previous model in the Flip series, this version is completely waterproof. Whether you're in the mood for a pool party, get caught in the rain, or like to listen to tunes while in the shower, then you don't need to worry about it breaking. The construction of the speaker is solid too. But there's nothing bulky about it. Its dimensions are 7cm by 17.5cm by 6.8cm, and it weighs just 0.51kg, which makes it a portable, convenient size and weight.
Battery Life
As it's a Bluetooth speaker, then it's important to consider battery life. The JBL Flip 4 might be lacking in this regard, depending on what your requirements are. The lithium-ion battery inside it will give you approximately 12 hours of playtime from a single charge. This will, of course, be sufficient for a lot of people, but it's something to keep in mind if you're planning on taking the speaker on camping trips, for example, and you won't have a chance to charge it while away.
Usability
Operating the JBL Flip 4 is a breeze. Everything can be done by simply pressing the large, tactile buttons that are directly on the speaker. It takes seconds to pair with a Bluetooth device too. A great feature that JBL offers with many of its speakers is JBL Connect +. This allows you to daisy chain up to 100 JBL speakers together. If you're having a party with friends, for example, you could all hook up your JBL speakers together to get a lot of volume. 
It might not be the most important feature of a Bluetooth speaker, but the Flip 4 looks rather good too. It's available in a range of colors – including blue, white, and red – as well as black, which is perhaps the most classic version. 
There aren't a huge amount of extras or accessories that come with this speaker. You do, however, get a charging cable and a plug, which is all you need to get started.
Overall, this is a superb Bluetooth speaker that's available for a surprisingly low price. Its best feature has to be its sound quality. It is, after all, what JBL is famous for. And this speaker offers that signature sound, with the Pure Bass technology delivering a huge amount of low-end power. The portable size and IPX7 water resistance are also good features. It's a safe investment, we think, and is well worth the money. 

Summary
The JBL Flip 4 is an affordable Bluetooth speaker that offers a huge amount of power despite its portable size. It features dual bass radiators as well as JBL's Pure Bass technology to ensure a very impressive low-end performance. The sound quality is superb considering the reasonable price tag. It has a noise-canceling microphone that can be used for crystal clear voice calls or for operating voice assistants, such as Siri, which it is also compatible with.
This lightweight speaker has dimensions of 7cm by 17.5cm by 6.8cm, which means it can easily be stored in a backpack or handbag when you're on the go. It features IPX7 water resistance, so you don't need to worry about rain causing any issues. It can even be submerged in water without functionality being affected. You get 12 hours of playtime from a single charge, and the speaker comes with a charging cable and power adapter. It is also compatible with JBL's Connect + function, which allows you to connect up to 100 JBL speakers together wirelessly.
Pros
+ Exceptional sound quality
+ Powerful bass thanks to two bass radiators and Pure Bass technology
+ Portable and convenient size
+ Lightweight
+ 12 hours of playtime from a single charge
+ Stylish looks
+ IPX7 water resistance
+ Connect+ compatibility 
Cons
- For some, 12 hours of battery life from a single charge won't be enough
Conclusion
We're big fans of the excellent sound quality that this portable, Bluetooth speaker delivers. You get that famous JBL sound that really impresses when it comes to the low end. We also like that this speaker offers IPX7 water resistance.
If you've enjoyed this review by Music Critic, please leave a positive rating: