A growing number of DAWs are dabbling in iOS formats and improving the way the software operates to compete with the PC and Mac-based workstations that dominate the industry. This means being able to record from the convenience of your iPad is finally becoming a viable professional option.
The remote-style, convenience that the iPad control provides is undeniable. With better portability and user-friendly touch-screen operations, they put the power literally into your hands and make the process a doddle - so you might be surprised by the price!
When they first came onto the scene, the features they offered weren't considered serious competition. But with recent advancements, many of us are starting to look for a decent interface for iPad connection.
Fortunately, there are a range of iPad-ready hook-ups to choose from - but not all are alike. We've gathered a sample of some of the best audio products for your iPad. We've selected the interfaces on this list for different reasons, which we will discuss in our iPad interface Buyers' Guide.
At a glance:

Our top 3 picks
Our team's top 3 recommendations
Best Overall
Shure MVi Digital Audio Interface + USB & Lightning Cable

Compact.
JFET Class A preamps.
iPad and Pc/Mac compatible.
Reasonable price.
Premium Quality
Apogee One - Audio Interface

Compact.
JFET Class A preamps.
iPad and Pc/Mac compatible.
Reasonable price.
Great value
iConnectivity AUDIO4c Audio + MIDI Interface

Compact.
JFET Class A preamps.
iPad and Pc/Mac compatible.
Reasonable price.
View The Best iPad Audio Interface Below
1. Shure MVi Digital Audio Interface + USB & Lightning Cable
The Shure MVi offers an easy way to connect an XLR microphone, or ¼-inch jack, for your guitar or bass straight to your iOs device, PC, or Mac.
The preamps are quality Class A JFET; they can be adjusted into five different digital signal processing modes, making audio capture even more straightforward. It automatically modifies your EQ to optimal settings for different captures.
One mode is for vocals with a mic, and another is for mics that capture acoustic instruments. Speech with a mic includes a separate setting, and then you have one for high-gain instruments, as well as a flat-tuned setting for truer audio sound.
It's well-made for a product with such a low price and has a compact retro-vibe enclosure for portable recording. You can adjust volume and gain directly from the interface itself via the touch panel. It comes with a Micro-B-to-USB cable and a Micro-B-to-lightning cable for connectivity to Apple mobile devices, providing reliable phantom power 12v-iOS or 48v-USB.
Pros:
+ Compact.
+ JFET Class A preamps.
+ iPad and Pc/Mac compatible.
+ Reasonable price.
Why We Liked It - The Shure MVi a simple piece of gear that makes it easy to record directly to your device and software. It is durably-made despite the low price. The 5 DSP modes make things simple for those who are new to recording.
Simplicity - When selecting your audio interface, it's worth thinking about how much you really want to do with it. If you're not planning on recording multiple tracks at a time, there's no point in investing money into a multi-track interface that'll unnecessarily rack up the price tag. Pick a simple two input/output model and save big.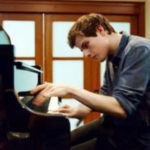 2. Apogee One - Audio Interface
The Apogee One audio interface is a little different, incorporating a built-in, studio-quality condenser mic. It is omnidirectional, responsive, and helps to capture a pristine vocal or acoustic take.
Integrated mics can sometimes be a disappointment, but this one is surprisingly impressive. The unit also allows you to connect an external mic if you prefer.
The interface is compact and beautifully manufactured with a die-cast aluminum enclosure, providing two ins and two outs. As it sports Apogees' 24-bit/96kHz AD/DA converter, it's a studio-level quality option. This, along with the premium preamp, gives it Apogees' renowned sound quality.
The Apogee One is extremely low-latency, meaning you can monitor directly without any lag. It gives uncomplicated visual level feedback while in use. Although designed for use with Apogees' Maestro software, it's widely compatible, and you can use it with iOS, Mac, and Windows.
Pros:
+ 2 in and 2 out.
+ Integrated condenser microphone.
+ Low latency direct monitoring.
Why We Liked It - We were pleasantly surprised with the built-in mic capabilities Apogee. In terms of portability, the Apogee One is a pocket-sized studio that doesn't even need a mic - it's one less thing to have to carry around.
3. iConnectivity AUDIO4c Audio + MIDI Interface
If you require a little more versatility, then the AUDIO 4+ from iConnect might be just what you're after. With four separate onboard Class A preamps, combination inputs for instrument or mic connection, and MIDI, it presents a wide range of uses. Many iPad and iPhone AIs are a one-in, one-out job, and others offer two connections at best. But not this one.
It is well-built, with a durable chassis and a tidy front-panel layout. Another key feature that gives this product an edge is that you can hook-up your iPad and run it simultaneously with the PC or Mac connection. This effectively turns your iPad into a remote for your preferred DAW, meaning you don't have to rely on an iOS DAW.
It captures high-resolution audio and has a wide range of output options. You have four regular outputs, MIDI in and out, as well as headphones. The Audio 4+ displays the gain for each channel with a color LED indication to help prevent clipping. It comes with Apple lightning, too. A USB cable is included.
Pros:
+ 4 inputs.
+ Simultaneously computer and iPad use.
+ Phantom power, gain control.
+ MIDI connections.
Why We Liked It - This one is the best option for those looking to form a more serious set-up. It has better i/o options and functions well. The price is pretty reasonable too, considering what it has on offer.
Input Variety - Microphones and other audio inputs vary between different types of connectors. From XLR to USB to RCA, connectors come in many shapes, so you should confirm that your microphone has a connector that your audio interface of choice can accommodate, or else you'll have nothing into which to record.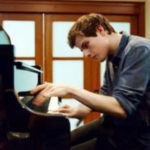 4. BEHRINGER iSTUDIO iS202 Audio Interface
This next one is a little different. The Behringer iStudio acts as a docking station for you to slide your tablet into. It then essentially becomes the touch screen interface for a capable desk-top portable studio. It's well manufactured and angled, with an incline like other traditional mixing desks to make it easier on users' necks.
You can plug an XLR or 1/4" input with the two combo preamps, and it has a button to select between instrument and line-in.
Because it also provides stereo RCA inputs, this makes it an excellent, versatile option for DJing - you can hook-up a turntable. In addition to that, it provides MIDI I/O and an RCA video output, so you could even add a projector.
There are line outputs for speakers. The Monitor Knob lets you adjust the balance of your output levels, meaning you can monitor directly. There is a headphone connection that enables low-latency monitoring as well.
Pros:
+ Ipad docking station style interface.
+ RCA inputs.
+MIDI
Why We Liked It - The Behringer iStudio is a well-designed interface that turns your iPad into a mobile rig. It captures quality sound, providing a good mix of input and output options, and you are able to monitor directly.
5. IK Multimedia iRig HD 2
The IK Multimedia iRig HD 2 is a palm-sized audio interface that gives users an easy way to connect a ¼ inch jack to their iPad. This is ideal if you're looking to use any iOS effects on your guitar or bass. You will need an XLR to Jack cable to capture vocals with this one. It doesn't supply any phantom power, which means you'll need a regular dynamic mic - but this is a reasonable compromise, given the low price.
It has a better resolution (24-bit, 96 kHz input, and output) than the iRig's original model, which improves the sound quality. The input gain is adjustable, and the routing options have also been expanded - it now has an FX/Thru switch. They've also upgraded the product to include an amplifier output and a low-latency headphone connection for live monitoring.
You can get exclusive access to additional ApliTube FX modeling and Amplifier app content with your purchase. Despite that the product is designed for iPad and iPhone users, it's also compatible with PC and Mac.
Pros:
+ Pocket-sized.
+Adjustable gain and FX/Thru.
+ AmpliTube content access.
+ Low price.
Why We Liked It -The IK Multimedia Rig is a pocket-sized basic, yet effective interface. It only offers a single jack input, but if you're new to the world of audio recording, basic is all you need.
6. BEHRINGER Audio Interface 4 channel
This next choice is a more traditional-style audio input option from Behringer. The Behringer Uphoria is durably built, with a solid, impact-resistant, metal chassis. It provides four channels to play with, making it a more credible option if you want to capture a live recording.
It features some of the best preamp inputs available at this price level, including phantom powering. These preamps are combination style, which means you can hook-up both mic and instrument inputs to record at the same time.
Each channel has a dedicated mini panel to keep things user-friendly and uncomplicated, and each has a switch to flip between mic and line-in for your guitar, bass, or keys. The gain dials and LEDs showcase levels and make sure you don't clip.
It has a professional-level resolution audio capture at 24-Bit/192 kHz and is compatible with most DAW software. It also provides MIDI connectivity too.
Pros:
+ 4 combo inputs.
+ Quality metal chassis.
+ 24-Bit/192 kHz resolution.
+ MIDI I/O.
Why We Liked It - The Behringer is a quality recording interface, offering a wide range of applications. The price is surprising for a heavy-duty four-channel option. All in all, this is a valuable piece of gear for any iPad engineer wanting to create a portable studio.
7. IK Multimedia iRig PRO Duo 2
iRig Pro DUO is a bit of a step-up, being a two-channeled interface as opposed to just one. Both channels are combo XLR and TRS inputs so that you can connect a mic or instrument.
The preamps are ultra-low-noise with phantom power that can be supplied either from your iPad or by a battery. It has an excellent build quality and is compact - it will fit in the palm of your hands!
The IK Multimedia also serves up MIDI Input/output jacks with breakout cables, which makes it is far superior to the original iRIG in terms of functionality and application. Each channel has a dedicated gain control and visual indicators to help you get the levels just right.
The audio is high-resolution thanks to the 24-bit AD-DA converters. There are 2 TRS balanced outputs and a headphone auxiliary output for monitoring.
Pros:
+ Dual preamps.
+ Hi-res AD-DA converters.
+ MIDI I/O.
Why We Liked It - It is another excellent piece of gear for your iPad or iPhone, with a good mix of I/O. It makes for an incredibly compact studio in your pocket and sells at a great price. The fact that it's battery-powered is also a real bonus, setting it apart from the rest of our top picks.
The iTrack One from Focusrite is one of the company's first standalone leaps onto the iOS recording bandwagon. They have also recently updated some of their Scarlett range to incorporate iPad connectivity! But today, we're focusing on their affordable, entry-level iPad studio box.
The model is basic, presents a single preamp for recording, but the hi-resolution gives a pristine audio output.
It's a combo jack and XLR, meaning you can connect whatever you like. It supplies phantom power for condenser mics. The Focusrite also features a single central gain knob with a typical LED halo system to help you adjust the levels for clipping. This ensures there is no distortion, no matter how hot your guitar pick-ups are.
Pros:
+ Compact single-channel option.
+ Great preamp.
+ Halo LED level indicator.
Why We Liked It - The Focusrite is an impressive option, despite its bare-bones nature. It would suit a solo player who wants to capture their-spur-of-the-moment ideas in high-quality.
9. Tascam iXR USB Audio Recording
We chose the Tascam iXR as our final iPad audio capture solution. This is a plug-and-play studio in a box, with quality manufacturing and professional outputs. The aluminum enclosed unit harbors two of TASCAM's transparent Ultra-HDDA microphone preamps for pristine audio capture and professional resolution.
Once again, the model sports a combo-style. It can be used for your mic, or as a regular line-in, handling unbalanced inputs and provides balanced line outputs. It also has MIDI hook-ups and an auxiliary jack slot for zero-latency direct monitoring via speakers or headphones.
This product is widely compatible, and you can use it with your iPhone, iPad, Mac, or PC for audio production. The purchase also comes with a copy of Cubase LE recording software for Mac or Windows, as well as Cubase LE iOS software. It has an affordable retail price, rendering it excellent value for money.
Pros:
+ High-resolution audio.
+ Zero-latency monitoring.
+ MIDI
+ Competative price.
Why We Liked It - The Tascam iXR is one of the more versatile products available for recording on your iPad or iPhone, as it has the flexibility of Mac and PC use as well. Furthermore, it has good input and outputs available, including MIDI, so grab a guitar and a microphone, and you have everything you need at an affordable price.
iPad Audio Interface Buyers Guide
What Is An Audio Interface?
In the simplest terms, an audio interface is a piece of hardware that provides a bridge between your instruments, microphone, and the device you have your audio capture software on. Once upon a time, this was mainly done on computers, via a USB 2 0 audio or USB 3 0 port, but now many are leaning towards using their iPhone for convenience.
When you search for an iPad audio recording interface, there are essentially have two main routes you can go: there are direct audio interfaces that provide a means of plugging your mic or guitar into your Apple product. These types of devices are much smaller and work as a glorified cable adapter. They usually have a lower asking price.
Secondly, you have those which are bigger, 'studio in a box' style units. Largely popular for home audio recording, they provide extra pre-signal send controls, such as gain for individual channels and volume. They also allow for headphone monitoring. Some have an extensive range of input and output options, including MIDI connectivity, which expands your studio capabilities.
As you will have seen from our review choices, there are newer models that are specifically developed with your iPad or tablet in mind, such as the Behringer iStudio, that functions as a docking station, and incorporates your device into the hardware itself.
MIDI connectivity lets you incorporate MIDI synthesizers that can be used to control many DAW operations remotely. They are not just an additional instrument, or a means to control your virtual instruments. MIDI can also enable you to use your iPad or mobile to keep your work efficient.
If you want flexibility and can go for a higher price range, the second route is probably best.
How to Pick the Best Interface for iPad Recording?
As you can see, there are a lot of impressive options to choose from. However, your studio-set-up requirements will dictate what you're looking for.
To help you narrow down your search, there are a few key things to consider. The first being the input and output selection. With an interface for iPad use, you need a lightning cable, but how you want to record instruments or vocals will dictate the inputs you need.
For a microphone, you will want an XLR input, and for a professional recording that has a true to signal input, you will need a condenser mic. A condenser will need an interface to supply phantom power. Typically, they need a 48v supply. Some products only provide 48volts via their USB 2 0 audio connection, as a mobile device usually can't muster up enough juice to share.
Many audio interface inputs these days are combo connections, so you can plug in a mic or guitar. If you want to record separate tracks, one combo will do. But if you're going to record multiple tracks simultaneously, you will require numerous inputs to use at the same time. Be sure to read the specs.
For a semi-decent home studio, we think that two inputs are pretty much a necessity for the majority. The software you use will also weigh heavily on your decision. iPad software is getting better in quality all the time, but you still might prefer a computer-based digital audio workstation. Some software is exclusive to computers. Having a computer with a large amount of drive space allows for a wide range of plug-ins to be used with your main software.
Think long and hard about whether you need a unit with an adapter. Look into the Interface's main features to find the right gear for you. Will you be strictly using your iPhone or iPad, or do you need to be able to connect to your Mac or PC?
If you want to use the latter, would you prefer simultaneous use? Your mobile is battery powered, and although some units let you record while charging your iPad, others don't. There is a lot to think about on top of the asking price.
If you are unphased by price, then some iPad interfaces are effectively a mini digital mixer. They allow you to control a wider range of parameters and even assess effects before it's sent to the recording device.
Conclusion
It has never been easier to get a quality take on your iPad or iPhone. There is an astonishing amount of products on the market, and not all of them have a high price. A home studio set-up has many different units in the development to keep you happy. You no longer need a massive mixing desk or a desktop.
With the right audio interface, you'll only need only a microphone and a mobile to start making professional recordings. An interface for iPad production can help simplify a lot of the more complex processes of production.
The interface that suits you is down to your requirements in terms of channels, compatibility, and features, such as MIDI. But with a bit of luck, our reviews and guide will have helped you gain some insight into the type of interface you need to get the job done. We wish you luck with your search!
Expert Tip
Apogee is a top brand making waves in the world of iOS music production. In addition to their Apogee One from our top picks, we also highly recommend their Apogee Duet 2-2 Channel USB Audio Interface. You can check that, and other Apogee products, out on Amazon.
Did you Know
There are a heap of DAW options available for use on your iPhone. With a compact interface, you can carry a studio in your pocket. Well, perhaps backpack if you want a decent condenser mic! In any case, most of what we've reviewed today will fit in the accessory pocket of your guitar bag, meaning you can record absolutely anywhere.
Durability - Many cheaper audio interface options will do just fine for an in-and-out recording session, but in the long run, they might not stand up to the wear and tear involved with long-term usage. Consider how much you'll be using this equipment and if you'll be taking it on the road, which can put a strain on its functionality.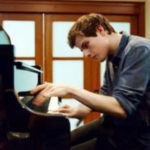 If you've enjoyed this review by Music Critic, please leave a positive rating:
[vc_separator