Although it was released almost three years ago now and there are a plethora of newer models on the scene, the FP 30 remains a sensible go-to digital piano for many. It's not just because of its attractive price either; it offers a great piano engine that still competes with many new, entry-level models creeping onto the marketplace.
The key-bed is a PHA-4 Standard with 88 keys, which was once the most responsive key-bed you could get your hands on. It functions with a triple-sensitivity, allowing for playing styles to be expressed in nuances with both subtle and dramatic dynamics. There are five different sensitivity settings; Super light, Light, Medium, Heavy, Super Heavy, and FIX, which turn the sensitivity off completely.
Of course, it would be unfair to compare it side by side with the newest editions, but the FP 30 holds its own, and there are less than a handful of triple-sensitive, hammer keys available in this price range.
The action is realistic; the simulated escapement feature helps keep it a natural transition instrument for experienced pianists. The escapement technology gives it a notch around the mid-depression mark. The keys themselves feel good in terms of tactile sensation; made with Rolands proprietary Ivory Touch, they absorb moisture and replicate an ivory-like feeling.
The FP 30 digital piano has a capable set of built-in full-range speakers with two 11 watt amplifiers, giving the instrument generous volume levels and powerful delivery. The integrated Sound Engine is Rolands SuperNatural engine. It has a polyphony of 128. There are 35 different tones on-board, including a range of grand and electric pianos, as well as modeled pipe organs, harpsichords, and other strings. There are bass tones, a selection of choirs, a vibraphone, and a lovely Ragtime piano with great character.
There is also ambiance, brilliance, and 5-level resonance settings to enhance your tones, and eight rhythm sections to accompany you to choose from. There are three playing modes: dual (which lets you blend two instrument sounds together), split (which has one instrument sound in the bass half of the keys, and an alternate sound above middle C). The final mode is twin, which allows the keyboard to be split down the middle for two players to play the same notes, a useful home teaching tool.
There are 30 stored songs with WAV/SMF playback. It also has a standard MIDI file recorder for sequencing, provides inputs for a damper pedal, and comes with a sustain pedal to hook-up. There is a music stand and slot to use for your sheet music or books. It can be connected to a computer via the USB, either to the host or to the device. It also has Bluetooth 4.0 connectivity.
Roland Fp 30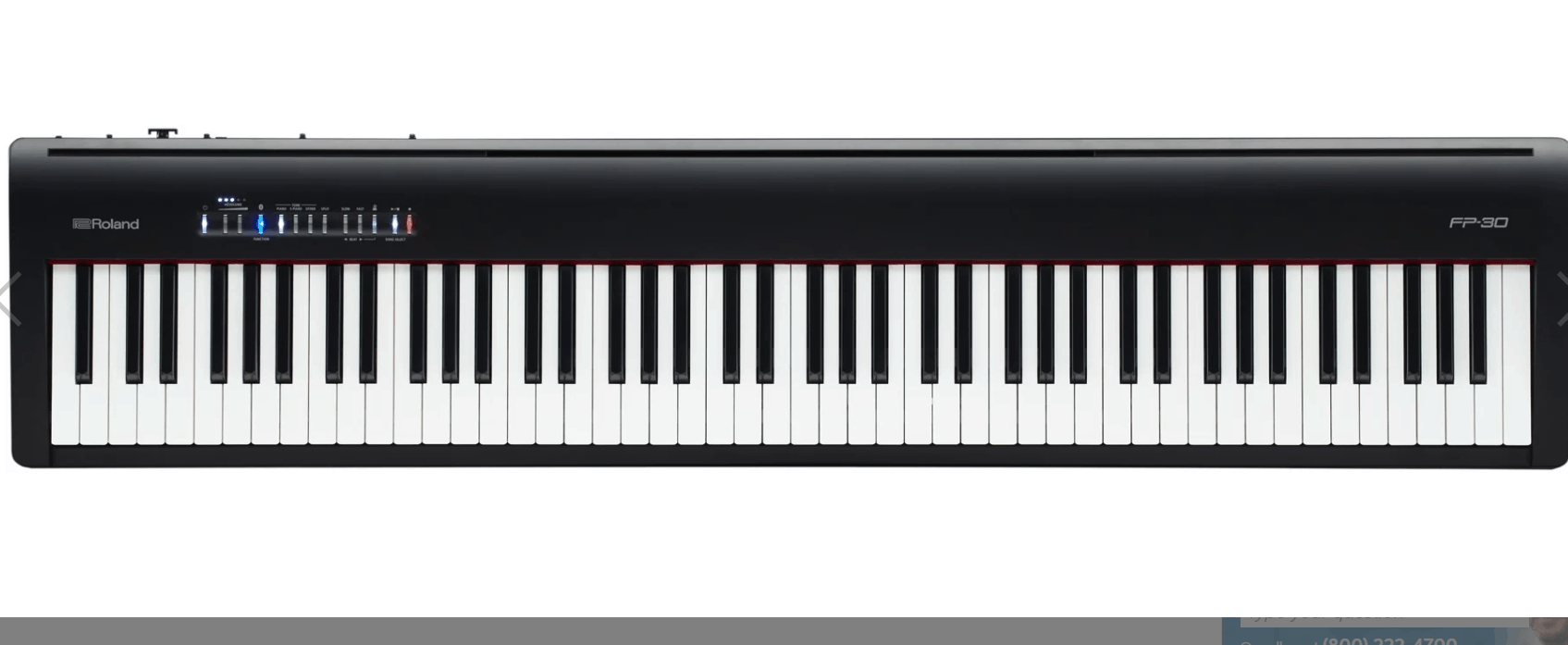 Summary
The FP 30 from Roland, though an old gal, offers up some great instrument modeling. Although it's a convenient size and weight for easy transportation, the FP 30 still features a full-sized key-bed, benefiting from the company's Ivory touch, triple-sensor keys. It allows for the sensitivity to be attenuated.
It provides Roland's SuperNatural piano engine with a range of 35 usable tones. They can be adjusted with the ambiance brightness and resonance settings. You can also hook up a damper and sustain pedal, giving your instrument a realistic character.
It is MIDI compatible with sequencing and has a built-in Bluetooth and USB hook-up. The dual amplifiers give it ample volume for performing; there are also two headphone outputs you can use. Three modes can split and layer the voices, or even allow it to provide two half-size keyboards side by side. With a song-bank of 30 tunes and eight rhythms to choose from, you have plenty to play with.
Pros
+ 88 key digital piano.
+ Great quality keys.
+ Triple sensors.
+ Ivory touch.
+ Simulated escapement.
+ 35 tones.
+ 8 rhythms.
+ Ambiance, brilliance and resonance adjustments.
+ 30 songs for playback.
+ Dual Split and Twin modes.
+ MIDI, Bluetooth and USB connections.
Cons
- There are many newer models with a more extensive tone library floating around these days, so if you like a bigger range, it is probably not for you.
- The curved back is aesthetically pretty, but it doesn't use space very efficiently when it is against a wall.
Why We Like It
With its strong branding, high-quality manufacturing, and its full-sized key-bed all contained within compact slim-fit proportions, the FP 30 also makes a great travel option. It offers a range of tones and settings to explore. The amplifiers are great, the keys have excellent sensitivity, and it sells at an affordable price level under $1000.
There are a lot of newer pianos around that offer a few fancier features. But, if you are a pianist who wants a decent piano emulation in a portable package, then the FP 30 is not quite yet redundant; there are plenty of people who lean towards its basic functionality.
If you liked the article, please leave your feedback.