Digital amps have been trying to out-perform one another since they first came into development. Many offer an insane library of sampled sounds, amplifier emulations, and a plethora of effects settings.
The thing is, a digital modeling amp can only ever come close to the real deal, and some are pretty terrible imitations. The best of the bunch often have seasoned pros at each other's throats because they just don't do the original models the justice they deserve.
Even if you do get your hands on a quality digital beast, you may always find yourself lusting after the next model, which is why the Kemper Profiler amp caused a stir when it was first unveiled. Its ability to connect and capture any amplifier in existence and the extensive presets and adjustment controls, make it a huge deal.
The build of the head is rugged enough for the road hand; the aesthetics show it off in all its high-tech glory. It features a tidy layout with a generously sized display. Although it packs a lot of controls into a reasonably compact space, it manages to remain reasonably easy to go about your business.
The buttons are back-lit, so you know when they are engaged. This also helps with navigation. If you press and hold, you get access to a more in-depth look at the settings on the LCD screen.
It is essentially like any other guitar preamp head, with gain and tone dials to plug into a power amp. Every dial and button has a high-quality feel. It comes with 200 profiled amps at your fingertips and exclusive access to a ton of online content that you can download and save.
The presets cover the vast majority of notable amp tones. Each iconic amp is profiled in many ways, with different mics to give you a huge range of possibilities. You can have them clean and over-driven. The tones are authentic and have excellent dynamics, even at low volumes.
Each of the presets can be tweaked, giving it plenty to offer even without its profiling abilities. You can use the individual panels separately, which allows you to switch off the stack settings and run it solely for effects.
It has a variety of reverb settings alongside all the effects you could ever expect to need. The reverb and delay tails fade when you change effects, thanks to the automated spillover.
It lets you lock settings into the module when you change profiles, meaning you won't lose your previous effects if you browse another. With the built-in DI, you can have a wet and dry signal. It also harbors an effects loop so you can add your own pedals.
Profiling is a simple task. You can adjust the bass middle treble presence, and even finer details such as the pick-attack and compression, with the unit once you have it captured.
Another of the Kemper Profilers' best attributes is the staggering array of outputs on the rear panel. It has a 1/4", 2 x XLR, 2 x 1/4"Headphones, and a ¼" for the effects loop. There are MIDI In, Out, Thru (other) as well as 2 S/PDIF coaxial connections. You can add a foot-switch for operation, and there is a USB for updates and backing up.
Kemper Profiler Head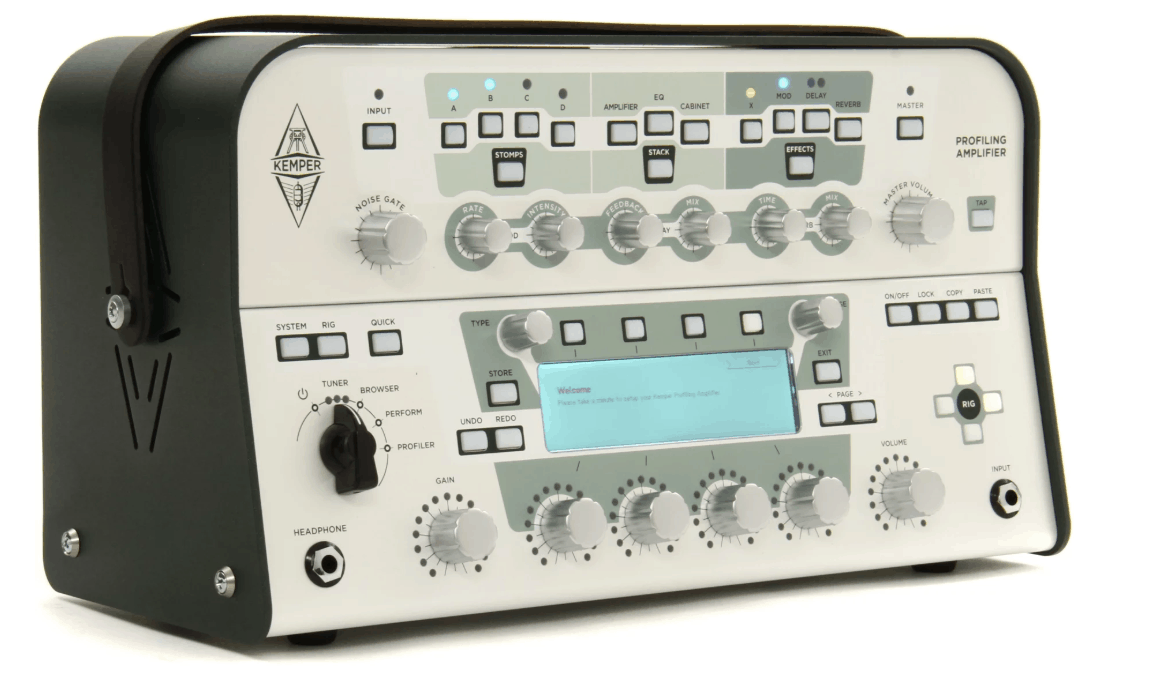 Summary
The new manner of digital emulation that the Kemper Profiler Head brings to the market deems it a completely different kettle of fish. It allows for your future gigs to sound just like studio recordings. Also, it's great fun if you're having a dabble with a friend's amp and fancy capturing the style and copying it over. It also lets you achieve that over-driven, high-gain cranked amp sound, as well as playing it at neighbor-friendly volumes.
The Profiler is compact and durably built, exceptionally engineered, and chock full of 200 presets. It can save up to 1000 separate profiled rigs. All you need is a decent mic (or range of mics if you are a connoisseur) with a split signal, and you are good to go. Of course, the quality of the capture does rely heavily on the capture itself, so it's wise to invest a little cash in a mic to accompany this premium guitarist's dream.
Pros
+ Compact preamp head.
+ 200 amp presets.
+ Additional effects.
+ Great reverb.
+ Built-in DI.
+ Profiling capabilities.
+ Save up-to 1000 rigs.
+ Online resources.
Cons
- It needs a little time to boot-up.
Why We Like It
The Profilingamp Kemper Profiler is an exciting and unique piece of kit, which has the potential to give you access to amps you might never get your hands on again. It can provide a true-to-tone tube emulation without the flaky tubes you'll end up replacing. Combined with a decent studio mic capture, it wipes the floor with the digital tube emulation on most modeling amps available out there.
If you liked the article, please leave your feedback.