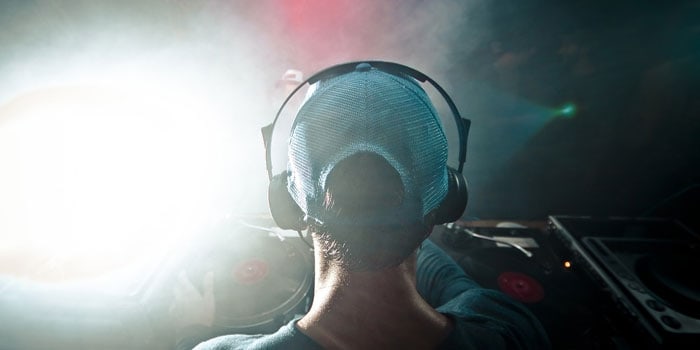 DJ headphones are an essential bit of kit, whether you are an up and coming DJ or youve already made it and you are looking for new toys to play with, this is a list of the best headphones of 2017 so far. For a DJ, the quality of headphones can make the difference between the next hit and just another track in the millions being made every year.
This list will help you find out what is best for you and your sound. We will include the best for quality, the best all-rounder and the best value to give you all the options.
1. Pioneer Pro DJ HDJ-2000MK2-K DJ Headphones
These headphones seem well-rounded in what they are able to deliver. Promises include astonishing clarity, high quality sound separation and enough sound insulation to make things comfortable when performing. They also happen to boast a great level of comfort which is definitely useful for those long sets where a cheap pair of headphones will leave you feeling like your ears are burning and your skull is going to implode.
Although beautiful and high quality, the general consensus is mixed here. Itll definitely fall down to preference simply due to the amount of other headphones on the market and what you find valuable in a good pair of headphones.
If youre looking for high quality sound, separation and insulation with an ample amount of comfort, then you just need to decide if its worth getting them. There may well be better value headphones on the market with better durability but comfort is something that Pioneer have definitely strived for with the Pro DJ MK2.
Pros

+ Snug Fit These headphones have an absolutely lovely banding that allows for a snug fit, which complements the sound insulation perfectly
+ Superb Sound Theres a lot of good feedback from others that show the sound of this Pioneer product in a great light. Definitely a good quality piece.
+ Newer Models are Durable Unlike some of the older models, the newer ones have metal parts instead of plastic. This makes them incredibly durable in comparison to previous models which is a great source of comfort when laying out the money for them.
The Verdict
Snug, comfortable and high quality sound are definitely apparent here but the value for money just may not be there. Find out for yourself if youre feeling adventurous, or stick to your comfort zone if youve bought from Pioneer previously.
2. Sennheiser HD 25 Professional DJ Headphones
The first thing most people notice when they look at the HD 25 Pro from Sennheiser is the curious structure of the headband. This odd structure is what will make the Sennheiser headphones in general stand out from the crowd. The structure of the Sennheiser HD 25 model hasnt changed at all in recent years, with the motto if it aint broke dont fix it being at the heart of the structure. Although it looks funky it doesnt really provide any benefits to durability.
Unfortunately the headphones here arent really different when it comes to the materials used for the ear pads, making them very uncomfortable when using them for prolonged periods of time. Sennheiser prefer to focus purely on the audio quality rather than making it look fancy and comfortable. They come with a 2-year manufacturer warranty as standard. This is useful if youre a resident DJ because unless you are performing somewhere that pays obscenely well, and unless youre among the like of Martin Garrix you dont, then you will definitely be thankful that you have that warranty.
Unlike a lot of the top brands of headphones the HD 25 Pro is really light in comparison to what youd expect. The more power and quality thats packed into headphones, the heavier they usually are. The rotatable capsules for single-ear listening is yet another big plus because when monitoring its always handy to be able to customise how you do it. The biggest selling point on these headphones is definitely the sound quality and sound pressure tolerance. They can handle much louder pressure than their weight would suggest and you can definitely rely on these to help you reach your perfect sound.
Pros
+ Different Headband Structure The different headband structure definitely makes for an interesting look whether you are up on stage or youre simply in the studio monitoring. Looking different can make you stand out, always useful when DJ hotspots are awash with wannabes.
+ Surprisingly Light Weight Sennheiser pride themselves on packing a lot of sound quality into such a lightweight and compact pair of headphones. They executed that really well and came out with the HD 25 Pro.
+ Astonishing Audio Quality Sennheiser are known for their no-nonsense approach to bringing the best audio performance their best minds can provide and they do it well. The HD 25 Pro is no exception and its renowned for sound quality even at higher pressure levels.
+ 2 Year Manufacturer Warranty Sennheiser provide a 2 year warranty on this product which means one of two things. The first is that they could be prone to breaking and if the warranty is there then customers are more likely to buy it even with negative feedback. The more likely option is that they are durable enough to withstand 2 years-worth of punishment before performance is affected.
The Verdict
If you can get over the lack of comfort from prolonged use in a single session, then the general consensus is that these headphones are incredible. Its harder to find people who wouldnt rate them 10/10 than those who would. Definitely a smart purchase with a huge value for money attached.
3.

V-MODA M-100 Over-Ear Noise-Isolating Headphone
The V-MODA brand is well known for craftsmanship and these headphones are no different. They boast extreme, and even military grade durability. The headband, which is one of the most common breakage points is almost indestructible which makes it a definite asset for a tour. Add to this a uniquely brilliant sound that has been tuned by over 200 audiophiles and then factor in the separation of bass from other sounds and you have yourself this beautiful set of headphones.
If you are looking for the best studio headphones for the money, click here.
Unlike other brands, nothing has been left out in the innovative design, which features CLIQFOLD to make it more space efficient and a small case to add protection. 20 separate awards have been given to the M-100, and we can see why when we look at just how much innovative technology theyve packed into such a sleek and sophisticated package. Comfortable headphones that have superb sound quality with a decent value for money seemed to be a myth, but the M-100 brings it all with memory foam ear pads to add to this gorgeous product. The durability is absolutely unreal with this product and it includes being tested to beyond military standards. Thats just amazing.
Pros
+ Kevlar Wire One of the most annoying things with headphones is how flimsy the wire is at the connector ends. Luckily V-MODA thought about that and designed a wire out of the same material they use for bulletproof vests. This makes for a very strong wire that will last for a very long time.
+ Beyond-Military Durability Every aspect of the M-100 has been designed with quality in mind at every step. The Immortal Life guarantee that these headphones offer states that if you run over your headphones with a tank, you can get a 50% discount. Thats right, youll need to run these over with a tank to destroy them.
+ Superb Sound The sound of these headphones is truly unique thanks to the separation of the bass from mids and highs using a dual-diaphragm setup which is unique to V-MODA. Even the likes of Avicii have used these headphones in the past and we can definitely see why.
+ Brilliant Look The M-100s have a very fresh look and it just puts the icing on the cake. The materials used and the structure of the design complement each other perfectly to provide users with a sleek and stylish product that packs a colossal amount of sound quality.
The Verdict
The V-MODA M-100 may well be the best quality headphones around today and if you dont have huge ears, theyre definitely worth getting.
4. Audio-Technica ATH-M50x Professional Studio Headphones
Theres nothing particularly special that jumps out at you on first glance with the ATH-M50x headphones. They look okay and just like bog standard headphones. The main improvement over the previous model falls down to the ear pads.
On the previous model there were a few bad experiences and this dealt a blow to Audio-Technicas reputation for being able to provide a good all-round pair of head-phones. The new model fixed that problem by not only implementing a new material for the ear pads as standard but also offering velvet replacements.
That would add a lot of comfort to the M50x and that could be great for longer periods of use, which is where a lot of the higher quality headphones fall down. Although not as good as others when it comes to bass and power, the M50x focuses on superior sound quality and clarity and its executed well. Also unlike some of the bigger and better headphones, no battery is required to run the processor and theres not a massive difference made to battery life. If bluetooth is more your thing, take a look at the top 10 wireless headphones for under 100 dollars right here.
Pros
+ A Great All-Rounder The M50x model has a lot of slightly above average features and is relatively good value for money. Thats always useful if youre looking for a starter model for your DJ career or the genre of music youre in doesnt require too much in the way of bass.
+ No Battery Required Some of the bigger headphones can sometimes either need recharging every now and again or even an external battery that requires replacing. Thats not the case here as it will run from the device its plugged into.
+ Extra Comfort The improvement of comfort from the previous model as standard was a welcome change, and thats before adding the velvet ear pads to further increase comfort. Comfort always comes in handy for things like a marathon set or a long monitoring session.
The Verdict
Although a great professional starter pair, if you know what you want from a pair of headphones and you have enough money to spring for a better pair, its definitely advisable.
5. SOL REPUBLIC 1601-32 Master Tracks Over-Ear Headphones
Definitely a more interesting look, the 1601-32 is a model of minimalist character. It doesnt seem to have much in the way of fancy design or high end features, but its definitely a lot cheaper than competitors.
The elegant simplicity approach does seem to pay off quite well though, with a decent amount reviews telling of great bass and vocals. One feature that does stand out here is the virtually indestructible headband. It comes with a 1,000 day guarantee which is almost 3 years. They do boast a snug fit, but some find it a little too tight. If you like a little slack in the fit these may not be for you but if you want a fit that wont see your headphones on the floor if you get a little too into the music, then look no further.
Another aspect to Consider with these is that theyre also great outside the DJ world with clear vocals that can be useful for being on the phone and gaming. Some feedback suggests the higher the volume, the muddier they get which means if youre looking to use them for monitoring ready for a club set then these may not be able to do it for you.

Pros
+ Great Bass and Vocals The bass and vocals on these headphones have been revered among supporters of 1601-32. Even the low-frequency bass used in hip hop and rap music can be heard quite clearly with these, which is relatively rare in this price range.
+ Elegant Simplicity The design of these headphones definitely isnt as fancy as some of the other brands, but it could be argued that the lack of style in the headphones is more than made up for through the value for money they provide.
+ Snug Fit A snug fit will keep them on your head, even with a decent amount of movement and keep your ears close to the sound engines, which is always great in a set environment. Some say that it is a little too snug and even tight. Although problematic for some, the feedback is generally a snug fit but not too tight for most.
The Verdict
Although cheap in comparison to other headphones, there are definitely some durability issues and some reliability issues at higher volumes. Definitely a cheap and decent starter professional pair of headphones.
6. V-MODA Crossfade LP Over-Ear Noise-Isolating Metal Headphone
Yet another beautiful pair of headphones from V-MODA. Just as durable as the M-100, the LP seems to have a lot of the same qualities, including a Kevlar wire and beyond military durability. One big advantage to V-MODA headphones is the hex design and interchangeable shields, which is a big change from the cookie-cutter style headphones that most people tend to use. Theres even the ability to get custom laser engraved hex shields for the side of your headphones, to help you stand out even more.
Again, the LP features the dual diaphragm setup that V-MODA is known for and you wont find elsewhere, which gives an incredible level of sound quality not found elsewhere. Unlike the M-100, the LP comes with a 1-year guarantee but still comes with immortal life in the unlikely event you manage to commandeer a tank and run over your headphones with it. The LP also offers a unique programme, a 60 day test drive when bought from a verified reseller. This means that if you dont absolutely love them before 60 days is up, you can get a no quibble refund for returning them. Lets just say they dont get returned much. These go hand in hand with the best turntables for DJ's of this year.
Pros
+ Superior Aesthetic Quality The V-MODA style is completely unique and youre definitely going to be more noticeable when youre wearing these.
+ Dual Diaphragm Setup The patented dual-diaphragm set up makes for a much more comprehensive sound separation. This gives you the ability to take a much more comprehensive approach to creating your unique sound.
+ Beyond-Military Durability As mentioned above, there is definitely a level of quality in the design that just isnt seen elsewhere. The immortal life program indicates that to break them youll need a tank and the Kevlar wire is very difficult to break. The reliable durability the V-MODA headphone range provides can give you peace of mind.
Customisable Appearance Its a rarity to be able to customise such high-quality headphones. The stylish shield plates on the sides of a pair of LPs can be changed to other pre-made ones or even custom made ones if youve got the money to spend.
The Verdict
Another brilliant choice for sound quality, reliability and durability. The only complaint is the dual diaphragm is too good when it comes to pumping out great levels of bass.
7. Beats Pro Wired Over-Ear Headphone
Beats have taken the audio world by storm in recent years. The Beats Pro will definitely give you something professional that people like Will.i.Am uses, but it comes with a steep price. There are plenty of claims that its perfect for the studio and its designed for sound engineers and musicians, but the consensus is that there are plenty of superior options out there and a lot of them are on this list. The value for money just doesnt seem to be there and the sound quality doesnt seem to match up to the Audio-Technica or V-MODA headphones.
Pros
+ They Look Nice These headphones definitely look nice and professional, probably being one of the nicest looking cookie cutter headphones out there.
+ Decent Sound Quality The sound quality is decent which is nice, but sadly it just doesnt measure up to other models.
The Verdict
Unless you absolutely have to have the best brand name rather than the best quality, look for other headphones. The general consensus seems to be that there are better headphones out there at a lower price.
8. Pioneer HDJ-1500-K Professional DJ Headphones
The first thing I see when I look at these headphones is the shape of the ear pads. Thats because theyre on-ear rather than over-ear, which can be just as good as it simply depends on preference. They are definitely one of the more comfortable pairs of headphones on the market which makes them great for longer periods of use like live performances or marathon sessions. Thanks to the way Pioneer designed the ear pads, the very same thing that makes them comfortable also works well for sound isolation.
Another thing to note is the sound quality, as it seems to have just the right amount of bass and still clearly audible mids and highs. The sound engines on each side are both able to swivel and rotate, making them more convenient than some competitors. The only downside here seems to be the build quality as far as durability is concerned. Some have noted that they are prone to cracking which is definitely not what you want in a good pair of headphones. The value for money definitely seems to be there.
Pros
+ Very Comfortable Pioneer has definitely taken long usage into account and have managed to provide quite a lovely level of comfort, especially for on-ear headphones.
+ Well-Balanced Sound Quality The same thing that makes them so comfortable also makes them able to isolate sound very well. The bass is balanced well allowing for the clear definition of mids and highs at the same time.
+ Good Level of Adjustability The ability to swivel and rotate both sides of the headphones means you dont have to worry about the headphones being too rigid to fit your preferences. They can swivel and rotate to 45 and 180 degrees respectively. Not a necessity but definitely a useful thing to have.
+ Good Value for Money Theres a good price attached to the HDJ-1500s and given the sound quality and comfort, its a pleasant surprise.
The Verdict
Given the price, comfort and sound quality, its definitely worth getting them. That being said, make sure you get whatever warranty you can get your hands on because if your headphones usually take the punishment, youll need it.
9. Numark Red Wave Carbon Pro Mixing Headphones
Numark has definitely thought through which professionals they want using these headphones. It seems to be targeted at your hard-core pros that run marathon sessions to release their creative mojo and produce some epic music. Numark claims that these headphones remain comfortable during extended usage, which is quite a rare occurrence among top level headphones it would seem. This is another contender that provides a decent adjustment range with swivel and rotation function, and its said that theyre able to fit anyones head. This could be useful if you have an abnormally large head because it can be difficult to find good headphones that fit. Well-balanced sound including clear vocals and a perfect level of bass are definitely included with Red Wave.
Pros
+ Astonishing Sound Quality The sound quality is great with the Red Wave. It brings clear vocals, well-rounded bass, and pitch perfect mids and highs. Definitely what we want.
+ Very Comfortable Comfort was one of the main design points where a lot of time was spent. If youre a live performer or someone who likes to spend 5 hours monitoring at a time, then the Red Wave is a very good choice
Fits Anyone Numark has openly stated that the Red Wave will fit anyones head. Its a mighty bold claim but if its true then buying these will be buying some master engineering skills. Being able to fit all head shapes and sizes are incredibly difficult while maintaining a good level of comfort.
+ Good Value for Money To say theyre in the 2 figure range, the Red Wave model is definitely a solid starter or backup pair of headphones and have a solid level of quality.

The Verdict
Although theyre very comfortable and the sound quality is not only well balanced but also pretty great, theyre prone to breaking which makes it hard to rely on them if youre an already established or an aspiring DJ. Worth keeping as a spare pair in a pinch though.
DJ Headphone Buyers Guide
Value for Money V-MODA M-100 Over-Ear Noise-Isolating Headphone
Coming in at number 1 for value for money definitely, has to be the M-100 headphones from V-MODA. There are some very good headphones on this list and some of them are definitely cheaper but unfortunately durability is definitely a big factor in value for money. The other headphones with a cheaper price tag like the Red Wave tend to be prone to breaks, which will greatly hamper their value if you cant even use them for a year without them breaking.
The first aspect that makes them absolutely brilliant for value for money is, as mentioned above, durability. Theyre designed to beyond-military durability specs. This means a wire that uses the same material as modern bulletproof vests, and almost completely indestructible metal components.
It can be killed though, but youll need a tank and a tank driving manual. In the unlikely event you do succeed in destroying the headphones within the first 2 years, then youre covered by a guarantee and if its after that you have immortal life program. With the immortal life program if you destroy your headphones then you can get a new pair for half price. Now thats reliable durability.
Next we want to look at the sound quality, which is always paramount in a pair of professional headphones. The M-100 uses V-MODAs unique and patented dual diaphragm approach to sound engines and believe me when I tell you, a unique design gives some unique options when trying to find your own sound. The dual diaphragm provides greater separation of bass from mids and highs that add clarity to all three. Cleaner sounds mean cleaner tracks.
The quality of sound with the M-100 is beautiful and allows for a good amount of bass, so if youre an EDM DJ or just a fan, these are a smart choice.
Finally we look at value for money. The value here is immense simply from a durability perspective. With such a high level of durability, the usage you can get out of these over a number of year is huge. The price tag on these is still lower than beats by quite a margin and they seem to have a lot more quality.
Best All-Rounder Audio-Technica ATH-M50x Professional Studio Headphones
The M50x is another stunning piece of headgear that provides quite a well-rounded quality rather than having standout areas to be both loved for and despised for. There arent any standout features that make this headphone a must have for DJs of a specific genre, but if youre just starting out and youre not sure where you want to go with your music genre wise then this could definitely be a solid choice.
The sound quality is well balanced with a decent level of bass that still allows you to hear the mids and highs, giving a level of versatility between genres. The sound separation between bass and mids and highs is quite exquisite. The value for money here is mid-range, which means that if you want something that seems to hit the mid-level of every attribute for headphones then you cant go wrong with the M50x.
Highest Quality V-MODA M-100 Over-Ear Noise-Isolating Headphone
The M100 takes two of three coveted prizes among the best of the best. This makes it a definite best choice for either professionals or up and coming DJs. The sound quality here is amazing, making it a brilliant addition to any good DJs arsenal. The prized patent of the dual-diaphragm sound engine from V-MODA gives it a supreme edge over competitors and even Avicii has endorsed V-MODA, and if that doesnt speak to the sound quality of these brilliant headphones then I dont know what does.
Sound quality isnt the only unique characteristic that this piece or art provides. Durability is another hallmark of V-MODA with beyond-military durability. As mentioned above, its truly astounding as to just how brilliant the level of durability is and it will allow you to rely on your headphones for longer than 6 months, which is rare more often than not among other brands in general. It outshines every other pair of headphones on the list for quality, regardless of your current standing the DJ world.
If youre a professional, then the M-100 could give you the unique sound to truly separate yourself from the pack of DJs just like you looking for their next big break. If youre an up and comer it can do the same and give you a chance to produce enough high-quality music to get your foot in the door for a first paid gig.
Can you use DJ Headphones for Gaming?
DJ headphones can indeed be used for gaming and they also come with some distinct advantages. The first is that sound quality of headphones can increase just how astounding a game plays by further immersing you in the rich tapestry that modern games provide in story modes. On top of that, the same sound quality can be used to increase performance in FPS games.
Although usual headsets for a console is useful for keeping your opponents on their toes when they think theyre near you through your ability to monitor sound. DJ headphones can be tuned differently to further amplify certain sounds, depending on the model and the monitoring hardware tuners that they come with. Other than that, there arent too many other benefits for having DJ headphones over regular gaming headphones.
If youre a DJ and you already need DJ headphones, it could be worth noting that theyre just as useful as gaming headphones. With that in mind, the logical thought that has hopefully crossed your mind is that if you need both and you can only pick one, then pick the DJ headphones and youll have a pair of headphones that is useful for both endeavours. If youre very into gaming as well and you like to game with friends, then make sure you get yourself headphones with a microphone built-in or youll have issues communicating with teammates.
What Headphones does Deadmau5 use?
Deadmau5 uses a variety of different headphones, including ones made specifically for him. This includes the V-MODA LP2 that is a custom build for Deadmau5. He also uses SOL-Republic Track5 On-Ear headphones that are a collaboration between the manufacturer and Deadmau5.
These two made for and with Deadmau5 are the two to focus on because they were made with him in mind. He has a very unique sound and because hes so prominent in his field manufacturers wanted to work with him to help make him headphones that really help him to make music his way and on his terms.
SOL-Republic Deadmau5 Track5 HD On-Ear
The price tag on these isnt as big as youd think. With a name like Deadmau5 on it, youd expect three figures but thats definitely not the case. They represent a decent amount of value for money and they come attached with a named collaboration from one of Canadas best music producers. They still have the same issues with regards to reliability as similar un-endorsed products from SOL Republic.
Those who do sing the praise of this headphone are happy enough with sound quality and arent too worried about reliability. They do allow Deadmau5 to create his unique music which could be useful for other DJs attempting to go in the same direction. Definitely a cheap solution for up and comers looking to distance themselves from the mainstream majority.
V-MODA LP2
Custom made for Deadmau5, these headphones come from a pedigree line of expertly manufactured headphones and reliability and durability are rarely, if ever, a problem. The sound quality that V-MODA achieves is due to a patented dual-diaphragm system that weve talked a lot about, but thats because the genius innovation behind it is what makes the sound from V-MODA headphones so distinguishable from that of competitors.
The LP2 was first debuted by Deadmau5 at V-MODA Fortress, and since then has had the eye of many lower ranked professionals and up and comers looking to make it to the top. Although it is a little more on the expensive side than the SOL Republic headphones, the V-MODA does pack more quality.
What Headphones does PewDiePie Use?
For the most part, PewDiePie uses gaming headphone manufacturer Razer. He has recently started using Sennheiser RS 170s, but other than that hes almost always used Razer. As a youtube producer, the sound quality just isnt as important as it is within the DJ world.
This is because as a YouTuber he creates audio-visual content rather than just audio. That doesnt mean Razer is terrible for sound quality, it just means there are much better headphones out there that are designed directly for music production rather than video games.
Razer Carcharias
The Razer headphones have good sound quality for video games, where all the subtle nuances within the audio only need to be enjoyed rather than created. The main benefit to these headphones is that theyre designed for extreme comfort.
This extreme comfort is all too familiar to fans of the Razer brand. Its not uncommon for the small group of people who play for marathon standard hours (24+ hours in a row) to use Razer headphones. They have a decent standard of bass and the Carcharias are probably the closest to a primarily gaming headset that could be used as a starter pair of DJ headphones.
Sennheiser RS 170
Sennheiser is renowned for sound quality above all else. On the other hand, theyve tried to go above and beyond the usual bog standard headphones, approach and the RS 170 comes with a small hardware box that acts as a plug and play receiver for up to 4 people and is also used as a docking station that charges the headphones.
This extra functionality speaks to how many believe Sennheiser will attempt to mop the floor with their competition in the future. The sound setup that the RS 170 is set up for is home cinema, which is something a YouTuber could definitely find useful, not to mention how useful it can be in real life if youre doing a Netflix marathon and dont want to wake others up while enjoying your favourite shows and movies as they were meant to be enjoyed, which is loudly.
Over-Ear vs. On-Ear
This is an age old debate on headphones that people tend to butt heads with because for a lot, it just boils down to preference. Theres no right or wrong answer for the most part but there are distinct advantages and disadvantages to both.
The need to have the right pair of headphones behind you is absolutely essential, and you obviously want to have the headphones that are perfect for you so if you have your own reasons for wanting one type over the other, dont listen to others because if you choose headphones that arent right for you then youll hit blocks more often than those that chose the right type for them.
Some people decide to have one set of each if they like the merits of both. This is because if you have both, you can enjoy the benefits of both types depending on what task and genre of music youre working on at the time.
On-Ear Headphones
On-ear headphones are a lot more lightweight and portable, so if you like to create and produce on the move a lot, for example, a live stream for your limited fan base on the way to your day job, then on ear could be advantageous. The issue you could find with crowded areas though is that the sound isolation of on-ear isnt really that useful because theyre on the ear which means they arent covering your ears up enough to completely block out the world around you.
On-ears do tend to offer a good amount of comfort, however, making them a brilliant tool if youre on a long trip and want to get some work done along the way if youre in a quiet enough area. These are definitely the type of headphones you want if you have a life on the move. Another benefit is that on-ears are a little more forgiving for the most part to people with bigger ears, adding to the comfort compared to over-ear for those of us with much larger ears than others.
Over-Ear Headphones
Over-ear headphones have a distinct advantage at sound isolation and cancellation. This allows you to keep focused on the music, even when in loud and confined spaces like trains on a commute to your day job. Theyre a little heavier and bulkier than on-ear headphones but the increase in weight usually comes with an increase in sound quality. The over-ear headphone experience tends to yield better sound quality and comfort for those with normal sized ears, but some over-ear headphones tend to be a little smaller than even regular ears making them uncomfortable for most.
These headphones tend to suit professionals who keep their work in the same place and prefer to sit down and work rather than try and work on the move. It makes it a little harder to produce when inspiration strikes.
Conclusion
To keep it simple, the type you should buy depends on you. If you like to produce on the move then Id recommend on-ear, but even with on-ear headphones, you wont be able to produce music to the same quality as someone sat down with over-ear headphones. If you want to focus purely on sound quality then the isolation from over-ear is definitely a winner in comparison. Buy headphones that suit all your needs.
If you liked this review, please leave a positive rating: