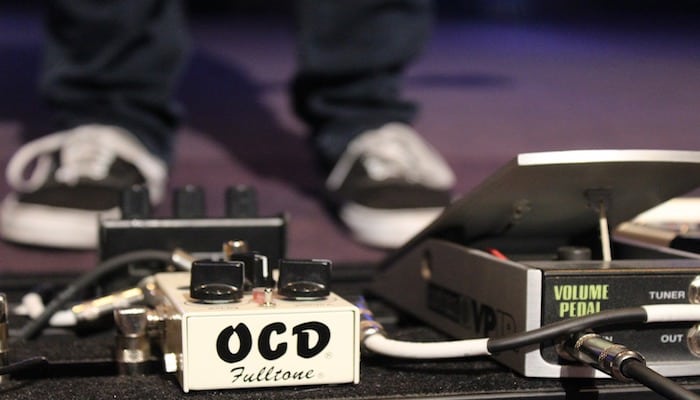 Arguably the most important pedal on any rock guitar players effects board is the mighty distortion pedal. Not all distortion pedals are equal of course, which is why weve reviewed the best distortion pedal for you to choose from, ranging from budget to premium, with everything in between. Read and rock on.
Capable of delivering everything from a warm, gritty edge to a full blow growl, they are the weapon of choice for recreating the tone from your favourite guitarist, whether blues rock or black metal guitarist, or smithing your very own sound.
Are you looking for Delay to extend your sound? Check out our review on the top Delay pedals.
At a glance: Our top 3 picks
Your shortcut to our team's top 3 recommendations
Electro-Harmonix Soul Food
EarthQuaker Acapulco Power Amp
Pro Co RAT2

Optional true- or buffered bypass
Superb transparent overdrive sound
Rugged construction

Awesome looks
Loud, no-nonsense distortion
Superb build quality

Legendary distortion pedal
Unique distorted sound
Incredible build quality

Click here for price
Click here for price
Click here for price
1. Electro-Harmonix Soul Food
Electro-Harmonix are one of the most well known names in effects pedals, which is why you shouldnt be surprised to find one of their products on this list. The Soul Food is a really nice bit of kit, designed for those who are looking for a little bit of crunch or fuzz without going overboard. Its certainly suited to those that play jazz and blues with a rock edge.
In terms of specs, weve got optional true bypass or buffered bypass, which is very nice to see, and will be hugely useful for guitarists that need a versatile pedal. Volume, drive and treble knobs allow you to control the sound, which is designed to be as transparent as possible. Wed agree - at lower volumes theres very little in the way of tone altering.
Design wise, this pedal clearly has its target market in mind with its vintage cream facing and funky typography - it looks great. The switches dont feel quite as robust as some competitors, but overall build quality is superb, and theres no reason to doubt Electro-Harmonix quality.
Pros:
+ Optional true- or buffered bypass
+ Superb transparent overdrive sound
+ Rugged construction
Why We Liked It - This is probably the top distortion pedal that you can buy if youre just looking for some warmth and crunch in a fairly transparent way. If you dont need that full-blown distortion sound, then its hard to look past the Soul Food. It looks good, sounds better, and comes in at a very attractive price too.
2. EarthQuaker Acapulco Power Amp
EarthQuaker make some absolutely stunning products, and this one is no different. In fact, if this isnt the nicest looking distortion pedal on the market then we really dont know what is. Its just so very cool in every way. If the gold chest artwork on a totally black background wasnt enough, youve got this enormous oversized knob (branded the big knob) to control your sound with. Its over-the-top in just the right way.
Enough about the way it looks though - how does it sound? Loud. Thats probably the most accurate way of describing this pedal. It might be a no-nonsense one-knob pedal, but this is one impactful unit. Crank up the dial and it will deliver some seriously powerful distortion or fuzz. Think Billy Gibbons of ZZ Top cranked up to 11. Its worth bearing in mind that the pedals sound is influenced considerably by the guitar output - youll get that beautiful not-quite-fuzz sound with the right setup.
Youd expect something from EarthQuaker to be robust, and youll be pleased to know that you get that with the Acapulco Gold. Everything feels extremely well put-together. The only physical drawback is of course that the big knob might be a bit higher than your other pedals.
Pros:
+ Awesome looks
+ Loud, no-nonsense distortion
+ Superb build quality
Why We Liked It - Whether youre looking for some serious stoner metal distortion, or you want something to give your blues the edge, there arent many better options than the Acapulco Gold. Its a premium option, and the big knob might not be to everyones tastes, but the sound is simply awesome.
This thing couldnt look more 80s if it tried. The typeface, the dial graphics. Everything about it screams arena rock, and pleasingly, thats exactly what you get. This model is of course a reissue of the legendary RAT distortion pedal from 30-odd years ago, and is a wonderful reflection of the original.
What we really love about this pedal is the way that it sits neatly in the gap between overdrive that isnt quite aggressive enough, and distortion thats just a bit too much. Its ideal for screaming leads, but can nail a really controlled, compressed rhythm guitar too. The middle dial - the filter - is also a very neat addition that allows you to either cut out some of the higher frequencies, or roll back and let your guitar shine through unrestrained.
This unit hasnt changed much on the outside since the 80s, and thats no bad thing. Its heavy duty, and we would not be surprised if its currently sitting on the pedalboard of some seriously famous touring musicians.
Pros:
+ Legendary distortion pedal
+ Unique distorted sound
+ Incredible build quality
Why We Liked It - This is a hugely versatile pedal, with truly excellent sound and wonderful build quality. Its not a super-budget option, but the price is very, very impressive indeed. Youll struggle to find a better pedal in this price range and overall the bang for your buck might just be unbeatable in the market.
With a name like Super Badass, youd almost expect this to be a pedal that delivers nothing but straight-forward distortion, but youd be wrong. Very wrong. This MXR product is one of the most versatile pedals around, being capable of giving you everything from very light overdrive, to screaming, full-bodied distortion.
You get no less than five separate knobs on the Super Badass, allowing you to alter the output and distortion, as well as the bass, mids and treble. Its perfect for sculpting tone, and we love the fact that you can get it do do pretty much whatever you want. Our only criticism might be that if you want maximum gain, this pedal might lose out to a more dedicated unit.
Quality overall is very good, from the all-analog components inside, to the super solid casing on the outside, which incidentally looks very cool in an almost glittery finish. Its not too much, but just gives the thing a little bit of character to separate it from your typical straight-laced technical pedal.
Pros:
+ Incredibly versatile
+ Completely analog
+ True bypass
Why We Liked It - If you demand versatility from your distortion pedal, then the Super Badass is a very good choice indeed. Whether you have a very specific tone in mind and you need a technical peal to achieve it, or you want to be able to produce a range of sounds, then this unit needs to be on your shortlist.
The Boss DS-1 pedal should need no introduction really. This is one of the most famous, popular, and well-reviewed distortion pedals on the market, and has been for almost 40 years now. Its an absolute classic, and is likely to continue as such for a very long time yet.
What can we say? The DS-1 has been designed from the outset as the everymans distortion pedal. Its versatile enough to be used for a very wide range of music styles, its not hard to get it to elicit some great sounds, and its priced very attractively indeed. We can easily get everything from a bit of light distortion to some serious growls from the responsive dials, which is great if youre new to this kind of effect.
The eye catching orange chassis is now iconic, and can be spotted on a pedalboard from a mile off, which makes it extremely cool in our eyes. Everything is screwed together solidly, and the trademark Boxx footswitch is so nice we wish it was on most other pedals.
Pros:
+ Suitable for a wide range of styles
+ Perfected over decades
+ Fantastic price
Why We Liked It - The DS-1 might lose out to boutique pedals when it comes to specialisation, but overall its just a really solid proposition from Boss. Its inexpensive, and will do just about whatever 90% of guitarists want it to, which makes it really hard to beat, and why no top-10 list is complete without it.
6. Electro-Harmonix Nano Big Muff
Once youve got over the amusing name, theres little doubt that this is a very accomplished pedal. While some of the units on this list have been designed to cater to a wide variety of styles, this one has one tonal goal: fuzz.
That said, there is some flexibility to be had. Make adjustments and you can actually move from an almost clean level of fuzz; perfect for a bit of jazz or even funk, to ridiculous levels of distortion that would be ideal for stoner and doom metal. Think Dopesmoker by Sleep. Its a very entertaining pedal to play with despite its small size.
Speaking of the chassis - its beautifully shallow, and is generally compact, making it perfect for smaller boards. The overall finish is very nice too, as you might expect from Electro-Harmonix. It feels like a very premium product, despite being priced in the low- to mid-range.
Pros:
+ Great compact chassis
+ Suitable for all kinds of fuzz
+ Good price
Why We Liked It - The Nano Big Muff makes our list because it offers a fantastic combination of premium micro packaging and awesome tone. You can get a lot of different sounds out of it, despite it being an out-and-out fuzz pedal, which makes it great fun to mess around with.
Another reissue of a legendary pedal, the Distortion + is the pedal of choice for that 70s/80s hard rock and metal sound. It achieves this through the use of some fairly hefty distortion, but with soft clipping that helps to ensure that you get a really nice bite, but that everything stays in harmony. Its a very, very nice sound that you simply cant find in a lot of distortion pedals, though it wont be suitable for all genres.
It is reasonably versatile too - if you really crank it up, you end up with some real fuzz that sustains well, but on the lower end, it can sound like a quality overdriven tube amp. Just a very nice sound all-round.
Its a fairly simple thing physically, with just the two knobs for output and distortion, and a nice big LED. It all looks nicely laid out, is incredibly well finished (including the knobs) and the bright yellow chassis really evokes the spirit of those 80s shred guitarists. Think the legendary Randy Rhoads, who incidentally did use this pedal in some of his setups.
Pros:
+ Nails the 80s hard rock tone
+ Great looking, well made chassis
+ High-end product
Why We Liked It - If you want to sound like your favourite 80s hard rock or heavy metal guitarist, then this is probably the pedal for you. It produces a unique sound thanks to that quiet clipping, and comes in a quality package. The price is in the mid-to-high range, but we think its worth it to be able to pretty much guarantee yourself this tone.
8. Xotic Effects SL Drive
For a fat, warm tone that pairs perfectly with the sound of a quality British valve amp, this is the distortion pedal for you. Of all the pedals on our list, its probably this one that gives the most uniquely distorted tone, and we love it. It sounds so very Marshall, and indeed you could probably replicate the sound of an overdriven Marshall without the right amp - its that good.
In addition to the tone, drive and volume knobs on the exterior, there are also additional dip switches on the inside that further allow you to shape the sound. They are Super Lead and Super Bass, and do exactly what youd expect. Flick the super lead on, and youre Jimmy Page.
Its an undeniably vintage-looking thing, but if were honest it does look a little strange. The fonts are all over the place, and things feel a bit jumbled. Looks dont matter to a lot of guitarists, but its certainly worth noting regardless. Despite this, and its compact size, it feels like a quality product. The heavy-duty construction should last and last.
Pros:
+ Super high quality
+ Unique distorted sound
+ Plenty of customisation available
Why We Liked It - This is not a cheap pedal, and its not the most attractive of units either. That said, its a boutique product that really delivers where it counts, which is why it needs to be in our top ten. The sound is so much more like an amp than a pedal too.
9. Behringer Super Fuzz SF300
OK, so the SF300 distortion pedal is unashamedly inspired by offerings from Boss, but thats not necessarily a bad thing, and it certainly isnt when you get this much pedal for such a tiny price. This thing is basically a catch-all for fuzzy distortion. It can do light 60s fuzz, from the time when overdrive was still seen as a bad thing by a lot of guitarists, to meaty, stoner fuzz that is super distorted.
It does this by giving you controls for both level and gain, as well as treble and bass. There are also two fuzz options, for either a classic sound, or a grungier feel, and a boost one too. Its really very good - the tone might not be the greatest that the market has to offer, but its ideal for someone who just wants to play with this kind of effect, or wants to sue it selectively.
For the price, there had to be some compromised somewhere, and they come in the form of the pedals construction. Its by no means bad - everything is laid out and finished well, including the footswitch, but rather than the usual metal, the SF300 is made from high impact plastic. It feels fine, but theres a reason touring musicians will buy only pedals with a metal chassis.
Pros:
+ Amazing value
+ Plenty of options
+ Great fuzzy distortion
Why We Liked It - Stunning value for a distortion pedal with 2-band EQ, a variety of settings, and a very respectable tone. We couldnt not put this on our list. It might not be a perfect touring partner, but at this price, you just have to give it a go if you want to play around with some fuzzy distortion at home.
10. MXR Custom Badass '78
The second MXR to make it onto our list, this one is not actually that far away from the Super Badass in terms of tone, but is absolutely deserves an entry of its own. If you want the ability to nail some soaring highs with a really hot sound, then this could well be your next distortion pedal. Its not going to get you a heavy metal thump going on, but it is ideal for turning up the heat, with a natural feeling distortion sound that goes some way beyond mere overdrive.
We also love the crunch button, which unlike a lot of pedal buttons, does exactly what youd hope it does, and more, to the point that the first time you try it out, you wont want to switch it off. Ideal if you want a few more lows and highs to build out your sound.
As with all MXR products, the Custom Badass is built well, and is nicely finished to a high standard. Its beautifully thought out, and feels like a really premium pedal, despite not being anywhere near the price of some boutique options that aim for the same sound.
Pros:
+ Bright, open and hot tone
+ Excellent crunch button functionality
+ Decent price
Why We Liked It - As with the Super Badass, this is pedal for those that like all manner of 60s to 90s rock. Its got a beautiful, scorching hot tone however, and is more open than the compressed Super Badass. You wont find much better for your money, which is why weve decided to include this unit on our list.
Distortion Pedal Buyers Guide
What is the Best Metal Distortion Pedal?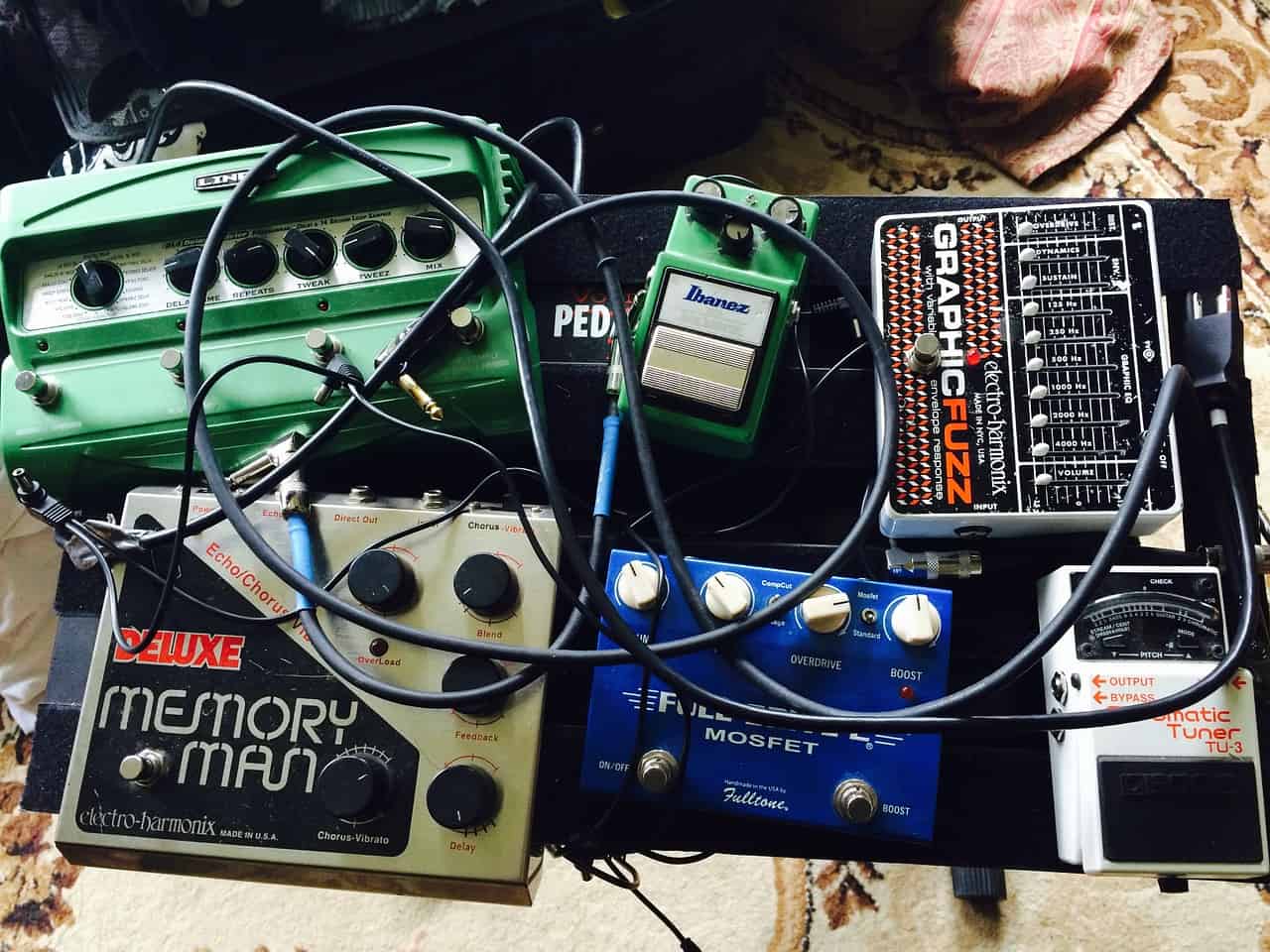 When anyone comes looking for a distortion pedal, the first thing they have in mind is the type of music that they play. And often, thats metal, because pretty much every single guitar in metal music is distorted.
So what exactly are you looking for? The problem with this is that it will depend entirely on the type of metal that you like to play, or think youre going to play most often. Metal is a hugely diverse genre, more so than many people would initially think, which is why its very hard to say that there is one single metal pedal that sits above all others.
Traditional heavy metal for instance will often use a bit of distortion in a way thats designed to replicate the overdrive heard on old school amps. Its a slightly different tone to out-and-out distortion, and if you go for something with too much gain, it just isnt going to sound quite right. Similarly, a lot of 80s metal and heavier arena rock will call for this kind of tone but with some compression. Look for pedals that talk about overdrive-voiced distortion, or that offer some sort of go-between of overdrive and distortion. Think the ProCo RAT 2 or similar.
Black metal will often go for super high gain, which is easy to find on a pedal, but youll really need to be able to crank up the treble and mids to replicate the sound, which means that youll want a pedal that has those knobs available. Unless of course you dont mind adding to your chain, or you think the amps own functions can take care of that. Death metal will call for the same, but with more bass.
If youre playing straight, out-and-out modern metal, covering everything from alternative metal to nu metal and even metalcore, than most standard distortion pedals are going to work to get you pretty much bang on the distortion sound that you need. However, rather than hoping one single pedal will get you to the tone youre looking for, if youre looking for something incredibly specific, you will need to think about everything that influences tone, from your pickups, to the settings on the guitar.
If you have a favourite artist, then it may well be useful to see what they use, rather than hoping to find the holy grail of distortion.
So to conclude, there are so many different types of metal, with varying sounds, that it just isnt possible to say theres one single greatest pedal for metal. If you pushed us for a choice from this list however, wed recommend the Boss DS-1 for its flexibility, and potential for proper distortion. Its a good starting point for most types of metal, but if you wanted something for 80s shred, then you might go for the Distortion+ or RAT 2. Alternatively, stoner metal might call for the Acapulco Gold.
What is the best high gain Distortion Pedal?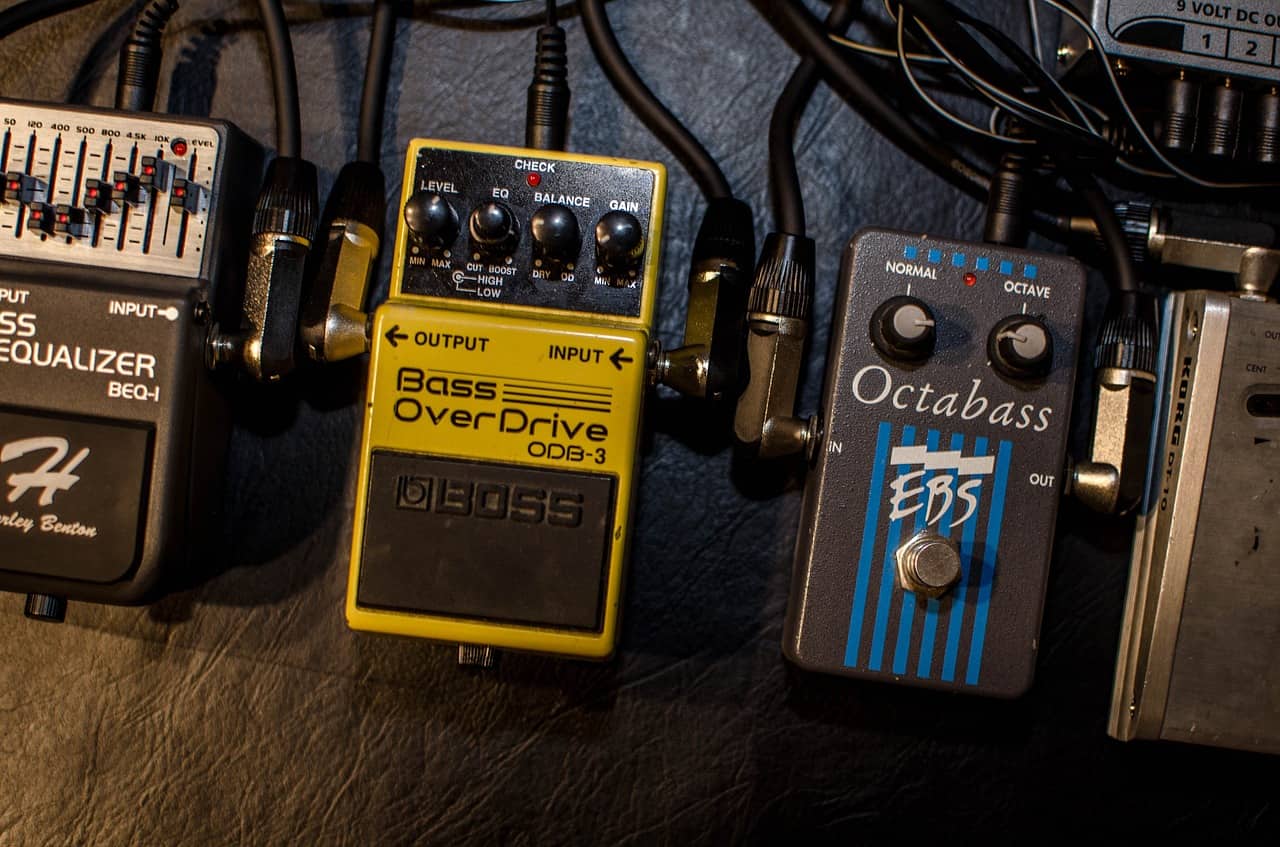 High gain is what gives you that really distorted sound, and is often what youre looking for if you want a seriously heavy distortion pedal for metal tones, but it can be good for hard rock too. As weve already discussed, theres a lot for you to look for if youre playing metal, but this is often a good place to start.
There are lots and lots of different pedals out there that offer high gain and very significant distortion, which makes picking the best quite a difficult task. What youre looking for is something that can give you that searing sound whether youre plugged into a full stack valve amp, or a little practice amp. You dont want things to fall apart as you crank it up or down - some lower quality pedals will just become muddy at too low or high volumes.
On our list, wed recommend the MXR Super Custom 78, MXR Super Badass, and MXR Distortion +, along with the Boss DS-1 and ProCo RAT 2 as being the pedals that offer the biggest chance for some really high gain sounds. Thats not to say this list is exhaustive of course - youll find plenty of other high gain pedals on the market.
Of course, theres no substitute for trying some out yourself.
How to use a Distortion Pedal?
A distortion pedal can be used anywhere in your effects chain to really give your tone an entirely new sound, and theyre really very easy to use. Unlike some effects pedals and other guitar peripherals, there really isnt much difficulty to using one.
Simply plug the distortion pedal in between your guitar and amp, dial some adjustments in, and youre ready to go. From then on, its all about tweaking whatever options available with your particular pedal.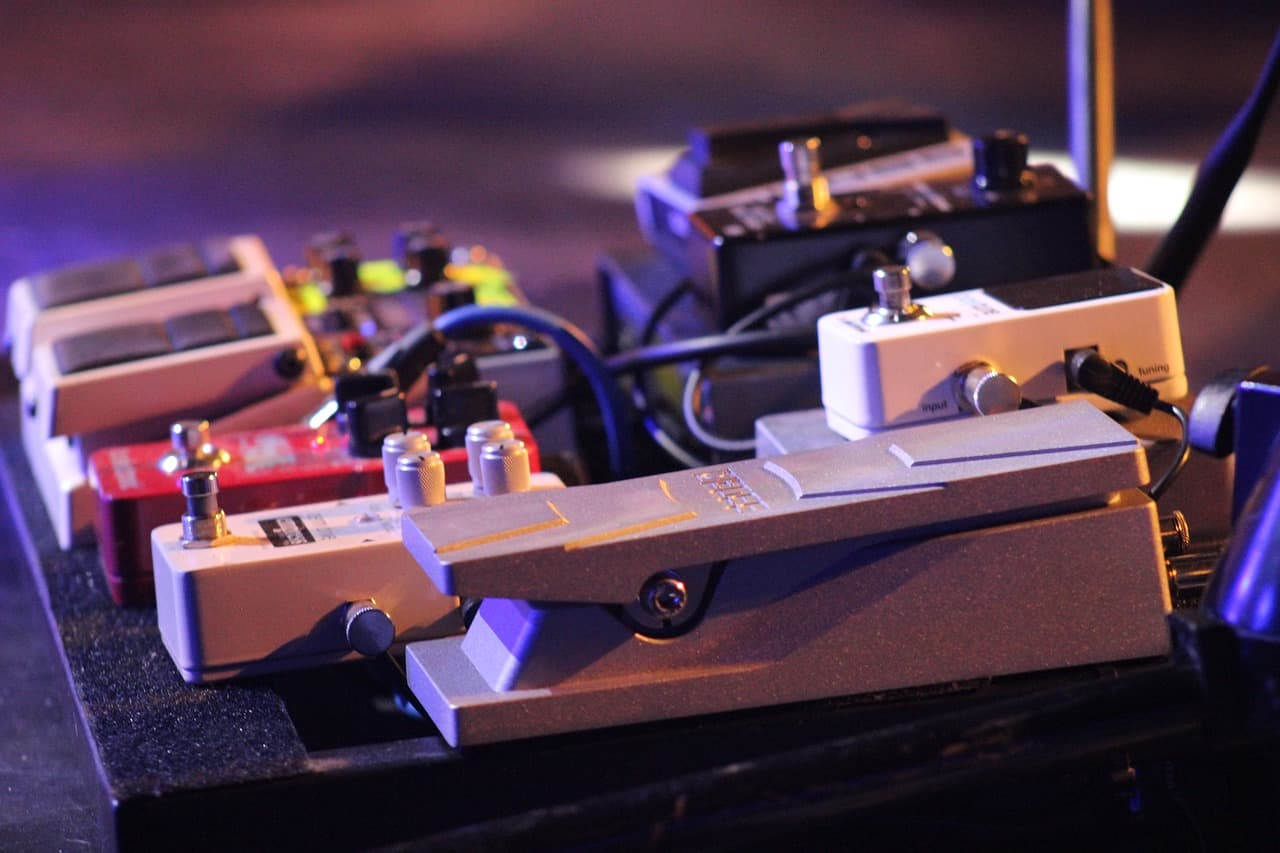 Its worth bearing in mind of course that there are many, many different types of distortion that you can achieve using one of these pedals. They dont all sound the same, so you can use them differently. On virtually all pedals, youll get one knob for controlling the gain or level of distortion, and its this you can use for going between an almost clean sound, to a very distorted noise.
Theres often also EQ to be found too, which will help you to sculpt your tone - ideal if youd like a little more bass, or you want to shine with some screeching treble.
Its always a good idea to begin with your pedal somewhere in the middle of the settings. This way you can easily bring things up or down a little to fine-tune and find the sound that you like or are trying to replicate. More gain isnt always better, and you might be surprised by how much difference might be made when cranking up the volume, or adjusting some of the EQ.
FInally, distortion pedals are often combined with other effects like chorus and reverb, or with wah-wah pedals. This is how you build a really nice distorted sound, but remember that its always worth fine tuning your tone, then level of distortion, and then finally effects on top of that. Its the easiest way of finding the right tone, and ensuring that you can replicate it in the future.
What does a Distortion Pedal do?
So what exactly does a distortion pedal do when you hit that footswitch? How do distortion pedals work?
Most distortion pedals will use a variety of transistors and diodes to both boost the guitars signal, and also change the shape of the signals waveform. The boosting of the signal is fairly simple to understand, but the clipping is less straightforward, but is very important, because it is what creates that distinctive sound.
A signal wave normally looks like a smoothly undulating wave, with naturally curved peaks and troughs throughout the range. Distortion happens when these waves are clipped for any reason - that is that the highs and lows of the waves are cut off - and is essentially when the quality of the sound is reduced. When it comes to distortion pedals, this is of course a desirable effect.
In the past, distortion would happen when a signal was put through an amplifier that couldnt deal with the sound. If the signal was too strong, then the speaker might have been physically unable to recreate the highs and lows of the sound wave, causing them to be cut off.
A distortion pedal is therefore set up to artificially clip the signal wave in a similar way to what would happen if the amplifier or speaker was overdriven, but in a much starker and more significant way. Well cover the main differences between overdrive and distortion in the next section.
This clipped signal then goes through to the amp from the distortion pedal, and you get the distorted sound, with more sustain, and a broader range of harmonics. Simple in theory, but there are lots of different degrees to which this clipping is done, and ways in which it is performed, which is why there are many distortion pedals on the market.
Overdrive vs Distortion Pedal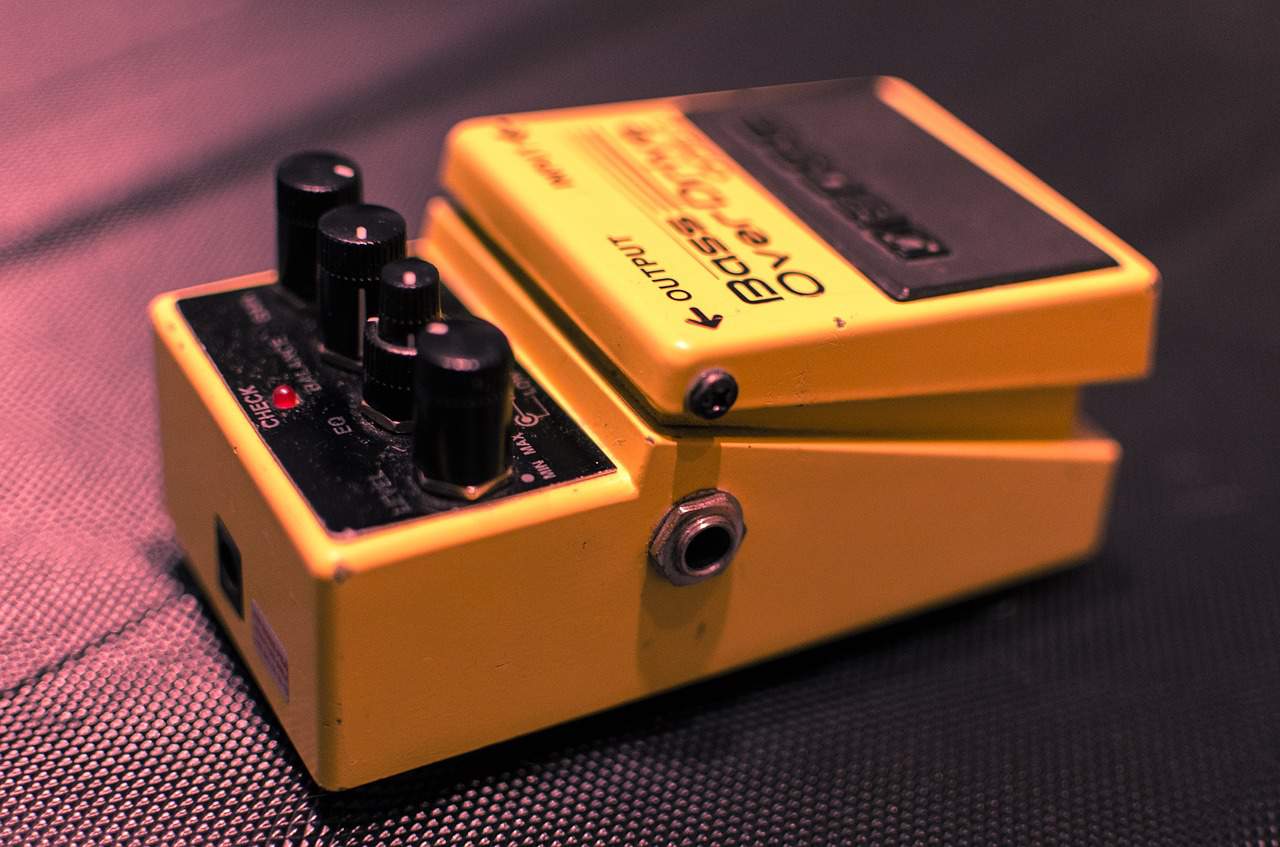 One of the most frequently asked questions when it comes to effects pedals, is what is the difference between overdrive and distortion?. In truth, they are quite similar, and the line is often blurred when people are describing the sound that they hear. Lots of guitarists themselves wont even be able to distinguish between them in the middle of the mix, but that doesnt mean there arent differences.
In addition, this becomes more complicated when some pedals are marketed as overdrive pedals, some are marketed as distortion pedals, and many even mention both. Hopefully well be able to clear up some of the confusion.
It helps to first give a bit of background to these effects and where they came from, some of which weve actually spoken about already. Originally, distortion was seen as a bad thing. It happened when amps were given more than they could deal with (over driven), or if the amp was damaged. Eventually however, this sound became fashionable.
In order to replicate it consistently, guitarists would therefore intentionally over drive their amps to get that bite. That sound is, as you would expect, now known as overdrive, and can be achieved naturally in the same way, or it can be done artificially with a pedal, just as explained with a distortion pedal above.
Once overdrive had become popular however, guitarists wanted more. They wanted distortion. So they took overdrive methods and made them more aggressive. This was done by clipping the sine waves more aggressively using effects, and ultimately pedals. Overdrive pedals will clip softly, or smoothly. This is visualised as a narrowed wave that is still curved at the top. Distortion however will simply shear off the top of the curve into a (mostly) flat shape.
So ultimately, overdrive pedals are not as harsh as distortion pedals; aiming to replicate the natural sound, whereas distortion pedals are more artificial and aggressive. There are however many overlaps and different sounds, so hard and fast rules are few in number.
As to which is better will depend entirely on your preferred kind of music. In general, overdrive will be used by more vintage and less aggressive styles, whereas distortion is the staple of metal, and more modern music. This is by no means a rule however - there are lots of exceptions.
For more info on the differences between them all, read the study.
Top Choice - Electro-Harmonix Soul Food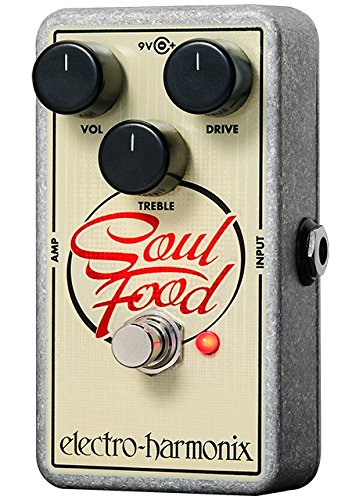 Weve decided on the Electro-Harmonix Soul Food as our top pick in this list, quite simply because it sounds so very good indeed, and has a lovely, transparent overdrive that can be cranked up when you need it. Admittedly, if youre looking for a metal distortion pedal, then this isnt it, but everyone is going to have different tonal goals. We dont think a distortion pedal has to be versatile to be good.
If youre looking for any kind of overdrive, or something just on the border of proper distortion, then we really do recommend that you at least give this pedal a try. It has this brilliant ability to give you some distortion without altering your core tone. This transparency isnt something that everyone will want, but its highly sought after among many guitarists, and we dont think theres another pedal that does it better.
Ultimately, youre getting a premium product for a very respectable price that just has an unbeatable sound to it. It comes beautifully finished with high quality hardware and electronics too, which means that if youre looking for superb quality boost and saturation, you just aren't going to be disappointed with the Soul Food.
Premium Choice - EarthQuaker Acapulco Power Amp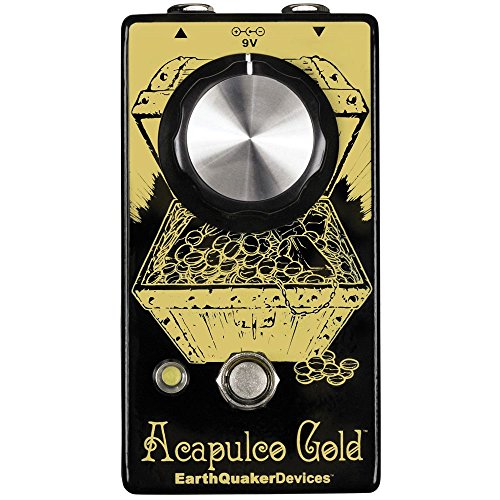 It sits somewhere near the top of the distortion pedal market when it comes to price, and as with our top choice, its not a flexible pedal - it has only one job. The thing is - it does that job so very well in such an awesome package that this has to be our premium pedal of choice.
A lot of the more expensive pedals tend to be very restrained; offering transparency, or flexibility, or boutique manufacturing. This doesnt. Its an in-your-face distortion pedal for people who want crippling fuzz, loud distortion, and a no-nonsense approach to tone. It really is very loud when cranked up, which is something that can be missing from old-school fuzz pedals sometimes, and we love it. The manufacturers describe it as being like the roar of a hot-rodded model T, and that couldnt be more apt.
And of course it wouldnt be our premium pick without its stunning looks either. The gold artwork and the huge dial just look so very cool and larger than life. We could really imagine this pedal on the board of many a rockstar. You really feel like youre getting what you pay for, which cant always be said for premium guitar equipment.
Great Value - Pro Co RAT2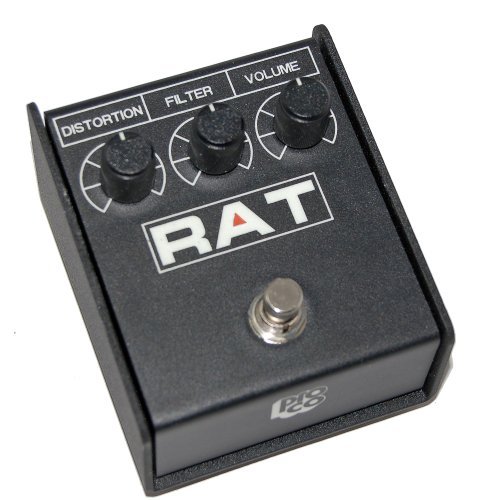 ProCos RAT 2 could in all honestly come very close to being our top choice, but its such an incredibly good distortion pedal for an incredibly good price, that it has to be our great value selection. Its really not that often that you can say this about such a famous pedal either. Theres usually a premium to pay for a name, but there isnt here.
The sound that the RAT 2 produces will be unmistakable to many audiophiles, with a fantastic capacity for shaping it with the incredibly useful filter knob. There are so many 80s-90s hard rock and light metal tones that you can get with this pedal, all in that beautiful space above overdrive without excessive distortion. It really is fantastic, which is why this model is likely to prove just as popular in the future as the original RAT.
With its square chassis and 80s detailing it also doesnt look quite like anything else, making it even more attractive. Theres not a lot else that feels this bulletproof either - at any price - let alone this one. Just a fantastic all-rounder that anyone should consider, even if you arent on a budget.
Conclusion
So. Ten distortion pedals, all of which clearly deserve to be here, and options whether you have a small or large budget, and whether you want some compressed, controlled distortion for thumping metal rhythm, or hot fuzz for screaming leads. Its not easy picking between them, but whichever one you go with, youre sure to be impressed. If you'd like to read more about distortion pedals, click here for the fantastic study.
If you liked this review by Music Critic, please leave a positive rating: