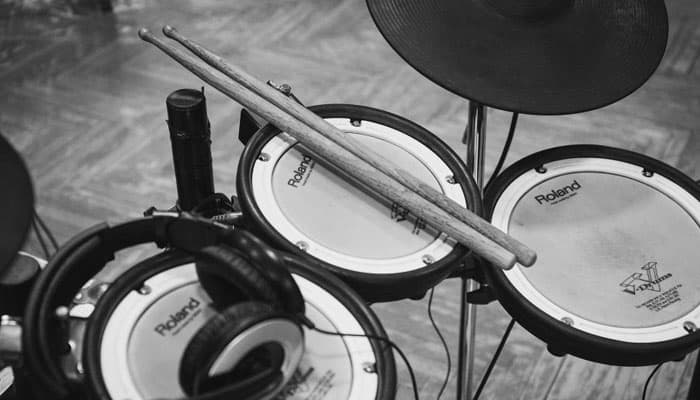 With the leaps in technology over the years, electronicdrum sets have been continuously improved and perfected, and nowadays electric drum sets can be considered to actually surpass acoustic sets in many key areas of performance. So these days, drummers are no longer left in the lurch, but are able to play their electronic sets with confidence alongside their counterparts jamming on an electric guitar.
The problem these days for drummers looking to play on an electronic set is not the quality of the sets themselves, but is rather in the sheer volume of information and options related to these sets. While it is true that no matter what instrument you are looking for these days, you will be faced with an overabundance of options, but this is particularly true for drum sets. This is because drum kits are made up of so many components for example, shells, heads, cymbals, hardware, etc. and this variety of components only aggravates the dilemma.
This top-ten list of the best electric drum sets of 2017 is intended to help alleviate this issue, for we sifted through a variety of different options and narrowed down the best, and most up to date, sets for you to consider. So if you are in the market for a cutting edge electronic drum set, take a look at our list, and you will be sure to make a well informed decision.
1.Yamaha DTX532K Electronic Drum Set
The all-around quality of the components on this Yamaha DTX532K that you get for this low sticker price makes this electronicdrum set hard to beat in terms of value for the cost. Combine this excellent value to cost ratio with the fact that this set has an app available through the App Store that offers cutting edge ways of interacting with your drum set, and this kit sets itself apart from the competition. For, just throw the app on your phone or tablet, and you will be able to make adjustments to the drum set with ease.
This brand new set from Yamaha has nearly twice the wave ROM and hundreds of new sounds compared to the last Yamaha set. Furthermore, the voices that this new set does take over from the previous model have been given updates. This newer model is thus far superior to previous iterations from Yamaha.
In more detail, this drum set comes with the DTX snare pad which is practically indistinguishable from an acoustic snare pad. Also, the trigger and stand allow you to tinker with the position of the kit in any what that you desire.
In total, over 600 sounds are stored on this drum set, and along with this a variety of drum training functions including a number of practice songs come stock. Or, you can also choose to import your own custom wave files by way of the USB port on this set. All in all, this is a great set for anyone looking for an amazing deal.
Pros:
+ Perhaps the best quality to cost ratio
+ Amazing sound on the snares
+ Great for training, with the app and training functions
Why We Liked It – With good quality components and a low sticker price, this drum set is perhaps the best bang for your buck that you can find. If you are looking to improve your skills by way of a variety of training functions, and yet dont want to shell out too much cash, go with this Yamaha.
2. Roland TD-30K-S V-DRUM V-Pro Series Electronic Set
One of the best and, accordingly, most popular electronic drum sets out there is the Roland TD-30K Pro Series. While Roland makes a variety of different electronic drum sets, the Roland TD-30K Pro Series is the high end, intended for experienced drummers looking to get the latest and greatest technology for their electric set.
Indeed, this Roland Pro Series is considered to be on top at the high end, both in terms of quality of its build and components, but also in terms of price as well. Therefore, if you are operating on more of a budget, or are still learning the ropes on how to drum, then you might want to go for a more entry level option. But if you consider yourself a pro or soon to be one and are willing to shell out the cash for the highest quality, then this Roland will suit you well.
Rolands so-called natural technology is in play with this set, and it produces an extremely clean and consistent sound, rivaling that of the highest quality acoustic sets. If you are a pro who loves electric drum sets, yet also yearns for the quality that acoustic sets can deliver, this Roland is the solution.
In particular, this set comes with the latest behavior modeling technology, which provides the most accurate playability on electric sets. It also comes with an ambiance fader along with room ambiance, so that you can be sure to set the general mood before rocking out.
Pros:
+ High-end electric drum set ideal for those who play live gigs
+ Stocked with the latest cutting edge technology
+ The natural technology ensures clean and consistent sound
Why We Liked It – If you are an experienced drummer, looking for the latest and greatest technology, and are not overly concerned with the price tag, this Roland TD-30K Pro will be perfect for you. The natural technology inherent in this set, along with the behavior modeling technology, is sure to produce the professional sound that you are after.
3. Alesis Nitro Kit, Electronic Drum Set with 8″ Snare
The Alesis Nitro Kit electronic drum set comes in at a very low budget cost, and, surprisingly, sounds and performs quite well with this low sticker price. Indeed, this drum set made by Alesis could very well be the lowest cost set you can buy, while still bringing in a good level of quality build and components.
This Alesis is a complete 8 piece kit including three tom pads, a dual-zone snare, three cymbals, and a kick drum. This kit also comes with an electronic drum module with hundreds of sounds and play along tracks. For its cheap price range, this is the best drum module that you can find, and the sheer amount of sounds will be unchallenged by its competitors.
The drum module is indeed really where this puppy shines. It has a backlit screen, and its buttons are laid out mimicking the layout of the kit itself. This is a very intuitive design and makes navigation a breeze. Besides the standard options we expect on a drum module, there are many extras on the Alesis. For example, along with the standard USB that we have come to expect, Alesis also offers a MIDI jack (both in and out) so that you have the option of hooking up your old school devices to this set. This is a real nice touch if you are still fond of your older equipment.
In total, this Alesis Nitro Kit electric drum set is offered at a bargain price. It comes in with everything you would expect here, plus much more. This is the perfect set for those who want variety, yet also want a low sticker price.
Pros:
+ Very low sticker price, perhaps the lowest in its range
+ A plethora of options are available
+ Cutting-edge drum module
Why We Liked It – Being offered with a very low sticker price, the Alesis Nitro Kit is a great set of drums for those on a budget, yet who still want the various options that more expensive sets offer. This set not only sounds better than its price tag would suggest, but the drum module offers an amazing amount of features, indeed the most you will find in this price range.
4. Roland TD-11K V-Drums Electronic Drum Kit
The Roland TD-11K electric drum set is packed with everything that you will need in your journey from a beginner electric drummer, well up through the intermediate level. If you are in the market for such a kit, looking to cover everything in a one-off purchase and start playing from straight out of the box, this Roland set will meet your needs.
Firstly, the build on this kit is very sturdy, so you are sure to be able to give this set quite a beating without having to worry about it breaking down. Therefore, you can jam as loud as you like, without having to worry about annoying the neighbors either, as this set is relatively quiet as well.
The variety of the sound in this set is wide-reaching, so much so that many different genres can be played well. Dont worry about switching genres with this set, as its library of sounds will be sure to be able to accommodate anything you try to throw at it. The tones are very realistic. In general, the responsiveness of each part of the kit was very good and taking this together with the realistic tones, you are able to generate quite a wide array of sounds with a good amount of control.
Overall, this set is not the cheapest you will find on the market, but nor is it the most expensive. This set is recommended for those who have some experience with drum sets in general, who plan on dedicating some time to the art, and who are looking to pick up their first or second electronic drum set.
Pros:
+ Great all-around kit, ready to play out of the box
+ Sturdy set, able to take punishment
+ Variety of sounds, able to accommodate many genres
Why We Liked It – The Roland TD-11K is a great all-around set, with everything that you will right out of the box, and is perfect for the beginner to intermediate drummer. If you find yourself in this range playing on an acoustic set and thinking about making the jump to electronic, try out this Roland.
5. Yamaha DTX760K 9-Piece Electronic Drum Set
The Yamaha DTX7760K is an excellent 9 piece electric drum set with a higher end price tag that matches its high-end quality. With roughly 1,400 different sounds packed in the inventory, alongside the well respected Motif XF synthesizer, this drum kit will meet the needs of those more experienced players looking for a top quality electric set.
The DTX pads on this set are noteworthy and in general, provide top notch expression and subtle feel. When you play on these pads it will actually be hard to distinguish these from acoustic drums, the feel is that authentic. For example, the sensors on these pads are advanced enough to allow different triggering on both the head and the rim, just as if you were playing on your old acoustic set.
While the DTX is packed with about 1,400 sounds, advanced players may want to use various samples not included by Yamaha. Rest assured that this is no problem, as this set includes a USB port where you can not only upload your own samples, but also edit them, before matching them to whatever drum pad you choose.
Further, you can connect this drum set straight to your computer in order to record your own Midi data. Once you do this, you will be able to sample your own performance by playing it back, so that you can guarantee that you final product sounds like it was recorded in a professional recording studio. This is an excellent set for more advanced players looking for a great sound.
Pros:
+ Roughly 1,400 sounds plus the ability to upload samples
+ Ability to record data to computer for enhanced playback
+ Includes Yamahas trusted drum sounds
Why We Liked It – The Yamaha DTX760K is a great 9 piece electric drum set, packed with many bells and whistles, and with a price tag matching its high-end quality. Those willing to shell out the extra cash to get a large number of sounds and various enhanced abilities should be satisfied with this set.
6. Roland TD-25KV V-Tour Drum Kit
Priced in the mid-high range, the Roland TD-25KV electric drum set will be ideal for those looking to purchase a higher-end unit, yet is still somewhat budget oriented. For this Roland comes with the great sound and control that you would expect at the high-end, and also comes with many of the options and abilities of these more expensive units, yet is priced relatively low in comparison.
In recent years Roland has made several changes to their electric drum set line-up, discontinuing some models, while introducing other models. This new TD-25KV series can be seen as the fruits of these labors Roland has reorganized their line-up and in turn produced this particular set with the quality level found in their discounted models, yet now offered at a cheaper price.
This set is stocked with two 8 inch pads for the rack, two 10 inch pads for the floor, one kick pad, two 12 inch cymbals, one 13 inch ride cymbal, and a hat. As stated, the quality of this set is comparable to Yamahas own higher end models, yet at a cheaper price. But, in cutting away at some of the costs, they also had to cut out some of the options, such as some melodic and human voices from the module.
In total, this Roland might be considered to be the best of all the mid-range electric sets, or might be considered to be on the bottom of the high-end. If this is the range you are looking at, this popular Roland set will be a safe bet.
Pros:
+ Perhaps the gold standard kit for a quality mid-range set.
+ The fruit of Roland restructuring their line
+ Excellent sound and control
Why We Liked It – If you are looking for a top mid-range, or low high-range set, and want to play it safe so that you are sure to get a well respected and trusted kit, this Roland TD-25KV will be perfect for you. Roland took their time on this set while they restructured their line, and it has become something of the gold-standard for the mid-high kit range.
7. Alesis Command Kit | Eight-Piece Electronic Drum Set
While perhaps not as well known as the Roland or Yamaha models, the Alesis Command Kit is a viable alternative for those looking to get a good quality kit while paying a sticker price on the lower-end. The Alesis Command electric drum set is made up of 8 different pieces, all with good quality and adequate sound. Dont overlook this product if you are in the market for a budget kit.
This drum set includes an Alesis mesh snare as well as a patented mesh kick, both of which add to the overall quality sound of this kit. Rounding off the set are two 9 inch rock toms, an 11 inch floor tom, a 10 inch ride cymbal, a 10 inch hi-hat, and a 10 inch crash. This is everything that you will need to get yourself started with an electric drum set.
The drum module on this set holds 600 sounds, 70 drum kits, and 60 pre-loaded tracks for playing along. While more expensive models, of course, come loaded with many more options, what comes stock on this Alesis Command will be sure to meet the needs of those new to the market of electric drums, or those making their switch into this arena for the first time. But, like the more expensive models, this Alesis Command also has a USB drive, giving you the option of uploading your own samples and assigning them to any pad you like, if the stock selection was not inclusive enough for you.
Pros:
+ Great entry level drum set
+ Amazing value for the price
+ Includes all the basic functions you will need to get started
Why We Liked It – While the Alesis Command is perhaps not as well known as its Yamaha and Roland counterparts, it is indeed a viable option for those looking for a budget range electric drum set. There are no glaring deficiencies in this kit, and if you want a good all-around starter set, consider this one.
8.Roland TD-50K-S Mesh V-Drum System
If you are looking for the highest quality electric drum set, and want a well-established name brand that you can trust, the Roland TD-50K needs to be considered. This Roland kit is considered to be one the most advanced of its kind, and the quality of the set, as well as the drum module, are made to impress.
The Prismatic Sound Modeling engine produces hi-def resolution sound on the drums and cymbals that are hard to match with any other set. Dont get me wrong, the stock sound out of this baby sounds amazingly clear and crisp, but if you need to customize something to tweak that ideal sound, the Prismatic Sound Modeling engine has the option for you. For, you can adjust not only the composition but also the size, of each individual item in your set, giving you a degree of flexibility that will not be found in cheaper drum kits. You can customize the size and thickness of each cymbal, and you can even tinker the placement of the microphone itself.
For ease-of-use, Roland includes an SDHC card slot so that you can import custom sounds and libraries of your choosing. Also, this set is a dream for those who love to endlessly tinker on their kits sound module. If you have ever run into the problem of only having a limited number of pre-set content, you will love the options on this Roland for you can program an endless number of setups, and switch back and forth between them. Finally, the amazing look of this high-quality kit sets it apart from its competitors.
Pros:
+ Top notch quality and features
+ Includes the Prismatic Sound Modeling engine
+ Amazing customizable features
Why We Liked It – At the top of the high-end this Roland is intended for those serious to their drumming craft, or indeed those who tour and play live. This set has an amazing look and the sound to match. Amazing hi-def sound on the drums and cymbals, alongside an endless variety of options to tinker, this Roland is top of the line.
9.Yamaha DTX400K Customizable Electronic Drum Kit with Silent Kick Pedal
Priced on the lower end of the spectrum, the Yamaha DTX400K is one of the most bbudget-friendlyelectric drum sets that also have a compact footprint. This Yamaha seems to have been built with small apartments and dorm rooms in mind. The Yamaha DTX400K, overall, seems to be geared towards beginner drummers who are in the market for a cheaper drum set, and who dont have all the room in the world to keep it. Overall, this set is cheap, great for beginners, and compact.
While this Yamaha is budget friendly, this is also reflected in the number of pieces in this set, as well as in the number of drum sounds each are a bit on the low side. There are only five pieces to this set and there are only 167 sounds. At the same price tag you can get both more pieces, and more sounds on the module, but, in turn, you will most likely lose the compact nature of this Yamaha.
While this kit is compact, and thus ideal for apartments or dorms, the fact that this set is extra quiet is also a plus. Yamaha claims the kick drum is noiseless and the hi-hat pedals likewise will not bother your roommates or neighbors.
The Yamaha name is well trusted in the drumming community, and indeed they make some of the highest-end products on the market. If you have always dreamed of buying one of the quality sets, and indeed perhaps plan on obtaining one later in life, then this Yamaha may be perfect for you. For with this set you get the quality that the name brand is known for, without the hefty sticker price.
Pros:
+ Compact design
+ Ideal for those who are on a budget
+ Quiet kick drum and pedals
Why We Liked It – The DTX400K is a lower-end electric drum set made by the well-known and trusted Yamaha company. There are two reasons why you may want to consider this set. Firstly, with this set you can get the quality guaranteed by Yamaha without damaging your bank account too much. Secondly, if you are concerned with bothering your neighbors and roommates, or if you simply dont have much space to set up, this Yamaha may be ideal for you since it is both quiet and compact.
10.Roland TD1KV V-Drum Compact Electronic Drum Kit
Are you a drummer, dedicated to your craft, yet living in a small room or apartment and just are not able to fit a traditionally sized drum set inside? If this is your situation, Roland has you covered with their TD1KV electronic drum kit. This Roland is a low-mid range set that manages to stay very compact without sacrificing quality or sound. So, if you need to fit your drum set to fit in, say, the corner of the kitchen, yet at the same time do not want to downgrade your quality, consider this Roland.
The trade-off for the compact size is not in the quality or sound, but is rather in the layout. That is, Roland managed to slim wn this set by altering the layout of each piece in the build. In this set, the two cymbals, two toms, high hat, drum, pedal, and module are all directly attached to the frames kit. Now, on the upside this of course means that the set is more compact and you can fit it into that, say, empty closet. However, the downside here is that all other acoustic sets, and most other electric sets, will not share this set up, and thus transitioning either to this Roland compact, or away from this Roland to another set, will prove to be difficult in that you may find yourself a bit confused when each piece is in a different location. You may have to retrain your muscle memory a bit.
As for the quality of the build, and the sound it produces, this Roland is pretty much on par with other sets in this price range. Thus you can rest assured that with this set you will not be harming your sound in any way.
Pros:
+ Ultra compact design
+ Does not sacrifice quality of materials
+ Sound is on par with other sets in the price range
Why We Liked It – The problem of a drummer moving house and finding that they have no room for their traditional drum set is a common one we often hear about. Yet with the TD1KV electric drum set, Roland has found the solution. Without sacrificing the quality of the components or the quality of the sound but simply by redesigning the layout of the kit Roland has designed a drum set compact enough to solve the above dilemma for many people.
Best Drum Set Buyers Guide
What to Look For in an Electric Drum Set
When entering the market of electric drum sets there are various things you are going to want to consider before putting down your hard-earned money. Of course, the most general and first thing that you need to consider are the price range you would like to stay within. As a rule of thumb, you should stay in the price range that matches your skill level. So, if you are a beginner you should stay with the low-end, intermediate players should stay in the mid-range, and advanced players may want to pay the big bucks. For if you buy outside your skill level, you wont have the technique required to utilize the functions that are offered.
This consideration will narrow down your options significantly, however, there are still many other factors to consider factors which we will go over in more detail below. Firstly you are going to want to think about where you will be playing. If you are stationed in an apartment you need to consider how quiet your potential drum set will be, so you dont drive your neighbors or roommates nuts.
Finally, you should consider other various factors, such as the construction of the kit, as well as its configuration, outputs, and customization options. We will go through each of these factors below, to make sure you can make an informed decision.
Are Electronic Drums Good for Apartments?
Playing an acoustic drum set in your house is a notoriously annoying hobby for your neighbors or roommates. Playing an acoustic set in an apartment is sure to drive everyone in your vicinity nuts. Hence the solution of the drummer for the Late Show a while back: he built a sound proof booth in his apartment, and placed this inside a room, inside another room, and inside yet another room. Thus, the question of if acoustic drums are good for apartments is a resounding no, unless you want to go the route that Anton Fig did, which, of course, is not an affordable or realistic option for most.
The only realistic option if you play drums in an apartment is making the switch over to an electric set. Of course with electric sets, you can plug in headphones so that you neighbors will not hear the music. However, they may still hear the sticks hitting the pads, or more commonly, they may hear the vibrations of the kick pedal. Thus, while much quieter than acoustic drums, you still have to be cautious when purchasing an electric set.
Are Electronic Drums Quiet?
As just mentioned electric drums are much quieter than acoustic sets, since the former has a volume control, and has the option to use headphones. However, while the actual music can thus be completely unheard by your neighbors, they will nevertheless hear other things such as your sticks hitting the actual drum. So, another thing to consider when purchasing an electric drum set is how loud your drums will sound when they are hit. The answer to this question comes down to the material that your drums are made from. Drums on electric sets are often made with either mesh or plastic, and the difference between these two materials not only makes a difference in the feel and sound of the music but importantly for us here, it also makes a big difference in how annoyed your neighbors get.
In general, mesh headed drums are much quieter than plastic headed drums when struck, and this is simply due to the material in play here. Mesh drums will not produce as much of a pop when struck, whereas plastic will reverberate through the room. So, while you will want to go with mesh headed drums if you are concerned with bothering your roommates, you should also be informed on how the different materials affect the overall quality of your music.
This choice really seems to come down to preference. The mesh seems to have more rebound when struck as compared to the plastic drums. Whether this pronounced rebound is a superiority or inferiority simply comes down to preference. It has also been said that the mesh drums, after longer hours of playing, will feel better on the hands, since a long session on plastic drums may cause some discomfort.
Factors of Electric Drum Sets to Consider
Now that you have narrowed down your options a bit by considering where you will be playing, and with this what types of drums you need to play with, lets delve a bit deeper into further details that you ought to be aware of when looking to purchase an electric drum set. For not, all electric drum sets are created equal, and you need a to have a number of different aspects in mind when looking for a kit so that you can weed out the bad apples and find the best model for yourself. Things to consider in this regard are: the construction of the set, that is, the construction of the hardware itself; the configuration of the set, that is, how easy it is to assemble and disassemble the set; the outputs on the unit, for example, whether there is a USB port; and finally, the customizable features on the set, that is, the possible upgrades you can make to your kit in the future. Lets take a look at each in more detail.
The construction of the hardware itself is perhaps the most important thing to consider here. There have been horror stories of low-end models falling apart during a live show, and this is, of course, the last thing you want to happen. Make sure the set is sturdy and reliable especially the rack, which the pads are mounted to and if you can, go with a metal rack to ensure that everything stays securely in place.
If you plan on playing live gigs, even just playing over at your buddys house, you are going to need to think about the mobility of your set. How easy can you assemble and disassemble your drum set? Do some research in this regard if you plan on playing in different locations, or else you may end up spending most of your time putting the set together, or taking it apart.
If you plan on playing live gigs you need to make sure that your set has the appropriate cable jacks in order to connect to the powered sound system. Also, you ought to think about whether you will want to upload your own sounds onto your kit, and if so, you may want to be sure the kit has a USB port and function for this. In general, think about what you may want to do with your set, and find out in advance what ports you will need.
In general, electric drum sets come with a set number of drum pads and cymbals. However, this number may not suit you perfectly, especially if you plan on playing different genres. So, to anticipate any issue you may have, it is a good idea to think about a set that has the option of adding extra toms and cymbals to fit your potential needs. Having this customization will also, as a rule, extend the shelf life on your drum set.

Our Top Pick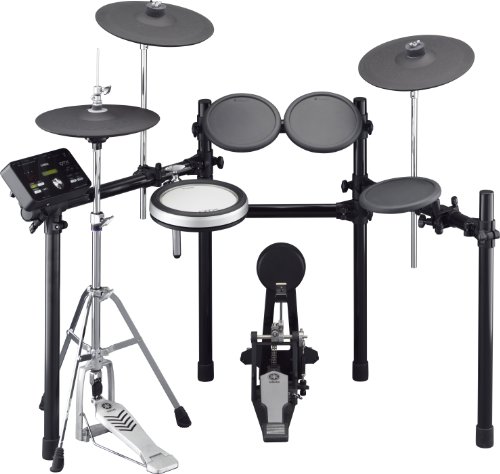 If you are in the market for an electric drum set with overall good quality components with a lower end sticker price, then the Yamaha DTX532K set is ideal for you. We consider this to be the best bang for your buck, in that you get here the best quality to value ratio that you can find on the market today.
This set, in general, will lend itself well to any drummer in the beginner to intermediate range. For not only does it come in with a low sticker price, but this set also comes stock with a variety of drum training functions, such as a large number of practice songs, so that you are sure to improve your skills on this baby. Alternatively, you can choose to upload your own wave files by way of the USB port on this Yamaha.
Furthermore, this set has a good amount of sounds stock over 600 making this 2017 model the Yamaha to choose, since the earlier versions are now inferior in this regard. Finally, this set is up to date technologically speaking, in that it is accompanied by an app that you can use on your phone or tablet to communicate directly with your drum set to adjust settings and so forth.
Considering everything this drum set has to offer, the Yamaha DTX532K comes in at our top pick. With the perhaps best quality to value ratio, the good sound quality rivaling the best acoustic, and a variety of training tools, pick up the Yamaha today to take your drumming to the next level.

Premium Choice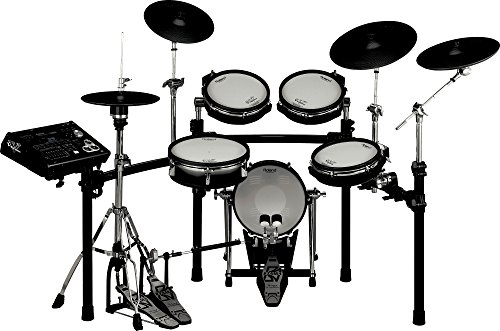 If you are in the market to get the highest end product, with the latest, most developed, technology, then the Roland TD-30K Pro Series is indeed the premium choice. Numbers dont lie, and the number of people who swear by this Roland set is a testament to its high quality. However, be aware that this quality comes with a price literally, a high sticker price but if that is not a problem for you, if a quality build and quality components is of more importance, then this Roland will suit you well.
The natural technology that the Roland brand has come to be known for will ensure that this electronic drum set produces a consistent, clean sound. Indeed the sound should be so realistic that any type of nostalgia that you may have had for an acoustic set will evaporate before your very ears. This set also comes with an intuitive ambiance feature that will also come in handy. The ambiance fader and the room ambiance are sure to set the background mood that you are looking for.
Therefore, while there are of course cheaper alternatives out there in the electric drum market, the quality of this set far outperforms those cheaper ones. So, if you are looking to save some cash you may want to look elsewhere, but if you are looking for a high-end build, components, and options, this premium Roland is the choice.

Great Value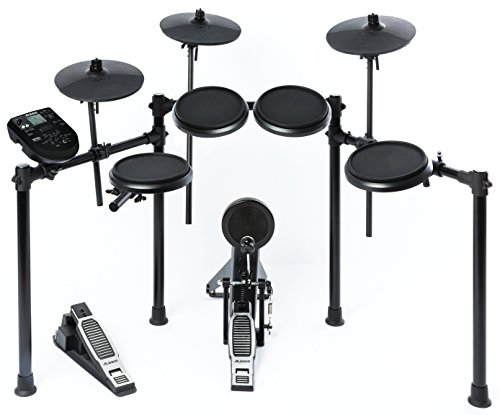 The Alesis Nitro Kit electric drum set is indeed the best value that you can find on the market today. That is, if you are looking for the cheapest drum set without sacrificing too much quality, then this set is indeed unbeatable. For, not only is the sound of good quality in itself, but the sheer amount of options that this set presents is where it really shines.
This is a complete eight piece kit, including three tom pads, three cymbals, a kick drum, and a snare. This is all good and well, but the real thing that grabs attention is the drum module on this set. This is simply the best module that you can find in this price range. The backlit screen and the intuitive button layout both contribute to the ease-of-use of this module.
This module goes above and beyond all expectations, as not only does it offer the run of the mill options we would expect, but also offers more rare options such as an old-school MIDI jack so that you are able to hook up your older technology. This again highlights the great value of this set, since you can buy this on a budget, while still utilizing your older technology without having to replace the latter.
In total, while the components of this set are of course not top of the line, and the set may be missing some more advanced features, the extremely low price tag on this set makes the Alesis Nitro Kit the best value of them all.
Conclusion
When electric drum sets were first introduced back in the 80s drummers everywhere were anxious to get their hands on a set with the vision of jamming alongside their lead guitarist who was shredding on an electric guitar. However, back then the electric sets were not up to par, and always left the drummer going back to their old acoustic set.
Things have changed in our day in age however, and with the leaps in technology electric drum sets have been perfected to such a degree that many drummers now consider these sets to actually sound better than their acoustic counterparts. Further, many consider the options available in electric sets to be so encompassing that they will no longer turn back to the old acoustic relics. And finally, as many drummers play inside their apartment or house with roommates, the notion of jamming on an acoustic set seems outright rude, and the option of electric set, with headphones and mesh pads, is a much more appealing option for everyone involved. Hence the era of the electric drums has commenced, and we can only expect them to gain more and more popularity as everything is going digital these days.
The problem for drummers these days is no longer whether they should buy electric or acoustic for, in general many already prefer electric over acoustic for the reasons just mentioned but rather, the problem lies in the sheer outrageous number of options from which to choose. This is where our above list comes in handy. For we have narrowed down what we consider to be the best ten options on the market today for electric drum sets. This list covers the full range of options from low-end, middle-end, on to high-end giving various examples in each category. So no matter what price and quality range you are after, you should now be ready to buy the set that fits your needs.
If you liked this review, please leave a positive rating: