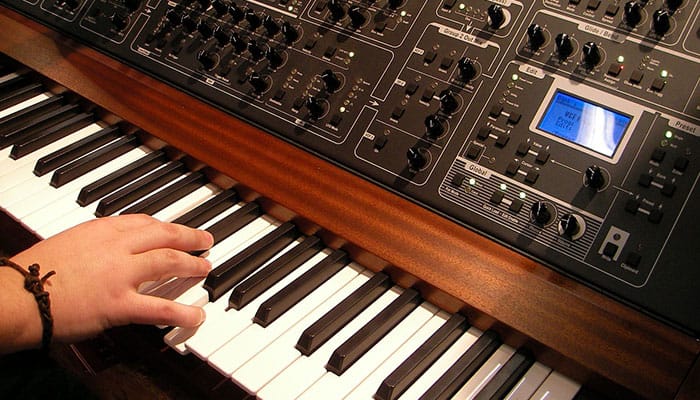 Before we go on and give you the list of the best synthesizers, we would like to tell you what actually synthesizers are. These are electronic musical instruments that can produce a number of sounds and they do so by combining and generating signals of different frequencies. The synthesizers are mostly operated by a keyboard. These electronic musical instruments are available in two different types and these types are analog and digital.
If you are new to the field of synthesizers, it will not be easy for you to select the best one for yourself since these musical instruments are available in numbers. The information that you will find about these instruments on different blogs and articles is also too much to grasp. None the less there are some key factors to consider before you go on and buy a synthesizer for yourself that we will cover later in this article. For now, let us dive straight into our carefully devised list of top ten, best of the best synthesizers available in the market today.
Below is the list of the very best synthesizers in the market, that you will come across.
1. Korg Volca Keys Analog Synthesizer
When talking about Korg as a company, it has been there for quite some time now and producing quality music instruments since its inception. It is one of the best and the go-to brand for most of the professionals all around the globe.
The Volca Keys by Korg is another example of the brilliance of the company when it comes to synthesizers. Since it is an analog synthesizer, therefore, it offers sounds that are richly expressive which are actually a characteristic of an analog synthesizer. This synthesizer is just pure sound packed in a compact body. Below are some of the highlights of this great product.
Pros
+ It comes equipped with three note analog synthesis and has one knob per function, making it pretty easy for hands-on tweaking.
+ You can enjoy absolute free flowing loops with this synthesizer since it comes with a 16-step sequencer with Flux mode.
+ Other instruments of volca series can easily be synced with it since it has Sync in/out.
+ It comes in with an optional battery power and a built-in speaker so you can play it anywhere you like.
Why We Liked It –Korg Volca is a next generation synthesizer that offers great quality sound mixed with intuitive controls making it all too easy for you to create versatile sounds anywhere anytime.
2. Korg MS20 Mini Semi-Modular Analog Synthesizer
It was 1978 when the when Korg came up with the MS-20 analog synthesizer, which was a great success story back then. The same synthesizer is reborn again in the form of MS-20 Mini, just in a compact size and some added features.
All the core components that were used in the original MS-20 are the same as used in this synthesizer, with just the (VCA) voltage controlled keyboard amp a bit changed to become less noisy. It comes along with onboard MIDI and USB ports so you can easily connect all your music gear with it.
Want to know more about MS 20, please read on
Pros
+ It comes in equipped with Self-oscillating high-pass/low-pass filters that are capable of distinctive distortion.
+ The size of this synthesizer is compact and exactly 86 percent the size of the original, making it highly portable.
+ Comes in with USB MIDI plus 5-PIN MIDI so you can connect all your music gear with it.
+ The External Signal Processor (ESP) it comes with utilizes the volume of the external audio source hence the synthesizer itself is controlled.
Why We Liked It –With the Korg MS20 Mini Semi-Modular Analog Synthesizer the best just got better and more compact, so now you can use it anywhere you want to with the utmost of ease.
3. Korg Monotron Delay Analog Ribbon Synth
This synthesizer is as easier as it gets, Korg once again has come up with a great sounding synthesizer with the most easy to use interface. It is a compact sized fun-to-use synthesizer that has a lot on offer for its consumers.
Whether you are just a casual person who loves to play with gadgets or a professional DJ, you can equally benefit from this great synthesizer. The easy to use interface is what a casual user would love and on the other hand if you are a DJ you can add some interesting sound effects to your music sing the monotron Delay.
Pros
+ It comes in with an X-Mod circuit which is actually borrowed from the classic Korg mono/poly.
+ This synthesizer actually enables you to add delay or filter to your desired audio source since it comes with an Aux input jack.
+ It also comes in with battery power and built-in speaker to be used anywhere.
+ It also has a headphone jack for the times when you want to create music in private.
Why We Liked It –Everything about the Korg Monotron Delay Analog Ribbon Synthesizer is just perfect whether it is easy to use interface or the compact size, it is one of the best synthesizers of modern times. Not only the quality but the price at which this amazing product is available is simply remarkable. In a nutshell, the product is light on a budget but heavy in sound!
4. Gakken SX-150 MARK II Analog Synthesizer
It is a toy synthesizer that is actually capable providing you with some real quality and a fully functional synth. The price range at which this synthesizer is available makes it a stand out performer in its own league. It is a pretty compact box that gives you some great quality professional synths.
Find out more about Gakken SX-150 below.
Pros
+ It comes in with four-octave range as you will witness with some of the most professional synthesizers out there.
+ Comes in with 10 parameters, so you can tweak out the desired sound from it quite easily.
+ Also, has a headphone jack for the times when you want to make music or experiment in private.
+ It is battery powered and also as a built-in speaker so you get analog synth on the move.
Why We Liked It –The Gakken SX-150 MARK II Analog Synthesizer exhibits a great price to performance ratio when speaking of the synthesizers. You will not find many synthesizers at this price range and have this much on offer as this one.
5. Moog Werkstatt-01 – Analog Synthesizer Kit
If you are a musician nothing could be better than creating an instrument of your own and this is what this synthesizer brings along with it. The Moog Werkstatt -01 was nothing but a project that was designed for Moogs synth-building workshop. But it was a great success and demanded by musicians all around the globe. Therefore, Moog introduced this kit that gives you the power of creating your own monosynth.
Pros
+ It is a synthesizer which you have to build by yourself giving you the ultimate satisfaction.
+ Anyone can build this synthesizer quite easily since the kit comes with the snap-together design so you do not have to use any soldering at all.
+ It comes in with a 4-pole ladder filter and therefore is capable of providing you with the classic Moog sound.
+ It has an oscillator pitch that is pretty wide-ranged, from 8Hz to 16kHz
Why We Liked It –It gives immense pleasure to anyone knowing that he is able to build his own instrument that he will be using and this is exactly what you get with the Moog Werkstatt-01 – Analog Synthesizer Kit. Therefore, it is loved by many musicians and casual users out there.
6. Arturia MicroBrute Analog Synthesizer
Some people term this synthesizer to be the younger brother of the all famous MiniBrute synthesizer. Although the size of this synthesizer is pretty compact it actually in-houses the pure analog sound that you will find with some of the high-end quite big sized models.
Pros
+ The oscillator design of this synthesizer is the same as that of its elder brother MiniBrute, which was really famous for its high-quality synth.
+ It comes equipped with the all famous Arthurias wave-shapers, so you can produce complex distortion synthesis with the utmost of ease.
+ External signal processing could be easily done with this synthesizer since it comes with audio input.
+ Also, has a 25 minikey keyboard.
+ MIDI input so you can connect all your music gear with it quite easily.
Why We Liked It –When talking about the price to performance ratio no other synthesizer can beat the Arturia MicroBrute Analog Synthesizer and, therefore, it has earned a rightful spot on our list. It is arguably the smallest synthesizer of the modern times but small is only associated with size, when considering the sound it produces, its simply amazing.
7. Novation MiniNova Analog Modeling Sythesizer
This synthesizer is known to be the younger brother of the UltraNova, having all the brilliant sound characteristics of it packed in a compact size. It is just perfect for anyone out there, whether you are a gigging musician, sound producer or just creating music for fun. This is because of the editing controls and the massive sound that this synthesizer brings along with it.
Its hard to list everything about Mini Nova but check below some of the main highlights
Pros
+ Since it comes in with a Nova sound engine, therefore, it automatically becomes a hugely powerful mini-synth.
+ It also comes in with vocoder to use it along with your vocals and make them sound better with the help of effects.
+ This synthesizer actually enables you to tweak and wrap your sounds in real-time as you are performing.
+ It comes in with 256 onboard sounds so you get the complete range of sounds from it.
Why We Liked It –When you want to add that extra spice to your live performances or just want to create good music in a studio, the Novation MiniNova Analog Modeling Synthesizer is just the right companion for you. It is an amazing mix of quality sound, ease of use, and looks!
8. Korg microKorg 37-Key Analog Modeling Synthesizer
It was way back in 2002 when Korg came up with microKorg and now in 2017 at the time of its 15th anniversary it came up with this amazing synthesizer, having all the qualities of the microKorg with a really improved design.
Designs seem like the part, the company has really invested in. The high end also comes up with an extremely easy to use user interface. Check below some main specs of micro Korg.
Pros
+ It comes in with a really easy to use interface so that you concentrate more on your music creation capabilities.
+ It has classic vocoding which gives color to your vocals.
+ A full range of effect is what you get with this synthesizer so you can explore all the dimensions of music.
+ It comes in with clear controls and classic look to compliment you every time you use it.
Why We Liked It –The Korg microKorg 37-Key Analog Modeling Synthesizer has powerful synth packed in a small compact unit which also has a very attractive design. Its a complete package for both audio professionals and enthusiasts.
9. Korg MS20 Mini Monophonic Analog Synthesizer
Korg just never stops to amaze when it comes to some of the best synthesizers of the world. It keeps coming back with state of the art synthesizers one after the other. It all started way back in the 1970s with the Korg MS-20 and since then there was no looking back. The Korg MS20 Mini Monophonic Analog Synthesizer has all the features of the great MS-20 but in a compact size.
Pros
+ It is true analog mono synthesizer which means that it has great quality sound.
+ Comes in with MIDI in and USB connector to connect your music gear.
+ When talking about the price range, it is simply incomparable.
Why We Liked It –The Korg MS20 Mini Monophonic Analog Synthesizer is a very inexpensive synthesizer that has all the qualities of vintage synthesizers which are known to be pretty expensive.
10. Roland GAIA SH-01 Synthesizer
This synthesizer is capable of providing you with that high-performance that you always wanted but with a vintage charm as well. The sound that it has on offer is massive, with hands-on ease interface and you get all this at a really affordable price.
Pros
+ It comes in with three virtual analog engines onboard that enable it to give huge sound.
+ It is capable of producing massive sound and that too without any note drop-out since it comes in with 64-voice polyphony.
+ It runs on battery power so the portability you get with it is simply amazing and it can be used anywhere you want.
Why We Liked It –If you are a beginner and looking for great quality synths to add a bit of a spice to your music creations the Roland GAIA SH-01 Synthesizer is just the right pick for you.
Synthesizer Buyers Guide
Top Pick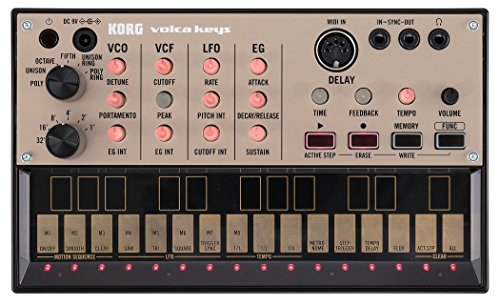 Among many great sounding synths, Korga Volca Keys Analog Synthesizer is the best. This is very easy to use for one knob per function and three true analog tones. You can get quantized free flowing loops from 16 step sequencer. If you have other Volca instruments you can sync them with this synthesizer. It is quite portable as well as you can play it anywhere with built-in speakers. There is a battery option as well if you want to go wireless.
Why is it our top pick? The sound is truly versatile and you can do so much with it. It is a lead synthesizer that is designed for professional use. Even though it is truly professional, anyone can play it easily. You have MIDI in for note entry and there is sync and control from the DAW. If you want your synthesizer to be analog then this one is the best for you. It is small but if you use it correctly you can produce some amazing sounds.
Premium Quality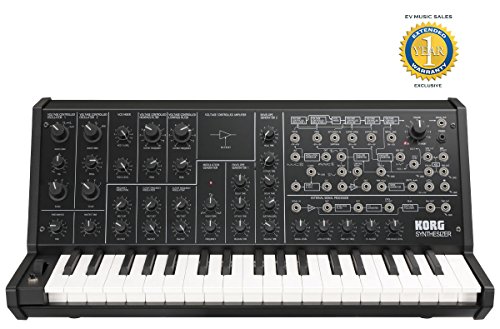 The Korgo MS20 Mini Semi Modular Analog Synthesizer is downright a high-quality synth that is jam packed power, control, and versatility. You cannot really go wrong with a Korgo synth as this name has quite some reputation in the world of synthesizers. If distortion is your thing the high pass/low pass filters along with distinctive distortions will win your heart. It is compatible with your computer with a USB MIDI and 5 pin MIDI.
This one has been present for decades and has seen improvements mostly on the inside i.e., in essence, it is the same old synth from 1978 when it was first created but the sound obviously has improved. So it is safe to say that it has sort of a vintage vibe to it. Regardless of your experience with synths, this one is bound to make you love it. Obviously for something as cool and vintage as Korgo MS20 you should be ready to shell out a bit more money. This costs a lot more than your average analog synths but in return, you get some really nice and fat sounds that have the 70s vibe to it.
Great Value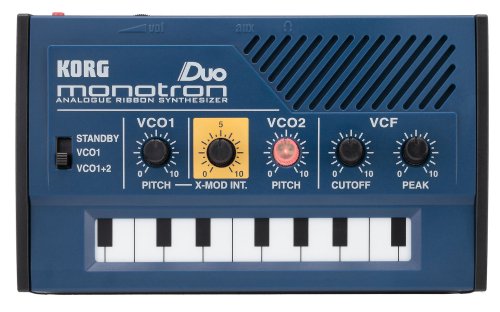 This pocket synthesizer from Korg is going to be the best thing you ever purchased for your music. The Monotron Duo Dual Oscillator Analog Pocket Synthesizer is a great bargain with an even greater value for money. You have VCO1 and VCO2 with Pitch Control and even a peak control. The biggest advantage is that it is super portable and you can go analog wherever you like. It is batteries powered and will literally fit in your palm but do not think its power is small. It has the same scale function as that on Kaossilator. The four scales are chromatic, major, minor and off.
It is super cheap and therefore the best choice if you want good worth for your money. It is a trusted brand so you can be sure about quality. If you are a mobile musician then this is going to be the best thing for you. It is minimal and has great sound with two analog oscillators. You have precise pitches very much similar to that of a digital piano. Much like other synths in this article, it is incredibly easy to use so anyone can master it in no time. You will be surprised to see so many variations of sound from this little synth.
FAQs
What is a synthesizer?
A synthesizer is an electronic instrument which consists of several different modules that work together to produce a synthesized sound. The modules are oscillators, filters, modulation sources or envelope generators that do the same job as conventional instruments. In simple words, synthesizers imitate instruments or generate new types of electrical sounds based on these instruments. They are usually controlled by a host of input devices like fingerboards, sequencers, wind controllers or electronic drums. They basically use many techniques to produce sound waves including additive synthesis, subtractive synthesis, wavetable synthesis, phase distortion synthesis and physical modulation synthesis.
Synthesizers are mostly analog or digital and both have their own pros and cons. They first came about back in the 60s and 70s and gradually garnered popularity becoming a widely used instrument in the pop world. It was not until the 80s and 90s disco that synthesizers became a major part of music production. Ever since then musicians all over the world use them to create unique tunes and experiment with various instrumental sounds. Synthesizers also created the keyboard workstations which are versatile and multipurpose.
How does a synthesizer work?
Synthesizers basically are able to copy an instrument or produce sounds by generating sound waves of distinct shapes and producing two or more tones simultaneously to generate a certain frequency. They are also able to change the volume of the sound to produce different ASDR envelope shapes. The oscillators produce different sound waves and often combine those waves to generate more complex waves. Through controlling the attack, decay and sustain the synth is able to copy a particular instrument.
Lets take the example of a violin in which the strings when bowed or plucked produce oscillations. The wood of the violin and its resonance combined with the lacquers density gives the oscillations a tone. The pressure of the bow decides the changes in volume or timbre. The fingers holding the strings on the fingerboard produces a vibrato. Now similarly on a synthesizer, an oscillator would produce the sound. The filter will give it a tone similar to that of a violin. The envelope generator will give its timbre rise or fall. And finally, a modulation source would carry the last act of introducing vibrato. This is how through different components a synthesizer is able to synthetically produce a sound that is often similar to an instrument. In a digital synthesizer, all this is achieved through a digital signal processing.
What is the difference between analog and digital synthesizer?
The difference between the two is pretty much what the difference between any analog and digital device is. In an analog synth, the different modules work together to produce sounds. In a digital synth, the same is done via digital signal processing. Instead of modules, algorithms work to tweak oscillations to produce different sounds that mimic musical instruments.
The debate about which one is the best is an old one ever since digital synthesizers came out. Some people say that analog synths have a warmer sound which is somewhat true but it depends on the synth itself as not every analog synth may be warm. As for the digital synths, many musicians prefer them because they can be more versatile. You can tweak the sound to produce a plethora of distinct sounds and that is why they are considered more reliable too. Nevertheless, analog have their own old school charm which a lot of musicians are looking for. So there is no definite winner among these two and it is more of a personal choice than quality or performance.
How to choose the best synthesizer?
For getting the best synthesizer the first thing to do is to decide what kind of sound you are looking for. Synths are capable of producing electronic sounds and imitate many instruments so you need to know what instrument is dominant in your music. Then comes the question of either going analog or digital. The difference is mainly in the production of the sound and you can get quality sounds from either. Study them both well to see which one suit you best and then go for that.
You also need to take into account other factors such as MIDI controller implementation, computer support, and most importantly price. Set your budget to find the best one you can afford because you will find many high-quality synths with an advanced feature which can cost hundreds of dollars. Some brands are more popular than others like Yamaha or Korgo so you can be sure about the quality of sound and versatility. Reading the reviews from other musicians is very important as it will tell you how the sound actually is. You can even hear samples on the products website or YouTube if you get lucky. This way you know you are getting the best one out there for you.
Some key functions to be noted if you are getting serious about buying synthesizers.
The number of voices that you require from a synthesizer is the most important consideration; there are some with monophonic voices and others with polyphonic voices.
There has been a huge debate since ages if the analog synths are better than the digital ones and vice versa. It is just the matter of your personal preference whether you like the digital or the analog ones. We have covered the analog and digital synthesizers in more detail below.
Whether you would be using your synthesizer with a computer? Would you also be storing your synth sounds? These are some important considerations before going for a synthesizer.
Whether you want drum sounds out of your synthesizer or not is completely dependent upon your personal taste and liking. Some of the newer models out there are equipped with drum sounds and these are relatively inexpensive.
The synthesizer is a great device for any musician and with technology improving day by day, they have only gotten better. When they first came onto the music scene they were a bit more complex for people to understand. However, its convenience and power have led it to be an important part of any studio. Nowadays, there are a plethora of choices before you and finding the right thing can be a tad bit difficult. However, if you know your needs and you have a budget, things get simple. Here is what you ought to know before buying yourself a synthesizer:
Polyphony
The polyphony is one of the most important features on the synthesizer and it basically is the number of voices on it. In simpler words, the different notes on the keyboard are referred to as voices here. For instance, a standard piano has 88 different voices and you can combine them to create different notes. Some instruments have very few voices such as a trumpet that only has one voice.
Most synthesizers are monophonic i.e. they can play only one voice at a time. However, you can find polyphonic as well which have more complicated circuits inside to achieve this. Obviously, that means they are more expensive than monophonic synthesizers as well. You can make do with monophonic too if you multitrack record.
Analog and Digital Synthesizers
Analog synthesizers were and in fact still remain widely used synthesizers in the music world. In the analog, the signals are analog and produced with analog circuitry. You have oscillators, filters, modulation and envelope generators. The digital synthesizer uses digital signal processing to recreate the analog sound. There are some hybrid synthesizers as well that have some analog components as well as digital. It is a matter of choice as to which you yourself prefer because there is not much of a difference in terms of quality.
Workstation
The synthesizers gave birth to what we call a workstation which is so important to many musicians and keyboard players. When polyphony became popular keyboard too came on board and included dynamic key beds and digital sounds. By the end of the 80's, we saw dynamic setups with a multi-track sequencer, synthesizer, drums, and effects combined. These were called keyboard workstations and have ever since been a major player in music electronics. If you are looking for an all-in-one kind of thing then a workstation is the best thing for you. The possibilities are virtually endless and they can give you versatility that no other music electronic can.
Memory and MIDI Implementation
One of the most important considerations is computer connectivity. For many musicians, their computer is very crucial as they manage everything there. You also need to ask yourself if you will need to store your synth sounds? Will synchronize different notes and record? Some synthesizers need MIDI and memory and you will need to check it beforehand. The good news is that most of the synthesizers provide some sort of computer support. Soft synths are obviously more compatible with computers as they rely on software. You may want to use a piano VST in combination with these items.
Pricing
You should set a budget for yourself before you start looking for a synthesizer because depending on the brand and the synth itself the price could vary greatly. You can, however, easily find a good quality synthesizer in under $300. Some small ones with fewer voices may even cost less than $100. Workstations can cost more than your regular analog or digital synthesizers. Pricing is obviously an important factor when buying music instruments but if money is not a constraint you should only go for what you need. Spending more will not guarantee that you get what you are looking for so make sure you understand what you are looking for.
If you liked this review, please leave a positive rating: