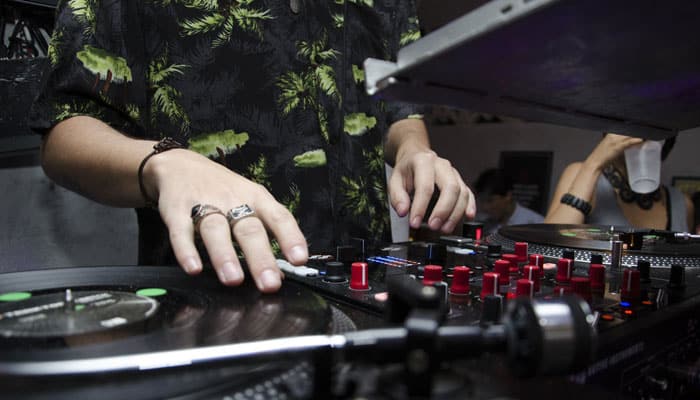 In this article, we will give you the list of the best DJ controllers of all time. But before we go on and give you the list we would like to tell you what these DJ controllers are and what are these used for? A DJ controller is a device that helps DJs mix music with their DJ software. The DJ controller has components such as knobs, jog wheels, encoders, faders, touch strips, backlit buttons etc. and by using these components the DJs mix music.
Mixing music is a complex thing and a person doing so needs to make sure that every instrument or device involved in the mixing just delivers the top quality sound. Since the DJ controllers play a pivotal role in music mixing of any sort, therefore, it is important that you make your decision wisely in this regard. The market these days is actually flooded with different kinds of DJ controllers and choosing the topone out of the lot becomes a bit difficult for most of the people.
Some key considerations should therefore be kept in mind before going for a DJ controller. If you do not have ample time to go into the details of these considerations browse through our list of the best DJ controllers and you will end up with a pretty fine for yourself.
1. Pioneer DJ DDJ-SB2 Portable 2-channel Controller for Serato DJ
It is one of the best DJ controllers by one of the very best in the business. Pioneer has a long history of manufacturing some state of the art electronic equipment and devices. When speaking of musical devices this company is surely one of the industry leaders with a complete range of products.
The Pioneer DJ DDJ-SB2 is the continuation of its predecessor which was Pioneer DJ DDJ-SB. The original was a great success two years back when it was launched. It was considered to be the topentry level DJ controller that packed some professional features. The DJ controller under consideration has all the qualities of its predecessor with some added professional features which bring it more closer to the pro-level.
Pros
+ Comes in with all the features as that of the famous Pioneer DJ DDJ-SB and also is equipped with some more professional features like trim pots, level meters, pad trans effect etc.
+ When talking about the ease of use and set up that you get with this DJ setup, it is amazing since it is USB powered which does not require any other power source.
+ It is a pretty compact controller that can fit the smallest of DJ setups and also is pretty portable at the same time.
Why We Liked It –The Pioneer DJ DDJ-SB2 Portable 2-channel controller for Serato DJ is one of the topentry-level controllers that is equally good for a professional as well with its new and improved features.
2. Pioneer Pro DJ XDJ-RX DJ Controller System
For someone who does not like to carry around his laptop along with him in all his gigs, this DJ controller is just a revelation. Pioneer has impressed its consumers with some of the top products of all time and the same can be said about its music devices. It is a preferred brand of the professionals and the audiophiles alike, the world over.
When talking about the price point at which this digital audio device is available, it is relatively on a lower side. The features that it has are the same that you will find in some of the very high-end models with a pretty expensive price tag.
Pros
+ It comes along with a built-in LCD SCREEN that makes the practicing and the mixing pretty easy for you, regardless if you are a pro or a first timer.
+ The setup of this DJ controller is fairly simple and easy; you simply just plug in the power along with the powered speakers and add a music source. Here you are ready with your setup.
+ It works with the Pioneers own software known as the Rerkordbox which means that you do not have to play it along with your Laptop.
+ The mixer gives you every feature that you need in order to make quality mixes such as extensive inputs and outputs, a pro mic input, EQ and much more.
Why We Liked It –If you are looking for a laptop free solution as a DJ or simply for your common music mixing the Pioneer Pro DJ XDJ-RX DJ Controller System is just the perfect pick for you.
3. Numark Mixtrack Pro II USB DJ Controller with Integrated Audio Interface and Trigger Pads
This DJ setupis the continuation of the Numark Mixtrack Pro. It has all the features and the qualities that were found in the original version with an improved design and some new features as well. The design of this DJ controller is much more compact when compared to its original version.
When talking about the professional controls or the features that you get with this DJ controller, it includes illuminated touch-activated low-profile platters and 16-backlit multifunction drum pads. If you are looking to DJ with your computer it is just the right DJ setup for you.
Pros
+ Since it uses a Serato DJ software, it becomes fairly easy to use.
+ It is pretty compact and a lightweight which means that it automatically becomes highly portable and you can carry it along with you to your gigs quite easily.
+ The auto-loop feature that this DJ setupcomes along with is pretty slick and the same could be said about its effects as well.
+ Although this DJ setupis all plastic the durability that you get with it is just outstanding.
Why We Liked It –The Numark Mixtrack Pro II USB DJ set upis one of the topentry level controllers with some real professional features, making it equally good for beginners and professionals both.
4. Akai Professional AFX | Dedicated FX Controller for Advanced Serato DJ Performance
Everything that you need to create great quality mixes comes along with this DJ controller. When talking about Akai as a brand, it has a long history of manufacturing some state of the art music gear and equipment. It has now become one of the go-to brands for most of the professionals all around the globe.
The Akai Professional AFX | Dedicated FX Controller is the one DJ controller that will make your mixes a lot more fun and also will enhance your learning. It comes with FX-specific controls making it ideal for any professional application. It does not only work with Serato DJ but also most of the other DAW software out there.
Pros
+ It is capable of providing hands-on audio command that is pretty extensive of the Serato DJ.
+ It gives you the power to do anything with your mixes such as manage the loops, tweak effects, set cue points, trigger samples and the list goes on.
+ It is capable of controlling 4 decks of Serato DJ and that too over a single USB connection.
+ Comes in with 9 touch-activated knobs enabling you to customize effects and EQ as per your liking and needs.
Why We Liked It –If you are looking for one that works with the Serato DJ and will also enhance your creative performance capability the Akai Professional AFX is just the perfect match for you.
5. Native Instruments Traktor Kontrol S2 MK2 DJ Controller
It is one of the topDJ Kontrolsto be used with the DJ software known as Traktor. It is really important for any DJ controller to completely integrate with the software it is designed to work with and this DJ controller exactly does this.
The Traktor Kontrol S2 MK2 is the upgraded version of the S4 by Native Instruments. When compared to its predecessor the S2 is more compact and lightweight making it highly portable. It is pretty durable and can accompany you in some of the darkest clubs because it comes with RGB backlit buttons.
Pros
+ Comes in with Plug-and-play support for hands-on control for TRAKTOR DJ for iPhone and iPad making it really good for mobile DJ use.
+ If you want high resolution cueing and scratching this is just the perfect DJ setupfor you since it comes equipped with silicone-damped jog wheels with aluminum top plates.
+ It can be played or used along with a desktop/laptop or even with an iPhone or iPad.
Why We Liked It –The amazing tricks that you can pull off with the Native Instruments Traktor Kontrol S2 MK2 make it one of the top digital unitsfor mixing with TRAKTOR DJ.
6. PIONEER DDJSR Pro DJ Controller
Whether it is the simple setup or the durability, the amazing sonic character or the most professional features everything that you get with this modelis just of top quality. Pioneer never stops to amaze its consumers with some top quality products time in and time out. With this digital audio setup, it has again lived up to its expectations.
If you are a DJ who wants to upgrade to a mid-professional, the PIONEER DDJSR is just the right pick for you. It is designed to be used with Serato DJ and is compact and portable.
Pros
+ It comes in equipped with 16 performance pads enabling it to provide functions like HOT CUE, SLICER, ROLL, AND SAMPLER.
+ It also has large jog wheels so to enhance the scratching and the mixing capabilities it has on offer.
+ The setup is very simple as it operates via USB.
+ Comes in with all the features necessary to provide you with quality mixes.
Why We Liked It –It is one of the topmid-professional digital units that are made to last. It is also compact and portable at the same time so you can carry it along quite easily.
7. Native Instruments Traktor Kontrol S4 MK2 DJ Controller
Native Instruments is a company or a brand that is known for coming up with some of the topDJ controllers every now and then. If you are in the business of manufacturing these units,the key to success is to come up with constant up-gradations and the Native Instruments does it perfectly.
When you want that inspiring DJ experience and your DJ software is TRAKTOR this DJ setupby Native Instruments is just the right option for you. It is a complete package that you need to make some quality mixes.
Pros
+ It is a 4-deck productthat is specifically designed to work with the TRAKTOR DJ.
+ The look, feel and the visual feedback of this unitare far more improved than the previous models.
+ It is a simple plug-and-play, with TRAKTOR DJ for iPhone and iPad.
Why We Liked It –If you are a DJ and looking for some professional functions, extreme portability and instant usability this DJ setup is just the right option for you.
8. Reloop Mixon 4 High Performance 4-Channel Hybrid DJ Controller
It is the first hybrid DJ audio-setup that is specifically designed for two software known as the Serato DJ and the djay PRO. It comes in with color coded pads that can trigger sounds and performance modes such as Hot Cut, Slicer, Loop Roll and much more. It can be used along with not only your PC or Laptop but also an Android or IOS device.
Pros
+ It is the industry-first hybrid design to work with djay and Serato DJ software.
+ It has the capability of supporting multi-platforms such as IOS, Android, PC, and Mac.
+ It comes in with multiple inputs and outputs.
Why We Liked It –The Reloop Mixon 4 High-Performance4-Channel Hybrid DJ setupis a new trendsetter and in houses some great features.
9. Pioneer Pro DJ DDJ-SX2 DJ Controller
When you speak of the top DJ gear, the name or the brand that instantly strikes your mind is Pioneer. Pioneer Electronics has been there for quite some time now ad has a complete range of DJ equipment to satisfy the varying needs of different people. The Pioneer Pro DJ DDJ-SX2 is specifically designed to work with the Serato DJ and has all the features you require for creating quality mixes.
Pros
+ 4 channel performance productto work with Serato DJ.
+ It comes in with dedicated buttons for Serato FLIP.
+ It also has multi-colored velocity sensitive pads to support you in any lighting conditions.
Why We Liked It –If you want to use the new Serato FLIP and also want your DJ setupto be jam packed with features the Pioneer Pro DJ DDJ-SX2 is just the right answer for you.
DJ Controller Buyers Guide
Top Pick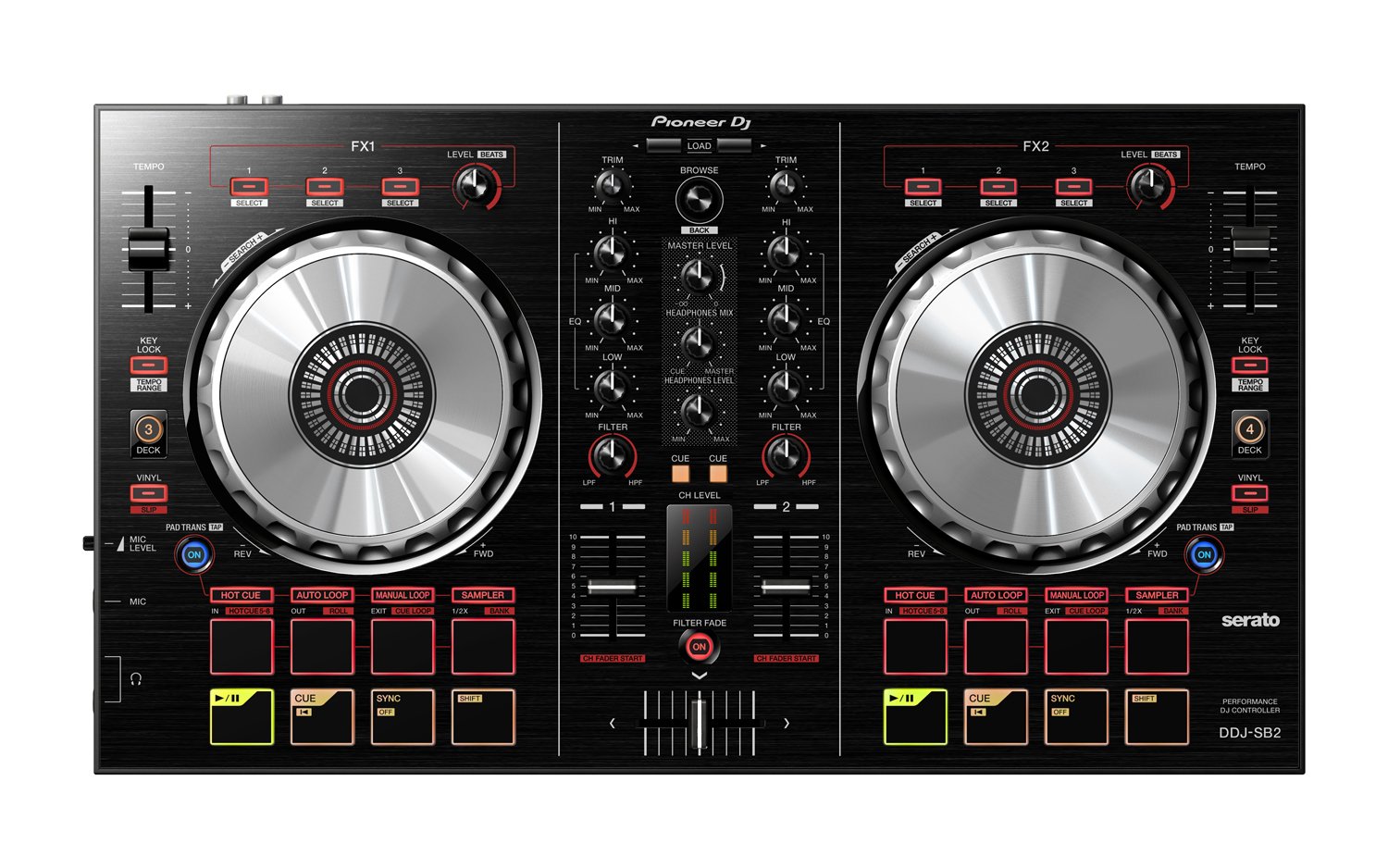 Our top pick product highlights the quality of best in class within an affordable price group.Allow us to introduce you the brand that is pioneering the DJ game since its roots. As predicted by the name Pioneer, this brand is known for letting the musicians innovate every day.With easy yet advanced controls DDJ-SB2 by Pioneer covers professionals to beginners in an affordable manner.
This guy is rocking tactile performance pads. The top 4 allows you to trigger Hot Cue, Auto Loop, Manual Loop, and Sampler. While the bottom 4 gives you straightforward access to Play, Cue, Sync, and Shift.DDJ-SB2 makes sure that you dont have to compromise large jog wheels in a compactdesign. Even with a compact design, this DJ setupis equipped with large and low-latency jog wheels for redefining the accuracy factor.
For quickly checking and adjusting the input volume on each channel this product features trim knob and level meters.You get two separate filters on each channel. With low/high pass filter dials you can adjust the frequency as easy as you like.
This item features a Filter Fade option which adds two high pass filters to the crossfader so you can edit volume and bass filters with a single hand.
With Large low-latency Jog Wheels, Filter Fade and separate filters on each channel Pioneer DDJ-SB2 redefine the experience for DJs.
Premium Choice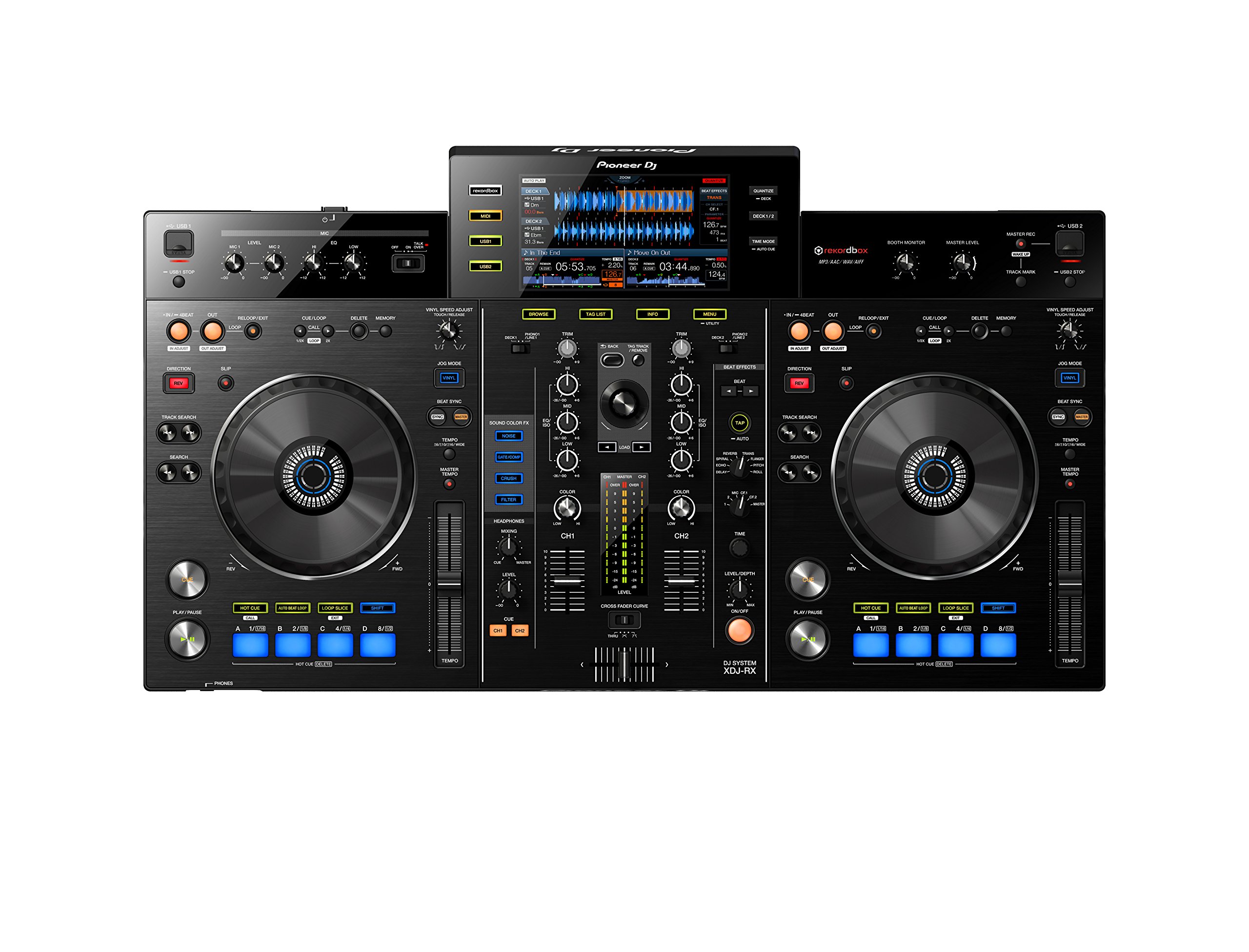 Our premium sector ensures that you get a state of the art product that defines what it's like to experience a music on a whole new level.
Pioneer Pro DJ XDJ-RX Dj system packs all the good stuff you need to polish your career.
This product is equipped with a 7-inch full-color LCD display that shows information from both players simultaneously, waveforms, playback position, BPM and beat grids. Similarly, with easy access to artwork and hot cue info you can select and browse tracks.
With beat drum machine sync optionsyou can automatically beat-match up to 2 decks playing tracks analyzed in rekordbox. This leaves you free to handle your unique style on the mix.
Slip mode lets you add loop, scratch and reverse to your edits while muting the tracks playing. By releasing Jog Wheels your track comes back exactly to the right place.
With next-gen features like slip mode, beat sync and a dual waveform display this Dj Controller marks wonder in one go.
Great Value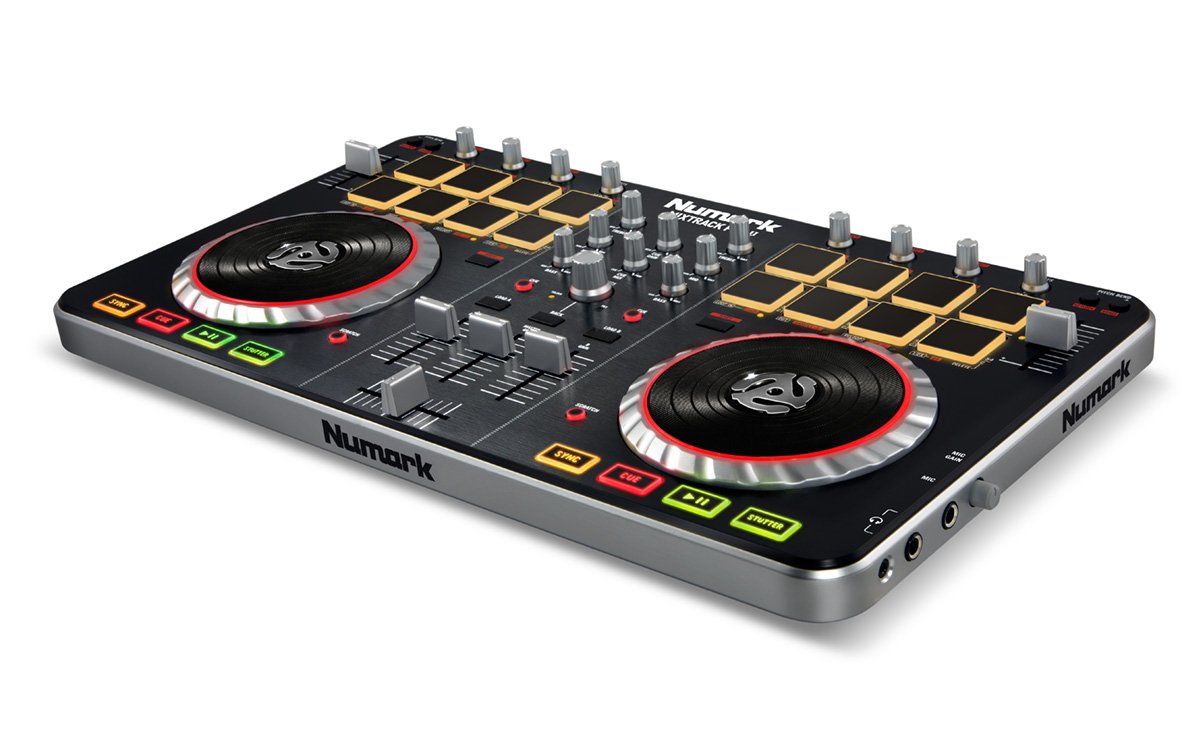 When it comes to great value, nothing can beat Numark Mixtrack Pro II. It has a beautifully designed, touch-sensitive control wheels, integrated audio interface and FX control – potentially everything that you will ever need. The reason why we have included this product under great value is that offers great value for money component. It is easy on the budget but solid when it comes to producing great music.
Before paying the money for XYZ DJ brandyoull first need to know what one really does.Basically, they areequipped with on-board control components that are linked to functions of a DJ software so that you can control the DJ software externally. A DJ setup does all the fundamental like a MIDI keyboard would with a different way.Talking more about that onboard control components, different DJ Controllers jogs up different controls. Some products include all in one feature like FX effects, mixer, turntables, drum pads and much more. Other include only some mixers while many are specially designed for rotary controls, kill switches and FX effects.
So how do you choose the most suited onefor your personal preference? Below well add some points to note before investing.
Before getting into the advanced details of the controllers, you need to figure out the most elementary part; the budget. First, you need to identify your needs. If you are beginner then you wouldnt mind picking a low-end DJ Controller for learning the basics. Similarly, if you are among the professionals then you can set a high or mid range for picking the top. So identify your needs and set the budget accordingly.
Next up you need to look for some popular DJ applicationsas they are the heart of a DJ controller. For choosing the highest quality ofDJ applicationsyou need to look for compatibility and features in one package. In our opinion, Serato DJ is the most popular applicationin town as it's compatible with most of the controllers and provides features alongside. Note that Serato DJ is not compatible with all controllers so search well for a universally compatible application to match your controller.
Controls provide you the access to the specific function of the DJ applications. Different DJ Controllers provide you with a variety of controls, so you need to pick the one keeping in mind your personal preference. Similarly, if you are beginner then you can pick any, as mastering all available controls will help you in future. But if you are looking forward to specific controls then picking one with amplecontrols wont aid you anyhow.From stage performance to studio editing every type of DJ Controller is available. So be concerned about your use as size, controls and portability are way different in the two mentioned type.
Above we explained the recipe for picking the top DJ setups for your needs. But dont exit the page as we'll mention top 3 setups for three different class of consumers.
FAQs
What is a DJ Controller?
Seen those MIDI keyboards controllers? Well, in short, a DJ controller serves the same function as an external DJ software control. Not enough? Yes, we know! Bear with us and well define a DJ Controller from tip to toe.
These products are devices equipped with knobs, encoders, jog wheels, faders, backlit buttons, touch strips and many other components for controlling it. On my MIDI keyboard, I can control the applicationas well, whats the point to buy a DJ controller? On a DJ Controller, you can easily access the controls via equipped onboard components without accessing the applicationscomplex commands on a computer or phone.
Dont confuse the Dj mixer with the Dj Controller, as these items send signals to the computer DJ software for how to mix the audio.
Dj Controllers help engineers to physically edit their music through onboard components. Many high-end DJ Controllers have built-in sound cards with up to 4-outputs for connecting headphones to preview music before playing it on the main outputs. Handy, isnt it?
These products are just an advancement towards the MIDI keyboard controller. Like the electronic digital keyboard controller, they use standard MIDI or HID protocols to communicate with the computer via a Universal Serial Bus (USB).
Typically, they are equipped with two turntables/CDJs (click for full reviews on turntables) and a DJ mixer. The two turntables are used to access the software function stored by the manufacturer to add that specific effect into the beat. Similarly, some DJ Controllers allows the user to remap the two turntables and other components to output different functions. Other onboard components are used to add some more complexity to the music.
They are only accessible via a DJ applicationas ittranslates the signals to the unitand vice versa. Without a DJ application, you cannot control the output of one as the software works as a translator. Most of the DJ Controllers are packed with one company made or recommended software but they can also work with others. Similarly, the majority of DJ Controllers use MIDI or HID communication protocols that make them compatible with many software. However, it's not a universal fact that every DJ Controller using a MIDI or HID protocol will work with any applicationas itmay lack compatibility. So the topoption stands out is considering onewhich has its own disk jockey software or a wide range of compatibility.
However, it's not a universal fact that every DJ Controller using a MIDI or HID protocol will work with any applicationasitmay lack compatibility. So the topoption stands out is considering these products which has its own DJ Software or a wide range of compatibility.
Can a DJ Controller be used for events?
These products simply equip on-board controls linked with certain applicationfunctions to mix music without manually configuring the DJ application. Moreover, it adds easy access to DJ software functionality.
So now let's get back to the main question.
The answer is both yes, and no, as it would be dependent on the type of event.
For instance; if there is a wedding ceremony or a house party and you need to pump up the music game a little bit, would you consider a DJ Controller? No, right? You'd probably in all likelihood, scroll Amazon for best speakers or amps.
On the flip side, if there is an EDM party or an on-stage music performance you would have to add a one of these alongside your music equipment as youll need those real-time mixing features to produce the bass drops.
So on the whole, it depends upon the type of event as to whether to use a DJController or not.
What else is required for a DJ setup?
Many DJ Controllers allow you to connect external headphones for monitoring the mix before outputting to the main speaker. Although many music icons mark themselves as the number one contender, weve highlighted the one that gained many praises among professionals and every-day consumers.
There is a difference between monitoring and professional monitoring, ATH-M50X by Audio Technica makes sure that your experience stays at a world-class level.
Engineers of this headphone know the worth of pin-point monitoring as a slight mistake can destroy the vibes. 45mm large-aperture drivers with rare earth magnets and copper-clad aluminum voice coils make sure that you hear the slightest details. Similarly, this headphone packs up clarity over a wide range of frequency with deep and accurate bass response. Circumaural design around the ears insures that you hear zero noises from surroundings.
Comfortability issues are eliminated, thanks to the professional-grade earpad and headband material. Three detachable wires make sure that you are bounded by the length size.
With 45mm drivers, comfortable ear pads, clarity over a wide range of frequency the ATH-M50X outputs top-notch impressions.
Laptop
A DJ software works only on a computer. As you cant carry around a whole desktop setup you need a perfect laptop to accompany you through the action.
DJ applications doesn't require a full-fledge heavy duty system, most of the software requires 2gb of ram, 10gb of storage and a Core 2 Duo CPU which youll find under the hood of every laptop out there. But dont get carried away by the fact that a DJ software requires low specs as you need to be wise while picking up a laptop. Below are some bullet points to keep in mind while you are investing for a laptop.
Battery Life
For long sessions, youll need a laptop that can go along with you for hours without charge. You need to check on the battery specifications as many laptops dont even survive for two hours.
Screen Size
Although DJ applications don'trequire a lot of processing, they include a lot of features. For accessing a lot of features with ease you need a bigger screen as you cant scroll up and down all the time for picking the right feature.
How to Choose the Best DJ Controller
To choose the best DJ Controller you need to look for onethat packs up your budget, required controls and a diverse DJ application single-handedly.
First, you need to check your bank balance before getting into the complex stages. The market offers low to high budget DJ Controller. So first decide the money matters and then look forward towards the next stage.
If you are an absolute beginner then you wont mind getting a wide range of controls as learning them all will aid you in near future. But if you are looking forward to specific controls. So prioritize your personal preference right after the decided budget.
DJ Software is the soul of your controller as it translates or decrypts the signals from/to the DJ Controller. Many controllers equip a DJ with applications while some prefer a specific one. The best would be considering a setupthat comes with software as many are not fully compatible.
If you liked this review, please leave a positive rating: